Favorite Holiday Light Displays in Raleigh, N.C.
Thursday, November 17, 2022, 10am by visitRaleigh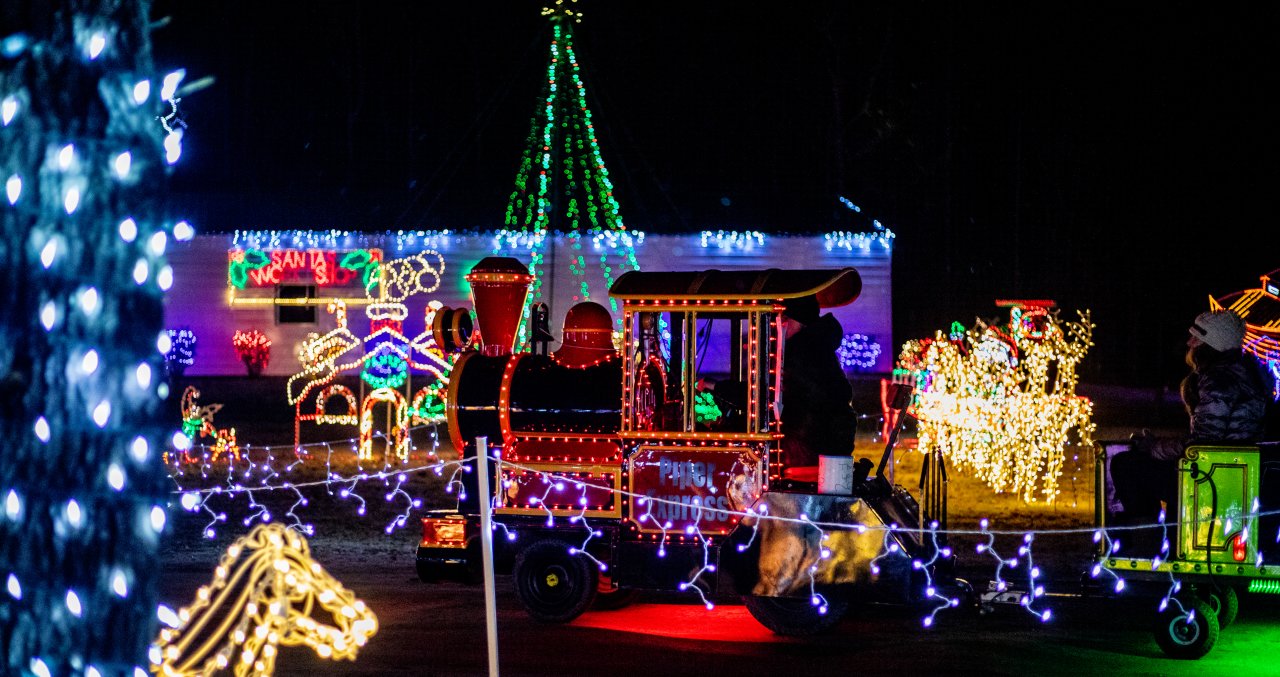 During the holiday season, the Raleigh area is aglow with light displays, tree lightings and other seasonal presentations. Below are some of the best happenings and places for Christmas and other holiday pageantry!
 
Magic of Lights
Nov. 18-Dec. 30 (closed Mondays in November)
A dazzling, drive-through holiday lights experience—using 2 million total lights!—at Coastal Credit Union Music Park at Walnut Creek, Magic of Lights features favorite holiday scenes and characters of the season using the latest LED technology and digital animations, including the all-new Prehistoric Christmas, Mega Tree displays and the 32-foot-tall animated Mattel's Waving Christmas Barbie®. Returning favorites include the drive-through Blizzard Tunnel, 12 Days of Christmas, Winter Wonderland and The Night Before Christmas.
Tickets begin at $20 per car, must be purchased online. Open 5-10pm.
North Carolina Chinese Lantern Festival-Cary
Nov. 18-Jan. 8, 2023
This annual favorite is back for a seventh year! A super trip-worthy event for the whole family, the North Carolina Chinese Lantern Festival brings 50 larger-than-life lantern displays to Koka Booth Amphitheatre in Cary.
Made up of thousands of LED lights, displays light up the skies and mesmerize visitors on this one-hour walking tour (have your cameras ready for the spectacular Chinese Dragon that sits on Symphony Lake!). Beyond beautiful lanterns, the festival also welcomes a showcase of Chinese culture—nightly performances featuring martial arts, traditional dance, acrobatics, drum performances and more. Food and drink are available for purchase.
This event requires the purchase of a ticket, starting at $20 for adults.
THE RINK presented by UNC Health at Red Hat Amphitheater
Nov. 19-Jan. 16, 2023
Enjoy the thrill of ice skating in a wintry village created in the heart of downtown Raleigh! THE RINK features a natural ice skating rink with stunning views of the downtown Raleigh skyline, cozy lounging stations with heat warmers and fire pits, a snack bar, games, photo opportunities and more!
This is a ticketed event, with recommendation that you purchase in advance ($6 for non-skaters, $11 includes skate rental).
Another holiday skating option: Skate the Square at Fenton, open daily through Jan. 16.
Open on select days, Nov. 24-28; Dec. 2-4; Dec. 9-11; Dec. 16-18; Dec. 20-26
For more than 10 years now, the Guerra family's spectacular light display at their home in Apex has drawn a chorus of 'oohs and aahs' from visitors. Bigger and more colorful every year, the free-admission, drive-in style show has grown so much that the Apex Police Department has stepped in to help direct traffic. The video below gives a peek at the holiday cheer you can expect to find!
Note: The display is not open every night, and some nights are reserved for families with special needs and other community members. The best way to keep track is following on Facebook. The display is generally open from 6:15-9:15pm and the dates above are tentatively scheduled to be open to the general public.
WRAL Nights of Lights at Dorothea Dix Park
Nov. 25-Dec. 24
Illuminated trees, festive light displays and local art installations will delight visitors of all ages once again at the WRAL Nights of Lights drive-through event at Dorothea Dix Park. The 1.3-mile driving route features towering oak trees, open fields and rolling hills—plus views of the Raleigh skyline peaking above the trees—making it a perfect location for this holiday event.
This is a ticketed experience, and purchases must be made in advance ($20 per vehicle with up to eight passengers).
Piper Lights
Nov. 26, 2022-Jan. 1, 2023
In Wake Forest, Piper Lights—a family-run light display that's been in action for 30 years now—is set for another big holiday season. The seven-acre drive-thru light display that connects yards and jumps across a pond received national recognition in 2016 when they were named winners on ABC television network's Great Christmas Light Fight.
Enjoy this year's light display seven days a week at 5725 Fixit Shop Rd. Admission is free but donations are accepted. Open daily, 5:30-9pm, Sun.-Thurs; 5:30-10pm, Sat and Sun.
Wendell Wonderland/Lake Myra Christmas Lights
Light show runs Nov. 23-Dec. 31; Wendell Wonderland festival is Dec. 2
A perfect chance to experience historic downtown Wendell lit up for the holidays, with a visit from Santa Claus, trolley rides through town, lighting of the town tree, live music, hot chocolate, food trucks, a craft market and more at the annual Wendell Wonderland celebration on Dec. 2.
One of the area's most popular light shows, the Lake Myra Christmas light display, will also be in full swing, featuring more than 400,000 total lights synced to holiday music. The display was created by the Williams family of Wendell, who painstakingly design and assemble the glowing (and growing) event each year.
Visitors park and watch the show—which typically runs between 30 and 45 minutes depending on the year—from the viewing area in front and a walkway that runs through the display. Dogs are welcome (on a leash!). Admission is free, and donations are accepted. Join in on the fun daily, from 5:30-10pm, from Nov. 23 through the end of the year at 10 S. Cypress St. in Wendell.
Downtown Raleigh Illuminate Art Walk
Dec. 2-Jan. 6, 2023
Downtown Raleigh comes to light with Illuminate, a light-based art walk. This six-week, totally-free activation takes place in downtown Raleigh's Fayetteville St. and Glenwood South districts, transforming plazas and underutilized spaces with a large-scale interactive installation, light-based sculptures and projection art. 
Details about art pieces and locations for this year can be found here!
51st Annual Historic Oakwood Candlelight Tour
Dec. 10 and 11
Historic Oakwood, one of Raleigh's prettiest and most historic neighborhoods (many of which are dated to the mid-1800s to early 1900s), has its own small-town feel. Elegantly decorated for the holidays, this favorite event gives you the rare chance to step inside about a dozen private homes, each of which is staffed with docents who tell the rich history of this Century Victorian neighborhood.
This is a ticketed event starting at $30 and availability may be limited.
Visiting one of Raleigh's most treasured, family-owned restaurants is never a bad idea. Open for more than 60 years now, Angus Barn is an institution—an award-winning steakhouse with one of the largest wine cellars in the country. During the holidays, gorgeous decorations adorn the red barn building inside and out. It's no wonder visitors who have experienced Angus Barn around this time keep returning year after year. 
Note: Reservations are booked through the end of the year, but give the restaurant a call to ask about first-come, first-served seating options that may be available.
Header photo by Joe Bruno of Piper Lights
More upcoming holiday events in Raleigh, N.C.
Downtown Raleigh Tree Lighting, Nov. 18
78th Annual ABC11 Raleigh Christmas Parade, Nov. 19
THE RINK presented by UNC Health at Red Hat Amphitheater, Nov. 19-Jan. 16, 2023
Skate the Square at Fenton, through Jan. 16
Cary Players present A Christmas Story, Dec. 2-5
Fuquay-Varina Chorale Holiday Concert, Dec. 2 and 3
Raleigh Little Theatre presents Cinderella, Dec. 2-18
Garner Christmas Parade, Party and Tree Lighting, Dec. 3
Christmas Open House at the Joel Lane Museum House, Dec. 3
Scandinavian Christmas Fair, Dec. 3
Zebulon Christmas Parade, Dec. 3
State Capitol Tree Lighting Ceremony, Dec. 8
Holiday Pops with the North Carolina Symphony, Dec. 9-10
Theatre In The Park presents A Christmas Carol, Dec. 9-11
The Justice Theater Projects presents Black Nativity in Concert, Dec. 10
MAKRS Holiday Fest, Dec. 10
Happy Holly Days Christmas Parade, Dec. 10
51st Annual Historic Oakwood Candlelight Tour, Dec. 10-11
North Carolina Master Chorale presents Joy of the Season, Dec. 13
Cary Ballet Company presents The Nutcracker, Dec. 16-18
Raleigh Ringers Holiday Concerts, Dec. 17-18
Carolina Ballet presents The Nutcracker, Dec. 17-24
Comments