Highly Anticipated Restaurant Openings in Raleigh, N.C., in 2021
Monday, January 25, 2021, 5pm by visitRaleigh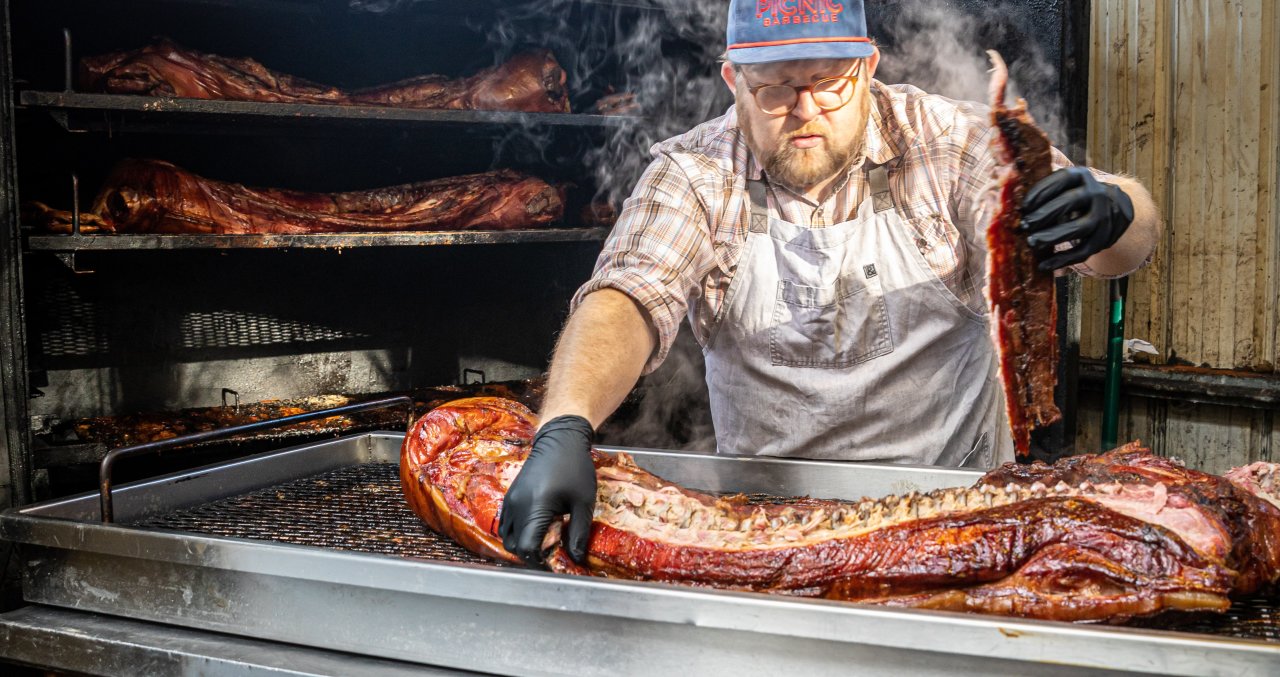 Fresh off a challenging year for restaurants, there are reasons for optimism in 2021 in Raleigh, N.C. These highly anticipated restaurants—some of which delayed their original plans to open last year—have their eyes set on bringing new flavors to the City of Oaks in the coming months, a good sign for the hospitality community in Raleigh (and a great reason to plan a future visit). Read about what's coming below, and give these restaurants a follow on Instagram to keep an eye on their progress!
 
Wyatt's Whole Hog Barbecue
Folks went absolutely "ham" when it was announced that Wyatt Dickson, co-owner of popular local eatery PICNIC (and pictured in the header of this article), plans to open a barbecue spot in Raleigh. For Dickson, the chance to bring pastured, whole-hog barbecue to the City of Oaks has been the realization of a longtime goal of his.
Diners can expect a recreation of a classic pig pickin' indoors. Menu highlights include Eastern-style North Carolina barbecue sandwiches on bakery-fresh buns, South Carolina-style hash, house-made sausage, ribs, brisket and chicken. Coming soon to Raleigh's Gateway Plaza (with a once-weekly takeout menu already in action), the restaurant will feature visible wood-fired smokers, a spacious main dining room and a full-service bar with adult beverages and local beers on tap.
Sam Jones BBQ (update: now open!)
Sam Jones, renowned fourth-generation pitmaster and James Beard Award semifinalist, plans to open a second Sam Jones BBQ restaurant on Lenoir St. in downtown Raleigh. Jones, known for whole hog barbecue that's served with sweet coleslaw and a generous portion of cornbread, comes from a long line of family that knows Eastern-style barbecue. His family opened the famed Skylight Inn in Ayden, N.C., in 1947, and Jones opened his own restaurant just down the road in Winterville in 2015.
The Raleigh restaurant, expected to open early this year, will sit just a few blocks from the Raleigh Convention Center, Dorothea Dix Park, Raleigh Union Station and other attractions near the heart of the city.
The Rainbow Luncheonette
An old-school lunch counter with a vibrant flair, this short-order restaurant is planned for downtown Raleigh's Rainbow Building (the home of Rainbow Upholstery and Furniture Company for 36 years, now home to a number of tenants including the incredible Layered Croissanterie). The 23-seat restaurant is expected to be open for breakfast, lunch and dinner and boast a diner-like menu that doesn't disappoint. Proprietor Jason Howard is also behind The Cardinal just around the corner, so pop in there for a darn good hot dog while you impatiently wait for the doors to open up here.
Gym Tacos
If there was a breakout star of Raleigh's culinary scene in 2020, it may well be Gym Tacos. The blazing orange food truck made the leap from underground cult hero to darling foodie spot in the City of Oaks thanks to good word of mouth (plus tasty tacos, tortas and more), drawing seriously big crowds at a Valero gas station off Six Forks Rd. This year they'll make another leap, opening a brick-and-mortar location on Hillsborough St. across from Meredith College.
BB's Crispy Chicken
Chef Ashley Christensen—operator of five downtown Raleigh eating and drinking spots and named America's best chef by the James Beard Foundation in 2019—has an exciting new fast-casual project in the works to once again raise the bar for the culinary scene in Raleigh, N.C. This time the focus is on that iconic Southern comfort food—fried chicken. Rumor has it that Christensen has perfected a new recipe that strikes a balance between a delightfully crunchy exterior and a juicy, tender interior. She says that contrast plus the right seasoning and quality ingredients is what makes good fried chicken great. A Raleigh location is expected to open in the first half of this year, and a Cary location could come before year's end as well!
Di Fara Pizza (update: now open!)
Opening early this year, Di Fara Pizza will be a spin-off and the first East Coast location outside of New York City of the famous Di Farra Pizza in Brooklyn. Opened in 1965, The New Yorker, The New York Times, Zagat and the late chef Anthony Bourdain have all called the original Di Fara the best pizza in New York. It may not be Brooklyn, but this downtown Cary pizzeria will serve the same family-style, mouth-watering pizza as the original. Count us in!
Longleaf Swine
Having just announced a new location for their highly anticipated brick-and-mortar restaurant in downtown Raleigh, Longleaf Swine is bringing all the smoked meat eats to the party for your enjoyment. From food trailer in 2016 to locally loved 'cue truck—named for the state's signature pine—the partnership between Adam Cunningham and Marc Russell is taking it to the next level. The restaurant's menu plans to showcase smoked pork, ribs, brisket, sausages, homemade sides and more (and you can score some takeout meals from the restaurant while waiting for the dining room to open later this year!).
Berto's Chimis
The pride of Dominican-born founder Roberto Diaz, Berto's Chimis brings traditional Dominican Republic street food to downtown Raleigh, where the food truck can be found parked outside of BaySix (414 Dupont Cir.). The star of the show—the chimi—is a Dominican-style hamburger with bold flavors, served with toppings that include pickled cabbage, tomatoes and a special sauce. A side of tostones (fried green plantains) is a no-brainer and a Country Club (a Dominican soda) will top things off right. More good news? Berto's opened on Jan. 1, which means you can say hello—and grab your chimi—right now!
Follow on Instagram @bertoschimis
Bongiorno & Son
With the soon-to-come opening of Bongiorno & Son in Raleigh's Lafayette Village, Michael Bongiorno's lifelong dream is ready to be fulfilled. This Italian eatery and special store carries on a longstanding family tradition—Bongiorno's great grandfather owned a patisserie in New York's Little Italy, and his grandfather owned an Italian grocery in New Jersey. This storefront and sandwich shop plans to offer soups, sandwiches, imported cheeses, sausages, pasta, bread and more.
Follow on Instagram: @borgiornoandson
The Preserve
Ed Mitchell, the acclaimed barbecue chef who's made his name in local restaurants and earned national media recognition, plans to open The Preserve on Creekside Dr. just north of downtown Raleigh. In partnership with LM Restaurants (the team behind the popular Carolina Ale House franchise), The Preserve will bring another delicious barbecue eatery to our area from the man known as "The Pitmaster." The Preserve plans to open a pop-up 'cue shop in late Jan. or early Feb., so keep your eyes peeled for full details. So much barbecue, so little time!
Cucciolo Terrazza
The announcement that modern Italian restaurant Cucciolo Terrazza plans to open in Raleigh's North Hills neighborhood late this year was an incredibly welcome surprise. Jimmy Kim, chef and owner, opened the critically acclaimed Cucciolo Osteria in Durham in 2018, earning a love letter from Raleigh's The News and Observer food critic Greg Cox. While some of the Cucciolo Osteria's signature dishes—the Spicy Tomato Vodka Cream Sauce Rigatoni and Butter Chicken 'Sostanza' Style—will be served in North Hills, Kim plans to showcase an array of new dishes featuring fresh pasta and seafood.
Follow on Instagram: @cucciolodurham (for now!)
Header photo of Wyatt Dickson by Forrest Mason
Comments