Raleigh, N.C.'s Coziest Coffee Shops
Friday, December 02, 2022, 9am by visitRaleigh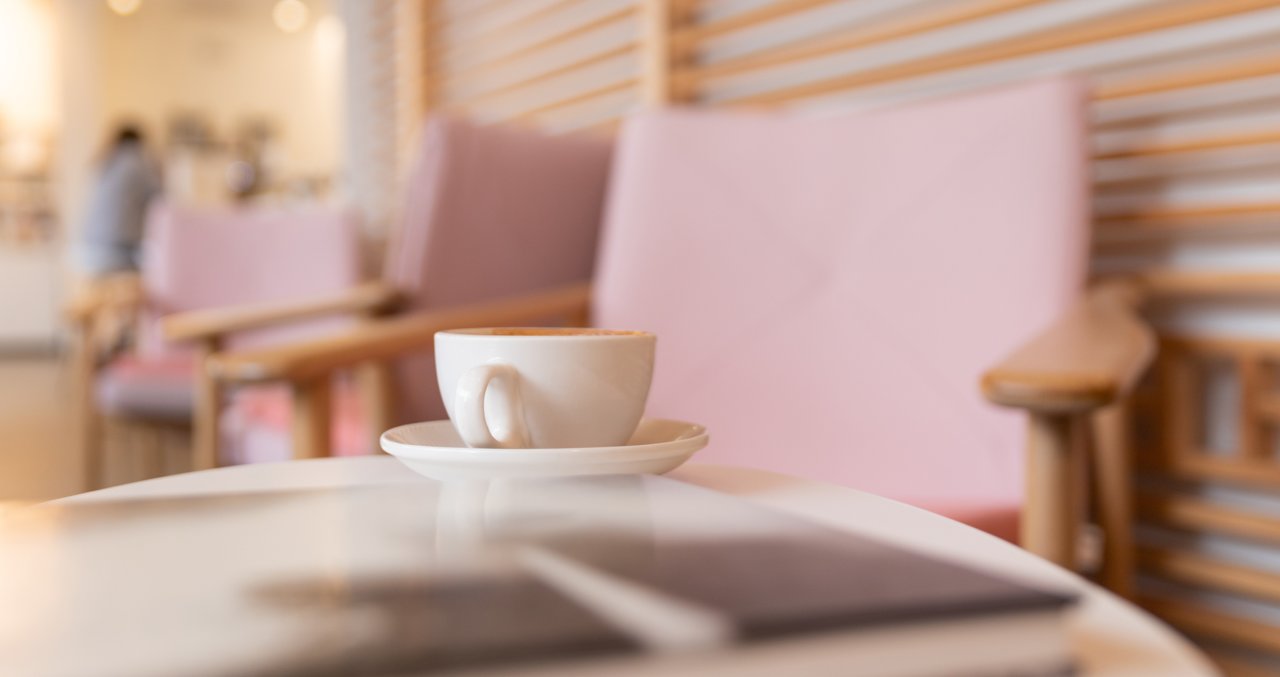 A good book, a warm drink, a quaint coffee shop—these are some of the best spots to get your daily dose of caffeine and coziness in the Raleigh area!
 
Named one of America's best new restaurants in 2019, Heirloom Brewshop is eager to impress Raleigh visitors with its Asian-inspired food, drinks and aesthetics. You can find this coffee shop/sake bar in Raleigh's booming Warehouse District, not far from Morgan Street Food Hall, Father & Son Antiques and Junction West. It's the ideal nook to enjoy a relaxing break from the hustle and bustle of a busy season. The coffee shop not only serves up masterful drinks but also seamlessly blends the different cultures the shop incorporates into its offerings. Husband-and-wife team Chuan Tsay and Anna Phommavong spent weeks traveling through Asia doing research before opening the space in the fall of 2018. Settle for a spell and enjoy the ambiance with a sake cocktail or pour-over coffee.
Serving authentic French attitude, Sosta Cafe gives patrons a real feeling of café life in Paris. It's in everything from the generous servings of sandwiches, salads, soups and also the fair-trade organic coffee from a local roaster that finds its way into lattes, macchiatos, americanos and more. The cafe's personal service and full menu are only accentuated by a focus on good art and truly enjoyable music. "Sosta" means "a restful break," and that's exactly what you can expect when adding this pick-me-up spot to your travel itinerary.
Pine State started as a roaster, selling beans around town before opening its own shop in 2019. While wholesale beans and delivery are still a big part of what they do, the company has expanded into barista territory offering a standard menu of both coffee and non-coffee drinks. Drop in to grab a hot cup and a warm pastry or snag a variety of blends by the bag. You'll find beans here that hail from far off places like Papua New Guinea, Ethiopia and Peru. With indoor and patio seating as well as a rustic, wood-forward design aesthetic, a stop at Pine State is most welcomed and an absolute must.
Formed in 2017 when two U.S. Barista Champions—Kyle Ramage and Lem Butler—collaborated on a vision to bring specialty coffee to the masses in an approachable way, Black & White Coffee now has a thriving wholesale business plus three tasty café locations ready to offer up cozy vibes and delicious drinks.
At the downtown Raleigh location inside of Videri Chocolate Factory—where there's free parking and plenty of good chocolate, too—the Classic roast (caramel, milk chocolate) gets our highest recommendation for year-round goodness, but it's also hard to beat any of the seasonally offered, single-origin options. Don't just take our word for it on this one—Food & Wine recently named Black & White the best coffee roaster in Tar Heel State.
Right across from North Carolina State University is where you'll find Raleigh's home for organic and shade-grown coffee. Since 2000, Global Village has been serving up the finest organic coffee, espresso and whole-leaf teas as well as delicious pastries and paninis. Order up and snag a table to enjoy the shop's warm and inviting space, ideal for reading, conversation, recharging for the day ahead or relaxing once it's done. Pro tip: Visit regularly to taste the panini of day and a revolving menu of pastries—both crafted with baker and chef inspiration.
The Mill, a true Fuquay-Varina favorite, is great place where lovely afternoons can turn into lively evenings. Get your work done, fueled by delicious coffee and teas, and later, celebrate your productivity by enjoying one of the 20 local beers on tap. This two-story, community-centric shop also features live music on Fri. nights and special events throughout the year. Whether you're looking for a caffeine fix or the buzz of a social event, The Mill has got you covered.
Morning, noon and night, Sola Coffee Café is producing some of the most delicious food, tea and coffee in the North Raleigh area. Home to the gorgeous "I Believe in Raleigh" mural, this family-owned neighborhood cafe has been an inviting community space since 2012. Getting that perfect mural photo isn't the only reason you should check out this shop in the Greystone Village Shopping Center. There's also the indoor and outdoor seating, a dog-friendly patio and live music every Fri. and Sat. night. Best of all, you can order from a selection of delicious hot mini donuts, the perfect accompaniment to any steaming mug of java.
Cup A Joe is an old-timey, classic coffee shop with two locations in Raleigh—one on Hillsborough St. and one in Mission Valley Shopping Center (temporarily closed), both just steps from the campus at North Carolina State University. The shop's bright colors and artsy wall posters coupled with the delicious coffee will guarantee you stay wide awake on those sleepy winter days. For the perfect gift idea, grab a Cup A Joe-branded mug and T-shirt before you leave.
Pro tip: The black-and-white cake is pretty famous in the area and should definitely make its way into your tummy. Also, check out the daily specials calendar so you don't miss the next "Milkshake Monday" or "Wired Wednesday." 
On downtown Raleigh's E. Hargett St., Morning Times is a great place to get updated on the day's news while munching on an omelette, breakfast sandwich, the morning mac (yes, it's super) or another breakfast item fave. Morning Times also has lunchtime eats, such as their spicy chicken sandwich and Reuben melt. "Morning" is in the name but the shop's open through 10pm every day. For a cozy coffee shop vibe, head up to the second-floor room, with interesting art and a laid-back atmosphere.
It's a fitting name for a coffee shop that opened during the height of the pandemic and has enjoyed steady business ever since. Today, The Optimist is known as the "neighborhood" coffee house and local haunt for residents of Oakwood and Mordecai. Through partnerships with Raleigh businesses like Black & White Coffee Roasters and Trophy Brewing Co., The Optimist provides patrons some of the best coffee, pastries, baked goods and snacks locally available. Their menu also regularly offers truly satisfying weekend eats and new and unexpected sips.
When it comes to the vibe, familiar and inviting perfectly describes The Optimist. Come in and instantly feel at home whether you're there to enjoy a relaxing afternoon, listen to live music, get into a rousing round of trivia or try your luck at one of their outdoor patio games. 
A staple in downtown Raleigh, Sir Walter Coffee is known for an amazing retro atmosphere as well as a fabulous menu. Open all hours of the day, you can get your perfect beverage at the perfect time. This cafe is a treat for the senses with its vibrant orange and grey furniture, magnificent artwork and optional outdoor seating. Whether it's morning waffles and coffeehouse classics, afternoon espresso and bubble tea or evening tea cocktails and beer, you'll enjoy whiling away the hours at this delightful cafe. Cater to your pumpkin obsession with a fall menu featuring the unforgettable Pumpkin Pie Latte.
"There's nothing common about these grounds." That's what Common Grounds, located in Apex, boasts—and it's absolutely true. From seasonal specials like an Irish Cream Mocha and Peppermint Patty Latte to savory desserts like cheesecake, this cozy coffee shop dazzles on a chilly winter's day. With eclectic décor, handmade mugs and Pinterest-like signs for sale, you might just walk away with more than a coffee to-go.
Tucked away in Holly Springs is a small, family-owned boutique and coffee shop with the most adorable name. Thanks A Latte was started by a mother-and-daughters trio who wanted to make a welcoming and encouraging space for people to enjoy a tea or coffee. While you're there, sip on a Charleston latte while enjoying a warm white chocolate baguette. You can also get a head start on your Christmas shopping by exploring the shop's boutique. One visit, and you'll truly get why this place exemplifies "Southern charm at its finest."
With a mission of reconnecting communities with small businesses, Full Bloom is truly a hidden treasure in Garner. The shop is as dedicated to the farmers who supply the coffee beans as much as it is to the customers who regularly drop by. Stop in for a bag of fair-trade beans or try the innovative Honey Brew Cold Brew (an energizing infusion of organic cold brew coffee and 100-percent pure honey). If you're not in the mood for coffee, go for the tea, beer or delicious homemade paninis.
This North Raleigh cafe in the European-style Lafayette Village weighs, grinds and brews to order. Delicious coffee—the best from around the world is sourced—is prepared by the cup, ensuring every cup is as great as the next. Their waffles are stand-out and especially delicious when topped with fresh fruit. There are also locations at the Aloft Raleigh on Hillsborough St. and North Hills.
Relax with a cup of joe at this spot in Raleigh's Five Points neighborhood. The atmosphere makes it easy to kick back, with rich red Oriental rugs, warmly hued walls and exotic glass lanterns suspended from an antique tin ceiling.
Fun fact: Owner David Benson is the artist responsible for creating the giant Raleigh Acorn, built in 1992 to celebrate the city's bicentennial anniversary and dropped from the sky annually at midnight at the First Night Raleigh New Year's Eve celebration.
Lucky Tree is a hodge-podge of creativity and caffeine. Inspired by the childhood of its owners, this cozy nook has a quirky, yet friendly vibe reminiscent of a neighborhood tree house. Swing by to enjoy locally roasted coffee and a menu of delicious, wheat-free and vegan-friendly treats made with whole ingredients. Pull up a comfy seat and admire unique artwork and handmade items from more than 50 local artists, many of which are for sale. Lucky Tree also has regular "Free The Mic" nights where you can enjoy everything from live music to spoken word poetry.
Stop by NoRa Cafe for a great spot to enjoy a warm beverage—whether that be coffee or tea! Cozy up with a book (or pick up one of the many books for sale) and relax in the welcoming, comfortable shop. NoRa Cafe also offers a variety of  baked goods, breakfast sandwiches and freshly-made Liege waffles.
Pro tip: Try one of their flavorful specialty lattes, created by staff and customer recommendations!
Not only does 321 Coffee provide downtown Raleigh with delicious coffee in a cozy setting, but they also provide jobs for those with intellectual and developmental disabilities. The Hillsborough St. coffee shop opened its doors in August 2022 and offers a menu full of lattes, cold brew, espressos and more. 321 Coffee also has a location inside at the State Farmers Market.
Fount Coffee + Kitchen, located in Morrisville, is a warm and inviting space serving up exceptional drinks with the beans from Counter Culture Coffee. The food menu features gluten-free and paleo dishes, as well as a variety of small plates. Everything is made with organic, high-quality ingredients. Stop by in the afternoon to try their selection of locally brewed beers and fine wines.
An Oberlin neighborhood staple in West Raleigh, Idle Hour Coffee delights guests with a menu of delicious baked goods, coffee, tea and Vietnamese cuisine. With its minimalistic décor, large green velvet sofa, booth seating and round tables, the boutique shop can attract a crowd—if you want donuts (and trust us, you do), you'll want to arrive early as they tend to go fast.
The Creative Cup is downtown Zebulon's local coffee shop owned and operated by local moms. Focused on community, Creative Cup is a place where they want to know your name; where their couch is your couch. A place where old and young can gather around share stories and a great cup of coffee. In addition to coffee, the shop offers all kinds of classes and workshops.
Header photo: Joe Bruno