Raleigh's New Moore Square: Now Open!
Thursday, July 25, 2019, 12pm by visitRaleigh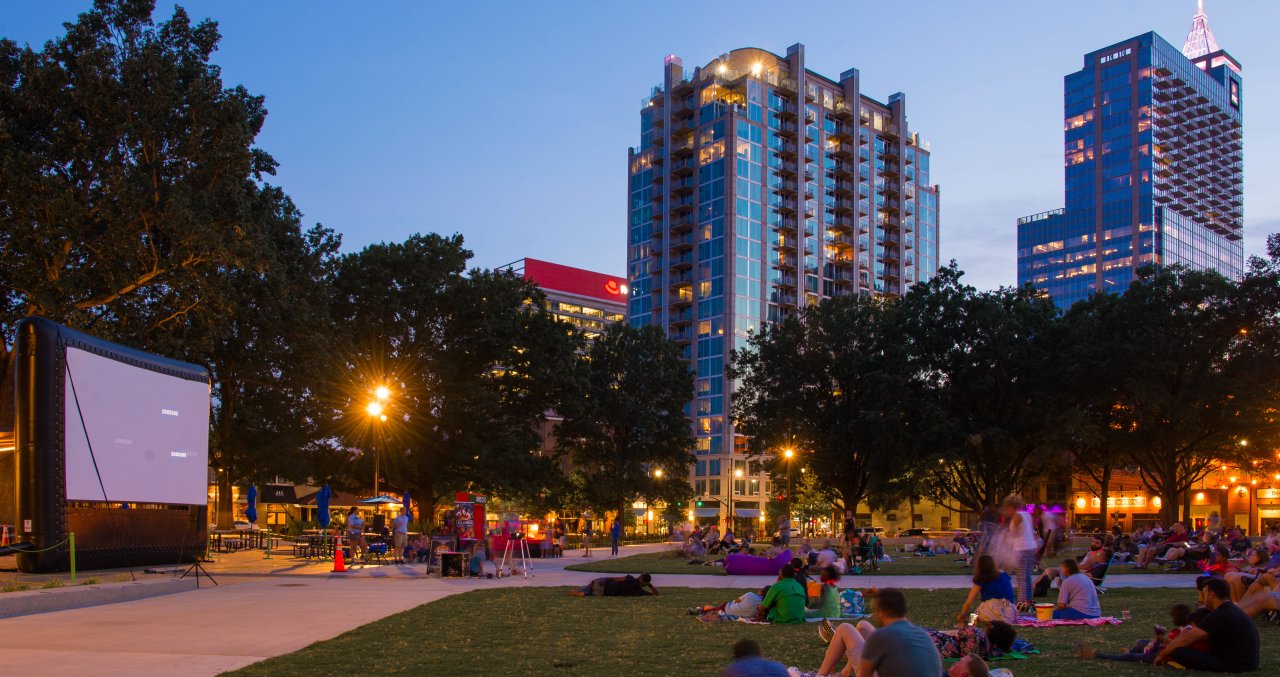 Big news for Raleigh, N.C.!
Moore Square—a four-acre, downtown urban park that was originally conceived as one of four public green spaces for the city way back in 1792—is now open to the public with a brand-new look, new features and a jam-packed calendar of events.
Closed since late 2017 for a renovation and implementation of a new master plan, the park held a ribbon cutting ceremony on Fri., Aug 2, and threw a massive opening celebration party on Sat., Aug. 3.
 
New design and features
Some of the new features of the park include:
a restaurant, Square Burger, serving burgers, fries and milkshakes (plus beer and wine) through dinner time
a small splash pad for children, open until 10pm during the warmer months
two open lawn areas, with capacity for approximately 5,000 people for concerts, movie nights and other events
a shaded "treehouse" area for kids, with a slide and theater-style seating for storytelling
a visitors center, located at 226 E. Martin St. (directly across from the park), which will house a gift shop plus showcase current and historical park information
30-foot-wide sidewalks on the south edge of the park (where the Moore Square Market will be held Wednesdays from 4-7pm, Apr.-Oct.)
Having played a significant role throughout Raleigh's 225-plus years of history, Moore Square was placed on the National Register of Historic Places in 1983 (read more about the history of the park below). Many of these new features have been designed with touches that have this historical impact in mind.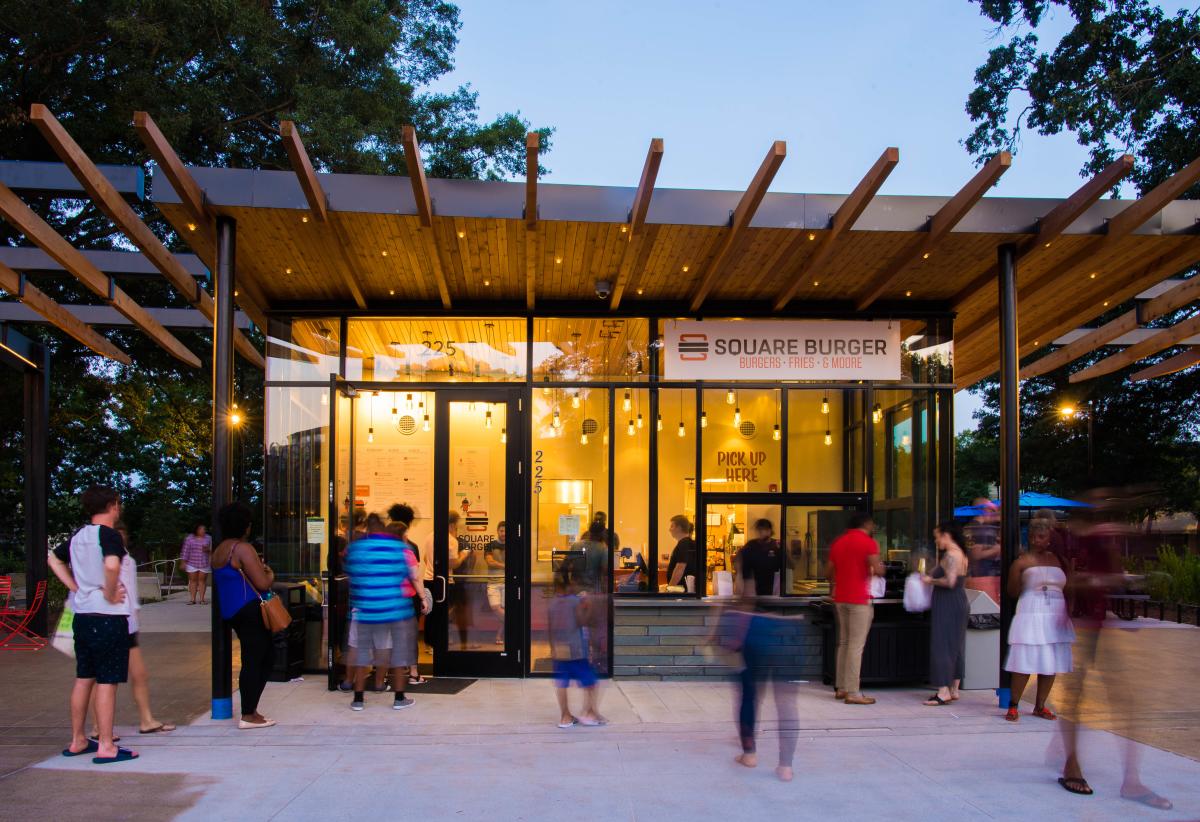 More upcoming events
A plethora of other events—game nights, fitness hours, live entertainment, hands-on arts opportunities and more—will fill out the weekly calendars at Moore Square in the future. Some stand-out events in the opening months include:
Grand Opening Celebration, Aug. 3
Moore Movies: Iron Giant, Aug. 4
Moore Square Market, Wednesdays through Oct. 16
Play Moore Music Festival, Aug. 17
Moore Movies: 10 Things I Hate About You, Aug. 18
Moore Movies: Mamma Mia, Aug. 25
Ideas on Tap, Thursdays in Sept. and Oct., featuring local beer and community discussions
Raleigh Roots History Festival, Oct. 12
Roaring Raleigh Lawn Party, Oct. 26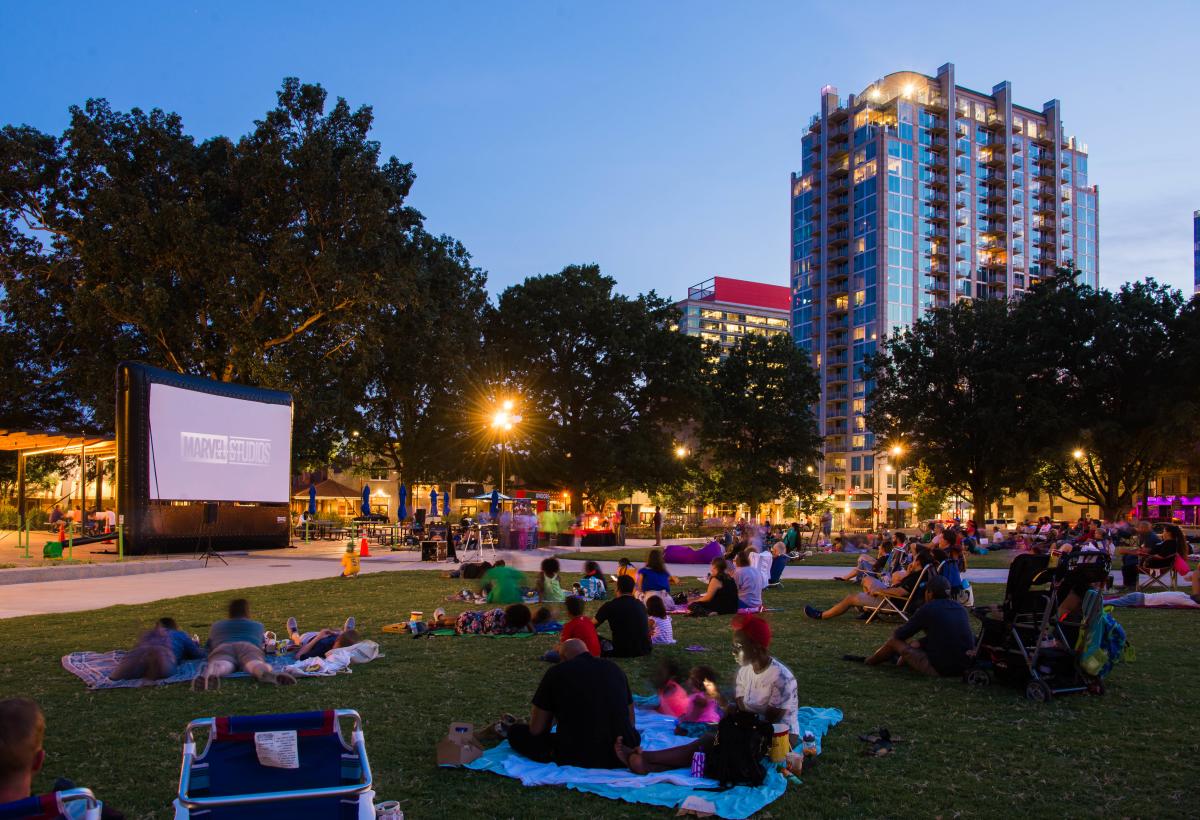 What's nearby
Situation in downtown Raleigh's aptly-named Moore Square District, visitors can (and should!) walk to these other popular attractions:
City Market, a historic, cobblestone-street area with galleries, restaurants and specialty shops
Marbles Kids Museum, a kid-focused museum with dozens of hands-on exhibits and the state's only 3D-capable IMAX theater
Artspace, a studio environment of professional artists, innovative exhibitions and educational programs where you can meet the artists and purchase original works
Brewery Bhavana, a brewery, bookstore, flower shop and dim sum restaurant all rolled into one incredible offering, plus the sister Laotian restaurant next door, Bida Manda
North Carolina State Capitol, a landmark dating back to 1840, open for self-guided tours Mon.-Sat., 9am-5pm
Transfer Co. Food Hall, the much-hyped food hall where you'll find bagels, burgers, beer and bulgogi under one roof
The Pour House Music Hall, one of the area's favorite live music spots since 1997
42 & Lawrence, an organic coffee lab serving up specialty espresso beverages, cold-brew coffees, draft lattes and tasty experiments
House of Swank Clothing Company, where you can find locally-made N.C.- and Raleigh-themed apparel
Park history
When surveyor William Christmas first laid out his plans for Raleigh—a four-hundred acre tract filled with oak trees—he preserved four, four-acre squares designated for public use in each quadrant of the city. At the time, the squares were unnamed. Later, Moore Square would be named after Alfred E. Moore, State Attorney General and a U.S. Supreme Court Justice who also helped found the University of North Carolina at Chapel Hill.
Now listed on the National Register of Historic Sites and designated as a Raleigh Historic Landmark, Moore Square has served many purposes over the last 225-plus years. The site has held camping grounds, churches, schools and farmers' markets. It was used as a place to hold rallies and picnics and other social gatherings. Below are some important dates and notable uses of the park.
1792: Surveyor William Christmas lays out a plan for the city of Raleigh that includes Moore Square.
1812: A congregation of Baptists begin to meet on Moore Square, eventually locating a small frame church on-site. The park takes a secondary nickname of Baptist Grove.
1840-1859: Moore Square becomes home to the area's first integrated church for blacks and whites at the new Christian Chapel.
1842: Eastern Ward School opens on the square, remaining active until the Civil War.
1865-1871: Union Soldiers, including African-Americans, utilize the square's buildings as sleeping quarters after Civil War.
1868-1870: Portions of the square are temporarily used as a farmers' market.
1910: Moore Square becomes the city's most popular park due to new commercial growth on nearby streets. Walking paths are installed inside the park.
1914: City Market—a 12,000-square-foot structure—opens across the street, solidifying Moore Square's position as a commercial (and later social) hub
1920: Black Main Street emerges as an explosion in black-owned businesses arise around City Market. The Lightner Arcade, housing a barbershop, newspaper, ballroom and hotel, acts as the hub of social activity for African-Americans during segregation.
1935: Richard B. Harrison Library for blacks opens across the street, leading to increased foot traffic around the park.
1957: City Market closes after a decline in the area following World War II.
1980: Artsplosure holds its first festival at Moore Square, leading to the area becoming a booming arts district in the following years.
1990s: City Market and surrounding streets are lined by restaurants, bars and retail shops in addition to galleries and workshops.
1999: Opening of Exploris Museum (eventually morphed into Marbles Kids Museum) and the adjacent IMAX theater.
2017: Park closes for renovation and implementation of new master plan.
2019: Moore Square reopens.
Comments