Six of the Toughest Food Challenges in Raleigh, N.C.
Tuesday, January 07, 2020, 3pm by Tabletop Media Group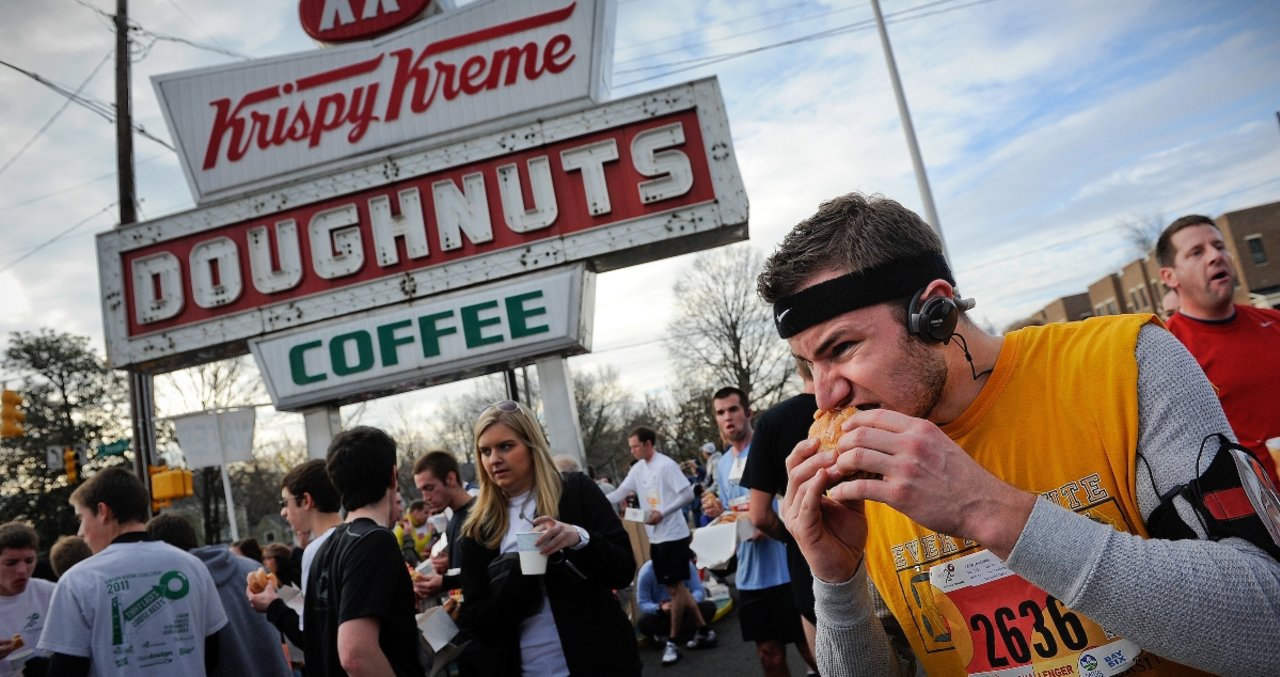 For all the food crazies out there, we found six of the toughest food challenges in the Raleigh area for you to conquer. On your mark, get set, GO!
 
Aviator's Wing Madness Challenge
Visit Aviator SmokeHouse in Fuquay-Varina (before or after enjoying a brewed-in-house beer on the Tap House patio directly across the street) to take on the Aviator Wing Madness Challenge—12 smoked and deep-fried chicken wings drowned in the restaurant's own Imperial MocoLoco Sauce, a blend of ghost chili peppers that's described on the menu as "very, very, very, very, very, very hot." Spoiler alert: Your hands will throb, your mouth will go numb, your stomach will burn and it will all be for nothing when you can't finish the challenge in the allotted 15 minutes. You've been warned!
A second challenge at the SmokeHouse—the KingKong Boil Over Burger Challenge—has you tackle a ridiculous 2.5-pound burger topped with one pound of barbecue, one pound of brisket, cheese, bacon, pickles, a fried egg, French fries, sour cream, onion rings and more. Eat it in 30 minutes or less for a T-shirt and a stomach ache!
Krispy Kreme Challenge
One of America's most unique running events (and toughest eating events!), the Krispy Kreme Challenge requires competitors to run five miles, eat a dozen doughnuts at the halfway point and hit the finish line in under one hour. Started in 2004 with just a handful of North Carolina State University students, the annual event held in Feb. now draws nearly 8,000 runners decked out in costumes along with plenty of media attention. This is a "pace yourself, brace yourself" event that's claimed countless victims over the years (you'd be wise to watch your step in the last mile or so!). It's all for a good cause, though—in 2019 the event raised $190,000 for the UNC Children's Hospital. For the curious, those doughnuts total 2,400 calories and 144 grams of fat (but who's counting!).
Note: The 2020 event will take place Feb. 1!
Backyard Bistro Challenge
At Backyard Bistro in Raleigh—where the game is on TV and the beer is always flowing—the Backyard Bistro Challenge consists of eating a two-pound burger topped with one pound of barbecue (smoked for 12 hours!) and a heap of coleslaw. It doesn't stop there, of course—you must also consume one pound of fresh-cut, twice-fried French fries and an entire gallon of sweet tea…all within one hour (believe it or not, we've seen it done in just over eight minutes—wow!). Finish within the allotted time and not only will your meal be on the house, but also you'll find your face on the wall of fame. If not, it's the wall of shame for you, so come hungry!
The Roast Grill Hot Dog Challenge
One of the state's most beloved hole-in-the-wall restaurants, the no-frills Roast Grill does one thing and does it very well—hot dogs (served with glass bottled Coca-Cola). The downtown Raleigh hot wiener joint doesn't serve the following: ketchup, fries, chips, cheese, mayo, kraut, relish, coffee or sweet tea (among other items that won't be found).
No matter, because the items that are available—a world famous chili, slaw made without mayo, mustard and hand-chopped onions—along with a generous amount of char from the restaurant's original grill, are what have made the Roast Grill a legendary lunch spot on the edge of Raleigh's Warehouse District for nearly 80 years.
The hot dog challenge at The Roast Grill took national spotlight in 2009 when Adam Richman's "Man v. Food" television show taped an episode at the 10-seat restaurant. The challenge—simply eating as many loaded dogs as you possibly can in one hour in an attempt to take the all-time record—made news again in late 2018 when local resident Greg Wilson took down a new record of 27 hot dogs. Look for his photo on the wall when you visit!
Benny's 28-Inch Pizza Challenge
Who doesn't love pizza? How about eight pounds of pizza? At Benny Capitale's, the The Benny's pizza challenge gives amateur eaters one hour to devour a 28-inch pizza loaded with sausage and pepperoni. The upfront cost is $40, the potential prize is $500—a true risk-reward situation!
Big Ed's Big One Challenge
Fan of breakfast foods? Fan of pancakes twice the size of your head? Then Big Ed's City Market Restaurant has the challenge for you! The Big One Challenge requires you to eat three larger-than-life pancakes—approximately five pounds of food—in 45 minutes or less (all in the name of bragging rights and a free T-shirt!). Bonus points for heaps of butter, syrup and sweet tea!
2020 foodie events in Raleigh, N.C.
Triangle Restaurant Week, Jan. 20-26
Krispy Kreme Challenge, Feb. 1, 2020
North Carolina 'Cuegrass Festival, tentatively April 18, 2020
French Market & Seafood Festival, tentatively April 18, 2020
Brewgaloo, April 24-25, 2020
Got to Be NC Festival, May 15-17, 2020
Raleigh's 5th Annual International Food Festival, June 6, 2020
Town of Cary's Pimento Cheese Festival, June 6, 2020
Downtown Raleigh Food Truck Rodeo, June 14, 2020
Peak City Pig Fest, June 19-20, 2020
Cary Downtown Chowdown, July 12, 2020
Beer, Bourbon & BBQ Festival, Aug. 7-8, 2020
Header photo: North Carolina State University
Comments