The Best Restaurants for Vegetarians and Vegans in Raleigh, N.C.
Tuesday, October 22, 2019, 1pm by visitRaleigh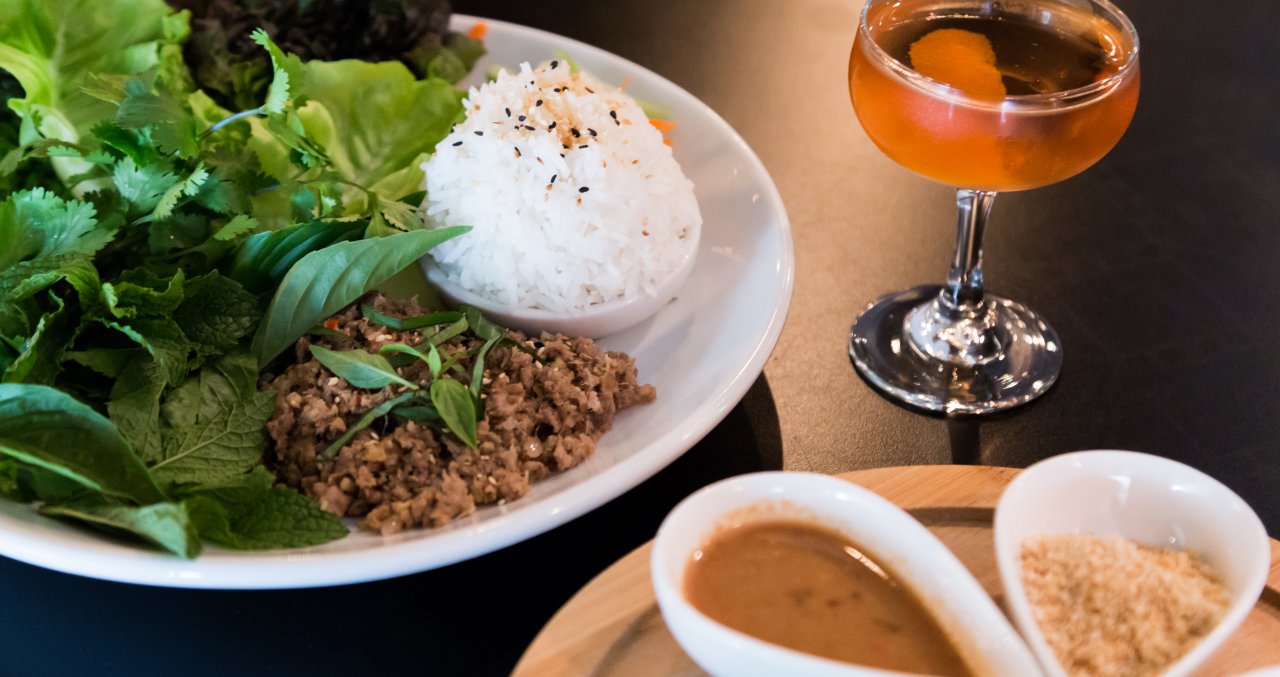 The culinary scene in Raleigh, N.C., offers up a bevy of tasty delights for vegan and vegetarian visitors. From grab-n-go spots dedicated to leafy greens and plant-based dishes to sit-down establishments with tailored menus, the Raleigh area goes all out to satisfy appetites of all kinds.
 
If you're in the mood for a consistently-delicious, 100% vegetarian meal, look no further than The Fiction Kitchen. Located in downtown Raleigh's Warehouse District, this farm-to-fork restaurant—headed by chef Caroline Morrison—crafts creative vegan and vegetarian dishes like the crispy fried, mock chicken and waffles as well as an Eastern Carolina-style barbecue pulled "pork" that gives its meat-based counterpart a run for its money.
Remedy Diner
Serving vegans, vegetarians and carnivores since 2009, Remedy Diner offers up an alternative take on comfort food. Hungry patrons can dine on vegan biscuits and gravy for brunch, delicious sandwiches prepared with local and organic ingredients and homemade desserts like their coconut cream pie topped with soy whipped cream. Local tip: Dinner and/or drinks at Remedy are one of our top picks before seeing a laugh-out-loud show at legendary comedy club Goodnights Comedy Club, just down the street.
At Vegan Community Kitchen in Apex, you'll find nothing short of 100% vegan, Mediterranean fare that's bursting with tons of flavor and crafted with organic grains and a variety of plants. Locals swear by the house burger and gyros, and for dessert, the baklava and chocolate chip cookies.
Little Shop Sweets
Even the doughnuts have gone vegan here in Raleigh! Little Shop Sweets is a collective space in Raleigh's Historic Oakwood neighborhood featuring coffee and baked goods from Anisette Sweet Shop, vegan doughnuts from Lousy Hunter Doughnuts and retail offerings from Sustain Market. Open Thurs.-Sun.
A true pioneer in the Raleigh restaurant scene, Arthur Gordon's Irregardless Café has provided fresh, healthy and inclusive meals since 1975. Tuck into creative dishes like cauliflower steak and vegetable strudel topped with marinara sauce. Named one of OpenTable's 50 Best Restaurants for Vegetarians in America, Irregardless also wows visitors with its friendly atmosphere and live music offered daily.
Fresh Levant Bistro
Fresh Levant, having opened its doors in 2015 in Raleigh's Lafayette Village to serve quality and healthy food to people with specific diets, has grown into one of the most cherished Mediterranean bistros in Raleigh. Following the Levant tradition, the bistro features a gluten-free, soy-free, all organic, non-GMO menu rooted in Mediterranean culture. Relish traditional favorites like zaatar bread and man'oush—house-made flatbreads baked to order.
Named one of America's Best New Restaurants by Bon Appétit in 2017 for serving up some mighty-tasty dim sum, Brewery Bhavana's vegan and vegetarian options include dishes like edamame ginger dumplings, vegetable curry puff and gai lin—Chinese broccoli bathed in delicious garlic sauce. In addition to having lunch or dinner at the Moore Square-adjacent hot spot, be sure to also check out the flower shop, book shop and brewery, all housed in the same building.
Right next door to Brewery Bhavana is Bida Manda, a restaurant also owned by passionate minds Vansana and Vanvisa Nolintha. Stop by to marvel at the amazing décor and savor Laotian cuisine at its finest with a variety of vegetarian and vegan options available from crispy rice lettuce wraps and salads to curries and basil stir fry. 
Spice-driven seasonal cuisine with a focus on Indian and Pan Asian flavors is the name of the game at Garland. Run by rockstar chef Cheetie Kumar, Garland plates delectable dishes guaranteed to have your palate tickled pink. Vegetarians should try standout dishes like the Pakora Chaat or the corn cake and greens. 
Specializing in wraps, baked goods and Mediterranean food since 1977, Neomonde is a must-visit for vegans and vegetarians. Savor some of the best hummus around and other authentic delicacies like stuffed grape leaves, baba ghanouj and fatoush.
The sister restaurant to Neomonde, Sassool specializes in fresh Lebanese and Mediterranean cuisine that is both plant and meat based. With every menu item clearly labeled vegan, vegetarian or gluten-free, you can easily choose what you want from kebabs to hummus, platters to pita sandwiches. 
Evoking a timeless tradition, Mithai Indian Café is a contemporary Indian café, tea house, bakery and dessert destination located in Chatham Square, a multicultural hotspot of Cary. As the Carolinas' first local, artisanal Indian sweets manufacturer, Mithai specialize in a range of sweets, snacks, dishes and drinks, including five vegan snacks as well as vegan milk substitutes for tea and coffee.
At Happy and Hale, healthy fuel is at the core. By providing freshly-made juice, hearty protein bowls and smoothies, Happy and Hale is dedicated to healthy nourishment. The offerings are fresh and fast, and some of the fan favorites include the quinoa bowl and the Almond Brothers smoothie with chocolate almond milk, banana, almond butter and ground coffee. Pro tip: Don't miss out on Happy and Hale's all-day breakfast! Order the avocado toast topped with an optional sunnyside egg or the açaî bowl. Raleigh area locations include downtown Raleigh and North Hills.
Lilly's Pizza welcomes hungry customers with truly-delicious pizza, a friendly atmosphere and kitschy décor that is distinctively Raleigh. Head right up to their counter and place your order for the perfect pie, choosing from several vegan and vegetarian pizza sauces and toppings.
Get back to a more natural way of eating with a trip to Raleigh Raw. Located in downtown, the organic raw juice bar and café whips up killer smoothies, coffee, specialty drinks and savory bowls on the daily.
Comments