The Best Restaurants for Vegetarians and Vegans in Raleigh, N.C.
Monday, February 07, 2022, 4pm by visitRaleigh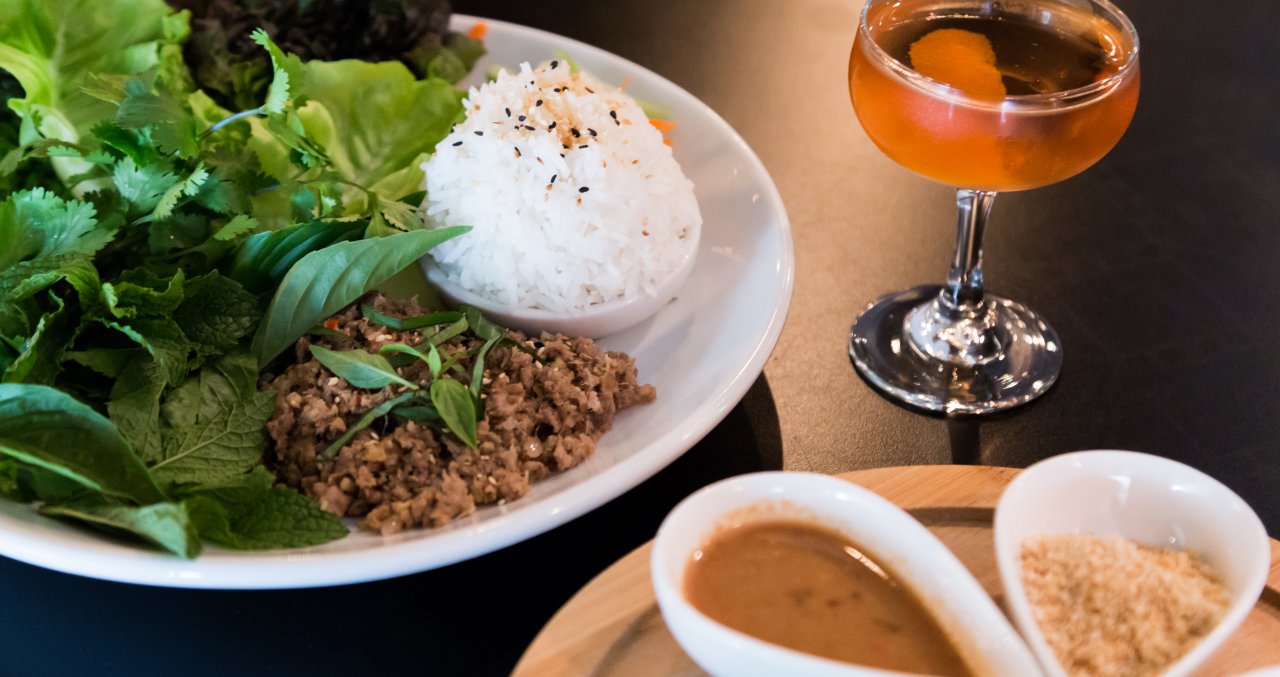 The culinary scene in Raleigh, N.C., offers up a bevy of tasty delights for vegan and vegetarian visitors. From grab-n-go spots dedicated to leafy greens and plant-based dishes to sit-down establishments with tailored menus, the Raleigh area goes all out to satisfy appetites of all kinds.
 
A true pioneer in the Raleigh restaurant scene, Irregardless Café has provided fresh, healthy and inclusive meals since 1975. Tuck into creative dishes like cauliflower steak and vegetable strudel topped with marinara sauce. Named one of OpenTable's 50 Best Restaurants for Vegetarians in America, Irregardless also wows visitors with its friendly atmosphere and nightly live music offerings. A dinner at Irregardless followed by a show at Goodnights Comedy Club makes for a classic City of Oaks date night. 
If you're in the mood for a consistently-delicious, 100% vegetarian meal, look no further than The Fiction Kitchen. Located in downtown Raleigh's Warehouse District, this farm-to-fork restaurant—headed by chef Caroline Morrison—crafts creative vegan and vegetarian dishes like the crispy fried, mock chicken and waffles as well as an Eastern Carolina-style barbecue pulled "pork" that gives its meat-based counterpart a run for its money.
At Vegan Community Kitchen in Apex, you'll find nothing short of 100% vegan, Mediterranean fare that's bursting with tons of flavor and crafted with organic grains and a variety of plants. Locals swear by the house burger and gyros, and for dessert, the baklava and chocolate chip cookies.
Named one of America's Best New Restaurants by Bon Appétit in 2017 for serving up some mighty-tasty dim sum, Brewery Bhavana's vegan and vegetarian options include dishes like edamame ginger dumplings, vegetable curry puff and gai lin—Chinese broccoli bathed in delicious garlic sauce. In addition to having lunch or dinner at the Moore Square-adjacent hot spot, be sure to also check out the flower shop, book shop and brewery, all housed in the same building.
Garland
Spice-driven seasonal cuisine is the name of the game at Garland, undeniably one of the City of Oaks' standout restaurants. Run by rockstar chef Cheetie Kumar (a four-time James Beard Award nominee), Garland plates delectable dishes from a menu that is seasonally inspired and influenced by flavors of India and Asia. Vegetarians should try standout dishes like the Pakora Chaat or the corn cake and greens. 
Specializing in wraps, baked goods and Mediterranean food since 1977, Neomonde is a must-visit for vegans and vegetarians. Savor some of the best hummus around and other authentic delicacies like stuffed grape leaves, baba ghanouj and fatoush.
The sister restaurant to Neomonde, Sassool specializes in fresh Lebanese and Mediterranean cuisine that is both plant and meat based. With every menu item clearly labeled vegan, vegetarian or gluten-free, you can easily choose what you want from kebabs to hummus, platters to pita sandwiches. 
Element Gastropub, backed by a combined 40 years of vegan culinary experimentation and 24 years of hospitality experience, proves that a plant-based meal can be downright tasty. The restaurant, nestled in the heart of downtown Raleigh, caters to omnivores and vegans alike with a belief that sharing quality food and drink is the simplest and best way to create memories and cultivate friendships. Element also prides itself on not using any animal products or by-products, including honey, to prepare their dishes. We recommend a dose of Dem' Greenz or something from their Global Street Food menu, but frankly, any of their sandos, pubwiches, wraps, burgers or salads will surely satisfy.
Chef Andrew Ullom's Union Special is a full-service bakeshop and café offering sweet and savory pastry, bread, cookies and vegan fare. With industrial décor, the café dials up the nostalgia, history and work ethic of traditional American manufacturing. The name "Union Special" is even inspired by America's oldest and last industrial sewing machine. When it comes to food, however, you can expect a modern menu that revolves and evolves with the times, featuring selections of grain and vegetable-forward sandwiches and salads. Head on over to one of two locations for a thoughtfully composed breakfast, lunch or brunch starring dishes almost completely made for scratch. Popular picks include the Hot Vegan Sandwich, the Carolina Grit Co. Grits & Greens and the Grown Up Grilled Cheese.
Considering yourself a boss means dominating your respective lane. It's a philosophy Boss of Vegan owner Demetrius Liverman believes in and has achieved when it comes to making some of the best vegan burgers in Raleigh. This Black-owned business is all about fulfilling fast food cravings with addictive tastes and superior service. We're talking fries, shakes, cookies and, of course, big and juicy burgers made to order. Fans rave about the Boss Burger Deluxe, and you really can't go wrong with a Beyond Meat patty, grilled onions, lettuce, tomato, pickles and boss sauce piled high on a Hawaiian bun. If visiting Boss of Vegan for the first time, be sure to capture your first-bite reaction on social media with #firstbitechallenge.
Billed as the Raleigh area's original arepa food truck, Arepa Culture now doles out gourmet-style, Venezuelan cuisine on both food truck and brick and mortar fronts. Swing by their flagship store on Glenwood Ave. to wrap your tastebuds around hand-crafted, authentic arepas—a gluten-free white cornmeal "bread" grilled and generously filled with delicious, quality ingredients. Made from scratch daily, these little pockets of heaven can be customized to fit a variety of dietary preferences. Arepa culture also has bowls and cachapas, Venezuelan sweet and savory pancakes. 
If you're in the mood for healthy beverages, plant-based food, acai bowls or raw treats, then this juice and vegan food joint with locations in both Cary and Raleigh creates innovative plant-based menu items with high-quality ingredients that make you feel good inside. Enjoy vegan eats like burgers, chk'n sandwiches, salad bowls and desserts as well as cold-pressed juices, shots and elixirs, smoothies and warm drinks. Pure Vegan also offers a kids' menu, so it's perfect for the whole family.
Discover a culinary voyage halfway around the world, tucked away inside a Cary shopping center. Awaze Cuisine offers diners a flavorful experience that's authentic, enjoyable and driven by Ethiopian and Eritrean cuisine. Settle into the cozy dining room of this family-friendly restaurant filled with warm colors, flowy window treatments and beautiful art pieces. Just as impressive as the décor is the menu which boasts a range of vegan and vegetarian options that highlight the mix of berbere, garlic and wine flavors characteristic of the territory. Start your meal with Veggie Sambusas or a house salad. From there, dive into a mouthwatering entrée or veggie platter—all served with "injera," a teff flour-based sourdough flatbread. First-timers should definitely try the Timatim Fitfit (injera mixed with diced tomatoes, onions, jalapeño peppers, garlic, olive oil and hints of spice) or the Kik Alecha (slightly pureed yellow split pea simmered in herbs and spices).
Husband and wife duo Syed Yousuf and Samreen Nawaz opened the award-winning Kabibish Café in 2015, serving Indian-Pakistani-Mediterranean cuisine (tandoori chicken, tikka masala, veggie-and-hummus wraps, homemade naan and more). Residents of Cary for more than a decade now, Yousuf and Nawaz were well aware of the plethora of tasty Indian food available nearby, so they committed to using great customer service to help separate Kababish from the pack. It's safe to say that's worked, as this downtown eatery—with an adorable small patio—shows no signs of slowing down any time soon. 
Kō•Än impresses diners from all over with its inspired Southeast Asian cuisine. In addition to popular Chinese, Japanese and Thai dishes, executive chef Drew Smith puts the spotlight on food from countries like Laos, Cambodia and the Philippines. Kō•Än means "public table" and translates into a menu of mostly small plates meant to be shared at large tables with family and friends. Make a reservation to savor gyoza with mock "chicken," vegetarian versions of Korean Bibimbap and Singapore noodles as well as a great selection of libations from craft cocktails to beer and wine. Pro tip: A big part of the experience here is the welcoming interior design. Precious woods, stone and plants create the perfect backdrop for artful and colorful dishes. Kō•Än is consistently rated as one of Cary's best restaurants. 
Take a trip to flavor town with a quick jaunt to Tower Indian in Morrisville, just outside Raleigh proper. Tower serves up pure Indian vegetarian cuisine with a South Indian twist. Dishes, many of which are gluten-free and vegan, are prepared by drawing upon the rich tapestry of Indian food, culture and tradition. The restaurant's warm and friendly atmosphere, professional chef and dedicated staff attracts many, including spice lovers who love the kick of Tower's dishes. And what's not to love about a menu that covers everything from samosas to dosas to a list of curries with a range of heat. Come grab a seat and a meal on their sidewalk patio or head inside to a cozy dining room complete with a full buffet.
Osha Thai Kitchen & Sushi is one of many restaurants that makes downtown Holly Springs a dining hot spot. "Osha" means tasty in Thai and this place certainly delivers, drawing locals from all around with their authentic take on Thai cuisine, fresh sushi and classy crafted cocktails. Kick off a delicious meal with crispy eggplant slices tossed with scallion and served with sweet chili dipping sauce. We also recommend a bowl of the vegetable Tom Kha, coconut milk soup with fresh Thai chili, lemongrass, mushroom, lime juice, cilantro and galangal. For entrées, you can't go wrong with any one of their curry, noodle and rice dishes as well as either of their seven stir fries. Beyond food, Osha sports a fun and relaxing atmosphere that flaunts good vibes with great taste. 
Anyone up for tea? If so, head to this Southern-inspired tearoom, one of the best restaurants to open in 2021 in the Raleigh area, also located in Holly Springs. Housed inside the historic Brown-Holloway House (c. 1840), Pimiento Tea Room (PTR) offers visitors small plates and tea-infused libations for lunch, dinner and Sun. brunch. While the menu changes periodically, you'll always find tasty goodies like the vegan 10-layer salad, black-eyed pea hummus, turtle bean soup as well as creative takes on the classic tea sandwich. With a refreshingly eclectic vibe, PTR invites guests to linger and unwind with great food and drink and weekly live music. Whether marveling at the reclaimed "teahouse" sign or identifying the silhouettes near the front entrance, enjoying teatime here is always a good time. 
Evoking a timeless tradition, Mithai Indian Café is a contemporary Indian café, tea house, bakery and dessert destination located in Chatham Square, a multicultural hotspot within Cary. As the Carolinas' first local, artisanal Indian sweets manufacturer, Mithai specialize in a range of sweets, snacks, dishes and drinks, including five vegan snacks as well as vegan milk substitutes for tea and coffee.
At Happy and Hale, healthy fuel is at the core. By providing freshly-made juice, hearty protein bowls and smoothies, Happy and Hale is dedicated to healthy nourishment. The offerings are fresh and fast, and some of the fan favorites include the Coco Curry Bowl (tofu, green coconut curry and chili lime chickpeas), the Incredibowl (quinoa, roasted sweet potatoes, roasted beets, black beans and more) and the Almond Brothers smoothie, made with chocolate almond milk, banana, almond butter and ground coffee. 
Lilly's Pizza welcomes hungry customers with truly delicious pizza, a friendly atmosphere and kitschy décor that is distinctively Raleigh. Head right up to their counter and place your order for the perfect pie, choosing from several vegetarian, gluten-free and vegan pizza options. The Gaia pizza—a tofu, broccoli, banana peppers and Daiya vegan cheese option—is thought by many to be the best vegan pizza in the Raleigh area. 
One of Cary's self-proclaimed best kept secrets, the Turkish flatbreads, kebabs and baklava offerings from owner Mustafa Dilekoglu are simply too good for us to keep to ourselves. This lunch-and-dinner gem serves everything super fresh, has a fantastic menu that caters to vegetarians as well as meat eaters and even offers Turkish coffee and tea that make for a tasty end to a delicious meal. 
Get back to a more natural way of eating with a trip to Raleigh Raw. Located in downtown Raleigh, the organic raw juice bar and café whips up killer smoothies, coffee, specialty drinks and savory bowls on the daily.