The Best Restaurants That Opened in 2021 in Raleigh, N.C.
Thursday, December 09, 2021, 3pm by visitRaleigh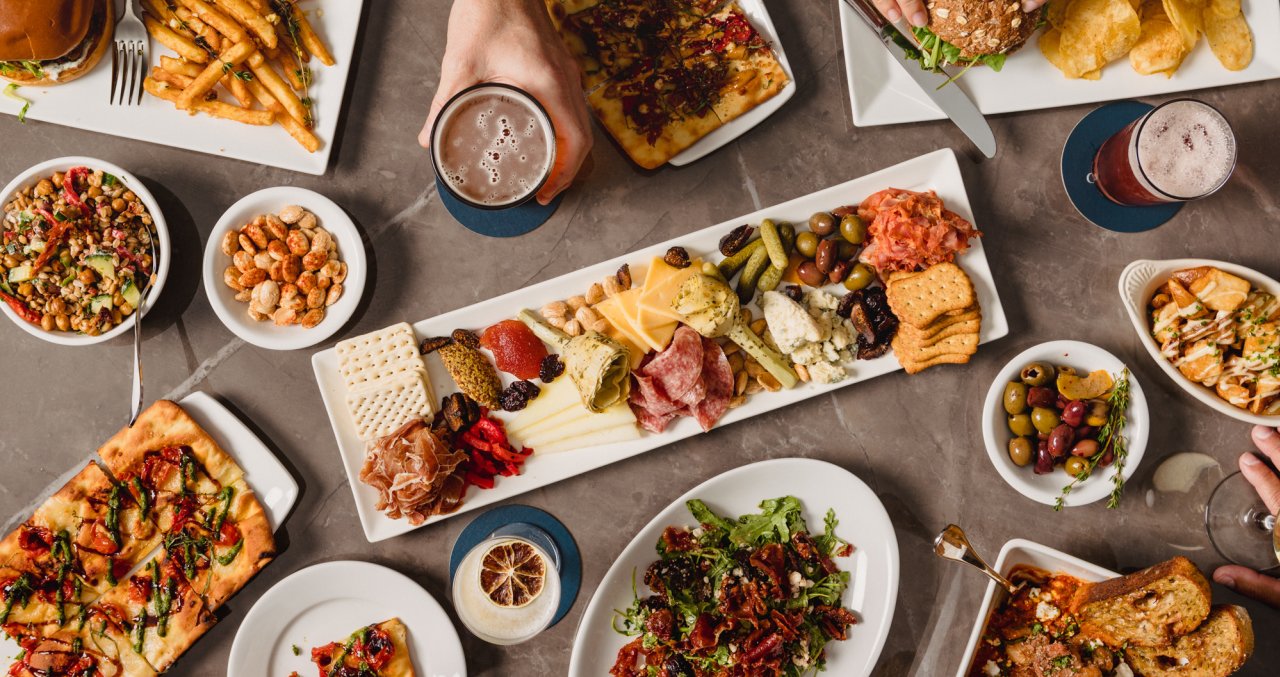 There's no denying that the last two years have been tough on small businesses everywhere, especially in the hospitality industry. But this year was a step forward for the food scene in the Raleigh area—many restaurants were able to reopen their dining rooms, welcome more guests and expand hours with sights set on a return to pre-pandemic operation levels. And still facing uncertainty, a number of local entrepreneurs fought back in 2021, opening new businesses and welcoming guests to experience something they're passionate about.
We know that food has ultimately remained an essential part of the travel experience. Whether you're digging into a plate of Carolina barbecue, meeting new friends at a brewery taproom or completing a tasting tour of treats at a giant food hall, there's often no better way to get to know a destination than through food and drinks.
So here's a roundup of the best restaurants, bakeries and more that opened their doors this year. Swing by to grab a meal, say hello and discover new favorites to share with everyone you know!
 
Matt Fern, a long-time veteran of the Raleigh food and beverage scene, delighted loyal followers this summer with the long-awaited opening of (ish) delicatessen. If you crave the tastes of Jewish, Russian, American, Italian fare—or just about anything between two slices of bread—than this sandwich joint is worth several visits. Nestled within Raleigh's Person St. corridor, (ish) brings to life deli classics, some off-the-wall options and more to tantalize the palate. It's the one place in Raleigh where you'll find a pastrami sandwich next to a carnitas torta and a smoked bluefish melt on any given day (and breakfast is now being served as well!).
In Nov., Raleigh welcomed a rooftop experience that's proved to be several stories above and beyond the ordinary. The Willard (pictured in the header above), located atop the new AC Hotel Raleigh Downtown in the vibrant Glenwood South entertainment district, is the place to go for a meaningful and memorable night out. Come settle into an indoor dining space and two heated outdoor terraces, both boasting spectacular views of downtown. Finely crafted cocktails and Spanish-inspired small plates serve as perfect complements to the scenery and are sure to send taste buds soaring—this is the spot for good views and good food on a date night out!
The opening of modern Italian restaurant Cucciolo Terrazza was major news for Raleigh's North Hills neighborhood this fall. Jimmy Kim, chef and owner, opened the critically acclaimed Cucciolo Osteria in Durham in 2018, earning a love letter from Raleigh's The News and Observer food critic Greg Cox, and diners should expect much of the same at the new Raleigh location. Drop in for dinner to sample signature dishes like the Spicy Tomato Vodka Cream Sauce Rigatoni and Butter Chicken 'Sostanza' Style. You'll also find a delightful array of new dishes featuring fresh pasta and seafood to try as well.
Andrew Ullom's Midwest roots, culinary school background and devotion to flaky, pastry goodness have now culminated into two very, very good things for visitors to Raleigh. Union Special—with a first location having opened in 2018 and a second full-service bakery having opened early this year in downtown Raleigh—produces all sorts of sweet, savory treats, vegan fare and killer sandwiches with fresh-baked bread. Options like peach hand pies, snickerdoodles and a tomato jam tart are just a sampling of a revolving and evolving cafe menu of grain and vegetable-forward breakfast, lunch and brunch dishes.
Downtown Raleigh's first distillery and restaurant became a reality in 2021 thanks to the owners of Raleigh's beloved Trophy Brewing. Young Hearts offers a variety of liquors, tasty bites, a rooftop patio, event space and more. With a focus on ethically and locally sourced ingredients, Young Hearts provides guests with a mix of small plates, salads and larger entrees as well as several vegan and gluten-free options. The drink menu focuses on local producers and botanical-forward spirits to provide a sense of place and season in the Tar Heel State. Currently offering their own gin and vodka spirits, Young Hearts will soon be expanding into amaro and other small-batch liquors under the helm of head distiller Mena Killough.
Born from at-home cooking creations during the pandemic, Raleigh welcomed its first fry bar to the ever-popular Morgan Street Food Hall thanks to husband-and-wife duo James and Johanna Windon. Buena Papa, a name roughly translated as "good potato," offers up the familiar taste of crispy, made-to-order fries topped with the bright bursting flavors of Latin America. Alongside flagship dish The Columbiano, patrons can also indulge in an expanded menu that also includes hand-cut, made-to-order nods to other cultures. Swoop in and make a meal of the El Mexicano, La Boriqua, El Italiano, El Americano and The Carolina among other gourmet fry concoctions.
When you think of great sushi, a gas station setting doesn't normally come to mind. But Akami Sushi Bar is here to change that. This cozy eatery located next to a gas station in Apex is certainly one of the top hidden gem openings of 2021 in the Raleigh area, offering up a range of super delicious sushi, sashimi and nigiri made with the freshest ingredients. Snag a table to indulge in their signature Geisha Dragon, Phat Boy or Voodoo rolls, soups and salads and a small menu of beers and sake.
BB's Crispy Chicken hit the scene in late 2021 as the newest fast causal project from chef Ashley Christensen (operator of five downtown Raleigh eating and drinking spots and named America's best chef by the James Beard Foundation in 2019). Christensen's focus this time around is the iconic Southern comfort food—fried chicken. She's perfected a new recipe that strikes a balance between a delightfully crunchy exterior and a juicy, tender interior. That contrast with the right seasoning and quality ingredients is what makes good fried chicken great. Thirteen signatures sauces—from buttermilk ranch to hot honey to scorpion red fire (warning: HOT)—let you make your meal your own (and will keep you coming back for different tastes!).
For an upscale-yet-casual neighborhood restaurant experience featuring hand-crafted Italian cuisine, give La Grassa Pastificio a try. Owner/chef Robert Reynaud's Cary restaurant has quickly become a go-to for locals who regularly stop by for a variety of antipasti, pasta and traditional entrees served with a little finesse and a lot of pride (plus a selection of interesting wines and craft beers designed to complement your meal). With an atmosphere that's both charming and intimate, La Grassa Pastificio is perfect for a date night, client meeting or a simple dinner among friends.
Chef Lelia Kidd's new plant-based gastropub concept sits right in the heart of downtown Raleigh's City Plaza. The fully vegan menu makes no compromises, boasting tasty options like fried chicken sandwiches, crispy wings, smashburgers and more (all with the appropriate substitutes). Right alongside the tasty food is an extensive beer and cocktail menu. Early rave reviews point to the BBQ nachos as being a can't-miss shareable plate for your table, and we can personally vouch for the Crispy Chick'n Sandwich being a certified hit!
Billed as downtown Cary's hangout, Hank's Downtown Dive works perfectly for grabbing a bite, a drink and one heck of a good time! Marvel at a menu turning up a little of the unexpected with inspired and creative takes on classic dishes and small plates. We're talking everything from pork belly bahn mi tacos to fried octopus and more. Then, there are the craft cocktails which are mixed to perfection for maximum taste. Throw in stellar service and décor that can only be described as "divey," and you've got a new favorite place to kick back and enjoy.
Perhaps one of the most highly anticipated restaurants openings in Cary for 2021, Di Fara Pizza is the sister restaurant of the famed pizzeria of the same name opened by Dominic DeMarco in Brooklyn in 1965. The New Yorker, The New York Times, Zagat and the late chef Anthony Bourdain have all called the original Di Fara the best pizza in New York. It may not be Brooklyn, but this downtown Cary pizzeria serves the same family-style, mouth-watering pizza as the original.
Simply put, Sam Jones' newest namesake restaurant is one of America's most exciting 'cue openings of the year. The renowned third-generation pitmaster and James Beard Award semifinalist comes from a long line of family that lives and breathes Eastern-style barbecue. Here, whole-hog chopped barbecue smoked over Carolina oak is king. Other menu standouts include tried-and-true Southern staples at their finest, including slow-cooked chicken, spareribs, pork skins and pimento cheese, sweet slaw, baked beans, hand-cut fries, collard greens and more. What more could you ask for just a few blocks from the Raleigh Convention Center, Dorothea Dix Park, Raleigh Union Station and other attractions in the heart of the city?
A staple for more than 20 years now in the Raleigh area, master baker Lionel Vatinet's La Farm Bakery, having earned media recognition from all over the world thanks to award-winning breads, pastries and breakfast items, has now landed in the ultimate traveler hotspot—RDU International Airport (a fitting move considering a La Farm white chocolate baguette is essentially a rite of passage for newcomers to the area). The 1,800-square-foot, full-service bakery is the fourth location for La Farm, offering handcrafted sandwiches made with fresh-baked bread, coffee, grab-and-go sweets and a full-service bar celebrating N.C. beer, wine and spirits. Please note that this location is open to airline passengers only, and is open until 6pm daily. Bon appétit!
To the delight of many a local, this Texas-based taco chain opened its first N.C. location in Raleigh's Midtown East shopping center. Torchy's Tacos is serious about one thing and one thing only: good food. Everything is made with the highest-quality ingredients and cooked to order just the way you like it. Rustle up a taco (or three!) with chips and queso and wash it all down with an expertly mixed margarita. Be sure to grab a seat on the patio outside for an A-plus summer evening in the City of Oaks.
Housed inside the historic Brown-Holloway home (circa 1840) in downtown Holly Springs, owners Matt and Christy Griffith opened the doors to this modern tea house in late very early in the year (a true family affair, the Griffith's three teenage children helped run the show in the opening days!). Snacks, soups, salads and more are offered up on a rotating basis for both lunch and dinner, and Sun. brunch adds additional options (to go along with an array of seasonal teas and tea-infused cocktails). What's not to love about buttermilk biscuits, pimiento cheese and saltines, sausage balls and more? 
The opening of Bongiorno & Son in Raleigh's Lafayette Village fulfilled a lifelong dream for Michael Bongiorno. This Italian eatery and specialty store carries on a longstanding family tradition. Bongiorno's great grandfather owned a patisserie in New York's Little Italy, and his grandfather owned an Italian grocery in New Jersey. Make your way out to this delightful storefront and sandwich shop for soups, sandwiches, imported cheeses, sausages, pasta, bread and more.
The folks behind the wildly popular Scratch Kitchen in Apex opened a new location in downtown Cary this year. Just like its predecessor, the eatery brings more of the same Southern hospitality and Carolina cooking that makes for an obviously winning recipe. With tasty options like smoked pork mac and cheese, a waffle-battered crispy chicken sandwich, a truffle mac and cheeseburger and a Carolina slaw po' boy, you can't go wrong!
This new Italian eatery in Holly Springs is backed by a big name—Gianni Cinelli moved to the Raleigh area from New York more than two decades ago and has owned or partnered in more than 20 restaurants (including Vivo Ristorante Pizzeria in North Raleigh). So it's no surprise then that the food and wine packs a punch. Pasta and pizza—made with high-quality ingredients—pack the menu, and you'd be wise to start with an order (or two) of the Sicilian rice balls before diving into a "Cinelli's Famous" Grandma Margherita pie!
Header photo of The Willard by Baxter Miller
Comments