Sam Jones BBQ is Now Open in Raleigh, N.C.!
Wednesday, February 10, 2021, 8am by Michael Robson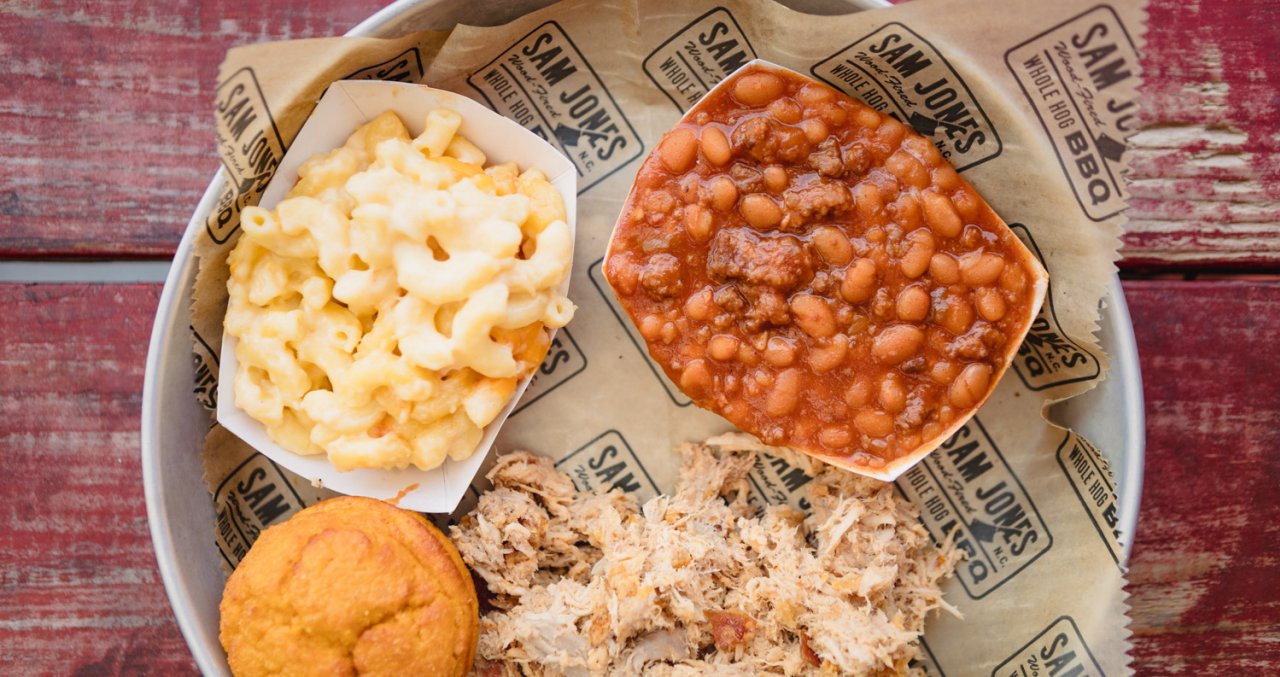 Renowned pitmaster Sam Jones just opened a new restaurant in downtown Raleigh, serving the same whole-hog 'cue that's helped make North Carolina a barbecue mecca. The new namesake restaurant is one of America's most anticipated restaurant openings in 2021. Here's why.
---

Sam Jones knows a thing or two about smoke. 
The renowned third-generation pitmaster and James Beard Award semifinalist comes from a long line of family that lives and breathes Eastern-style barbecue. His grandfather opened the famed Skylight Inn in Ayden, N.C., in 1947, and Jones opened his first Sam Jones BBQ restaurant just seven miles up the road in Winterville in 2015.
He's also the Town of Ayden fire chief, leading a group of 45 volunteer firefighters who answer 300 calls per year and earn a stipend of $9 per call. Twice he's had to set up command to put out flames at the Skylight Inn smokehouse.
At Jones' newest namesake restaurant now open in downtown Raleigh—perhaps the most highly-anticipated barbecue restaurant opening in America this year—the same whole hog principles are in place that have made up the "Jones barbecue gospel" for a century now:
The meat is chopped, not pulled; it's not a sandwich unless there's slaw on it; and if it's not cooked over wood, it's not barbecue (because that smoke makes all the difference).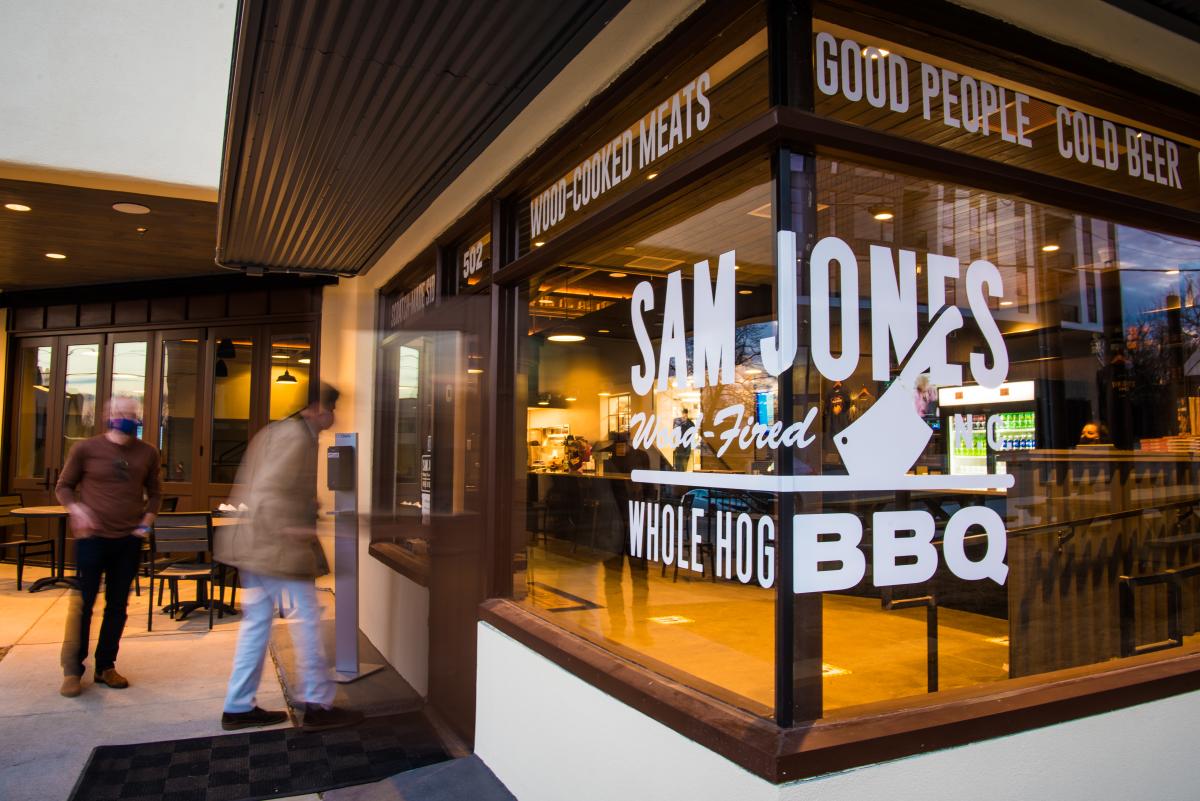 The new restaurant—housed in a former mechanic shop just a couple blocks from the Raleigh Convention Center, the North Carolina State Capitol, beautiful Dorothea Dix Park and other major attractions—seats up to a combined 140 people indoors and out, features a full bar with beer, wine and cocktails, includes a second-level private event space for up to 50 guests and will have doors open seven days a week once March rolls around. 
The menu, of course, is highlighted by whole-hog barbecue—180-pound hogs cooked in a wood-fired pit for 16 hours or so, skin blistered to a shatteringly-crisp texture and all chopped together with a couple of meat cleavers. Salt, pepper, cider vinegar and hot sauce finish things off.
"Whole-hog barbecue might be simple, but it is never not a spectacle," Jones wrote in his cookbook, Whole Hog BBQ: The Gospel of Carolina Barbecue, referring to the old-school pig-cooking process that draws a crowd for the smells, tastes and sights of a pit in action. 
Sweet slaw, cornbread, smoked chicken, smoked turkey and other staples round out a fairly robust menu offering.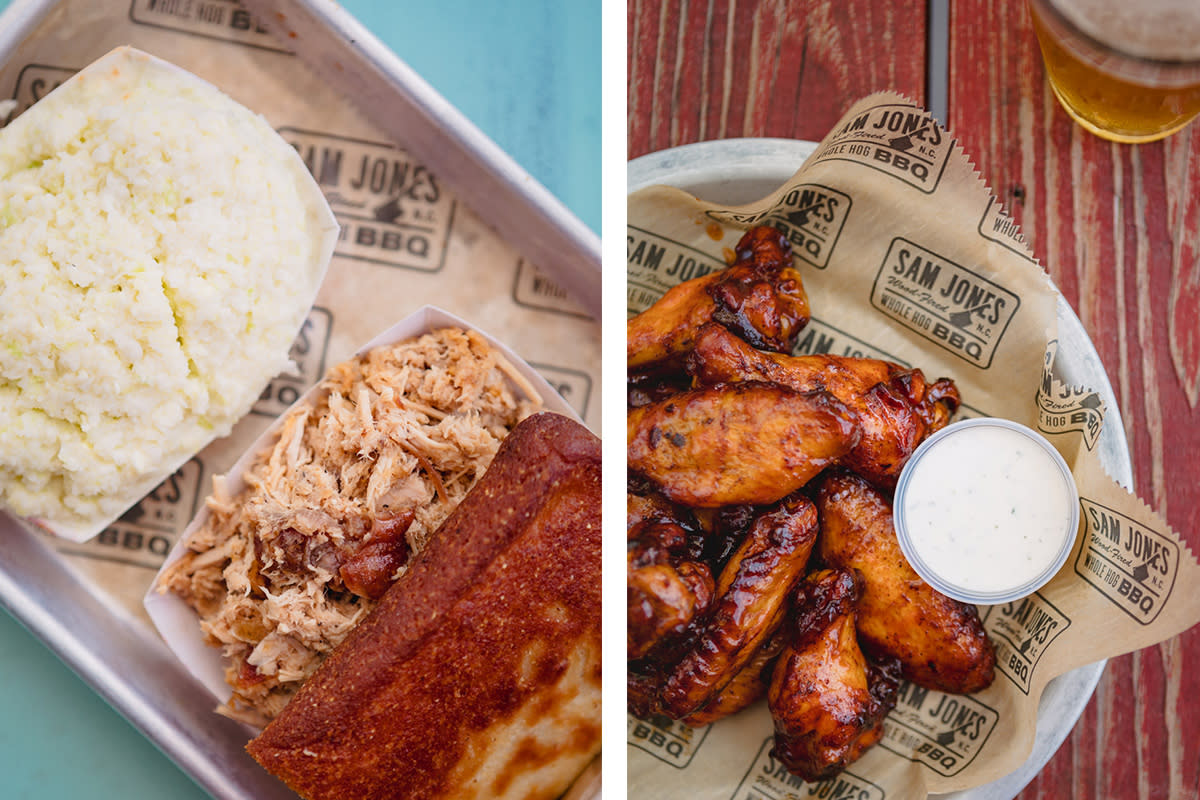 Expanding on the legacy (and legend) of the Skylight Inn—where Jones is a decision maker but has never owned part of the business—is a tall order.
Founded by Pete Jones about 90 miles east of Raleigh, Skylight Inn first rose to notoriety outside of the Tar Heel State when National Geographic visited in 1979. Whether the magazine later declared Skylight Inn to be the barbecue capital of America—or just reported that Pete Jones believed that to be the case—is apparently up for debate. Either way, diners found it hard to argue with the elder Jones' self-given "BBQ King" moniker.
But the accolades didn't stop there. In 1989, People magazine definitely did say Skylight Inn was serving the best chopped 'cue in the country, and in 2003 the restaurant earned an American Classics honor at the James Beard Awards (with a young Sam Jones accepting the medal in New York City). As recently as 2016, The New York Times opined, "I can tell you with complete assurance that 532 miles is not too far to travel for a sandwich."
That's a lot to live up to. And while Sam Jones BBQ differs in a few ways from the Skylight Inn (Skylight Inn has a smaller menu, doesn't serve alcohol and isn't open on Sundays), Jones plans to always tend to the smokehouse in a way that would make Pete Jones, Bruce Jones (his father and now co-owner of Skylight Inn) and Uncle Jeff Jones (also co-owner of Skylight Inn) proud.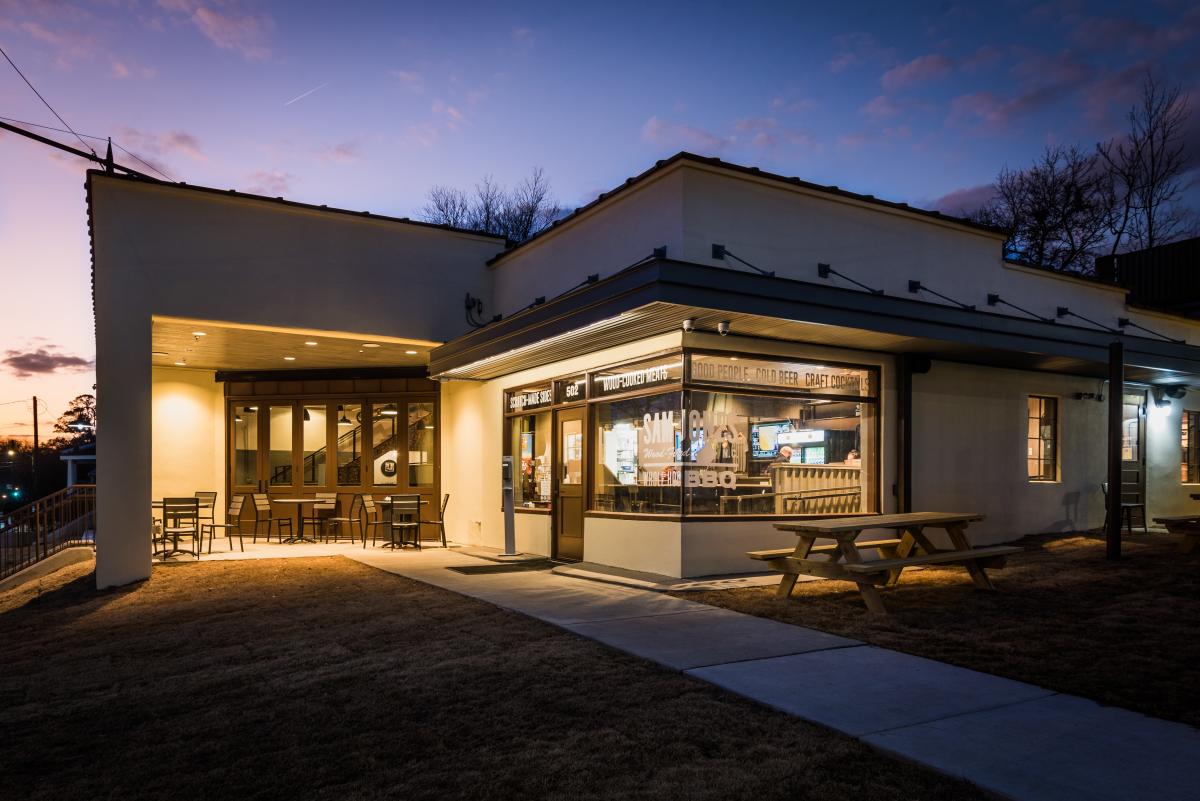 At time of publishing, Sam Jones BBQ is in a soft opening phase, open Tues.-Sat., 11am-8pm, for takeout only. Soon it's expected to be open seven days a week and open later. The restaurant is located at 502 W. Lenoir St. in downtown Raleigh.
Food photos by Baxter Miller; exterior photos by Michael Robson
Comments