The Most Instagrammed Spots in Raleigh, N.C.
Wednesday, May 17, 2017, 6am by visitRaleigh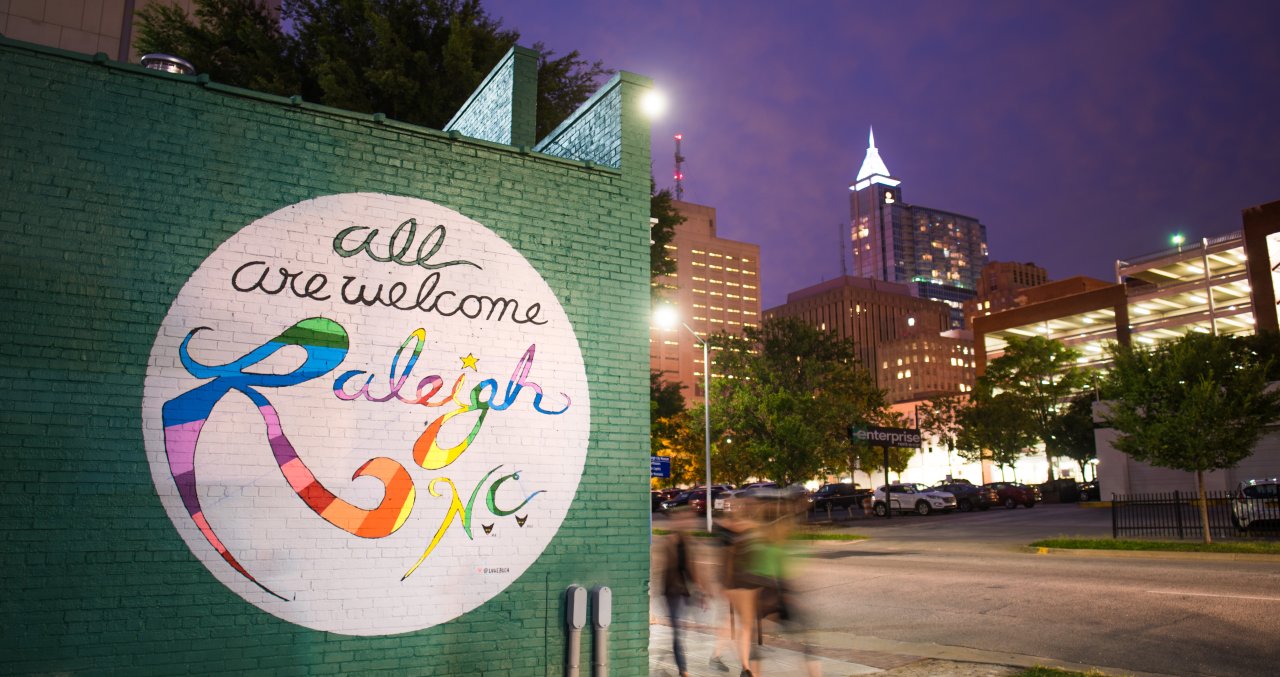 Need some visual inspiration for your next visit to Raleigh, N.C.? Instagram and travel are the perfect match, and we know you need a couple perfect 'grams to let your family and friends know what you're up to. This list, made up of colorful attractions and eye-catching views, should get you off to a great start. Need more ideas? Find tons of inspiration on our Instagram account (and don't forget to tag your photos with #visitRaleigh while here!).
 
Opened in 2012, this new wing of the North Carolina Museum of Natural Sciences is highlighted by the instantly-recognizable SECU Daily Planet—a scaled-down replica of our planet with a 42-foot-tall video screen on the inside.
A world-class art museum, inside and out (with free admission!). You'll definitely want to take the time to explore the 164-acre Ann and Jim Goodnight Museum Park, where you'll find walking and biking trails plus large art installations.
With tons of open green space, Dorothea Dix Park is a popular spot for picnics, kite flying, running and biking as well as photography (the view of downtown Raleigh is one of the best!).
Called "one of the most beautiful libraries in the world," this futuristic building on North Carolina State University's Centennial Campus has a robot that can fetch any of the two million books for you with a click of a button (read up on bookBot here).
Completed in 1840, get an up-close look at history by touring the North Carolina State Capitol (self-guided tours Mon.-Fri., guided tours Sat., 11am and 2pm).
The Guinness world-record holder for most beers on tap (nearly 400!), tons of outdoor seating, a rooftop bar, beer battered pretzels—what's not to love?
It's not uncommon to see a steady stream of photo takers framing up shots in front of this wall in downtown Raleigh near chef Ashley Christensen's Poole'side Pies and just across from Red Hat Amphitheater. The mural artist is Luke Buchanan.
This rooftop bar at the AC Hotel Raleigh North Hills has a perfect view of the entire neighborhood (and the craft cocktails to go with it).
N.C.'s most visited state park, 22 miles of hiking trails and 13-miles of horseback and mountain biking trails make this a perfect escape from the city.
Some of Raleigh's best pizza, some of Raleigh's best beer. Trophy Brewing is known by locals as one of the coolest hangouts to grab a beer after work, spend a Sun. afternoon on the patio or swing by for some late night grub.
North Carolina State Fair
For 11 days each Oct., the North Carolina State Fairgrounds comes alive with bright lights, roller coasters, cotton candy, musical acts and more. Oct. 15-25, 2020 will mark the 153rd annual event!
This greenway, stretching nearly 30 miles down the eastern side of Raleigh, makes for one of the best outdoor recreation opportunities in the state. The paved path offers scenic views of the Neuse River, winding boardwalk areas through wetlands and plenty of shade for runners and bicyclists.
Colorful macarons, chocolate-filled croissants and other mouth-watering treats make for desserts as pretty as they are delicious at lucettegrace (and a can't-miss Instagram opportunity).
A downtown Raleigh coffee staple, the team at Morning Times has been serving locally-roasted coffee since 2006. Once you've ordered, head up the stairs where you'll find an art gallery with plenty of tables and comfortable chairs (plus tons of natural light).
Boylan Bridge (for a view of the Raleigh skyline)
Sunrise or sunset, Boylan Bridge remains one of the classic spots to view the Raleigh skyline (and just a few steps away, also with a wonderful view, is Wye Hill Kitchen & Brewing).
Home to North Carolina State University's football team—go Pack! Join more than 50,000 other football fans for tailgating and touchdowns, and don't forget to wear red.
A place for kids to let their imaginations run wild. Marbles Kids Musuem, one of the most visited attractions in the state, has dozens of colorful, interactive and educational exhibits for all ages.
Beautiful, thought-provoking contemporary art in an equally gorgeous modern space in downtown Raleigh's Warehouse District.
This 174-acre park, featuring a fully-operable 18th century water-powered mill, makes for a perfect sunset visit.
Because you can never have too many coffee options. Grab one a waffle or sweet biscuit, too!
This historic garden features more than 60 varieties of roses (and more than 1,200 roses altogether), plus a variety of other year-round flowers, bulbs, shrubs and more.
Fresh produce, fresh flowers, fresh photos! Open seven days a week just outside of downtown Raleigh.
One of just a few state nature preserves in N.C., Hemlock Bluffs Nature Preserve in Cary makes for a gorgeous walk through the woods on three miles of mulched trails (especially in the fall!).
Sir Walter Raleigh statue
This larger than life statue of Sir Walter Raleigh, outside the Raleigh Convention Center, often gets dressed up to match the season or fit in at major festivals.
Home to the NHL's Carolina Hurricanes, the North Carolina State Wolfpack men's basketball team and tons of concerts and other major events, the entertainment never stops at the 20,000-seat PNC Arena.
Comments