Things to Do in Raleigh, N.C.: October 2022
Thursday, September 29, 2022, 10am by visitRaleigh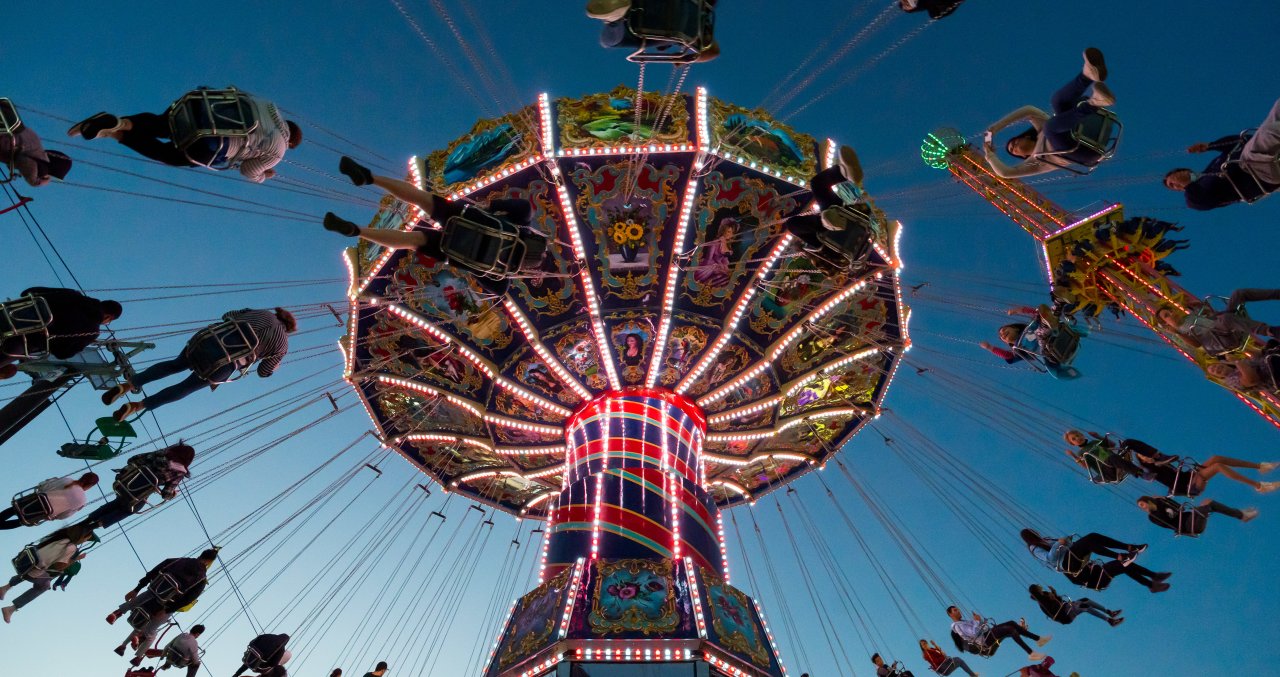 Every two weeks, we send out a newsletter that includes the best of the best upcoming events. If you sign up for our E-magazine, you'll get those, plus all the best new content (our ultimate fall bucket list, for example, or a guide to the N.C. State Fair).
---

It's so long to summer, hello to fall! The month of October is shaping up to be a big one—hockey games, cultural festivals, holiday shopping, pumpkin pies, lots of ways to experience the arts and (last but not least!) the N.C. State Fair are coming right up!
 
IBMA Bluegrass Live! powered by PNC
Sept. 30-Oct. 1
The arrival of a toe-tappin', banjo-strummin' week of non-stop week of bluegrass in downtown Raleigh is one of the most anticipated times of the year. The International Bluegrass Music Association brings their business conference, along with the world's most talented bluegrass musicians, to Raleigh during this week. Those musicians then perform in clubs, on street corners and in hotel lobbies—anywhere they can find a jam session—over the course of five days.
Then the week is capped off with IBMA Bluegrass Live! powered by PNC, a two-day festival that sets up multiple stages of free music, a dance tent, tons of art vendors and more. The ticketed Main Stage at Duke Energy Center for the Performing Arts will feature Molly Tuttle and Golden Highway, The Jerry Douglass Band with special guests, Sierra Hull, The Infamous Stringdusters and more of the genre's biggest stars.
Important note about this event: IBMA Bluegrass Live! powered by PNC is typically an outdoor street festival. Due to forecasted weather for the weekend, all events will move indoors. Previously scheduled Street Stage performances—plus beer garden, art market, jam tents etc.—will now take place indoors at the Raleigh Convention Center. Main Stage performances previously scheduled for Red Hat Amphitheater will now take place at the Duke Energy Center for the Performing Arts.
Burning Coal Theatre presents A Great Big Wooly Mammoth Thawing From the Ice
Sept. 29-Oct. 16
In Alaska, an activist, a tech giant and an oil driller meet in a bar. The temperature is rising, and who knows what buried treasures they might find in the glacial wreckage.
This is a world premiere by London playwright Tatty Hennessy, commissioned by Burning Coal Theatre, with London-based director Lucy Jane Atkinson coming back to direct for Burning Coal for a second time.
Theatre In The Park presents Let the Right One In
Sept. 30-Oct. 16
Closing out the season at Ira David Wood III's Theatre In The Park, Let the Right One In centers around Oskar, a bullied, lonely teenage boy who lives with his mother, and Eli, a young girl who has just moved in next door. A spate of sinister killings have rocked their town—get ready for some chills and thrills in this hauntingly beautiful vampire myth and coming-of-age story, directed by Jesse Gephart.
Triangle Oktoberfest
Oct. 1
The eighth annual Triangle Oktoberfest at Koka Booth Amphitheatre in Cary is set to provide plenty of family-friendly activities including live music, storytelling and traditional Bavarian food and fare (plus local and authentic German beers on hand).
Oct. 3-9
Who doesn't love a good meal for a good deal? Back for an autumn edition while outdoor dining is still a viable (and wonderful) option, Downtown Raleigh Restaurant Week kicks off seven days of celebrating culinary excellence, typically featuring more than 20 restaurants offering $5 and $10 lunch specials along with $20 and $30 dinner options. Participating restaurants are here! 
Founded in 1932, the North Carolina Symphony puts on an incredible 175 concerts and events per year across the state. They'll take center stage at the Duke Energy Center for the Performing Arts in downtown Raleigh four times this month.
Cirque Dances With Troupe Vertigo, Oct. 7-8
Beethoven Eroica, Oct. 14-16
Rachmaninoff Piano Concerto No. 2, Oct. 21-22
The Music Of Harry Potter, Oct. 28-29
The Justice Theatre Project presents All The Way
Oct. 7-23
In the chaotic aftermath of John F. Kennedy's assassination, Lyndon B. Johnson became president of the U.S. and spent his first year in office fighting to pass the Civil Rights Act of 1964. This Tony Award-winning play follows LBJ as he struggled to hold on in the next presidential election, all while pushing his highly contested bill through Congress and forming deals and relationships with influential political peers, including Martin Luther King, along the way.
Katt Williams (plus more stand-up comedy)
Comedy legend and Emmy® Award-winning actor Katt Williams brings his all-new show—the 2023 and Me Tour—to Raleigh's PNC Arena for one special night of guaranteed laughs on Oct. 7. More big name acts performing at two of the area's biggest clubs this month:
At Raleigh Improv: 
Arnez J, Oct. 6-9
Pete Lee, Oct. 14-16
Doug Stanhope, Oct. 18
Guy Torry, Oct. 20-22
Mo Amer, Oct. 27-29
A Modern Vision: European Masterworks from the Phillips Collection at the North Carolina Museum of Art
Oct. 8 though Jan. 22, 2023
A special, ticketed exhibition at the North Carolina Museum of Art, A Modern Vision will feature more than 50 paintings by iconic artists from The Phillips Collection's world-renowned holdings (Edgar Degas, Vincent van Gogh, Edouard Manet, Claude Monet, Pablo Picasso and more). The Phillips Collection opened in Washington, D.C., in 1921 as America's first modern art museum, and A Modern Vision showcases extraordinary paintings by titans of impressionism, postimpressionism, expressionism and cubism, carefully collected by founder Duncan Phillips.
Hum Sub Diwali
Oct. 8
Diwali is the most widely celebrated religious and cultural event in India, and marks the victory of good over evil, light over dark and the beginning of the New Year. Each year Hum Sub Diwali includes music, dance, theater performances, a handicraft bazaar, Indian food vendors, sponsor booths, an exhibition of Indian art and culture, activities for children, demonstrations and so much more at Cary's  Koka Booth Amphitheatre!
Oak and Smoke 2022
Oct. 8
Oak City Brewing Company is teaming up with Redneck BBQ Lab for a full day of a beer-drinking, BBQ-slinging and banjo-pickin' good time in Knightdale.
Apex Oktoberfest
Oct. 8
Join American Legion Apex Post 124 and the Town of Apex in celebrating Oktoberfest with a beer garden, food trucks, a car show, corn hole tournament and more. 
Oktoberfest at Raleigh Beer Garden
Oct. 8
An all-day party at Raleigh Beer Garden with music from the Little German Band, a brat eating contest and more.
SAS Championship
Oct. 10-16
See some of golf's best at the SAS Championship, a PGA Tour Champions event, held annually at Prestonwood Country Club in Cary. The event is widely recognized as one of the most important events of the year, and also features a Pro-Am event, the ever-popular Food Truck Friday and a 5k Saturday race for the whole community to get involved.
North Carolina Theatre presents Sister Act
Oct. 11-16
The divine disco diva, Deloris Van Cartier, makes her debut at North Carolina Theatre! After witnessing a murder, Deloris is put into protective custody in the one place the cops are sure she won't be found: a convent with a crumbling choir. The blockbuster movie is remade for the stage in a sparkling, feel-good comedy, featuring dazzling dance routines and songs inspired by Motown, gospel, soul and disco!
Fresh off of four straight appearances in the Stanley Cup Playoffs, the NHL's Carolina Hurricanes return to PNC Arena for a new year with high expectations. They'll open up a new season schedule with three home games in October, including the season opener vs. Columbus on Oct. 12.
Carolina Ballet presents Dracula
Oct. 13-30
Back by popular demand! In the spirit of all things spooky, Lynne Taylor-Corbett's Dracula returns to the stage just in time for Halloween. This program also includes Robert Weiss' scary evocation of Edgar Allan Poe's The Masque of the Red Death and features J. Mark Scearce's original scores for both ballets—played live featuring a chamber ensemble! Hauntingly theatrical and seductively beautiful, this program will have you on the edge of your seat.
2022 N.C. State Fair
Oct. 13-23
The largest annual event in the state, the N.C. State Fair draws one million visitors through the gates each Oct. Eleven days of high-flying rides, deep-fried foods, live music, stunt shows and other entertainment (including nightly fireworks) has been a can't-miss event for generations of families—the 2022 version of the N.C. State Fair marks the 154th year of the event!
Oct. 15 through May 7, 2013
Explore the deepest oceans and discover shipwrecks at this highly anticipated, special exhibition at the North Carolina Museum of Natural Sciences. Challenging the Deep traces explorer and filmmaker James Cameron's passion for deep-ocean science, technology and exploration—including his record-breaking dive to the bottom of the ocean—using cinema-scale projections, artifacts and specimens from his expeditions.
Oktrophyfest
Oct. 15
An Oktoberfest celebration at Trophy Brewery + Taproom with German food served by Capital Club 16, music from Mosul Franzi and the JaJaJa's, vendors from the Pop-Up Raleigh market and the release of the Trophy Brewing's Oktrophyfest beer. Prost!
Are you ready to rock? There's tons of great live music to see in the Raleigh area this month! 
Kooley High, Oct. 1
Panic! at the Disco, Oct. 2
Death Cab for Cutie, Oct. 3
Lucy Dacus, Oct. 3
Nikki Lane, Oct. 6
Maxwell, Oct. 7
Chelsea Cutler, Oct. 15
Greta Van Fleet, Oct. 18
Pusha T, Oct. 19
Koe Wetzel, Oct. 20
Falguni Pathak, Oct. 21
Perpetual Groove, Oct. 21
Acoustic Syndicate & Blue Dogs, Oct. 22
"Weird Al" Yankovic, Oct. 23
Watchhouse with Allison de Groot, Oct. 28
Band Together: Turnpike Troubadours, Oct. 28
Dropkick Murphys, Oct. 28
Oct. 15
A festival for autumn lovers at Dorothea Dix Park, Falling for Local will feature live music, local makers and vendors, craft beer, food trucks, games for kids, hay rides, free pumpkins and more for what's expected to be a big crowd on hand.
N.C. Wine Festival
Oct. 15
For more than 20 years the N.C. Wine Festival has delivered local wineries, artisans, music, food and fun. This year's ticketed event—held at Koka Booth Amphitheatre—will provide more than 30 Tar Heel State wineries to sample from, plus will have live music on hand from Chairmen of the Board, The Shakedown and the The Patrick Rock Band.
Country Brewfest 2022
Oct. 16
Presented by Triangle Beer Co. and 94.7 QDR, Country Brewfest has an entire day of boots and brews lined up in downtown Cary. Headliner Adam Doleac will be joined by Cody Christian, Justin West and DJ Ty Street. This is a ticketed event for ages 21 and up.
Oct. 6 (sold out) and 20
This month you'll have two opportunities to join artist Lauren Blackwell and enjoy a beer or cocktail from Wye Hill Kitchen & Brewing while painting a beautiful landscape of Raleigh's iconic skyline view from the Boylan Bridge vantage point. This event is produced in partnership with People-First Tourism.
Theatre Raleigh presents Natasha, Pierre & the Great Comet of 1812
Oct. 26-Nov. 6
From the celebrated and award-winning composer Dave Malloy comes Natasha, Pierre & The Great Comet of 1812, an electropop opera based on a scandalous slice of Leo Tolstoy's War and Peace, performed by Lauren Kennedy Brady's Theatre Raleigh. Young and impulsive, Natasha Rostova arrives in Moscow to await the return of her fiancé from the front lines. When she falls under the spell of the roguish Anatole, it is up to Pierre, a family friend in the middle of an existential crisis, to pick up the pieces of her shattered reputation.
Fall Festival at Park West Village
Oct. 27
At Morrisville's Park West Village, join in on the fun for trick-or-treating, hay rides, costume contests, entertainment from Imagine Circus, food trucks and an outdoor showing of the movie Despicable Me.
The Power of Women in Country Music at North Carolina Museum of History
Oct. 28 through Feb. 26, 2023
This major exhibit, coming to the North Carolina Museum of History this fall from the from the GRAMMY Museum® in Los Angeles, highlights the past, present and future of country music's greatest female trailblazers, from Dolly Parton, Rosanne Cash, Shania Twain and Taylor Swift, to contemporary Tar Heel State artists that include Rhiannon Giddens, Rissi Palmer and Kasey Tyndall. This empowering exhibition will be amplified with a special concert series, author series, family events and activities and much more.
Related: Southern Songbirds concert featuring local artists Charly Lowry, Caitlin Cary and H.C. McEntire (Oct. 29).
Oct. 29
This annual, family-friendly event held at the beautiful Jefferson L. Sugg Farm at Bass Lake celebrates the town of Holly Springs, featuring local artists, businesses, food vendors, children's activities and local entertainment.
Day of the Dead 5k
Oct. 29
A day for reflection and honoring the memories of loved ones, the Day of the Dead 5k—hosted by Centro and raising money for the Boys & Girls Club—expects hundreds of attendees to participate in the run, bike rides, altar offerings and live music.
More October events:
Header photo of the N.C. State Fair by Justin Kase Conder
Comments