Theatre In The Park Readies for 50th Year of 'A Christmas Carol'
Thursday, August 17, 2023, 12pm by David Menconi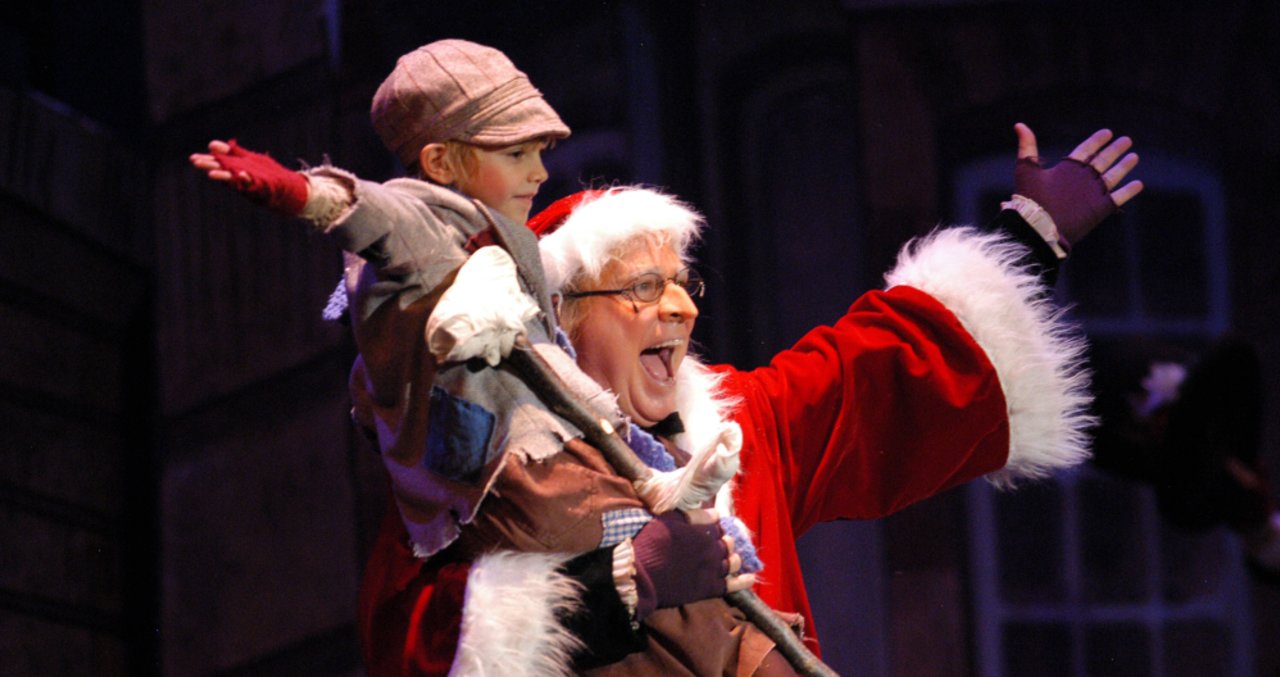 Note: Authored by David Menconi, this piece has been produced in partnership with Raleigh Arts. Menconi's next book, "Oh, Didn't They Ramble: Rounder Records and the Transformation of American Roots Music," will be published in the fall of 2023 by University of North Carolina Press. His podcast, Carolina Calling, explores the history of the Tar Heel State through music.
---

For a half-century now, Ira David Wood III's annual star turn as Ebenezer Scrooge in Theatre In The Park's production of A Christmas Carol has been wildly popular, often drawing capacity crowds.
This year's performances in Raleigh will be Dec. 8-10, with four shows taking place within the 2,300-seat Raleigh Memorial Auditorium at the Martin Marietta Center for the Performing Arts in downtown Raleigh.
There's every chance this year's model will sell out very fast when tickets go on sale Aug. 25, because 2023 is going to be Wood's last year as Scrooge. It will cap a remarkable 50-year run.
"I can't believe it, either," Wood says. "I tell everybody I started the show at age 12, which makes me feel a little better. But I was 26 when we opened, and I'll turn 76 in November. So it seemed like the time was right to hang it up, pass the torch. I just thought that nobody wants to see a 76-year-old running around in tights anymore."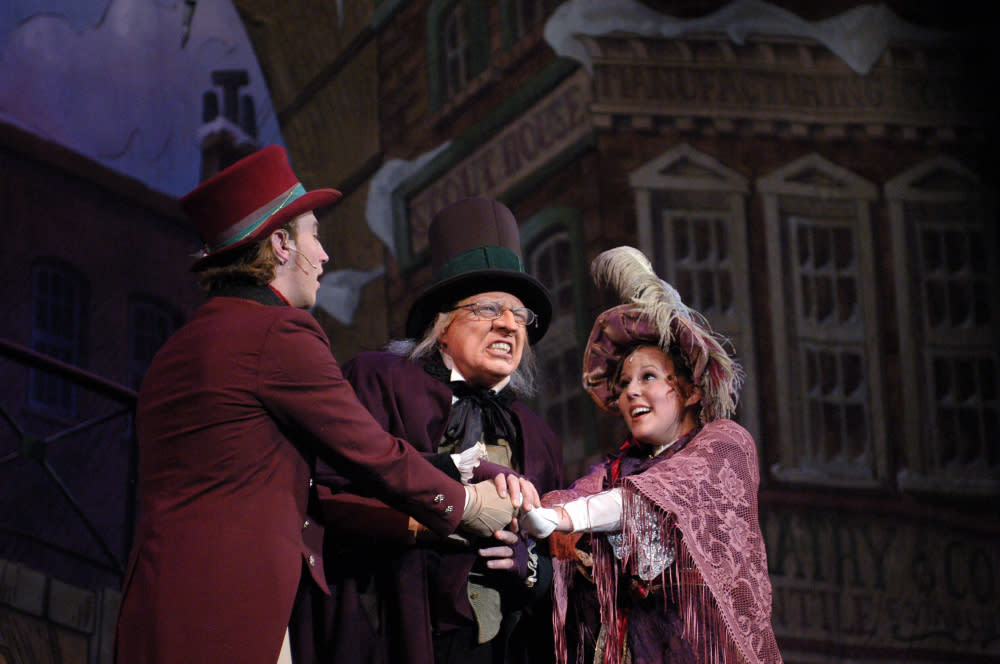 After this year, Wood is leaving the production's starring role in the hands of his son Ira David Wood IV, who will handle the role in one of the 2023 Raleigh shows (Dec. 9 at 7pm; the elder Wood will handle the other three) and take over full-time next year. Wood III, meanwhile, will step into the role of director.
The younger Wood has been his father's understudy since 2010, when he played Scrooge while his father was recovering from open-heart surgery. But even that year, the elder Wood managed to do an onstage cameo during A Christmas Carol, likening it to "an out-of-body experience."
"It was when Ira as Scrooge leaves his office on Christmas Eve, crossing the stage," Wood recalls. "I entered opposite, we passed, both did a double take and turned back to look at each other. That was just my way of letting people know I was okay." 
A light-hearted musical comedy take on the Charles Dickens classic, Wood's A Christmas Carol might be the longest-lived, yearly theatrical tradition in the Raleigh area. It debuted in 1974 and has drawn more than 1 million attendees over the years, becoming an annual holiday chestnut for countless families.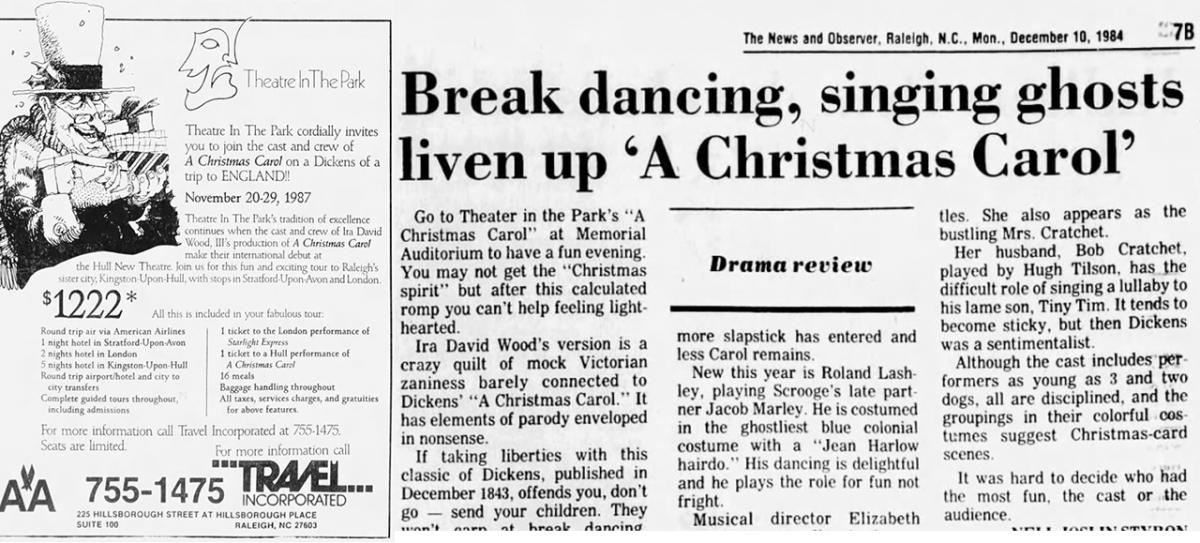 Left: A travel promotion for Theatre In The Park's international debut of A Christmas Carol in England; Right: A review of the 1984 show. Both appeared in The News & Observer.

They've taken it on the road, too, as far away as Europe. It long ago became Wood's signature role, and he claims to have been recognized as Scrooge by strangers as far away as China. Wood thinks a major reason his take on A Christmas Carol has lasted so long is that he doesn't play it straight, but for laughs. This is not a solemn version.
"I've always wanted Scrooge to delight in wrecking Christmas, rather than be the morose, mean guy," Wood says. "It's easier for the audience to identify with him if they can laugh at and with him, because there's a little Scrooge in everybody around Christmas. I grew up watching Carol Burnett, Harvey Korman and Tim Conway cracking each other up, and that's what we try to do, too."
Of particular note, Wood III's final Dec. 10 performance will be part of the production's annual "reunion" show where they invite previous cast members back. Daughter Evan Rachel Wood is a likely attendee, and there should be a large crowd of familiar faces from years past onstage singing during the finale.
"Ten years ago, we had 200 people onstage joining in on the last number during the 40th anniversary reunion show," Wood says. "It really is a family, and it has blessed my life in so many ways. I don't think it's emotionally hit me about this being the end yet because we're into the prep and the pre-show and all the work it takes. I'm sure that will sink in during the last performances. And after this year, I look forward to directing it for as long as my health holds. I hope and pray the public will take Ira into their hearts as much as they've done for me. Someday, he'll take over directing it, too."
Four productions of A Christmas Carol will take place at Raleigh Memorial Auditorium: Dec. 8 at 7pm; Dec. 9 at 2pm and 7pm; Dec. 10 at 2pm. Tickets go on sale Aug. 25 via ticketmaster.com. Theatre In The Park will also present The Legend of Sleepy Hollow, Oct. 5-15. Find more information at theatreinthepark.com. 
Comments