20 Things to Do in Raleigh's Village District Neighborhood
Tuesday, October 08, 2019, 2pm by visitRaleigh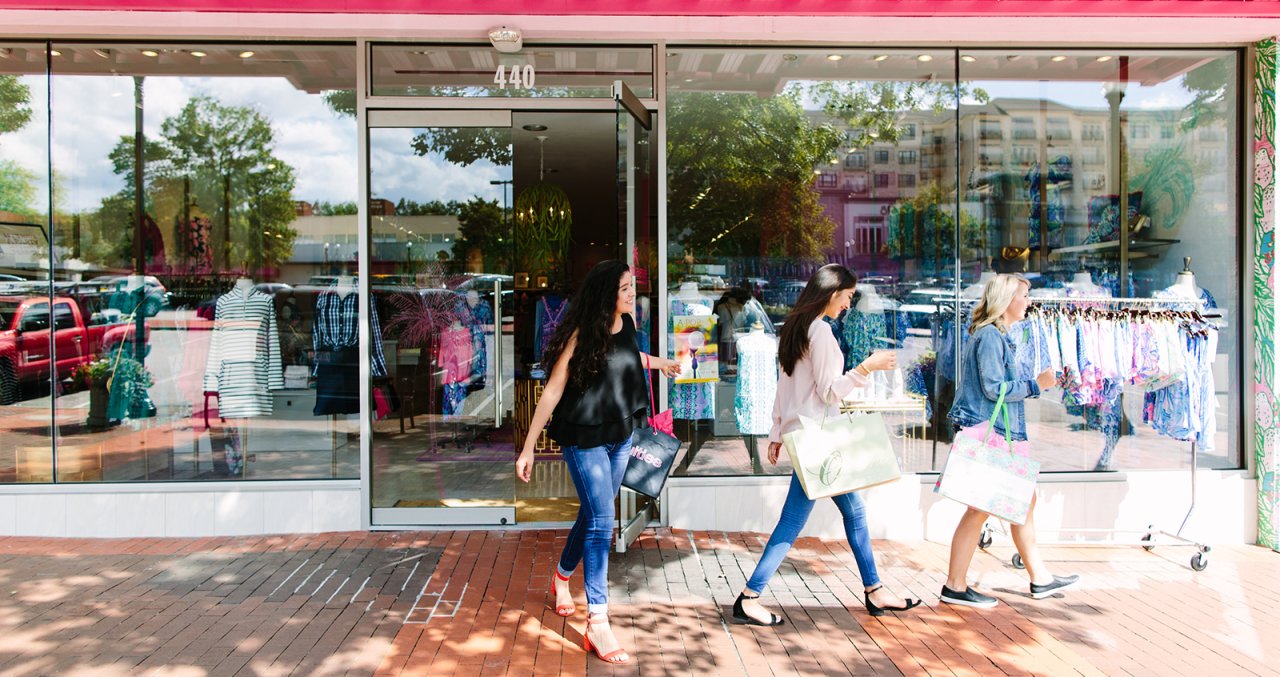 When it opened in 1949 with three stores and one restaurant, Village District—just outside of downtown Raleigh—became the first shopping center between Washington, D.C., and Atlanta. With more than 100 unique shops, cafes, restaurants, fitness studios, grocery stores and more packed into a six-block span, the neighborhood today is one of the hottest spots for shopping, dining and exploring in Raleigh, N.C.
Celebrating 70 years of fun in 2019, a birthday bash is planned for Oct. 12 from 3-5pm (full of family fun, dancing, cake, face painting, games and more). Join in on the celebration if you can, or plan a visit to Raleigh's oldest shopping center on your next visit to the City of Oaks—use the list below to get an idea of what you'll find!
 
Fun and Fine Dining
For a winning combination of fresh sushi and delicious cocktails, venture to Ajisai Japanese Fusion. With food that looks as good as it tastes, many people choose to assemble a meal from small plates because there are simply too many good things to try!
For your daily pick-me-up, you can't go wrong with fresh coffee and Belgian waffles from Benelux. Grab something to go or sit a spell in this cozy coffee shop with funky orange accents, wooden benches and spacious tables.
Cameron Bar & Grill serves up your classic American favorites with a fun twist, like award-winning shrimp and grits and egg rolls with pimento cheese and collards. Also known for their excellent weekend brunch, this hopping joint is a surefire spot any time of the day.
When you see the giant windows and people enjoying margaritas outdoors, you've arrived at Cantina 18. Offering incredible Southwest cuisine (think taco platters and nachos) and high-quality cocktails from chef Jason Smith, Cantina 18 is the perfect gathering spot for drinks after work, dinner with the family or an easy-going night out with friends.
Though they serve breakfast all day, The Flying Biscuit Café wows hungry guests with classic Southern comfort food for breakfast, lunch and dinner. Pair a mimosa flight or bacon-filled bloody Mary with your meal, and you'll understand why they're an award-winning restaurant.
If you're craving carbs, head to Piccola Italia for an abundance of traditional Italian American dishes and New York-style pizzas. This family-owned locale (for nearly 40 years!) makes all their sauces, soups and pizza dough from scratch and offers daily drink specials for fine Italian wines and draft beers.
With more than 20 Caribbean and South American countries represented on the menu, so•ca delights guests with bold flavors and fun ingredients. Enjoy a craft cocktail by the glass or carafe and consider a few platos pequeños to diversify your palate!
Walk into Tin Roof Teas and instantly be soothed by the aroma of more than 250 premium teas from around the world. Enjoy a refreshing glass of tea while you browse, snag some tangy tea leaves to brew at home or attend one of their monthly classes and tastings to up your tea game!
For some of the best handmade biscuits around, make a pit stop at Rise. Sample one of their chicken biscuits or glazed blueberry biscuits and you'll never look at breakfast the same way again.
Plenty of outdoor seating and more than 100 beers on tap make Village Draft House a go-to spot for a guaranteed good time. Wind down after work, munch on nachos, wings and other bar food and cheer on your favorite sports team at this lively venue.
Goodberry's takes pride in their 100% all-natural frozen custard that's made fresh hourly. Locally-owned and -operated for more than 22 years, Goodberry's knows custard inside and out. Try out their flavor of the day or go with a classic chocolate or vanilla option—don't forget to choose a topping to mix in!

Shop Until You Drop
For the antique hunters out there, meander through Antiques Emporium to find everything from furniture and paintings to vintage clothing and other old-fashioned memorabilia. Full-service jewelry experts there can help guide your shopping experience, as they are home to one of the largest vintage costume jewelry selections in the Southeast!
If you still haven't satisfied your antiquing urge, hop next door to Cheshire Cat Antique Gallery, an antique mall with more than 20,000 square feet of underground shopping. With more than 100 dealers at this venue, it's hard to walk away without a new treasure in hand!
With a focus on European brand clothing and accessories, CT Weekends is an eclectic shop for women of all interests. They pride themselves on providing their customers with flattering and fabulous clothing straight from the runway.
Charlotte's is on the cutting edge of fashion, home décor and gifts. Though they're famous for their jewelry—the majority of which can be engraved—they also are eager to help you find a new outfit, baby gift or perfect birthday present.
This trendy boutique has your next outfit already on its way into your closet. From cool and casual to feminine and fancy and everything in between, MADISON's affordable luxury clothing makes shopping a breeze for any occasion.
A family-owned and -operated boutique, The Impeccable Pig showcases clothes and accessories as adorable as its name. On top of beefing up your wardrobe for any season, they also donate to local non-profit organizations that embrace women's empowerment.
Your next gift is in the bag, quite literally. At The Local Squirrel, goods from local and small business vendors are simply begging to be bought and gifted—think everything from lotions and jewelry to adorable home décor and candles.
Village District has something for your four-legged friends as well! At Woof Gang, spoil your pup with healthy treats, toys galore, adorable collars and leashes and even birthday party favors. Pamper your pet with their stellar grooming services while you shop for their next favorite toy or treat.
Nadeau is a furniture wonderland with beautiful antique and used furniture of all kinds. They claim their furniture has a soul, and it shows. From rustic tables and antique chairs to traditional décor and modern home furnishings, Nadeau's authentic vibe is one of charming simplicity.
For steals and deals, look no further than Fifi's, a women's designer consignment boutique where you can buy and consign clothes, handbags, accessories and more. With new items being consigned every day, there's no shortage of outfit possibilities here!

Upcoming events in Raleigh, N.C.
Pick an event, plan a trip (and save some time to explore Village District while you're here!)
Exhibit: Toy Boom! at the North Carolina Museum of History, through Jan. 3, 2021
NC Wine, Cheese & Chocolate Festival, Oct. 12
Beericana Craft Beer and Music Festival, Oct. 12
2019 North Carolina State Fair, Oct. 17-27
Falling for Local at Dorothea Dix Park, Oct. 19
Exhibit: Frida Kahlo, Diego Rivera and Masterpieces of Modern Mexico from the Jacques and Natasha Gelman Collection, opens Oct. 26
2019 National Women's Soccer League (NWSL) Championship, Oct. 27
Moonlight in the Garden, Nov. 7-16
North Carolina Chinese Lantern Festival, opens

Nov. 22

75th Annual Raleigh Christmas Parade, Nov. 23
Carolina Ballet presents The Nutcracker, Dec. 18-29
First Night Raleigh

Opens a New Window.

, Dec. 31
Comments