Your Guide to Five Points Neighborhood's Beer District in Raleigh, N.C.
Tuesday, July 16, 2019, 5pm by Tabletop Media Group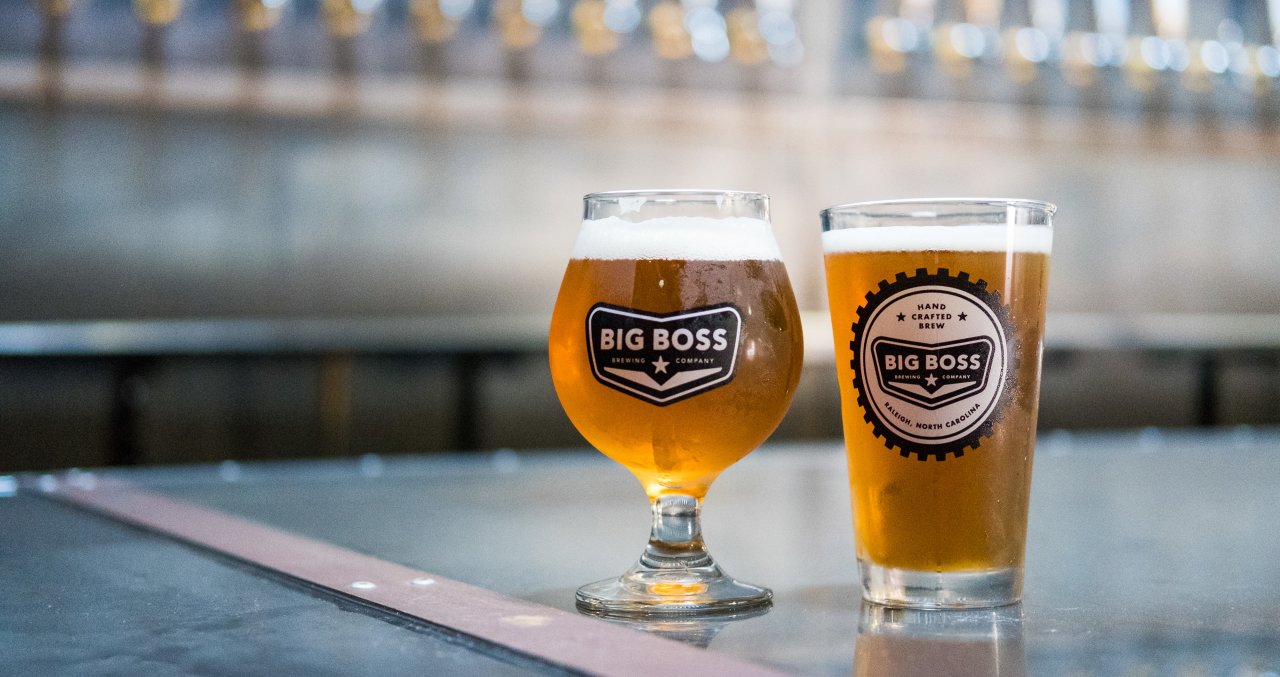 Located north of Raleigh, N.C.'s bustling downtown is the quirky Five Points neighborhood, and though a bit unassuming at first, the area features a great array of its own unique coffee shops, restaurants, boutiques and, perhaps most significantly (at least for some folks), great breweries. On the outskirts of downtown, these breweries feature inventive beers, spacious patios and laid-back atmospheres. Here is a list of our favorite breweries and taprooms around Five Points to check out, and will have you coming back for multiple brews time and time again during your visit to the City of Oaks. (Tip: Their close proximity makes it easy to get several stamps on your Raleigh Beer Trail Passport in one trip!)
 
A rugged, industrial-esque brewery founded by Geoff Lamb in 2006, Big Boss is renowned for their barrel-aged beers, which they now offer in eye-catching cans as well as drafts. Their spacious taproom is popular for group outings, complete with a steady rotation of great local food trucks and a unique line-up of beers, including household favorites like the Bad Penny Brown Ale and High Roller IPA.
At Funguys, you know you're going to have a good time. Their quaint taproom offers one of their two flagship beers—the SMaSH Bandicoot session amber, as well as rotating offerings that experiment with a mixture of different hops and aromatics to create unique brews that keep fans coming back again and again to try more. The brewery was founded by two college friends and remains to be a friendly watering hole for friends and families alike, complete with live music, a patio offering outdoor games like cornhole and food delivery options from Firenza Pizza when there's not a food truck present.
An expansion of the original Lynnwood brewing spot—Lynnwood Grill, founded in 2004 in North Raleigh—the newer production brewing facility and taproom on Whitaker Mill Rd. boasts a patio and beer garden, award-winning beers (including the beloved Mosaic Pale Ale and Once You Go Black IPA) and plenty of games to entertain the whole family. It's a great spot to hang out on a warm summer day on the weekends. Go with an appetite as their adjacent restaurant Wilson's Eatery has one of the best chicken sandwiches you could ask for, and a menu full of delicious, locally-sourced, scratch-made sandwiches, flatbreads and salads.
Neuse River's an attractive brewery blending the old with the new with handcrafted tables, refreshing white brick walls and a string-light adorned outdoor patio. Founded in 2014 by Ryan and Jennifer Kolarov, the brewery places a large focus on Belgian ales and IPAs, but also offers creative brews like the Streamside Mango, a kettle sour brewed with 27 pounds of mangoes. The inviting spot is a great place to hang out with friends and enjoy a casual beer with food from a variety of featured food trucks.
Located in a true, cozy neighborhood setting, Nickelpoint specializes in inventive beers with contemporary profiles. Their signature brews include an award-winning Vienna Lager with a rich German malt aroma and a light, refreshing blonde ale, both of which are great for enjoying on Nickelpoint's spacious, dog-friendly patio. Come in on a Fri. or Sat. for a cold one accompanied by live music and a rotating line-up of food trucks.
Coming soon: Mordecai Beverage Company
Mordecai Beverage Company, Raleigh's first combined brewery, taproom and bottle shop, is opening in the soon-to-be redeveloped Gateway Plaza in Fall 2019 by Andrew Christenbury, former head brewer of G2B in Durham, N.C. Though only consisting of a two-barrel system, the small brewery will offer tastes of experimental beers from Mordecai, as well as other local breweries, and a variety of beers that can be picked up to take home. The taproom will also feature a covered patio and small outdoor stage for live music, making it a hot spot to stick around well after just one beer.
Comments