2019 GRCVB Annual Meeting—Why Tourism Matters
Monday, July 01, 2019, 7am by visitRaleigh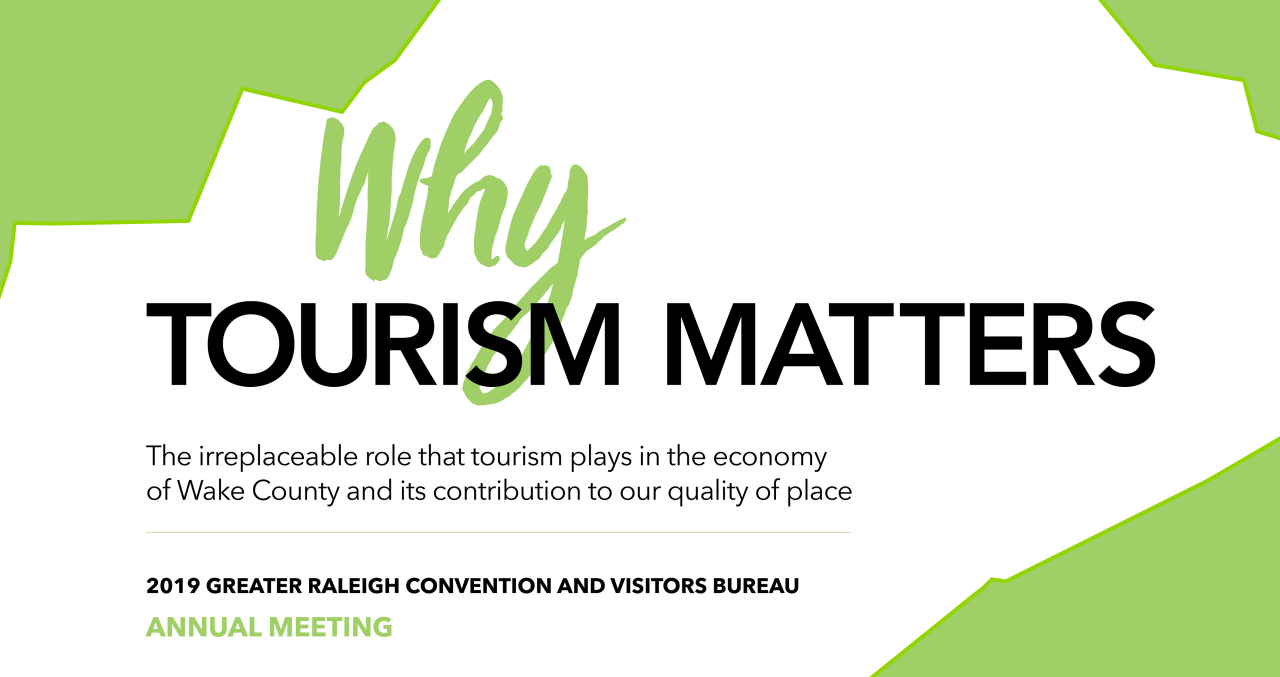 Invitations for the 2019 GRCVB Annual Meeting are in the mail queue (both snail mail and email). If you haven't gotten yours already, be watching for it to appear in the next few days.
We love Annual Meeting season around here because it's our chance to show area hospitality partners, elected officials and other interested stakeholders what we have been working on the past year, to celebrate our successes and shared accomplishments and to look forward to the year ahead in tourism-related economic development.
The theme of this year's event is "Why Tourism Matters." We have been talking about this topic a lot in the first half of 2019 and will reiterate the key takeaway at this Annual Meeting—tourism is integral to the economic health and vitality of our area and contributes significantly to Wake County's quality of place and its stellar reputation. 
You will hear more about this thesis from the keynote speaker at the luncheon, Don Welsh, president and CEO of Destinations International, the world's largest resource for destination organizations with more than 5,000 members from 600 destinations in 15 countries. Welsh will be talking about the importance of tourism, how it enhances a community such as ours and how it affects each one of us personally. (While we're waiting for the meeting, read more about why tourism matters to Wake County here.)
Here are a few other features of this year's event that make it worth marking on your calendar:
Strategy Session
You may remember that before the ticketed luncheon, we host a free strategy session with more information we hope is valuable and relevant for our partners. This year, the session will be split between these three presentations:
Dr. Duarte Morais and Dr. Gene Brothers, co-founders of People-First Tourism (P1t), Inc., and faculty from N.C. State's Department of Parks, Recreation and Tourism Management, will provide a broad-stroke overview of the P1t program and its well-thought-out origins. If you don't know much about P1t, this is an excellent opportunity to learn and to connect with Drs. Morais and Brothers.
Jonathan Freeze, CDME, CHIA, GRCVB's director of marketing and communications, will present an update on the destination brand strategy and suggest more ways partners can contribute to the brand promise and ensure visitor satisfaction next year.
Loren Gold, executive vice president, and Dan Douglas, director of destination development, both from GRCVB, will bring us up-to-date about what has been accomplished during the setup year of the Destination Strategic Plan's implementation (which will ultimately stretch to 10 years, 2019-2028).
Awards
The memorial and leadership awards this year will be presented to Maggie Kane, founder and executive director of A Place at the Table, and to the Honorable Harold Weinbrecht, mayor of Cary.
To R.S.V.P. for the Annual Meeting, please click here or call 919.645.2662 by no later than Aug. 14, 2019.
We're looking forward to seeing you there!

Author: visitRaleigh
The Greater Raleigh Convention and Visitors Bureau (GRCVB) is the official and accredited destination marketing organization (DMO) for all of Wake County.
Comments