Backgrounder: Jonathan Freeze, CDME, CHIA
Thursday, May 31, 2018, 1pm by visitRaleigh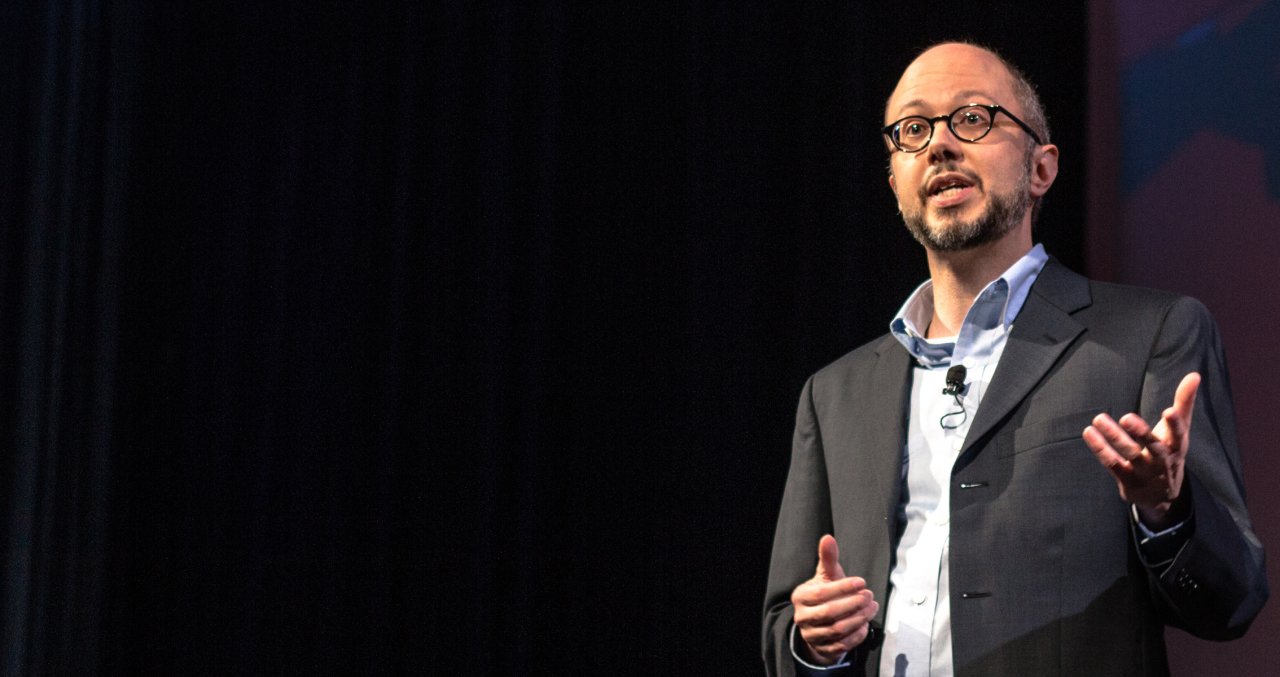 We have been publishing a series of Tourism Talk blog posts we called "Backgrounders." We are sharing these because we want you to know about the rich professional experience that CVB leaders bring to the county.
Today, we're providing background on the CVB's director of marketing and communications Jonathan Freeze. Jonathan brings 17 years of industry experience and expertise to his role at the Bureau and has earned the highest credential available in the CVB industry, the Certified Destination Management Executive (CDME). Learn here about his background and how he approaches the important work he does at the GRCVB.
......................
How would you describe your personal brand?
At the risk of sounding too old, I believe what's today called personal branding was once just called cultivating a healthy point of view. To me it's as much about what you don't say, or choose not to say, as it is about what you would say/post in public. The point of view that people get from me is mostly orthodox but always critically thinking or evaluating and tweaking at the edges in terms of positive change. I'm not afraid to change something that isn't working or entirely start over again looking at the original goals, and thus there can be a little bit of provocation or a rebellious streak that others can pick up in my personality!
How would you describe your style of leadership?
I am a quiet leader compared to some. I enjoy working with a team of developed experts at what they do, giving them room to try things and to succeed (hopefully not making mistakes often), and I try to lead some by example, bettering myself over time to become more expert at what I do (studying for the CHIA credential is just a small example) or learning more ways that I can help the team to grow professionally. I have done almost all of the jobs in the CVB marketing/communications vertical since coming to the industry 17 years ago, so I often know "that of which I speak" and am glad to share the lessons or methods from my past that worked or didn't. I am always approachable, though intensely thinking through my own day, while in the office. Though quiet, I am going to confront problems as they occur directly, and yet I hear or consider all sides in coming to a solution.
Can you summarize your philosophy of CVB marketing and communications leadership?
I would say, if one really gets the fundamentals right, then people/customers notice. The words matter, and I stress to new hires that I believe in "thoroughness, exactitude and quest for perfection," some ideals that I borrowed from a favorite writer of mine. Most Americans don't know the detailed rules of written grammar in the way that marketing/communications professionals do; however, despite the fact that they can't put their fingers on exactly why, they actually can tell when it's done right and can detect that one company or organization's materials sound more professional than the rest of those in the marketplace. It's important that we edit GRCVB materials to a higher level of smartness and sophistication, because actually it's in the destination's brand DNA as well (it just worked out that way in the brand research fortuitously for me).
Would you provide a brief version of your education/professional/work history?
I grew up outside of Concord, N.C., in what (I now know) was a small/rural school system but got a great education from teachers who challenged me in all the subjects, then I attended UNC Asheville, which is N.C.'s public liberal arts university; I have a B.A. in the classics as well as psychology.
After relocating to the Triangle region in 2000, I found an entry-level job at the Durham CVB but quickly rose through the ranks to eventually be part of the leadership team, when I left in 2008 to join the GRCVB. I was fortunate to be given the chance to train for our industry's highest educational achievement, which is the Certified Destination Management Executive (CDME) credential. That's typically three years of classes, papers then a final exam, which I finished in 2014; I believe it's really brought focus and wiser perspective in my career, and I try to repay with what I learned in my work at GRCVB. It's now been 10 years working in downtown Raleigh, promoting the second-largest destination in the state (in terms of visitor numbers).
Our area is not unique in terms of destinations that have a central city and surrounding municipalities (there are certainly others). But how does that dynamic affect/influence our destination marketing and communications?
I think it could be handled differently than us, possibly, depending on the details of the place, but the biggest philosophical point I'd share is: we have to do what consumer/visitor research dictates for the destination (county) to succeed in attracting visitor-related economic development and investment to it. Fortune 500 companies (really any successful businesses) don't drive in a direction opposite from what their market research shows; they don't do anything willy-nilly if you pay close attention and read between the lines in the news, from their rolling out new menu items (multiple rounds of taste testing) to adding new sections to their websites (usability testing) to changing the trade dress or displays in stores (cameras or motion sensing used at supermarkets). Not to mention customer surveys, public opinion polling, market segmentation analysis...
.......................................................................................................
"We have to do what consumer/visitor research dictates for the destination (county) to succeed in attracting visitor-related economic development and investment to it."
.......................................................................................................
There are some who assume that the CVB industry operates in the way that a few quasi-governmental agencies did last century, which is that select members of a community would meet in the Main Street restaurant's private room and, based on their collective thinking alone, determine the action plan for the year ahead. On the contrary, CVBs have been doing market research and marketing research for decades, and it's gotten rather sophisticated just like private-sector industry, with companies like STR and MMGY Global providing the data. At GRCVB, bottom-line, we're charged with bringing new dollars into the county to be taxed then those taxes reinvested in improving the area in ways beneficial to future tourists and our residents. That's our mandate; the numbers have to move upward every year logically. It's a $2+ billion business at stake for Wake County, so we treat it like a business, making marketing decisions based on the best available data.
Optimizing based on the data should be any CVB's philosophy, from the way we do convention sales to the ways we service visitors to the marketing communications that attract them. Research dictates how you position the destination among its competitors (visitor attraction across the county line) or "sell" the assets/towns' assets within the destination (visitor circulation throughout the point of sale).
Do you consider marketing an art or a science?
Marketing borrows from both, but to me it starts with the science (research and measurement). The art comes in when you have a multidisciplinary team that creatively adds value to the various business strategies and tactics that are required by what the research is telling you. Then you research and measure again, iterate again creatively and persuasively etc. etc.
What is the biggest joy of your job?
The joy really is seeing how creative and continuously better and better our team can become at imbuing the marketing tactics with customer value...e.g., with blog posts, making them a true pleasure to read, visually appealing and information-laden. This is where there is a true difference in the CVB business and private-sector business, because at the end of the day, I don't feel that we've just been "going through the motions," selling a product strictly based on the science. The GRCVB team really cares about the area (product/their home) and about helping the customer to enjoy and be enriched by their visit to our area. It is not totally cynical in the way that someone may feel working for a company whose luxury or technology product consumers really don't need to purchase for their daily lives. Travel to places that feel right is a pleasure, which our area's promotional materials and info can facilitate.
What is the biggest frustration?
The frustration for me always comes back to "not enough time in the day." We can't do it all despite our occasional superhuman moments. I'm continuously triaging the order in which I respond to work emails, phone calls, appointment requests (now texts and tweets), and I know the whole team here is like that. It is a relief when you can conduct an annual staff retreat, annual business planning process or a strategic planning process (e.g., Destination Strategic Plan), because this helps reset the overall priorities and makes that ability to triage the incoming flow day-to-day that much easier. We all want to spend the majority of our time proactively doing what will prove the most effective for Wake County.
What are you most proud of professionally?
It's hard in marketing/communications to take pride in particular things, like newsletter articles, because they are always being rewritten again and again and improved upon over time! Even with project planning, I wouldn't dream of handling a project the same way in 2018 as I did in 2008; hindsight is 20/20.
I will say, in terms of tangible tourism projects, I look back upon my work on the N.C. Civil War Trails markers through Durham with pride. It was a rare kind of project, and we got five new interpretive markers in place well before the sesquicentennial. We researched them in dialogue with the historians, sourced archival photographs from libraries and sought agreements with landowners to install. Of course they are still in place, and there's a newspaper photo somewhere out there of me monitoring the situation as one marker's legs were being placed into the ground... let's leave that photo in the past, though.
Also I think, because I have this very long view of history (good and bad), I am increasingly proud of the work we are starting to do at GRCVB (maybe not yet even in our industry on the whole) examining whether the social changes we are creating through tourism-related economic development are the best kinds of changes for all; that is something that's baked into the forthcoming 10-year Destination Strategic Plan, I believe (and something that other destinations' long-range plans definitely have addressed). For marketing and communications, this also involves magnifying the voices of stakeholders within the tourism industries that historically have gone unheard, whether because of gender, age, race, class etc., because there are many ways to visit the Raleigh area and we are richer as people to know them all.

Author: visitRaleigh
The Greater Raleigh Convention and Visitors Bureau (GRCVB) is the official and accredited destination marketing organization (DMO) for all of Wake County.
Comments