Coronavirus Briefing from April 23, 2020
Friday, April 24, 2020, 1pm by visitRaleigh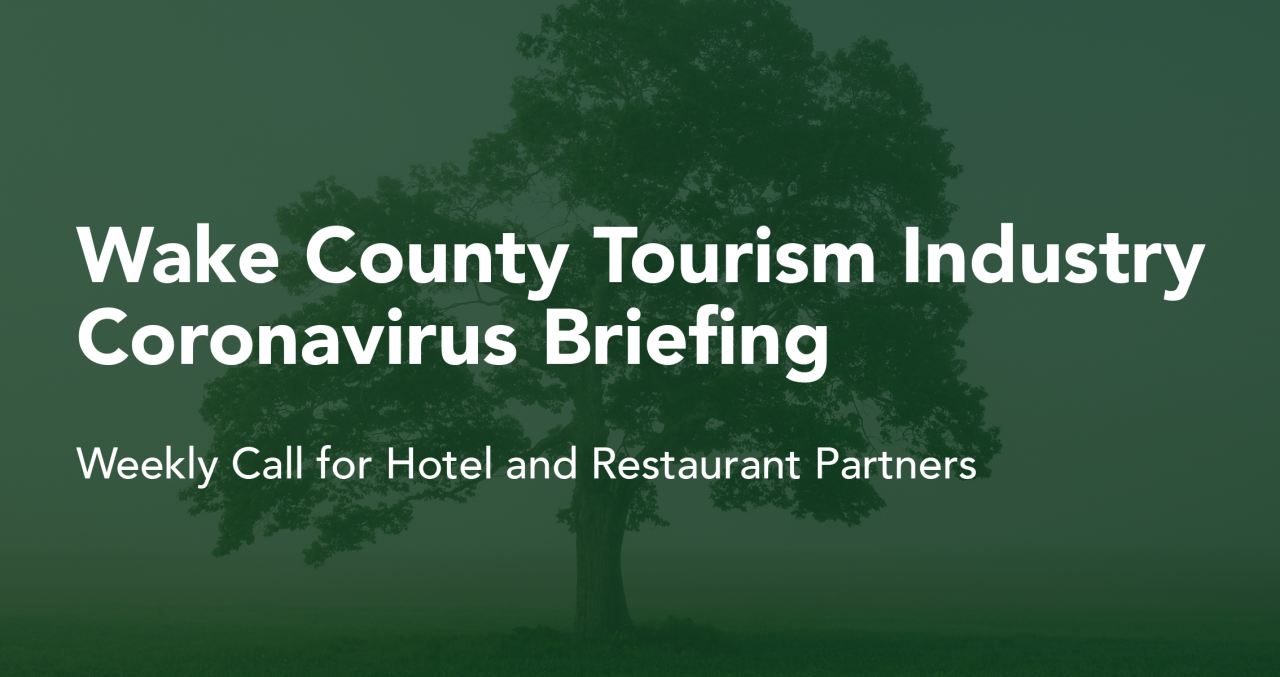 Leaders in the hospitality sector and local community are hosting weekly conference calls with updates related to the COVID-19 crisis. Here is a summary of the call from Thurs., April 23, 2020 (or if you prefer to listen to the full recording, please find it here)...

Dennis Edwards, GRCVB president and CEO, noted that the area hotel occupancy rate from the week of April 12-18, 2020, was at 26.6%, a slight increase from the week prior. That number is still down though by 59.8% from where it was same week last year. 

He also reported that 91 meetings and conventions have canceled, events which would have brought 125,000+ people to the area and totaled 70,000 room-nights used. Those cancellations add up to a direct economic impact loss of $47.2 million.
From others on the call:

From Chris Dillon, assistant county manager for Wake County
Wake County has recorded 630 cases of COVID-19 and seven deaths.
Outbreaks are appearing in nursing homes and rehabilitation centers.
The County is working on a plan for reopening and will follow the procedures Governor Cooper outlines for the state. 

Rafael Baptista, MPA, senior manager, community economic development, City of Raleigh
Mayor Mary-Ann Baldwin and the Raleigh City Council have approved a $1 million grant to assist small businesses impacted by the crisis. The grant will be administered through the N.C. Small Business Development Fund, a nonprofit organization based in Raleigh.

Small businesses may apply for the grant if they meet the following criteria:
The grant will supply funds for rental of business sites for two months or $10,000, whichever is less;
Businesses must have a storefront;
They must have less than $2.5 million in revenue annually;
They will have had at least a 25% decrease in revenue during this time;
They may not owe any back taxes.
Rafael estimates the loan application process will open in about two weeks. 

Wake Technical Community College is also providing a grant of $3,000 through its small business program for micro-businesses; those companies must employ less than 14 people.

Lynn Minges, president and CEO, North Carolina Restaurant and Lodging Association (NCRLA)
NCRLA continues to stay in communication with the Governor's Office about phases of reopening of the state. She believes reopening will be measured and dependent on testing and tracking incidents of the coronavirus illness.
Phase 2 might be a restaurant reopening with some restrictions and guidelines and Phase 3 a more aggressive statewide reopening.
When they open, restaurants will be required to follow any CDC guidelines and best practices, for example, social distancing or operating at 50% patron capacity. Since masks and other PPE may be necessary, NCRLA has provided easy access to those supplies through their website.
Bars and lounges will likely use another set of protocols, since they tend to attract groups of people in small spaces. It may be longer before they are able to operate fully.
NCRLA is working with the General Assembly on guideline documentation for restaurants, which will be made public in the near future, and with the North Carolina Division of Public Health on a video training session for all hospitality workers about new guidelines. The training will have a recognition component so that restaurants, hotels and other businesses can publicly demonstrate that they are utilizing best practices.
She also mentioned the General Assembly is working on a small business bridge loan program that would provide up to $10,000 for small businesses with no interest or payments for six months. Legislators are expected to vote on that measure in their upcoming short session on April 28, 2020.

Kevin McAteer, senior vice president of marketing and sales, and Dan Freeland, regional vice president of operations, Concord Hospitality
In addition to seven hotel properties in the Raleigh area, Concord Hospitality manages 125 properties in 20 states around the country.
Kevin McAteer said that, on March 12, 2020, Concord hotels were operating at between 60-70% occupancy and employing 6,000 associates. In the subsequent four days, occupancy dropped to about 20%, and they had to furlough 82% of their staffs.
As of April 23, 2020, 30% of their hotels have suspended operation. 
He noted three trends he is seeing around the industry:
Everybody is doing their best to protect their employees and their guests. Hoteliers are using the absolute best practices to ensure safety.
Occupancy appears to have reached a "resting place." Hotels are operating at about 25% and don't appear to be dipping below that. He also doesn't believe additional hotels, or at least few additional hotels, will close moving forward. He has anecdotal evidence from other markets that shows hotels are being supported by essential personnel: first responders, medical professionals, construction workers, members of the military.  
"You can close hotels, but you can't stop the business." Hotels are still collecting leads, and meeting planners are continuing to plan for events in the future. As an example, he cited a North Raleigh hotel that just booked a block of 60 rooms for a wedding scheduled in Sept.
Dan mentioned a couple of operations modifications:
Hotels will be ratcheting up their cleaning procedures, which were already stringent.
And hotel staff will be minimizing their contact with guests, and it's "hard to give good customer service from a distance, but they are going to do the best they can."
Hotels are also working on reopening strategies that can be implemented quickly so that, if they get 72-hours notice, they can be ready (with staff and supplies etc.).

When asked about his projections for recovery, Kevin said, it's "going to rest on how well do we all do at proving ourselves that the new normal for every hotel, every restaurant, bar, lounge or catering [company] that we operate is smart, safe and, where needed, spacious." 

"If we do that right," he continued, "everything will come back in order. If we don't, it's going to take longer for people to have confidence to put their associates, friends and family on airplanes and fly them into a location...."

He noted, at his company, "we've stopped saying 'when will things get back to normal.' We truly believe this industry has changed indefinitely."
The next weekly Wake County Tourism Industry Coronavirus Briefing is scheduled for Thurs., April 30, 2020, at 1:30pm.

Author: visitRaleigh
The Greater Raleigh Convention and Visitors Bureau (GRCVB) is the official and accredited destination marketing organization (DMO) for all of Wake County.
Comments