Coronavirus Briefing from April 9, 2020
Friday, April 10, 2020, 8am by visitRaleigh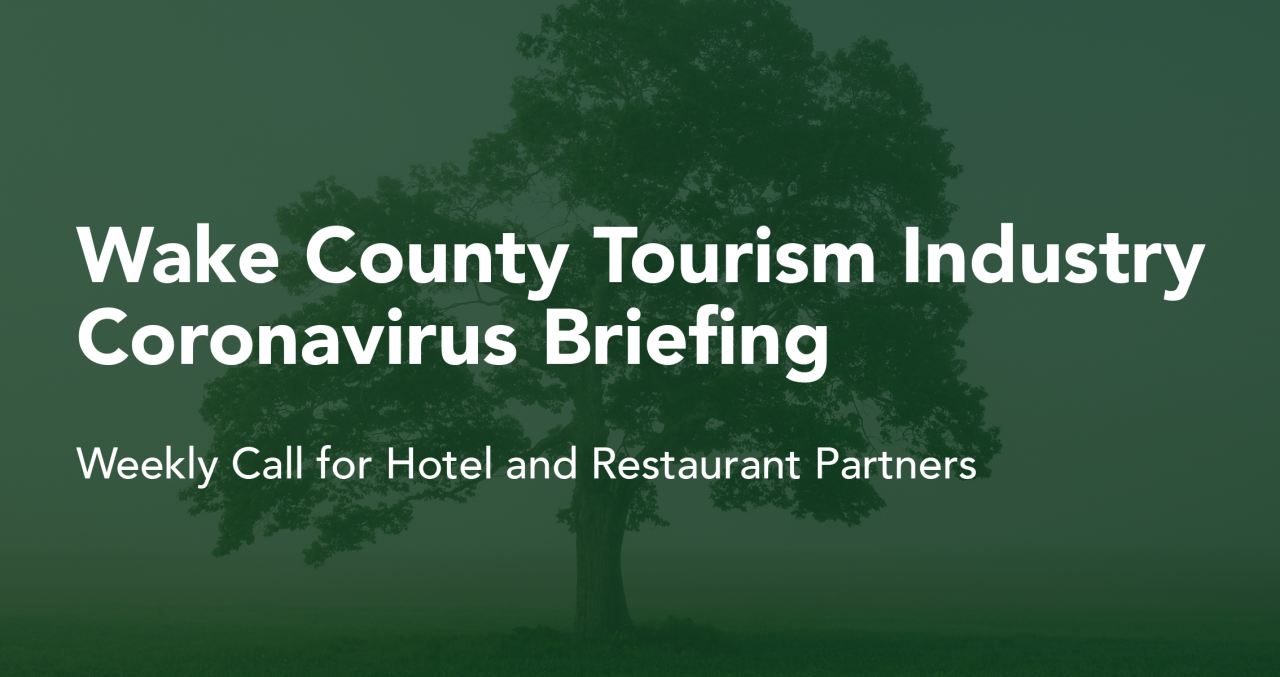 Leaders in the hospitality sector and local community are hosting weekly conference calls with updates related to the COVID-19 crisis. Here is a summary of the call from Thurs., April 9, 2020.
First, Dennis Edwards, president and CEO of GRCVB, reported hotel performance numbers for the week of March 29-April 4, 2020. Occupancy was 24.9%, a decrease of 69.6% from the same week last year. The average daily rate was $67.53, down 39.8% from the same week last year.
He also noted a statistic showing COVID-19's impact on the U.S. hospitality workforce. Of the total numbers of jobs lost last month, 459,000 were from our leisure and hospitality sector, exponentially more than other industries.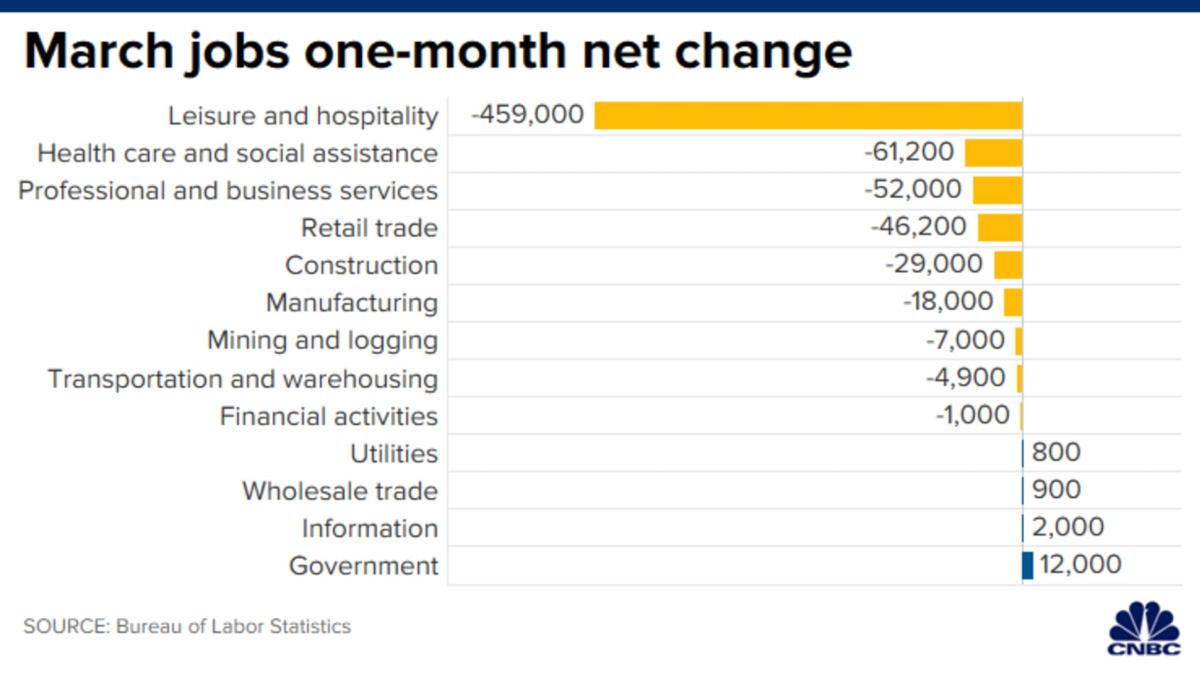 Updates from others on the call...
Michael Landguth, AAE, president and CEO, RDU Airport Authority
Michael reported statistics and projections related to the airline industry and specifically to RDU International Airport, as well as forecasts for recovery. As for the industry, he cited an article in Forbes this week by Dean Donovan, who predicts:
Airline industry:
Volume will probably not regain its peak for at least three to five years.
Pricing recovery will lag volume recovery by at least a year.
Business travel will recover more quickly than leisure travel but at a permanently lower level.
Long-haul, narrow-body aircraft will change the nature of international travel by replacing hub-and-spoke models with point-to-point flying.
Regional travel will move from an expensive business-oriented model to a cheaper leisure-oriented model.
RDU International Airport:
RDU is operating with 96.5% less passengers compared to this time last year.
Premier parking at the airport (at the time of the call) had only one car using the facility.
RDU's route network at this last time last year included 57 nonstop domestic destinations and five nonstop international flights. As of April 9, 2020, those numbers had dropped to 27 domestic nonstops and zero international. Michael projects, of that 27, some of those flights will stop soon as well.
Most of the airport's food and retail outlets are temporarily closed; the ones that remain open are servicing airport employees mostly.
The RDU team has taken advantage of this downtime to accelerate repair of its major runway. Approximately 100, 25' x 25' concrete slabs will be replaced during this time on the runway that was already undergoing slab-replacement before COVID-19.
The federal relief package provided $10 billion for airports, although RDU will receive only about $25-$45 million, equaling about 13% of its operating revenue. To be eligible for these funds, airports must maintain 90% of their workforce (after adjustments) through the end of 2020.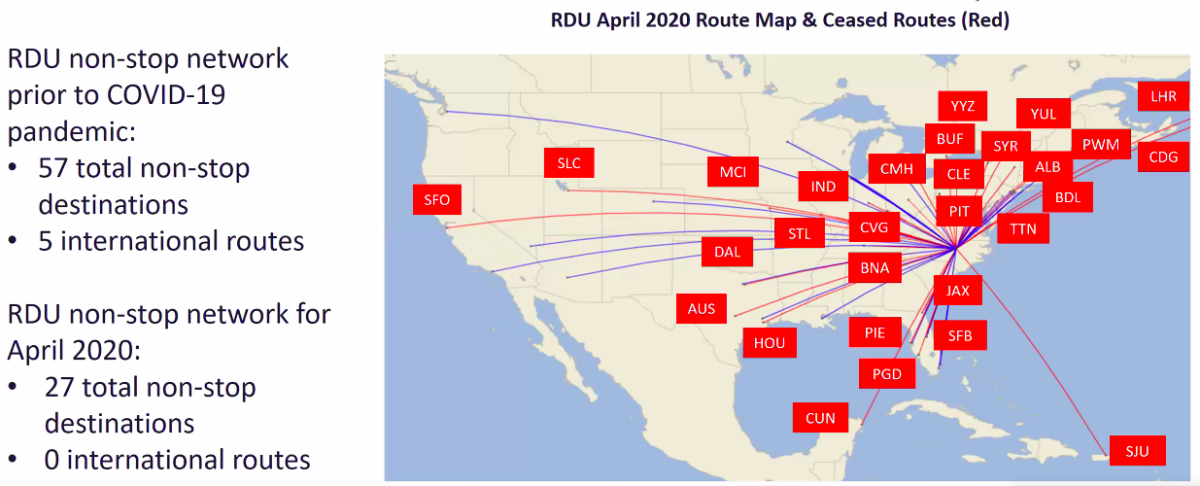 Recovery:
To forecast what recovery might look like at RDU, Michael referred to data collected after 9/11 and the recession of 2008-2009. In both cases, neither of which saw planes grounded for as long as the COVID-19 crisis, it took three to four years for the airport to return to what had been its peak performance.
He also noted this situation takes us into "uncharted waters." Job losses nationwide could total 47 million, and unemployment may hit 32%. We will know more once we have flattened the present curve; however, we may see additional spikes of COVID-19 in the coming months, according to some health officials.

From Lynn Minges, president and CEO, North Carolina Restaurant and Lodging Association (NCRLA)
Governor Roy Cooper approved a program that would allow the state to purchase hotel rooms for COVID-19-related purposes. Seventy-five percent of the program will be funded by FEMA; the additional 25% by the state. Hotel space would be used for isolating exposed and/or at-risk patients. If local hoteliers would like to be considered for the program, they can get more information on NCRLA's website under Quarantine and Isolation Lodging.
Some issues have been raised in the last week about evicting non-paying customers from hotels. N.C.'s attorney general ruled that hotel guests cannot be removed if the hotel is considered their permanent residence. This has presented some challenges for hotel management staff as there are still gray areas; the NCRLA team is working on this.
Lynn predicts that North Carolina lawmakers will be coming back to Raleigh on April 28, 2020, for their previously-scheduled short session. Work has already been done remotely to create legislation to provide relief for hospitality workers. She believes the legislature will be able to act quickly to sign proposed relief packages into law.
She also believes we're in for "a long recovery"... that even if the peak of the crisis passes, people will be reluctant to travel and meetings will be canceled. It could be 18 months before we go back to business as usual.

Chris Dillon, assistant county manager for Wake County
Chris reported that, as of April 9, 2020, we have 385 cases of COVID-19 in Wake County but that social distancing procedures have been working. He noted that, even though the population of Wake County exceeds that of Mecklenburg County now, we have ⅓ the number of reported cases. He noted appreciation for the local public responding to the guidelines and for the early implementation that Wake County leaders embraced.
On Mon., April 13, County leaders will meet with officials from every municipality to evaluate effectiveness of the County measures and the best course for continued action.

Rafael Baptista, MPA, senior manager, community economic development, City of Raleigh
Rafael began with good news about Bandwidth announcing this week that the company is planning to build its headquarters in Raleigh. They have purchased a $30-million lot near the North Carolina State Fairgrounds and plan to do $100 million in capital development, which will lead to the creation of over 1,100 jobs.
The City hosted a webinar this week for commercial landlords and tenants; a recording soon will be available.
The next weekly Wake County Tourism Industry Coronavirus Briefing is scheduled for Thurs., April 16, 2020, at 1:30pm.

Author: visitRaleigh
The Greater Raleigh Convention and Visitors Bureau (GRCVB) is the official and accredited destination marketing organization (DMO) for all of Wake County.
Comments