Coronavirus Briefing from March 26, 2020
Friday, March 27, 2020, 2pm by visitRaleigh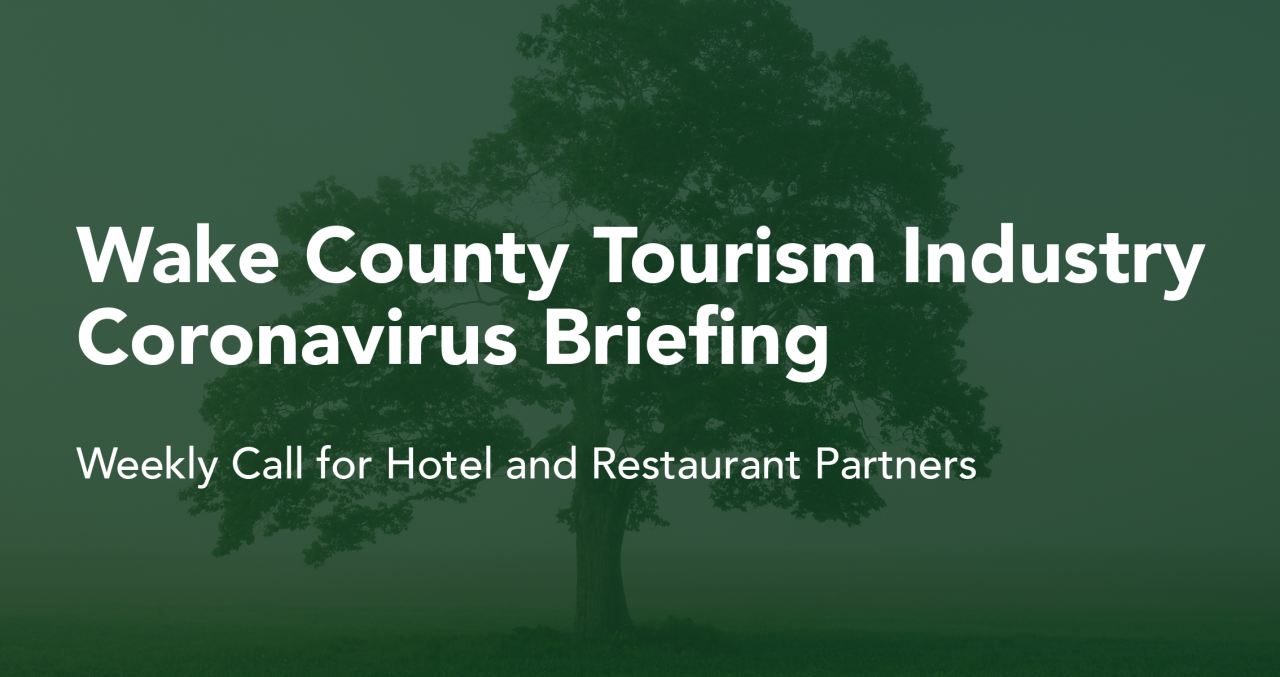 Leaders in the hospitality sector and local community are hosting weekly conference calls with updates related to the COVID-19 crisis. Here is a summary of the call from Thurs., March 26, 2020 (or if you prefer to listen to the full recording, please find it here)...

Lynn Minges, president and CEO, North Carolina Restaurant and Lodging Association (NCRLA)
In the past week, NCRLA has established the North Carolina Restaurant Workers Relief Fund, which also includes support for hotel staff and is supported through corporate donations and large grants. The hope is that funds can be made available quickly to hospitality workers who apply. The $500 benefit is not intended to be a cure-all but a stop-gap measure to help employees who have been laid off or had their hours cut.
NCRLA is also communicating regularly with the N.C. Governor's Office as well as other state policy-makers regarding relief for hospitality workers. Lynn said she's "encouraged by the content of the federal relief package."
NCLA also created a COVID-19 website covering issues in the restaurant and hotel industries. That URL is https://ncrla-covid-19.org, and the page includes many valuable resources of assistance to employees and small business owners.

Chris Dillon, assistant county manager, and Darshan Patel, MS, MEP, CEM, emergency management specialist, both for Wake County
The Wake County Emergency Operations Center (EOC) has been in operation for 20 days and continues to be staffed by over 100 individuals.
The EOC has been working with non-traditional partners such as area hotels to set up mobile and field hospital capabilities. The center is also working to find other unique solutions for response and treatment, as well as looking to other communities and countries for strategies that have been beneficial.
The EOC has a hotline for general COVID-19 questions, 919.856.7044. 
The following resources are available now to business owners and operators:

County info line for guidance to businesses: 919.856.7420 (business owners should call this number with questions about County proclamations); 
County webpage with business guidance;
Wake County Economic Development is maintaining a webpage to link businesses to resources and assistance programs as well.
 
Mark Weldon, business retention and expansion manager​ for the City of Raleigh
Mark reiterated the current shelter-in-place requirements for the City:
All events and gatherings of 50 people or more are canceled through April 30, 2020, including all special events, parks programming and events at the Raleigh Convention Center complex, including Duke Energy Center for the Performing Arts.
All playgrounds and park restrooms are closed.
GoRaleigh transit system has suspended all fares, and riders board from the rear to ease social distancing.
All City facilities are closed to the public, including Raleigh Municipal Building, One Exchange Plaza and 310 W. Martin St.
All council committees, boards and commissions, Council district meetings and other public meetings are canceled through April 30, 2020.
 
Small business owners:
The City of Raleigh COVID-19 site continues to be updated with the latest news, resources and links for small business owners. There are a number of resources to help business owners work through complex decisions: business alliances, free business helplines and free consulting and mentoring services. 
Business Alliance updates:
City deployment of curbside pickup zones has been well-received, and the zones are being used.
Downtown Raleigh Alliance ambassadors are adjusting patrols and safe-walks to maintain downtown security and visibility; also reaching out to the Raleigh Police Department with security and patrol questions.
Area districts are seeing flexibility from some landlords working with tenant businesses.
Some restaurants are faring better than others with curbside service; grab-and-go are best-equipped. Owners weighing health concerns for their staff with decisions on whether to continue.
Movement toward order by phone so credit cards do not have to be physically handled.
Some districts are starting to think ahead about what promotions will be needed when this is over.
 
Alcohol service updates from the State of North Carolina:
Important to keep current so business owners aren't put at risk of losing ABC licenses.
Reminder that patio alcohol beverage service is prohibited.
The deadline for annual ABC permit renewals was extended from April to June 30, 2020.
Regarding curbside service: 

N.C. law does allow for alcohol sales permit holders to deliver wine and beer.
So far there's been no change to the state's alcohol regulations, so curbside or delivery does not include mixed drinks.
Any such cocktail deliveries would require action from the legislature, not an executive order.
 
Loan resources:
SBA loans are available for economic injury claims due to the virus. The Raleigh Chamber hosted an informative webinar on Tuesday. 
SBA loan application process info package is here.

Also:
Mark mentioned "beware of scams." There are already reports of entities that offer to apply for relief resources on behalf of businesses for a fee. "Those resources are free," Mark said, "so don't fall for that."
Some hotels are offering day rates for those who want to work in a quiet location away from their homes. GRCVB has followed up with Raleigh area hotels in order to put together a list of these for visitRaleigh.com.
The next weekly Wake County Tourism Industry Coronavirus Briefing is scheduled for Thurs., April 2, 2020, at 1:30pm.

Author: visitRaleigh
The Greater Raleigh Convention and Visitors Bureau (GRCVB) is the official and accredited destination marketing organization (DMO) for all of Wake County.
Comments