Coronavirus Briefing from May 21, 2020
Friday, May 22, 2020, 10am by visitRaleigh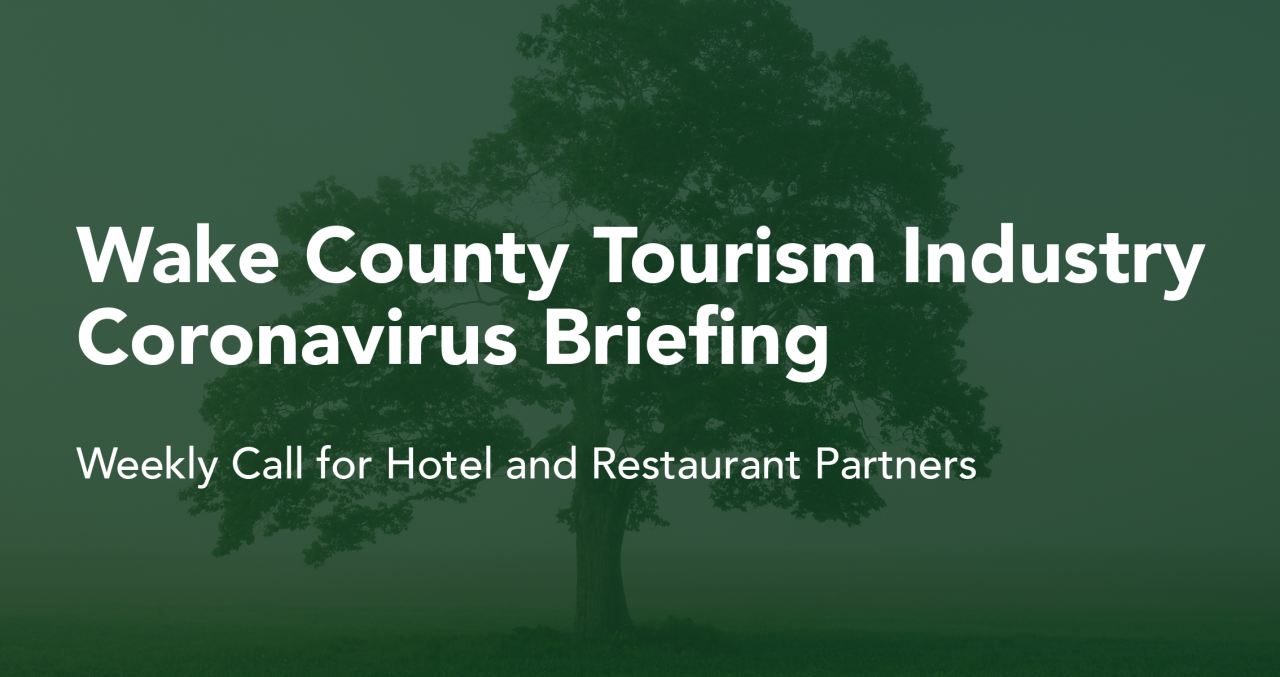 Leaders in the hospitality sector and local community have been hosting weekly conference calls with updates related to the COVID-19 crisis. Here is a summary of the call from Thurs., May 21, 2020 (or if you prefer to listen to the full recording, please find it here)...

Dennis Edwards, GRCVB president and CEO, noted that last week's hotel occupancy rate was 33.6% and the average daily rate was $68.60, down 40.3% from the same week last year. He also reported that year-to-date, 137 meetings and conventions have canceled, events that would have brought 145,000+ people to the area and totaled 92,000 room-nights used. Those cancellations add up to a direct economic impact loss of $60 million. Some 20 hotels in Wake County remain closed.

He cited a report from Michael Landguth, president and CEO of the RDU Airport Authority, who said a total of 40,000 travelers passed through RDU International Airport in April, which was the number of passengers the airport serviced per day in April 2019.

Denny has been working with counterparts in Durham, Greensboro and Charlotte to form a coalition for concert and performing arts venues. The goal is to create consistent guidelines for these venues reopening throughout the state.

From others on the call:

Chris Dillon, assistant county manager for Wake County
The County's Wake Forward bridge loan program for small business was launched on Wed., May 20, 2020.
Small business owners are eligible for a $50,000 loan at 0% interest for six months with an option to extend the loan for 48 months at 5.5% interest. Monies are set aside for sole proprietors as well as companies with as many as 100 employees. Information is available at covid19.wakegov.com.
Regarding restrictions, there are no additional restrictions for Wake County. We will follow the guidelines established by Gov. Cooper.

Rafael Baptista, MPA, senior manager, community economic development, City of Raleigh
The first version of the small business loan program provided by the City of Raleigh has closed for applications. However, thanks to private-sector donations, a second round of funding will be available in June. Be watching https://raleighnc.gov/COVID-19 for more information.
City staff has been charged with investigating extended, outdoor restaurant seating around the city (for example, onto sidewalks and parking areas) to allow extra restaurant service areas. They are scheduled to present a report to the Raleigh City Council on June 2, 2020.

Lynn Minges, president and CEO, North Carolina Restaurant and Lodging Association (NCRLA)
Phase 2 of the Governor's plan to reopen was announced on Wed., May 20, and as expected, allows restaurants to reopen at 50% capacity and using social distancing. However, there are still many questions to be answered, for example, about the legalities of serving alcohol in improvised outdoor seating areas, guidelines for breweries, mass gathering spaces and ballrooms.
Regarding bars, if a bar gets 30% of its revenue from food service, then it's considered a restaurant and should follow the restaurant guidelines.
NCRLA staff is monitoring the liability issues around reopening as well, to make sure the guidelines are set up to protect restaurants and hotels.
In response to a question from a listener, Lynn answered that the technical language of the reopening guidelines says it is "recommended" that frontline staff wear masks, but not required.

Wit Tuttell, executive director, Visit North Carolina

Wit cited recent data about traveler mindset:
Three-quarters of travelers will research how destinations and their businesses are managing the coronavirus situation before leaving on trips.
Trust in travel-related businesses may be fairly muted. Only 12.7% of Americans say they will have a great deal of trust that travel-related businesses will look out for their health while traveling.
American travelers largely do not want other travelers visiting their communities currently. Now, 60.2% agree with this sentiment; only 15.5% disagree (up from 13% last week.)
To help reassure potential visitors to North Carolina, Visit N.C., along with NCRLA, N.C. State University and the N.C. Department of Health and Human Services has created the Count On Me NC program. The program includes a pledge for hospitality partners to take as well as a pledge for customers. For details, click here: https://countonmenc.org. (View Wit's slides here.)

There will not be a conference call on May 28, 2020, but another briefing for our partners will be scheduled as new response and recovery information warrants.

Author: visitRaleigh
The Greater Raleigh Convention and Visitors Bureau (GRCVB) is the official and accredited destination marketing organization (DMO) for all of Wake County.
Comments