Coronavirus Briefing from May 7, 2020
Friday, May 08, 2020, 11am by visitRaleigh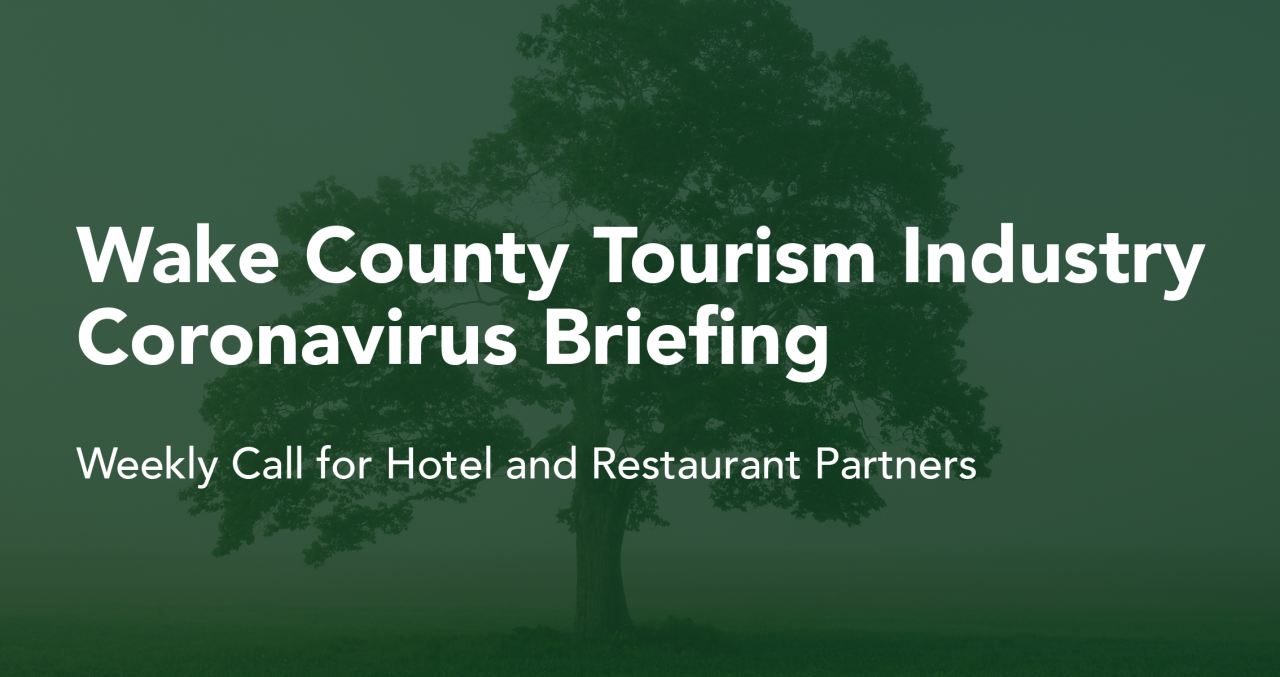 Leaders in the hospitality sector and local community are hosting weekly conference calls with updates related to the COVID-19 crisis. Here is a summary of the call from Thurs., May 7, 2020 (or if you prefer to listen to the full recording, please find it here)...

Dennis Edwards, GRCVB president and CEO, noted that last week's hotel occupancy rate was at 31.4%, another slight increase from the prior week. Area hotels' average daily rate has also increased to $67, but that's still at least 39% lower than it was this time last year.

He also reported that year-to-date, 117 meetings and conventions have canceled, events that would have brought 139,000+ people to the area and totaled 80,000 room-nights used. Those cancellations add up to a direct economic impact loss of $57.5 million.

From others on the call:

Lynn Minges, president and CEO, North Carolina Restaurant and Lodging Association (NCRLA)
She projected that Gov. Cooper's three-phase plan will see restaurants reopening about May 22. She outlined five hurdles restaurants or bars will face as they go back into operation.

1: The Governor's Executive Order
Once that order is lifted and businesses can reopen, the rebuilding process can begin.

2: Limited capacity
Restaurants will be required, for at least a while, to operate at limited capacity. She has spoken to her counterparts around the country, and some are opening at 25% capacity. Even if N.C. businesses open at 50%, it will be a challenge for them to be profitable. "They may be able to pay their rent and a few employees," Lynn said, "but they won't make any money."

Reopening will also require that businesses follow new guidelines and procedures to ensure the safety of their staff and customers; for example, servers and back-of-house staff will be required to wear personal protective equipment (PPE), and all employees will be screened before they begin their shifts.

3: Rehiring and retraining of staff
Businesses will likely bring staff members back, but they will need to be retrained regarding these new guidelines. Many staff members will be dealing with their own additional challenges such as childcare or their own health concerns or vulnerabilities.

4: The supply chain
Because of disruptions in the supply chain, many restaurants may need to offer a limited menu for awhile.

5: Consumer confidence
Lynn feels the biggest challenge is communicating to the public that restaurants are open and committed to the health and safety of their customers as well as their staff.

To address that concern, NCRLA, along with Visit N.C., the N.C. Division of Public Health and N.C. Cooperative Extension at N.C. State University will launch a training and awareness campaign called Count On Me NC.

Here is an outline of the program:
The goal of Count On Me NC is to protect employees and guests.
Restaurants will aim to ensure everybody's safety as they welcome people back into their dining rooms. 
We ask both businesses and guests to make a mutual commitment; by partnering together we can all enjoy great food and keep everyone safe.
The Count On Me NC promise:
We will ensure safe, sanitation practices are followed.
We will administer health checks to all our staff prior to shift start.
We will make sure indoor and outdoor seating meets physical distancing guidelines.
We will have hand sanitizer or hand-washing stations at all entrances.
We will clean and sanitize common areas and surfaces regularly.
We will clean and sanitize all tables and hard surfaces after every use.
We will sanitize place settings/utensils/menus/condiments after every use, or we will ensure that they are single-use to help ensure everyone's safety as we welcome you back into our dining rooms.
The promise asks that staff and customers make the following promises to each other.
If you have recently been exposed to COVID-19 or have symptoms of COVID-19 as determined by the Centers for Disease Control, please help us keep everyone safe by using our contactless delivery/takeout options. 
If you have underlying health concerns as part of a high-risk population group or are otherwise concerned about contracting COVID-19, please feel free to use our contactless delivery/takeout options, or utilize specific hours of operation for high-risk individuals, where available.
That you will be patient and kind to our staff and our other guests as we all try to adjust to a new normal.
If you have any questions about the Count On Me NC restaurant promise, please ask a manager, who will be happy to assist you.
To equip businesses with the tools and information they need to launch Count On Me NC, NCRLA and its partners will offer a series of five courses:
for owners and operators;
for front-of-house staff;
for back-of-house staff;
for cleaning staff;
and an overview, more general course.
Businesses that complete these programs will receive certificates and signage to display in their facilities intended to communicate to the public their commitment to the highest standards of health and safety.

You do not have to be a member of NCRLA to take the courses, and they are being offered free of charge.

The first is scheduled to be available on Fri., May 15, 2020, and NCRLA is anticipating 250,000 hospitality employees throughout the state will participate. Check at ncrla.org for details.

Lynn also noted that she has been communicating with mayors and other leaders around the state including Wake County's, and they are open to new and creative ways of doing business to help restaurants, particularly, get back on their feet, such as adding outside dining on sidewalks, even spilling into parking lots. "This is the time to ask for above and beyond," Lynn said.
 
Rafael Baptista, MPA, senior manager, community economic development, City of Raleigh
The City of Raleigh has been working with the Carolina Small Business Development Fund on a grant program: 
The application will go live on May 11, 2020, and will be open until 11:59pm on May 21.
It's not a first-come, first-served process. All applications submitted during that time will be considered equally.
This is for a grant of $10,000 or two months' rent, whichever is less.
The money will be distributed by June 5, 2020.
The City hosted a webinar about the grant last week; a recording is available here: https://vimeo.com/415980585.
For more information, go to https://carolinasmallbusiness.org/initiatives/raleighcovid19/.
Denny mentioned that the U.S. Travel Association (USTA) has released comprehensive guidelines that will now become part of the new normal, including:
transmission barriers;
hand hygiene;
PPE;
and sanitizing of surfaces.
He also reiterated comments from Roger J. Dow, USTA's president and CEO, who said that after Sept. 11, 2001, travel wouldn't haven't resumed without more stringent security measures.

In this crisis, new protocols to protect the health and safety of travelers will have to be implemented or there will be no travel. "It's all about consumer confidence," Denny said. 

The next weekly Wake County Tourism Industry Coronavirus Briefing is scheduled for Thurs., May 14, 2020, at 1:30pm.

Author: visitRaleigh
The Greater Raleigh Convention and Visitors Bureau (GRCVB) is the official and accredited destination marketing organization (DMO) for all of Wake County.
Comments