Everything You Ever Wanted to Know about Tourism Economic Development but Were Afraid to Ask
Friday, October 26, 2018, 4pm by Karen DeSollar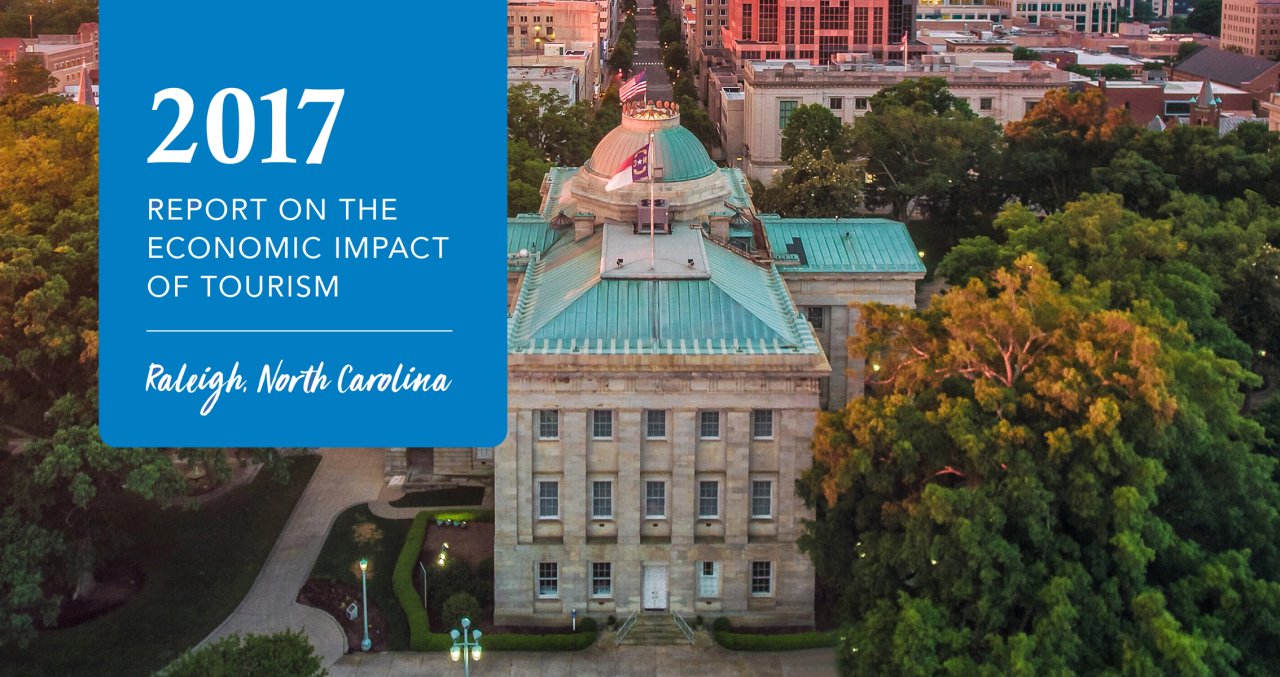 Those of us who are in the tourism business in Wake County recognize that the underlying reason for the work we do is economic development. In fact, the mission of GRCVB is short, simple and focused—
The Greater Raleigh CVB, as the official destination marketing organization of Raleigh and Wake County, accelerates sustainable economic growth and development by increasing visitor and convention business.
If you attend Bureau events or are around us very much, it won't be long before the conversation turns to numbers. At the GRCVB Annual Meeting, for example, as part of what we call his "State of the Destination" presentation, Dennis Edwards reports the numerical headlines for the year, including the total number of visitors and their direct spending on trips to Raleigh/Wake County.
Because it's so important to what we all do, GRCVB provides several ways that you can have easy access to relevant data about the county's economic well-being due to tourism.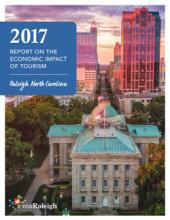 Overview document
If you want only an overview, we publish and maintain this Impact of Tourism in Wake County Quick Facts document that highlights major findings from our visitor research.
Report on the Economic Impact of Tourism
If you want more detail, you also have access to the Report on the Economic Impact of Tourism, a study commissioned annually from Tourism Economics–An Oxford Economics Company. 
The report analyzes and quantifies the flow of visitor dollars through our local economy, as they leave visitors' wallets, as they are collected/taxed in the form of attraction/hotel/restaurant sales, as these sales yield additional spending by local hospitality-sector businesses (e.g., on supplies, professional services or employee payrolls) and finally as they induce more spending by paid employees of the Wake County businesses/organizations that participate in the cycle of tourism.
Each year's report delves not only into the economic impact totals but also into some characteristics of Raleigh area visitors and the Wake County hospitality sector. It's actually quite revealing to check out the numbers and try to discern trends and even preferences of the people who visit Raleigh, N.C.
For example—
Visitor volume and spending
Visitor volume and spending have increased consistently in the last 10 years (except for 2009 during the Great Recession). In 2008, Wake County hosted 10.34 million visitors who spent $1.71 billion, compared to 16.45 million and $2.5 billion in 2017.
Trends in area tourism
New jobs in tourism have outpaced overall job growth in Wake County since 2009. (Here's an insight and a red flag: by all projections, demand for hospitality jobs is only going to grow, which means we have some work to do to make sure the number of qualified employees in Wake County will keep pace with the continued tourism growth rate for our area.)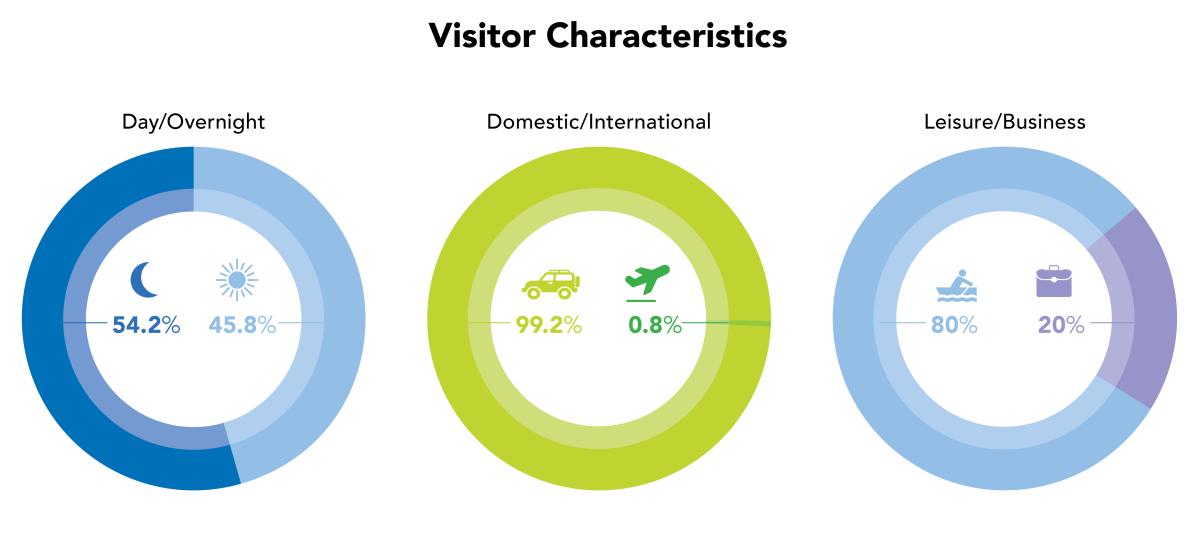 Visitor details
Under Visitor Details, you can find some interesting takeaways regarding the preferences and behavior of area visitors. 
Did you know that 54.2% of all visitors to Wake County are overnight visitors compared to 45.8% who are day-trippers?
Predictably, 99.2% of our current visitor pool is domestic, and 0.8% are international visitors. (However, growing international arrivals is a marketing focus for both the state of North Carolina and for Wake County. Scott Peacock is GRCVB's full-time director of public relations and international tourism.)
80% of Wake County visitors are here for leisure vs. 20% who are in the area for business.
Let's look at that number through the lens of a "leisure" statistic from another study, though—39 percent of overnight visitors are here to see their friends and family, not necessarily "vacationing."
If I were working on a marketing plan for my attraction, hotel or restaurant and I knew that 39 percent of eight million overnight visitors are in town visiting friends and family (which roughly equates to 3.2 million people who are spending almost a third of all visitor dollars spent here over the course of a year), I would be looking for ways to suggest/recommend/cajole locals into bringing their house guests into my establishment. (And GRCVB would support this move as well!)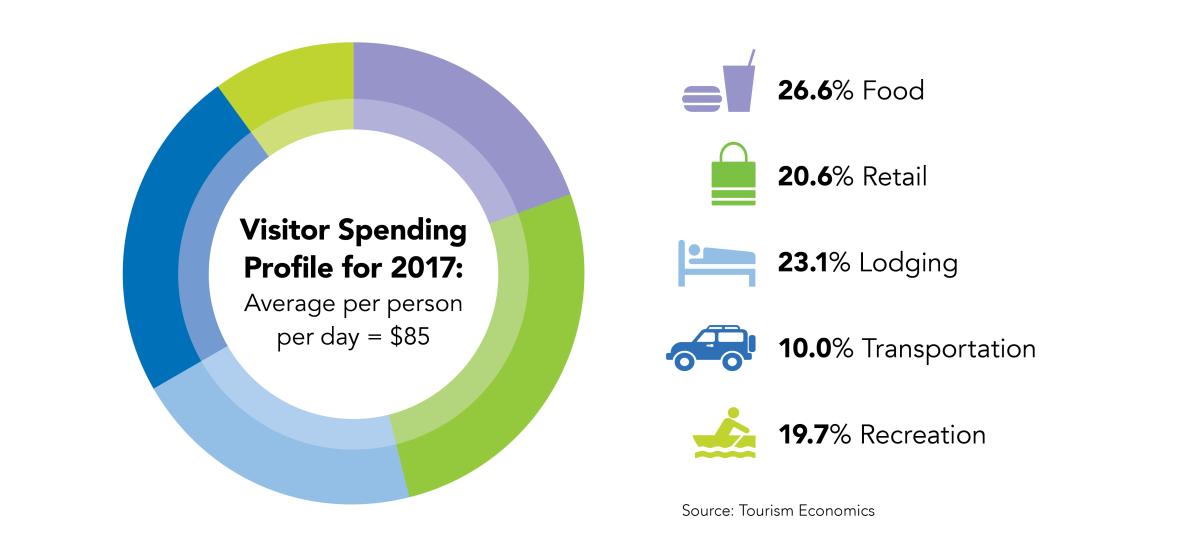 Composition of area tourism spending
Now wrap your head around this—Raleigh/Wake County visitors spend the most money on food and beverage, not lodging (remember many overnight visitors are visiting friends and family and staying free in private homes). 
Restaurateurs—our research also tells us that 23 percent of the checks at your restaurant on any given day are paid by visitors from out of town. They spent $650.2 million in 2017 to satisfy their hunger pangs. How are you marketing your restaurant to them? How do you work with GRCVB to keep more of their spending here in Wake, as opposed to leaking out to neighboring counties?
That's just a few of the details you can extract from this report about tourism-related economic development and can use in your own marketing efforts. 
Remember that GRCVB offers a number of ways (most free, a few paid) that you can place your message in front of visitors. We want to help you be exposed to as many new faces as we possibly can, creating more jobs and wealth for Wake County!
You'll be hearing a lot more about why tourism matters in the days and months ahead. In the meantime, check out last year's Report on the Economic Impact of Tourism and learn more for yourself.

Author: Karen DeSollar
Karen DeSollar is creative director at the Greater Raleigh CVB and has worked for over 15 years in the tourism sector. She started her career as an editor and earned a bachelor's degree in speech communications and English and a master's in journalism. She added graphic design to her bag of tricks when she spent 13 years as director of communications at a university in San Diego.
Comments