Five Compelling Reasons for You to Attend the GRCVB 2022 Annual Meeting
Friday, August 05, 2022, 12pm by Karen DeSollar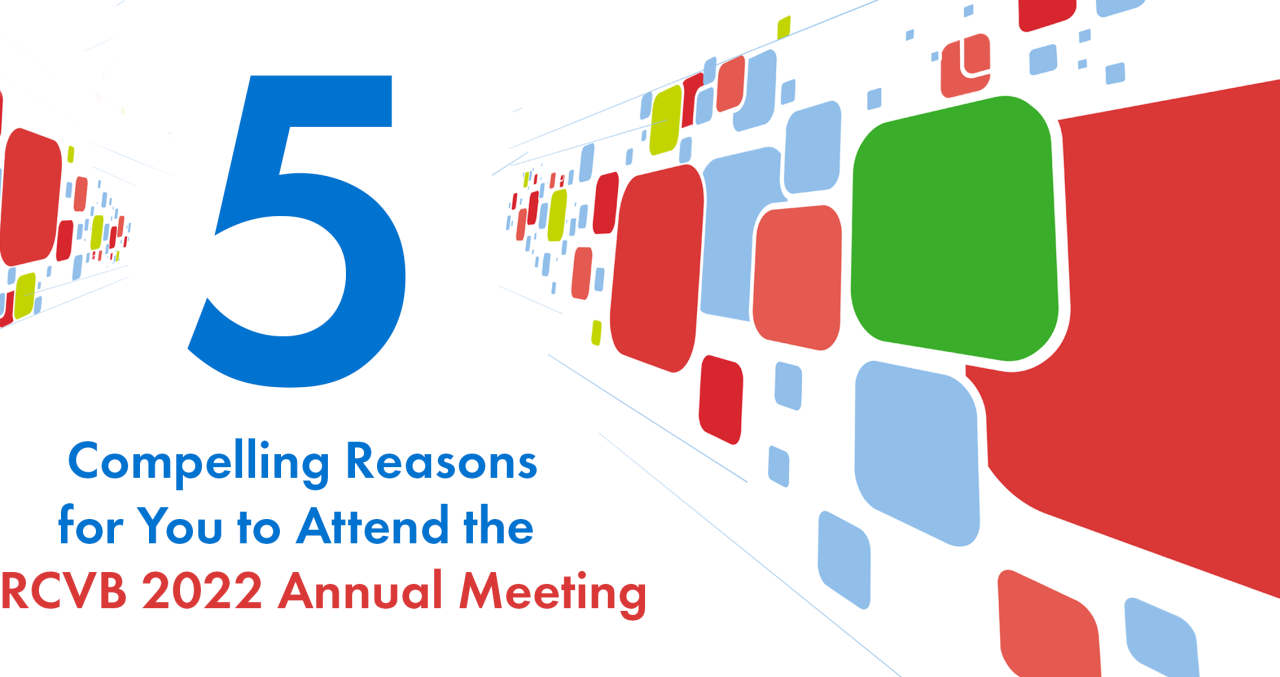 We start planning GRCVB's Annual Meeting in February of each year, and in a task that is related to my role as creative director, I get to be project manager.

As we have been planning, I have been thinking about similar meetings that are presented by our local hospitality partners and stakeholders. I get invitations to many events, and most of the time, they look interesting and appealing and I'd really like to go. A lot of the time I don't go, however, not because I'm not interested in the organization or because I have any negative feelings. They just get pushed aside by the "tyranny of the urgent." 

If you read Stephen Covey's The Seven Habits of Highly Effective People, you know that he categorized work into four quadrants, one of which was "important, but not urgent." I'm positing that attending GRCVB's Annual Meeting may not fall into the urgent category for you, but it is important. And here are five hopefully compelling reasons for you to attend the 2022 meeting.
1. Because you can. 
Two years ago at this time, we couldn't step foot into the same room or breathe each other's air. And last year, we were able to gather but with restrictions. This year, we can celebrate that we can all be together again. 

And here's the thing—if you would prefer to wear a mask this year, that's fine. If you would prefer not to wear a mask, that's fine. If you would like to stay distanced, that's fine. If you would like to sit as close to each other as you can, that's fine, too.

That self-determination is indicative of "The Next Normal" (the theme of last year's Annual Meeting), and it is something to be glad about.

Speaking of being glad, in 2020-2021 our tourism numbers bordered on grim. This year... well, I'll let you hear about it at the meeting (insert smiley face here).

2. It's always helpful to see that we are a part of something that is bigger than we are. 
We all have a tendency to focus on the urgent and our own tasks and problems to solve. It helps to step back and get a bigger perspective.

For example:
We want every hospitality partner in the county to understand the benefits that are available to them by being associated with GRCVB. The Bureau provides many valuable services to partners, and it may help you to be reminded of what those are.
It is also helpful to connect and network with others who are in your same hospitality space. Take advantage of this meeting to connect with other restaurateurs, hoteliers or attraction partners. What are your common problems? What resources do they know about that you don't?
One of Raleigh's most appealing qualities is its sense of community and collaborative partnership. Even businesses that compete for the same customers can find benefit from being in relationship with each other.

3.  We don't often have the opportunity to hear from an international economist who specializes in tourism and whose presentation will be specific to Wake County. 
Featured-speaker Adam Sacks is a world-class economist, and lest you think that he'll be presenting a lot of boring facts and figures, think again. Adam is gifted at being able to look at data to create "telling pictures" of what that data means and how it applies to our situation.
Editor's note: We suggest you plan to take notes, and while you're listening to Adam, look for ways that the information he will be sharing relates to your own business situation. He will be projecting what the future visitor picture is going to look like, and it will be great opportunity for you to 1) be ahead of your competition and 2) be looking for ways to plug into upcoming trends and developments. Adam will be taking at least a few questions at the end of his presentation. Start thinking now about what you'd like to ask him.
4. This year's award winners are particularly deserving. 
The John B. Ross Jr. Leadership Award will be presented to Cheetie Kumar, chef and owner of Garland in downtown Raleigh. Cheetie has been a great ambassador for Raleigh, N.C.'s hospitality community for many years and has been recognized multiple times by the James Beard Foundation for excellence.

The Thad Eure Jr. Memorial Award will be presented to J. Cole. He and his entire organization are to be commended for bringing an entirely different dimension to Wake County's signature event offerings through the Dreamville Festival at Dorothea Dix Park.

We typically don't announce the Horizon and Hunter awards' recipients ahead of time, but we can tell you that two hotel-industry employees—one from West Raleigh, one from Cary—will be honored for going the extra mile especially during the pandemic.
5. And last but not least, a great reason to come to the Annual Meeting—breakfast. 
An expanded continental breakfast will be served in the lobby of A.J. Fletcher Opera Theater at Duke Energy Center for the Performing Arts starting at 9am. The menu includes pastries, fruits and... wait for it... breakfast burritos. (I recommend you come early to beat your colleagues to the burritos before they're gone.) 

We sincerely hope you will make the effort to attend this Annual Meeting. We miss the days of the morning strategy session plus luncheon where over 500 of us would gather together for several hours. Two years ago, we thought maybe those days were over, but now it's a new day. You can register here or call 919.645.2662 to reserve seats.

Registration closes at 4:30pm on Mon., Aug. 15, 2022, so register now.

By the way, we are so grateful to those partners and stakeholder businesses that are sponsors of the 2022 Annual Meeting. They are noted below.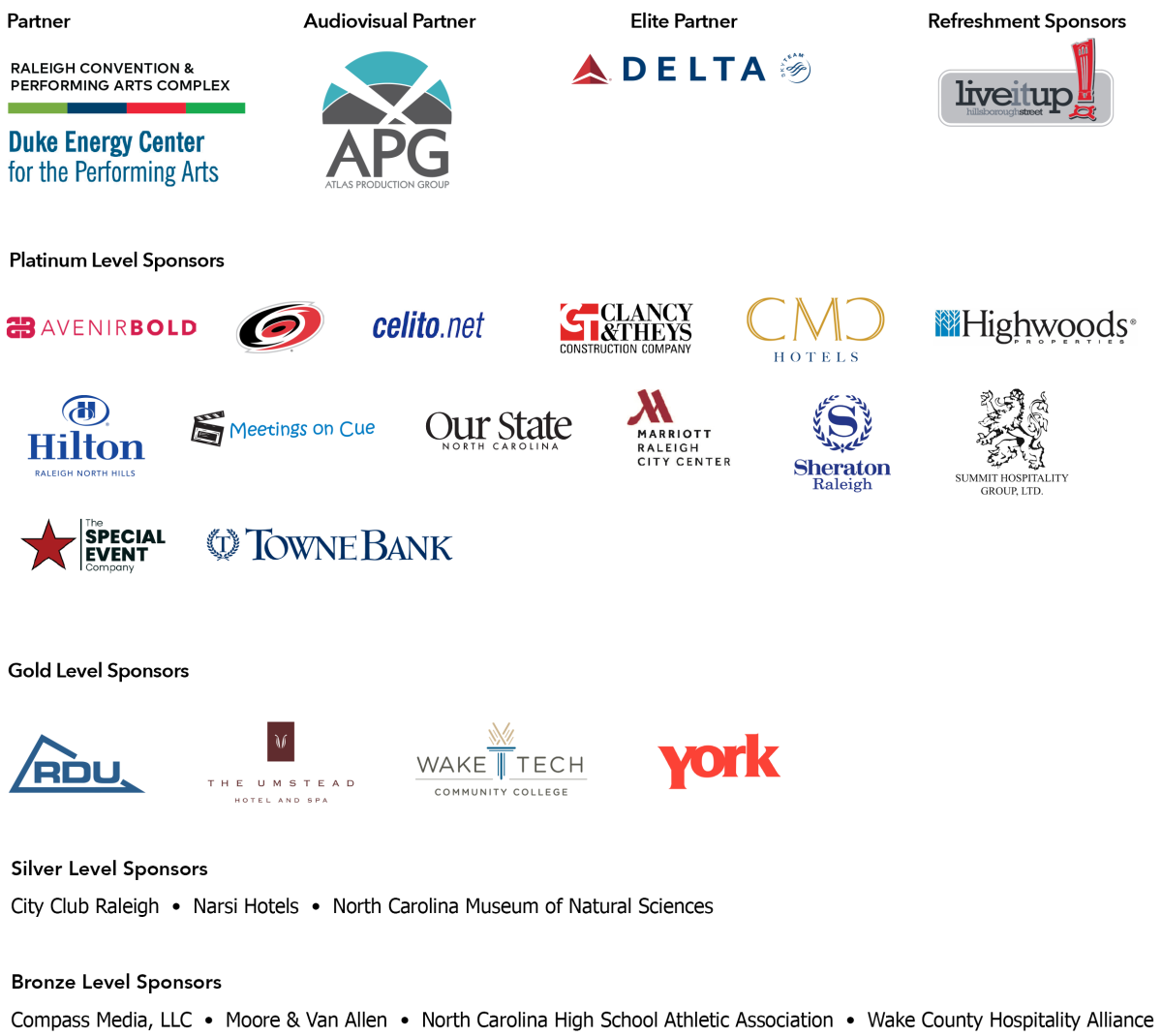 Author: Karen DeSollar
Karen DeSollar is creative director at the Greater Raleigh CVB and has worked for over 15 years in the tourism sector. She started her career as an editor and earned a bachelor's degree in speech communications and English and a master's in journalism. She added graphic design to her bag of tricks when she spent 13 years as director of communications at a university in San Diego.
Comments