GRCVB's 2019-2020 Annual Report
Thursday, September 24, 2020, 3pm by visitRaleigh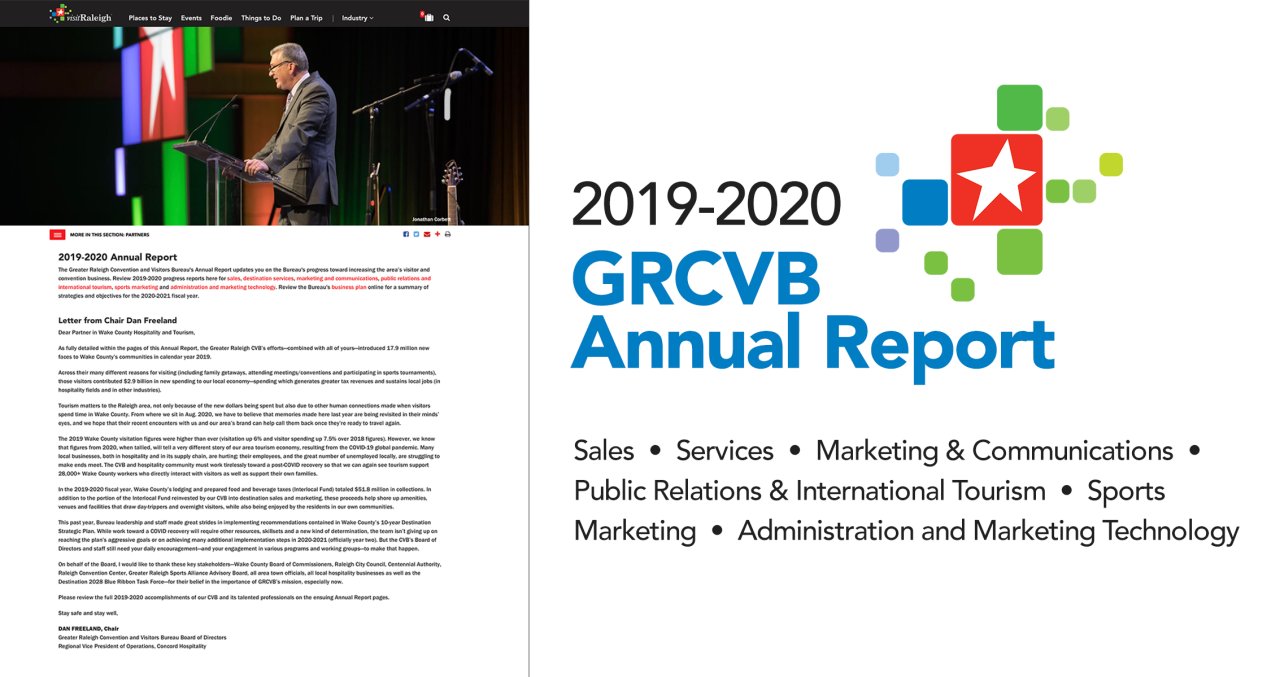 We hope you had a chance to be part of our virtual Annual Meeting last month. If you weren't able to see it live, we have published a synopsis here, and the recording is available at this link.

In his comments, GRCVB president and CEO Dennis Edwards provided 2019 data, including the total number of visitors to Wake County in 2019, their direct spending in market, state/local taxes generated and jobs provided to area residents.

Denny also highlighted just a few of the accomplishments from GRCVB last year. To get a full sense of the work of the Bureau and the accomplishments of the team from last year, we encourage you to visit our full 2019-2020 Annual Report. The link was included in Denny's presentation, but we're sharing it again below, in case you missed it.

Here are just a few examples:

Administration and Marketing Technology:
Delivered a year-one implementation update of the Destination Strategic Plan (DSP) for Wake County. The strong results identified tactical actions that the GRCVB leadership and staff implemented to address the DSP priorities that impact overnight visitation along three visitor channels: meetings and conventions, sporting events and leisure visitation.

Greater Raleigh Sports Alliance:
Exceeded annual sales goals, finishing the fiscal year with 93 assisted definite bookings, which in total represent a projected 125,000+ hotel room-nights and more than $80 million projected in direct visitor spending in Wake County.

Marketing and Communications:
The Marketing team continued to focus on its content marketing strategy, including its emphasis on content about the destination's creative entrepreneurs, leaders and makers (profile pages, videos and more) and distribution of this content via owned (email marketing) and non-owned (social media, native ads etc.) channels, creating millions of positive impressions with destination customers.

Public Relations and International Tourism:
Wrote press releases and pitches distributed to strategically-targeted media outlets locally, regionally and nationally. Topics ranged from new lodging, attractions and restaurants in Wake County to CVB accomplishments and key tourism industry performance indicators. They also showcased the role tourism plays in driving broader economic development, talent acquisition and providing job opportunities to the area.

Sales: 
Exceeded annual performance goals, producing 238 definite booking leads that generated 143,805 total room-nights for Wake County. The direct economic impact of this business totaled more than $87.8 million.

Services: 
Serviced and hosted 346 groups (meetings, conventions and sports). We hosted 7,942 visitors in the official Visitor Information Center while fulfilling 8,458 visitor requests.

The Annual Report is a great way to get an overall sense of the work that we do and the visitor-related economic development achieved for the county in 2019-2020.

You can read the Annual Report here: www.visitRaleigh.com/annualreport.

Also a reminder that the Bureau's 2020-2021 Business Plan is available online. We often recommend that hospitality partners take some time to become familiar with the CVB's annual business plan and to look for ways in which the Bureau's plan might overlap with your own marketing and promotional strategies in welcoming visitors and guests. We may be able to help or amplify each other.

Author: visitRaleigh
The Greater Raleigh Convention and Visitors Bureau (GRCVB) is the official and accredited destination marketing organization (DMO) for all of Wake County.
Comments