In Case You Missed It: Raleigh's Black-Owned Businesses Thrive
Friday, June 23, 2023, 12pm by visitRaleigh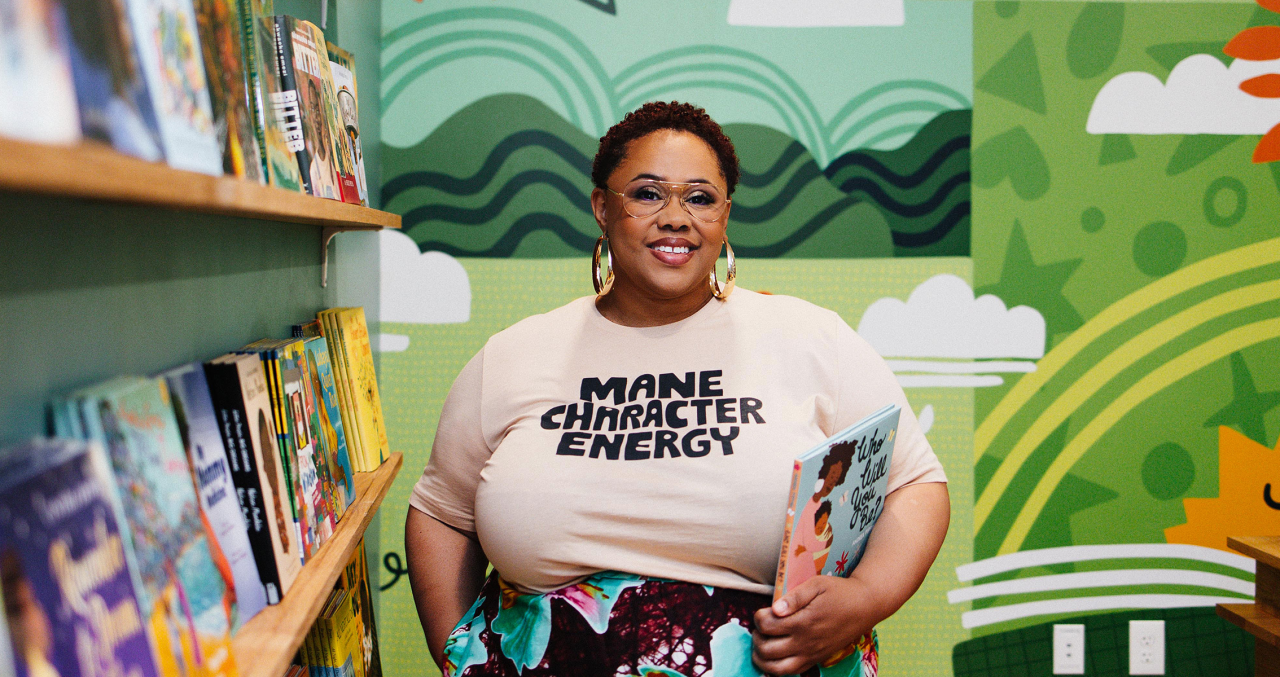 In honor of Juneteenth, GRCVB's Public Relations Department released the following to travel media and other outlets about some of our area's outstanding Black-owned businesses and cultural highlights. The story features the opening of North Carolina's first Black-owned children's bookstore, Liberation Station, but it includes a brief history of Raleigh's Black main street, highlights other notable Black-owned businesses downtown and looks forward to the opening of N.C. Freedom Park. It's a great story and one we want to make sure you see...
....................
After much anticipation, Liberation Station Bookstore opened its doors just steps from Raleigh's historic Black Main Street—where history continues to be made. The opening of Liberation Station, North Carolina's first Black-owned children's bookstore, was celebrated throughout Juneteenth weekend with events featuring bestselling and award-winning Black children's book authors and illustrators, Black historians and even Black equestrians. Amplifying Black voices and making them accessible is the goal of Liberation Station, located at 208 Fayetteville St., Ste. 201, in downtown Raleigh.
---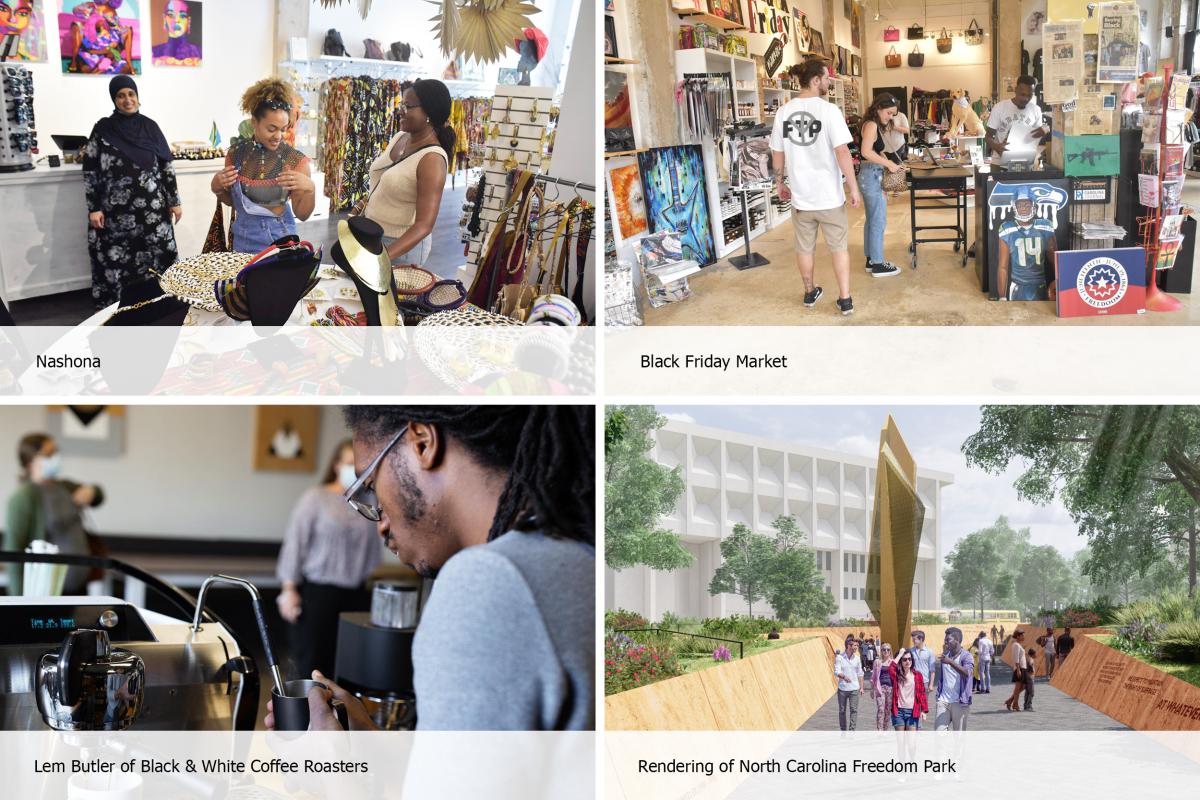 ---
Between the intersections of Fayetteville St. and Moore Square, E. Hargett St. developed as a commercial district and the Black main street of downtown Raleigh in the 1910s and 1920s. Its brick buildings housed the offices of Black doctors, lawyers, pharmacists and real estate developers as well as barbershops and retailers. The heart of the street were the 1921 multi-use Lightner Arcade and the Mechanics and Farmers Bank, an institution that remains today as M&F Bank. Today, Raleigh's Black main street and surrounding streets are resurging as home to a plethora of local Black-owned restaurants and businesses, offering everything from fashionable wax cotton dresses to hand-mixed soil for your D.I.Y. terrarium. A few of these key businesses include:
Black Friday Market: A brick-and-mortar store carrying products from more than 50 entrepreneurs that include art, clothes and gift items like candles, mugs and the like, giving Black-owned businesses more exposure to more customers and bringing in more sales. 
Nashona: This fashion-forward women's clothing line from Tanzanian native Lillian K. Danieli specializes in melding modern styles with vibrant African fabrics (Nashona translates to "I sew" in Swahili). The phrase "made with love Tanzania" can be found across the tag of each piece, a callout to a loyal team of local Tanzanians, retailers and brand ambassadors who have been critical to the brand's success, and a nod to Danieli's home where a portion of all sales benefits the Shalom Orphanage in Karatu, Tanzania.
Unorthodox Vintage: A collaboration between two wonderful black-owned vintage businesses, Sir Chance's and She Thrifty Apparel.
The ZEN Succulent: Green and glamorous, the ZEN Succulent offers unique gifts for customers with a true green thumb and those who just like a little nature sprinkled throughout their home. Stop in for one of their workshops as well, including a D.I.Y. Terrarium Bar class.
Pop-Up Shops at Martin Street: For minority- and women-owned businesses, this effort by Downtown Raleigh Alliance, StartUp at Wake Tech and LM Restaurants increases the presence, inclusion and equity of business ownership in downtown Raleigh.
Black Main Street Murals: Created by Raleigh Arts and artist TJ Mundy, the public art series marks four buildings that played a major role in Raleigh's historic Black main street.
ORO Restaurant & Lounge: A chic restaurant offering dishes designed for sharing, chef/owner Chris Hylton's ORO is best enjoyed with good friends and good vibes (and plenty of items ordered for the table).
Black & White Coffee Roasters: Formed in 2017 when two U.S. Barista Champions, Kyle Ramage and Lem Butler, collaborated on a vision to bring specialty coffee to the masses in an approachable way. Black & White Coffee now has a thriving wholesale business plus three tasty café locations, in Wake Forest, Rolesville and downtown Raleigh.
311 Gallery: A contemporary art gallery located in downtown Raleigh featuring local and national juried exhibitions, artist studios and a gift shop. The 12 working or exhibition studios include the works of over 30 resident artists including abstract, landscape and portrait painters, photographers, potters and other creators.
Coming Soon: In Aug. 2023, a landmark project 20 years in the making, North Carolina Freedom Park, will finally open honoring African American struggles and triumphs in pursuit of freedom, justice, equality and opportunity. Through various structural elements, deep symbolism and impactful words from famous Black North Carolinians, the park will celebrate the importance of freedom to all people no matter their background. The design for North Carolina Freedom Park comes from the late, nationally acclaimed architect Phil Freelon, widely known for his exceptional work on projects including the Smithsonian National Museum of African American History and Culture in Washington, D.C.
Through local support and buying locally, Black-owned businesses are continuing to grow and succeed, reviving the dynamic Black main street corridor in downtown Raleigh.

Author: visitRaleigh
The Greater Raleigh Convention and Visitors Bureau (GRCVB) is the official and accredited destination marketing organization (DMO) for all of Wake County.
Comments