Meet Sam Hall, Experiential Marketing Intern
Monday, July 06, 2020, 7am by visitRaleigh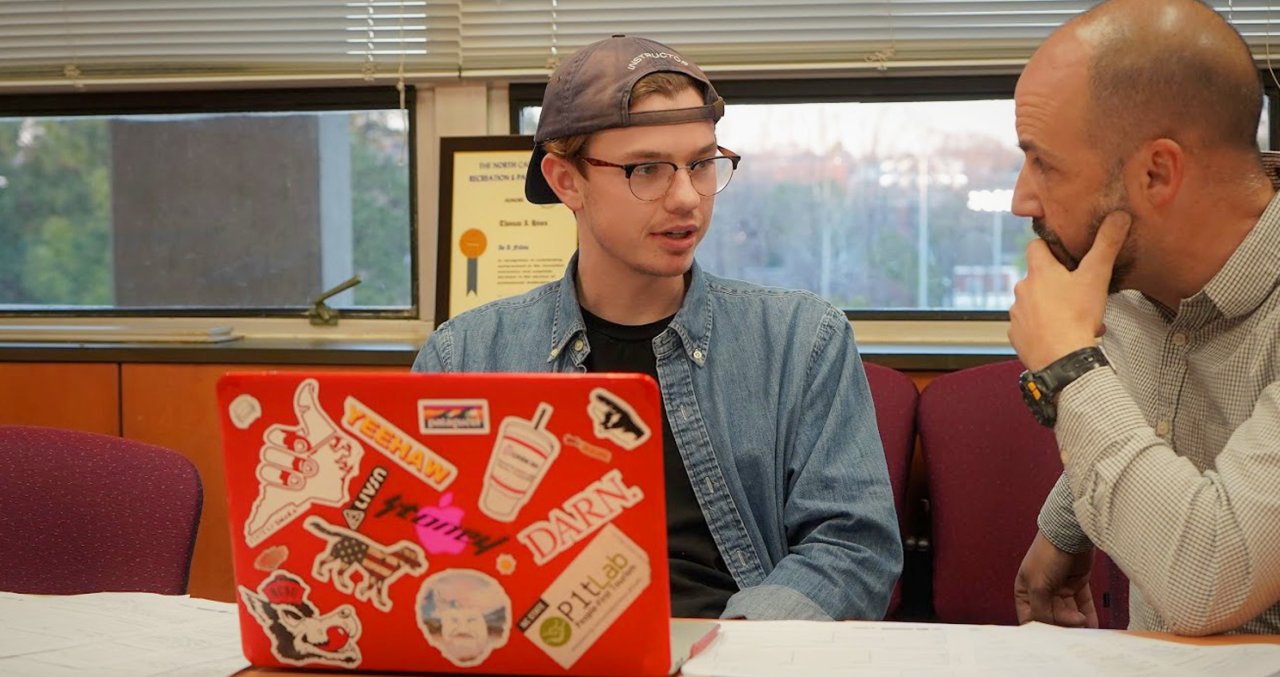 Pandemics are rotten and disrupt almost every one of our normal routines. However, we are grateful for the many technology resources available to help us continue to work and to stay in touch.

The GRCVB GoToMeeting account is smoking because we use it so much, but it has allowed us to keep up our face-to-face partner relations especially.

It also has allowed the Marketing and Communications Department to bring Samuel Hall onboard as a summer intern virtually. Sam is tag-teaming with us and People-First Tourism (P1t), Inc., to help both entities synergize this season on developing new P1t offerings in Wake County (a strategy of Destination 2028). He is pictured above with Dr. Duarte Morais, associate professor of sustainable tourism at North Carolina State University and co-founder/CEO of P1t, Inc.

Meet Sam here:

Tell us where you are from, what year you are at N.C. State and your major.
I'm from Clayton, N.C., and I'm a senior in Sustainable Tourism Management. I have been conducting research with P1tLab for the past two years, and my most current project was digging into the social networks of fly-fishing microentrepreneurs in the N.C. mountains. 

What are your seasonal responsibilities with People-First?
I am now a joint intern with P1t, Inc., and GRCVB where my main role with the former is to recruit new microentrepreneurs and help facilitate virtual experiences this summer. 

What do you find most interesting about the P1t concept?
I became intrigued by P1t because of its unique model of focusing on the host first and then ensuring that the visitor has a good experience as a result of a happy host. When focusing on the host aspect primarily, it allows us to find unique people all over the Raleigh area who offer awesome experience opportunities but may not have the resources to get them out there. We can fill in that gap. 

Are there any of the P1t entrepreneurs that particularly impress you?
I'm a big fan of the Ninja Cow Farm sustainable livestock experience here in Wake County. Dan [Moore, the owner] is an awesome guy who knows a lot about what he does and does a great job showing it. 

If you were beginning your own P1t experience, what might you do?
My own P1t experience would have to be fishing-related. I would have the visitors tie a couple of flies that I like to use and then we'd take the kayaks out to Falls Lake and catch some fish while I tell all of my fisherman stories.

What kind of career path would you most like to take?
I would like to seek a position similar to what I have right now if that's possible. I like the idea of connecting two great organizations in a way that progresses the tourism narrative for an area that I love. 

My favorite aspect of this internship that I want in any position in the future is the regular nature of communicating with new people and hopefully someday again talking to them face-to-face. I am really enjoying my time here at this internship, and every single person that I have the pleasure of working with at both organizations is incredible. I have already learned so much and I feel like I have just started.

Author: visitRaleigh
The Greater Raleigh Convention and Visitors Bureau (GRCVB) is the official and accredited destination marketing organization (DMO) for all of Wake County.
Comments