Coronavirus Briefing from March 19, 2020
Friday, March 20, 2020, 5pm by visitRaleigh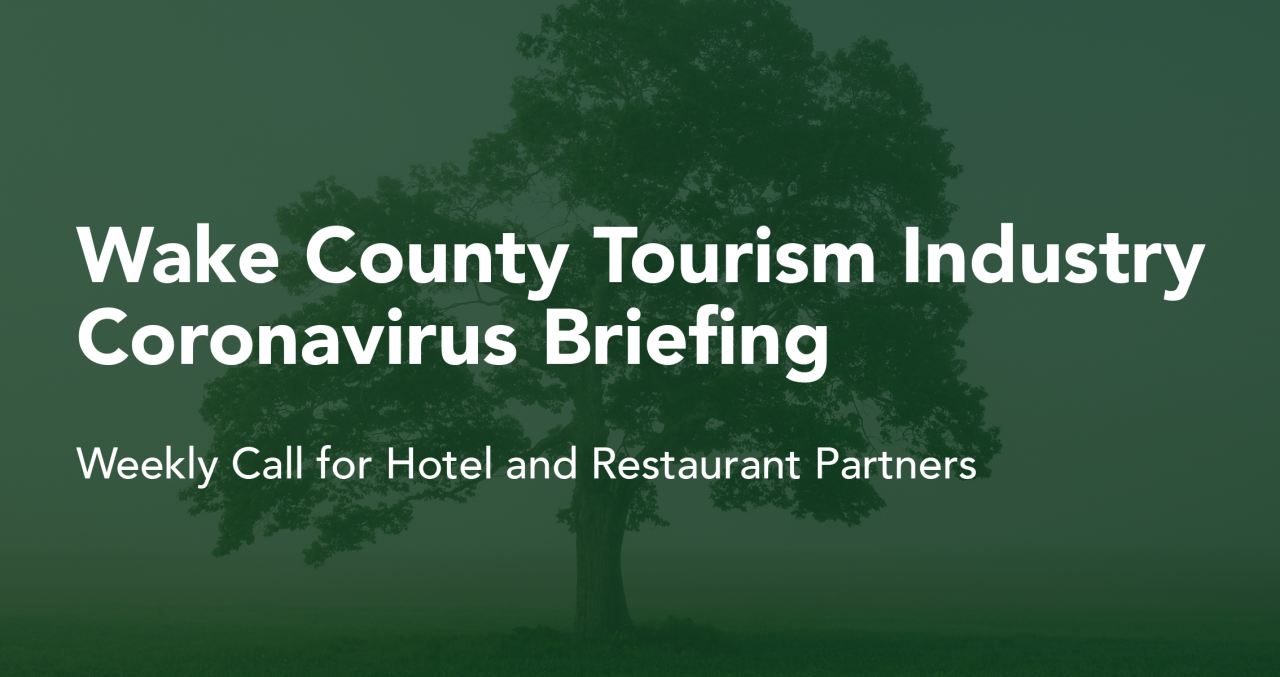 To assist hospitality business partners and others affected by the COVID-19 crisis in Wake County, GRCVB, alongside the North Carolina Restaurant and Lodging Association (NCRLA), is hosting weekly conference call briefings with information relevant to all of us during this time.

The first of these calls was on Thurs., March 19, 2020, and included many valuable updates and resources. Below is a summary (or if you prefer to listen to the full recording, please find it here)...

Lynn Minges, president and CEO, NCRLA
Perhaps the most important call to action came from Lynn, who encouraged every business owner, employee and stakeholder to contact state and federal policy-makers to advocate for assistance for hotel and restaurant industries affected by this crisis.

"It is important," said Minges, "...very important that we deploy the full resources of the hospitality industry to demand public officials take action immediately."

A link to submit your story and comments to legislators is available here: https://p2a.co/OgKdUkJ. 

Also from Lynn, NCRLA has been:
fielding thousands of questions and comments from N.C. hotel and restaurant staffs;
encouraging organizations to relax policies, for example, asking ABC Boards to buy back liquor from restaurants and hotels to increase cash flow for those businesses;
developing a relief package: NCRLA has submitted a long list of relief options to policy-makers to help business owners through this crisis, e.g., tax forgiveness;
coordinating a grassroots movement to mobilize hospitality partners across the state to call on legislators to pass legislation now to provide assistance;
lobbying the governor to allow curbside pickup and delivery to continue after the issue of Executive Order 118, mandating the closure of every bar and restaurant dining room in the state.
A few statistics from NCRLA:
13% of N.C.'s workforce works in the hospitality industry and many, if not most, are out of work right now or their hours have been slashed; 
50% of foodservice in the state comes from restaurants. Grocery stores are not equipped to handle the totality of our state's population. Prepared food from restaurants is vital to the sustenance of North Carolinians.

Veronica Creech, economic development manager for the City of Raleigh 
Veronica reported about actions the City of Raleigh has taken in the last week:
Her office hosted a listening session with 100 small business owners (plus others tuning in remotely) on Mon., March 16, 2020. All comments and questions were recorded and answered on the City website at https://raleighnc.gov/news/covid-19-information. The session recording is also available on Raleigh Television Network.
The City has converted paid parking spots to curbside spots for customers to pick up food from restaurants. The spaces are around downtown and in other areas, such as Five Points. If communities and neighborhoods would like to provide the same service, they can contact Veronica's staff for how-to's and tips at https://raleighnc.gov/economic-development;
Parking in metered spaces downtown has been made available for free to avoid spread of the disease from touching meters themselves;
The City has been working with area neighborhood alliances (Hillsborough St., Downtown Raleigh Alliance etc.,) to help small businesses affected by the shutdown.

Regarding financial assistance:
Fortunately for hospitality workers, the governor's Executive Order 118 has made it easier for employees to apply for assistance. 
In addition to those who have been laid off, workers whose hours have been cut may also apply for aid;
The aid will be funded through the state and federal governments and not by employers;
Employees may apply online and by phone. Each request will be handled on a case-by-case basis, and employees should be prepared to answer questions about work history, salary etc.;
Those interested should go to https://des.nc.gov for information about compensation.

Good news for employers:

Chris Dillon, assistant county manager for Wake County
Chris and his team reported about the work of the Wake County Emergency Operations Center:
The team is coordinating the emergency response in Wake County, including Raleigh and all municipalities, to ensure a consistent message and response across the area;
100 people are working in the Center daily from 8am-8pm;
211 is the state hotline number for N.C. residents to call with general questions; questions can also be submitted by email at covid19.questions@wakegov.com;
919.856.7044 is the number for people to call if they think they might be sick.
Also on the call was Wit Tuttell, executive director for Visit North Carolina.
He reported:
All N.C. tourism advertising has been suspended;
Visit N.C. staff are working with the Department of Commerce on an aid package for tourism offices;
Wit and his team will host a webinar about the impact of COVID-19 on the state the week of March 23.
Wit also strongly advocates for contacting elected officials about aid packages for tourism. Go to https://www.ustravel.org/toolkit/emergency-preparedness-and-response-coronavirus-covid-19 and click the red box to submit your story.

The next weekly Wake County Tourism Industry Coronavirus Briefing is scheduled for Thurs., March 26, 2020, at 1:30pm.

Author: visitRaleigh
The Greater Raleigh Convention and Visitors Bureau (GRCVB) is the official and accredited destination marketing organization (DMO) for all of Wake County.
Comments