Universal Access and the Arts Day
Monday, July 16, 2018, 7am by Karen DeSollar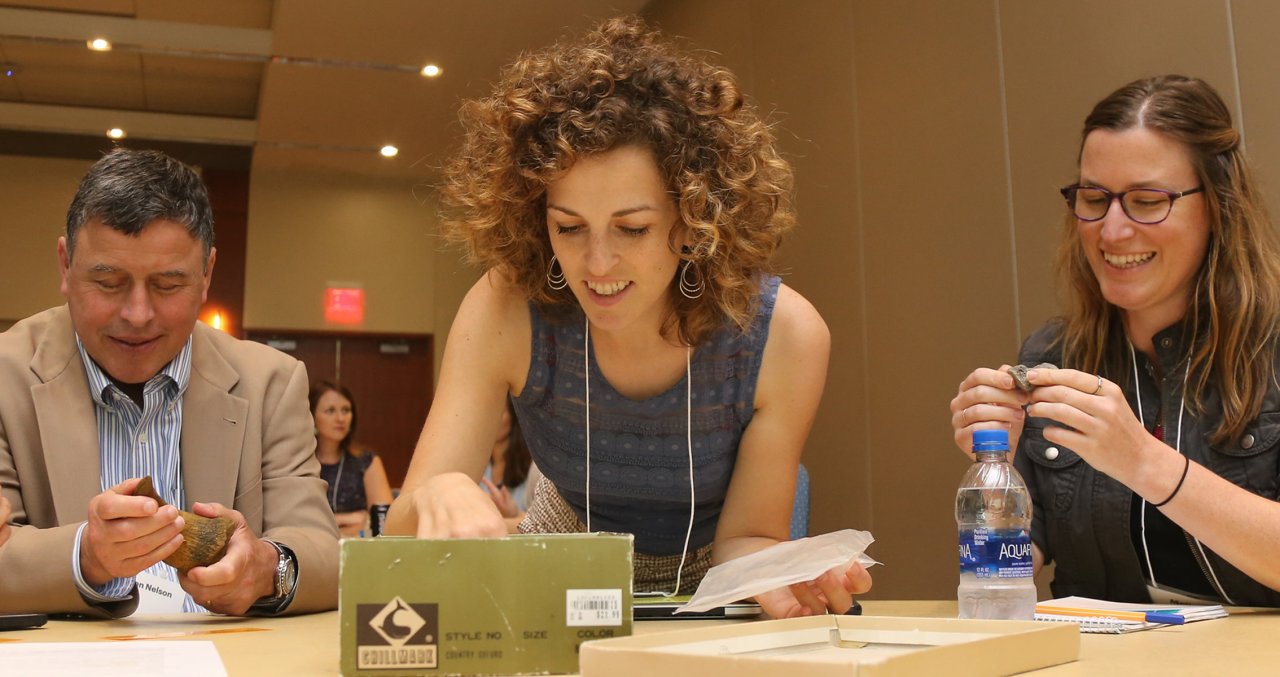 One of the visitor service areas that we are talking about more often here at GRCVB is accessibility—making Raleigh and Wake County's offerings for visitors available to people of all abilities. Julie Brakenbury, CGSP®, director of services, dealt with the topic in this blog a few months ago. Today we are sharing more of what we learned at the Universal Access and the Arts Day on June 21, 2018, at Raleigh Convention Center.
Attended by community arts leaders and those interested in accessibility, the event brought practitioners and industry leaders together to talk about what has already been accomplished in the arts in Wake County and how we can continue to grow in this area.
The plenary speaker was Sina Barham (a graduate of North Carolina State University) who heads Prime Access Consulting, Inc., a company which specializes in using technology to make products and services accessible to people of all abilities. Sina has worked with museums, performing arts organizations and information learning spaces to help make exhibits and programs available to those with hearing, sight and other disabilities. He was awarded the White House Champion of Change award in 2012.
Here are the questions for us—how do those of us who are charged with serving the public (in this case, visitors) make our experiences accessible to as many people as possible? How do we shift our mindset to make sure people with disabilities are included from the very beginning of our thought processes and not (as it has tended to be) as an afterthought? 
That concept is called universal design—one of Sina Barham's building blocks—and where he encouraged Wake County practitioners to begin. The day was "a wonderful reminder that universal design makes everyone's experience better," said Linda Dallas, artist and assistant professor of art at Saint Augustine's University. 

Here are a few key points from the event for us all to think about:
Accessibility is about serving people, and after all, isn't that what hospitality is?
It's about "people first/customer service," said Jamie Katz Court, communications and program manager at PineCone, Piedmont Council of Traditional Music. "You're serving people, and no two people are the same." When you are thinking about disability services, "ask people what they need, respect their answers and be willing to work with them to find solutions."
When beginning to think about making programs, products and services accessible, "It's okay to start small," Jamie says. "You don't have to try to do everything at once! Working with members of the community you want to serve better will teach you a lot and the effort will be noticed and appreciated."
She continued, "It's also okay to ask questions. You aren't expected to know everything, and it's better to ask questions than to make assumptions. Thinking through questions and logistics from the beginning results in a better experience for everyone involved."
Linda underscores that idea, "Other points of view are always valuable. I was reminded not to design projects for people with varying abilities but with them. Getting feedback on plans from a wide variety of people helps avoid problems and illuminates unforeseen opportunities to create a better experience for everyone."
Charles Phaneuf, executive director of Raleigh Little Theatre also notes, "It's okay to fail when trying to make your work more accessible. Don't let the perfect be the enemy of the good, but strive to continually improve the experience for all visitors."
Sarah Corrin, arts grant director at the Office of Raleigh Arts, took away that same idea. "You don't have to know it all. You don't have to figure out the best solution to an accessibility problem yourself. Ask people with disabilities in your community what works for them—then just do whatever they say. Their solutions are often easier and cheaper then what you expect." From the conference, Julie also "learned that the technology innovations for accessibility are amazing, and all of us in hospitality should strive to learn more about tools that can make visiting Raleigh easier for all including visitors with disabilities."
This is a growing area and one that we will continue to talk about in the arts and hospitality communities in Wake County and beyond. "Getting the word out is important," Linda says. "Letting people know how your event or facility can accommodate their special needs helps them plan their experience."
Sarah added, "Inclusive design projects really get the creative juices flowing. As an arts person, I appreciate experiencing and making art in new ways. Sina's visual description session turned an access project into a literary exercise. The final results were so beautifully written that they made me see things in the artwork I hadn't thought about before."
She also said, "Whenever I've worked on change management projects in the past, you always find out after the fact that there were negative unintended consequences. The changes mean good things for one group of people but actually create issues for another group or department."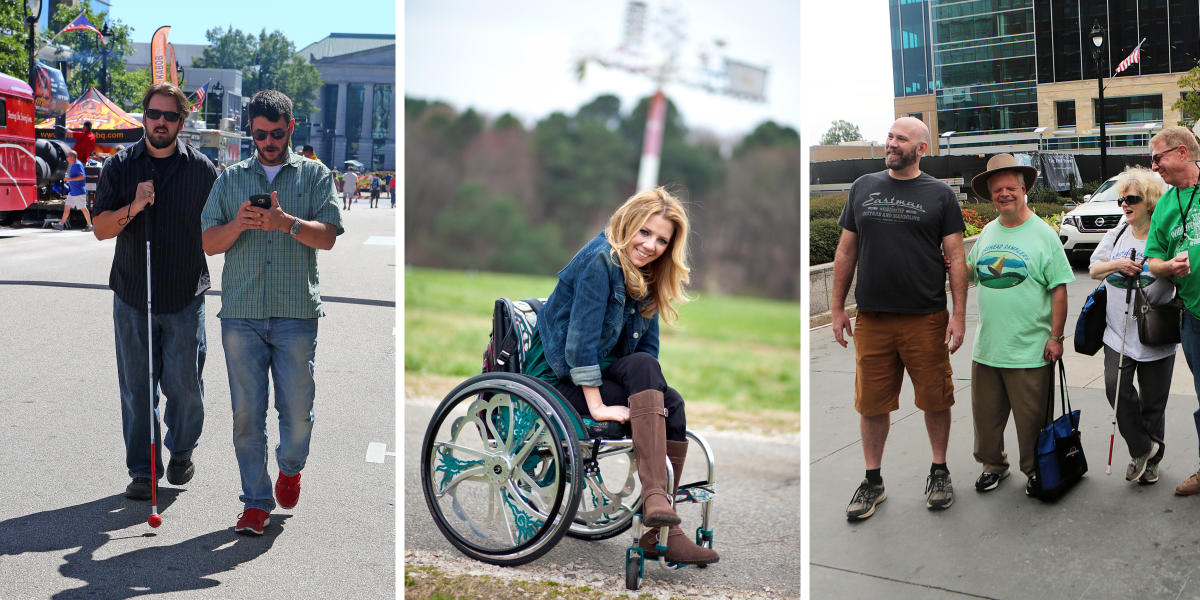 "Accessibility is the only area I've seen," Sarah said, "where you make improvements for one group of people and the ripple effect is that there are unexpected benefits to others in surprising ways. UPS drivers and parents with strollers love curb cuts; closed captioning on TVs means you can follow programs in noisy bars and airports too; security guards are some of the best people to write verbal descriptions of modern art (they know the work really well and they use language that works well for the average person—not just art connoisseurs."
Julie was "struck by how far the arts groups (in Raleigh) have already come. It's no longer an afterthought to be accessible as an arts entity, and accessibility has become intentional part of their core work to make the arts in Raleigh available for all."
She concluded, "I came away thinking that the hospitality community can and should model itself similarly (like the arts in Wake County), meaning arts groups have the practices in place and have done a lot of the hard work. This can make it easier for other hospitality partners to make strides in accessibility faster."
........
Conference photos by Kaili Ingram/Eleven03 Photography; IBMA/Dave Brainard; North Carolina Museum of Art/Photoability

Author: Karen DeSollar
Karen DeSollar is creative director at the Greater Raleigh CVB and has worked for over 15 years in the tourism sector. She started her career as an editor and earned a bachelor's degree in speech communications and English and a master's in journalism. She added graphic design to her bag of tricks when she spent 13 years as director of communications at a university in San Diego.
Comments