Use Research to Inform Your Hospitality Business Plan
Thursday, September 28, 2017, 7am by Jonathan Freeze, CDME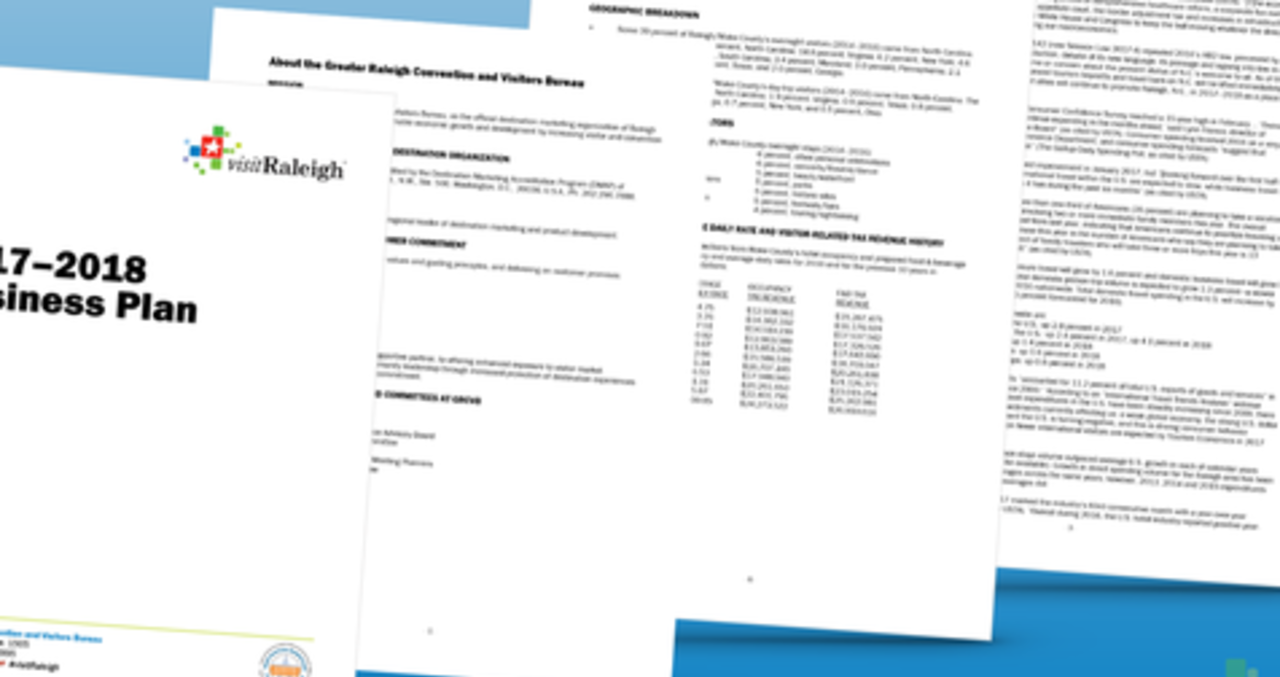 The business plan, or marketing plan updated annually, is a fundamental in most industries, and hospitality-sector businesses and organizations can use this long-range planning tool to guide their paths to year-over-year success even if their year-end outcomes are not strictly financial (as in the case of some non-profit or government-run attractions).
GRCVB's Business Plan, published online each summer, is a great resource to consult when hospitality businesses update their own plans annually. Not only does the Bureau share its entire list of goals plus strategy by department (which helps area hotels, restaurants and attractions literally find projects with which to tie-in), but also GRCVB shares recently researched trends, facts and figures for Raleigh/Wake County tourism (which would cost thousands of dollars and many work hours to research on one's own).
In future articles, GRCVB will post more ways that partners can make the most of existing industry resources and visitor research, but this week, here are some simple tips for using the Bureau's 2017-2018 Business Plan as a resource:
Study the travel and tourism trends (pp. 3-4)
This is a summary of recent trends affecting the hospitality sector nationwide and in market, written at the time of our annual plan's update for board review and approval. While Wake County visitation doesn't always mimic national trends, stats from the U.S. Travel Association provide a macro picture of domestic and even international tourism, including forecasts for visitation and spending. Americans do travel based on how much discretionary money and paid time-off they feel they have banked, so setting very ambitious, individual business goals for a year when the U.S. economy overall feels uncertain may not be prudent. This is just one example of factors that are considered in this section of the annual plan.
Hotels should pay special attention to the market/county-level forecasts
Among the trends summarized on GRCVB's Business Plan p. 4 are some of the best forecasts available for 2017 year-end hotel industry analytics (occupancy, ADR and RevPAR) on a localized level; additionally, the 10-year history of occupancy and ADR in Wake County is neatly outlined on p. 6, and the Bureau's countywide 2017 goals are shared on p. 41. This annual info, paired with weekly and monthly data provided in the Bureau's Tourism Economic Development Report charts, can become a means for setting individual hotel business objectives for 2018 in accordance with the expected local market and destination performance.
Compare/contrast your customer with the average visitor (pp. 5-6)
The facts and figures covered here describe the average visitor (especially the overnight visitor) to Raleigh and Wake County. More than 15 million of these new or repeat customers arrive annually, and this is the average consumer with whom GRCVB/GRSA and the destination most often interact in market. Compare and contrast the customer/patron that your business/organization most often seeks locally with this visitor breakdown. Of course the Bureau targets these consumers year-round with advertising, content marketing, direct selling and other strategies. When updating your own business or marketing plan, consider whether your success could grow incrementally next year by partnering more with GRCVB to attract, serve or book this audience (or a subset of it) for yourself.
GRCVB and its hospitality business partners in Wake County share the goal of increasing overall visits and increasing the visitor spending that circulates through hotel, restaurant and attraction/retail industries. Making the most of the free research or other industry resources GRCVB provides to partners—and formally aligning our annual marketing plans together—makes great business sense.
Let's continue to work together find overlap in our customer bases, grow area attendance and related revenues and ultimately increase the hospitality provided in exchange for the new money that tourism brings into Raleigh/Wake County year-over-year.

Author: Jonathan Freeze, CDME
Jonathan Freeze, CDME, has built a career in the marketing of places, leading the Greater Raleigh CVB's marketing efforts since 2008. Though a firm believer in the science of marketing, Jonathan also began his career as a writer and creative wordsmith. Recently he contributed an award-winning chapter recounting destination stewardship work in Raleigh to the book Tourism Microentrepreneurship (Emerald Publishing). Learn more