What GRCVB Has Been Doing During COVID: Public Relations and International Tourism
Thursday, September 17, 2020, 3pm by visitRaleigh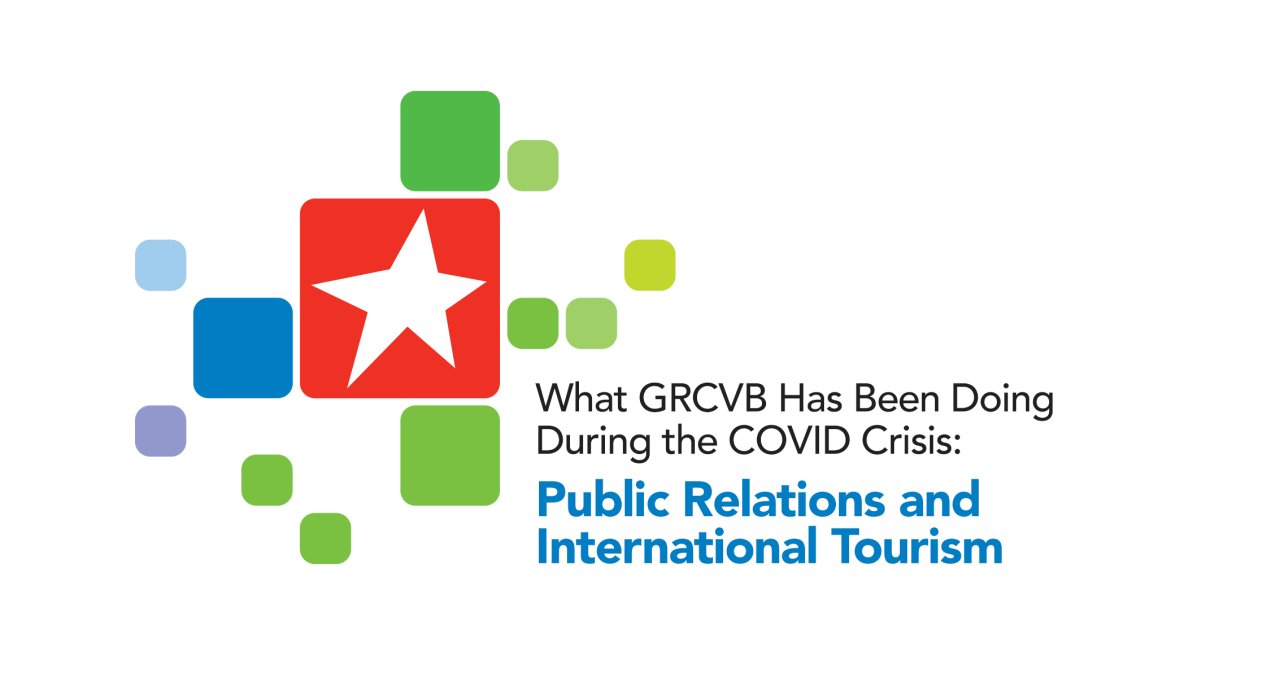 Again this week, we're reporting about the work the GRCVB team has been doing during the COVID crisis. This week you are hearing from Scott Peacock, director of the Public Relations and International Tourism Department.
Media relations
In March, when the pandemic shut down the travel industry as we knew it, we immediately began executing under the Bureau's crisis communications plan and developing messaging to both partners and media alike. Our goal was to be helpful to partners, finding out how they were doing, informing them of the latest rules, regulations and assistance programs available and asking how we could assist them in any way.
Our goal with travel and culinary media was to first check in on them, as the pandemic struck the media world very hard with layoffs and mergers. From there we aimed to inform them of all the creative solutions our local restaurateurs, retailers and hospitality partners were coming up with to keep consumers interested and engaged with their products and experiences.
We also shared what was open for in-person experiences, what could be experienced virtually and the local products available to be ordered online. We wanted to make sure they knew Raleigh, N.C., was still open and welcoming for those willing to travel and for those who couldn't, letting them know how they could have an authentic Raleigh experience from their homes.
Our objective with local media was to be the trusted voice of the tourism industry locally--to be forthright and transparent, putting a spotlight on how much the hospitality industry in Wake County and its tens of thousands of employees were affected by the pandemic and what could be done to help them survive.
To assist in our efforts with local media, we quickly developed the Wake County COVID-19 Tourism Impact Report to showcase just how the pandemic was affecting the industry on an ongoing basis. Since its inception, we have issued seven versions of the report, which you can find on our website, and we will continue to release it monthly moving forward. 
Since March, we have written and distributed a total of 17 press releases along with an additional 17 strategic pitches to targeted national media outlets. As a result of our efforts, we've been able to generate 218 total articles in both local and national media outlets, with a total reach of more than 300 million.
You can find some of the latest travel and culinary-focused coverage we've generated under our Raleigh in the News section of our Media site.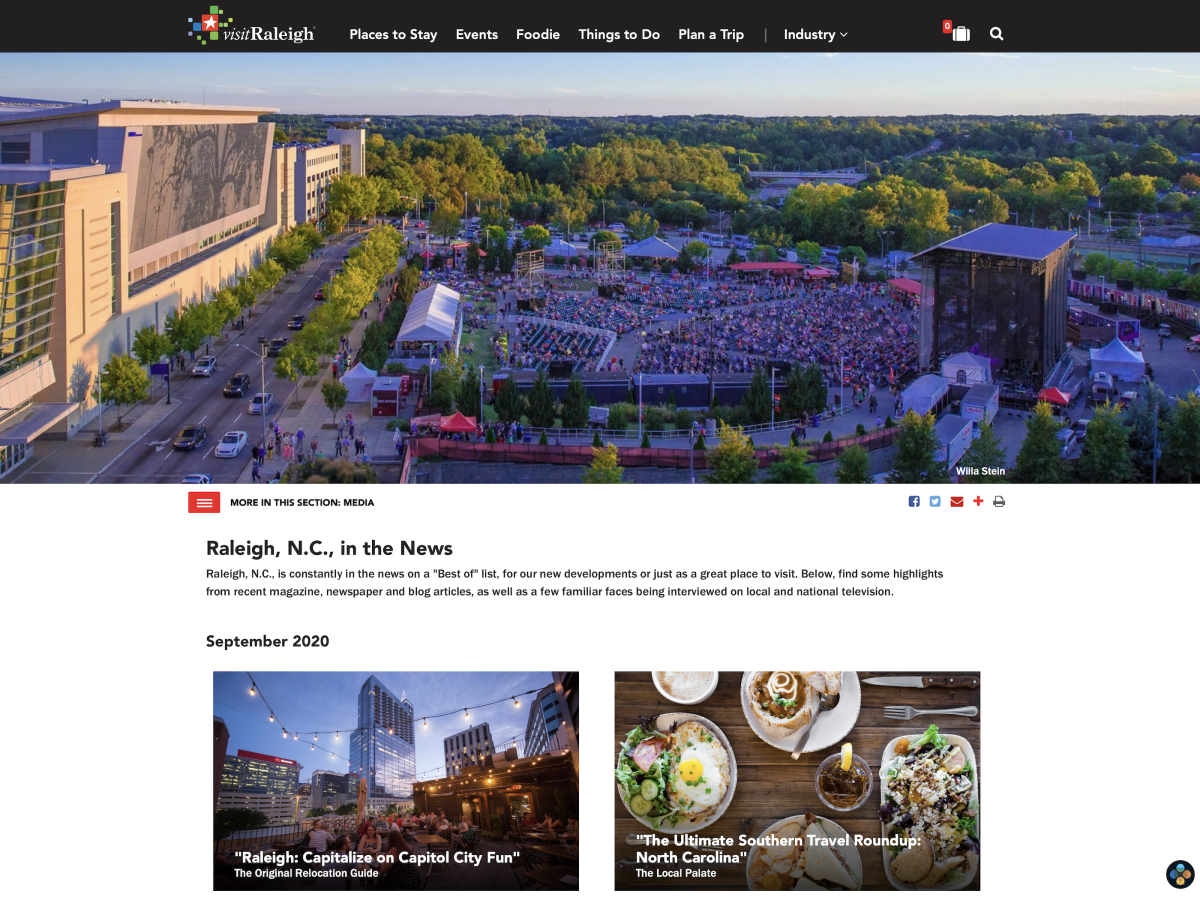 International tourism
With borders being closed, quarantine periods in place and nearly all overseas flights coming to a halt, international tourism was hit harder than any sector of the industry when the pandemic struck.
The good news is the demand from international travelers to visit North Carolina is still there. In fact, data shows in some countries it's stronger than ever. To get ahead of the recovery and ensure Raleigh is well-positioned in the minds of international travelers heading into the busy booking window (typically Q1 of the calendar year), we have been hard at work along with our partners Visit N.C., Travel South USA and Brand USA.
Earlier this summer we launched Raleigh, N.C.'s destination page/online listing with VisitTheUSA.com, which is Brand USA's consumer website aimed at international travelers looking to explore the U.S. This now allows Brand USA to have a webpage to point to for all their international tourism marketing efforts that include Raleigh. The page has been translated in several languages and is now available in more than 16 countries. In early 2021, we will be embarking on a marketing campaign with Brand USA to drive additional traffic to the webpage.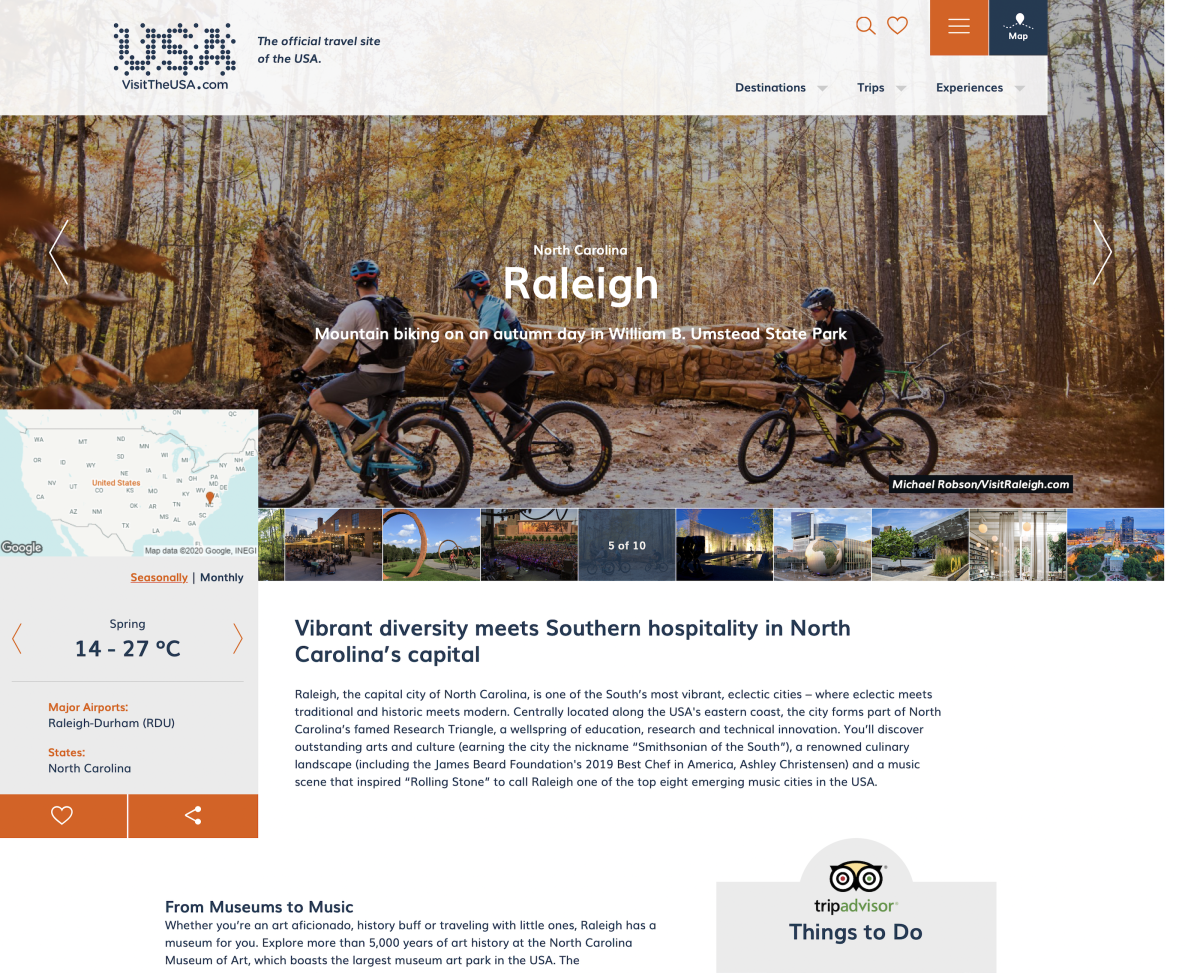 We have also been hard at work coming up with some programs to assist our international tourism efforts utilizing the CARES Act funds the Bureau received. We will be attending two virtual tradeshows this fall to meet with both international media and travel agents/tour operators alike. First up will be Brand USA Travel Week Europe in late Sept. (media and travel trade) followed by TravMedia Virtual IMM France in early Oct. (French media).
We are also embarking on a multichannel digital marketing and sales campaign with Hotelbeds in conjunction with our partners at Visit N.C. and Travel South USA. The goal of the campaign is to drive room-night volume and experiential product bookings through educating and familiarizing influencers within the travel trade on what Wake County has to offer and restoring consumer confidence. The campaign will target more than 233,500 tour operators and travel agents and their clientele both domestically and internationally (U.S., Canada and the U.K.) as well as directly target more than 384,000 consumers/travelers. We're proud to be partnering with Hotelbeds on this as they are one of the leading companies in the travel trade space and typically generate more than 10,000 room-nights in Wake County annually.
These efforts have all come at the right time as we are proud to say that Air Canada is looking to restore its direct flights from Toronto and Montreal later this fall, American Airlines is bringing back its direct flight from London in December, and Delta Air Lines announced it is bringing back its direct flight from Paris next summer. It won't be long before Wake County is welcoming international visitors in the masses once again.
As always the Public Relations and International Tourism Department is here to help you in any way we can. Whether you have a story idea to share with us, are interested in learning more about contracting rooms with receptives to increase domestic and international bookings to your property or are looking to do some PR of your own and would like some resources and guidance, please don't hesitate to reach out.

Author: visitRaleigh
The Greater Raleigh Convention and Visitors Bureau (GRCVB) is the official and accredited destination marketing organization (DMO) for all of Wake County.
Comments