15 Things to Do This Spring in Raleigh, N.C.
Thursday, March 18, 2021, 12pm by visitRaleigh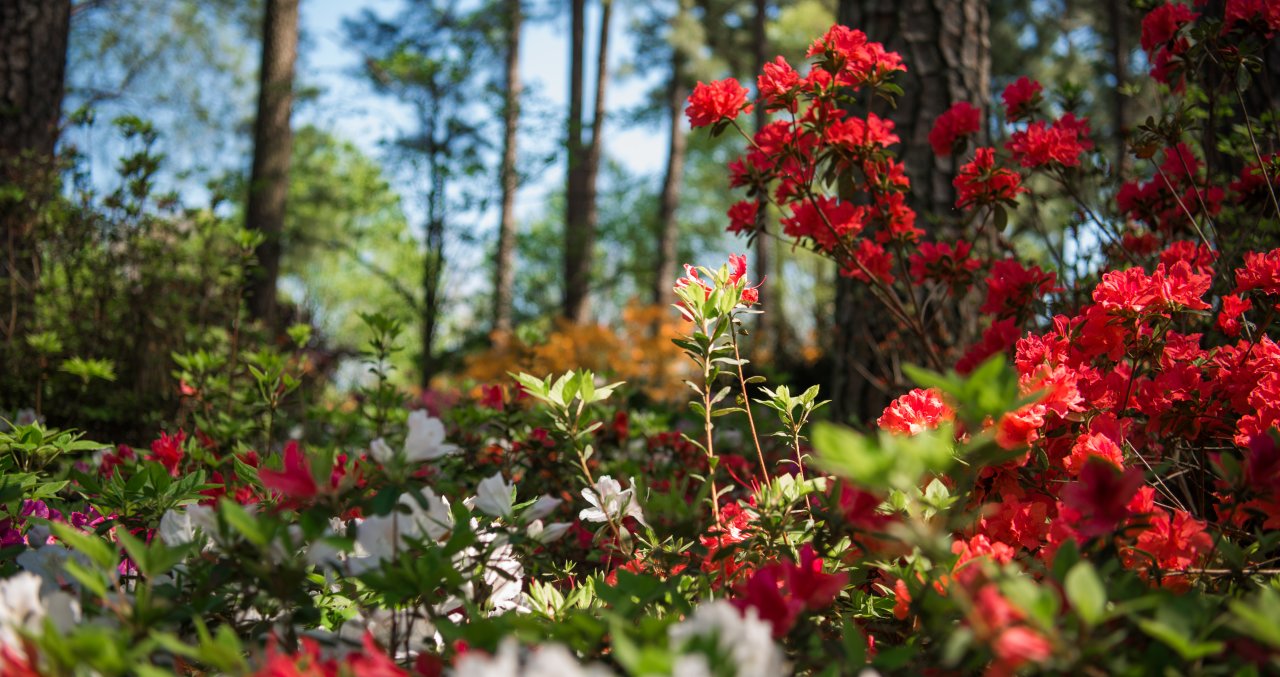 It's fair to say that things are looking up! 
Longer, sunnier days have arrived in Raleigh, N.C. Performing arts and live music are starting to return. Baseball games and soccer matches are back on the schedule. Restaurants, bars, museums, parks and more are open and welcoming visitors. Vaccines are rolling out, and COVID-19 is headed towards being kicked to the curb (cheers to that!). 
A full year after much of the hospitality industry temporarily shut their doors, there's now certainly a sense of optimism in the air. Raleigh's tourism industry has worked relentlessly in adapting to serve guests in new and safer ways, and you'll still find mask requirements, limited capacities, distance-friendly seating arrangements, enhanced cleaning policies and other adjustments to services.
If you're planning a trip to the Raleigh area, we ask that you please explore responsibly, but also confidently. Please send us a message on Twitter, Facebook or by email if you have any questions about what's open, what to do, where to eat and more—and for now, browse the items below to find some inspiration for your trip! 
 
Dedicated in 1951, the Raleigh Municipal Rose Garden is a landmark of the Raleigh Little Theatre campus. One of only three accredited rose gardens in the sate, the garden offers a year-round display of roses, trees and perennials. The grounds include 60 rose beds, typically in best bloom between May and fall's first frost in Oct. or Nov.
Time your visit right, and you can kill two birds with one stone. Raleigh Little Theatre will take to the stage at Stephenson Amphitheatre—just steps away from the Rose Garden—for a series of outdoor performances this spring. They'll present Snow White (March 20, 21, 27 and 28); The Last Five Years with Raleigh Symphony Orchestra (April 9-18); Divas! Under the Stars (May 15); and The Mountaintop (June 11-20).
Also recommended: WRAL Azalea Gardens; Juniper Level Botanic Gardens
The return of spring always means that one tasty thing is just around the corner—strawberry season is back! Typically starting in mid-April, you'll find the best locally grown berries at farmers' markets and you-pick farms in the Raleigh area. Head to the State Farmers Market (daily); Moore Square Market (Sundays, opening May 2); Cary Downtown Farmers Market (Saturdays); Midtown Farmers Market (Saturdays, opening April 17) and others. Or head out to local farms and pick your own! Check out DJ's Berry Patch, Page Farms and Phillips Farms of Cary for tons of family fun.
One thing from 2020 we hope is here to stay—more outdoor dining!
While restaurants in N.C. have been operating dining rooms at half-capacity for nearly a year now, many have also adapted to add additional outdoor seating (to go along with enhanced takeout options). Last summer and fall, the Downtown Raleigh Alliance hosted a series of Dine Out Downtown nights, where streets were closed to car traffic and additional tables and chairs were brought in so visitors could eat outdoors—on sidewalks and in the streets—in a comfortable setting. That series is back this spring, with weekly events from April through June inviting diners to take to the streets.
When the 308-acre property at Dorothea Dix Park was acquired by the City of Raleigh in 2015, it instantly became the largest city park in the City of Oaks—the site blends historic architecture and rich landscapes on the edge of downtown Raleigh (the closest park entrance is about one mile from the Raleigh Convention Center).
There are big plans in the works for this space—it's been called America's most exciting park project—and the city is already inviting visitors to experience the park in a number of ways. You can take a guided walking tour, join a free yoga class, play a pop-up disc golf course (through end of March), find your inner calm at a thai chi class or just pack a picnic and take in the beauty of this daffodil-filled field (note: daffodils may be past peak bloom as of early April)!
See a full schedule of events at Dix Park here.
Arenas and ballparks are now welcoming back fans—in a limited capacity—to help cheer on the home team (and it couldn't come at a better time!).
The Carolina Hurricanes—battling not just for a spot in this year's playoffs but for one of the NHL's best records—will play a total of 13 home games at PNC Arena in front of home fans during April and May before the regular season comes to an end. 
The North Carolina Courage—winners of the 2018 and 2019 NWSL (National Women's Soccer League) Championship—return to the pitch at WakeMed Soccer Park's Sahlen Stadium in Cary for two matches in April. They'll take on the Washington Spirit (April 10) and Orlando Pride (May 1) in the 2021 Challenge Cup. The full NWSL regular season is expected to kick off in mid-May, with a schedule release coming soon.
Lastly, baseball is back in action at Zebulon's Five County Stadium, where the Carolina Mudcats—minor league affiliate of the Milwaukee Brewers—return to play after the entire 2020 season was canceled. The first pitch will be thrown out on May 4—batter up!
A much-awaited special exhibition at Raleigh's North Carolina Museum of Art, Golden Mummies of Egypt presents eight extraordinary mummies for public viewing and explores beliefs about the afterlife during the era when Egypt was part of the Greek and Roman worlds (circa 300 B.C.E.–200 C.E.). The practices of preservation and decoration of the body and the transformation of the deceased into a god are spectacularly shown by the mummies on display. 
This exhibition runs through July 11, 2021, and you can purchase tickets now.
At the 174-acre Historic Yates Mill County Park, more than 250 years of history waits to be explored. Yates Mill, placed on the National Register of Historic Places in 1974, was restored to working order through a grassroots community effort in 2005 and today stands as the area's last operating water-powered gristmill (note that guided tours of the mill—typically offered March-Nov.—are currently on hold due to COVID). The park also features approximately three miles of hiking trails, winding through hardwood forests and using footbridges and boardwalks to cross wetland areas.
Bring the family and tackle a hike, then head just a couple hundred yards up the road to Howling Cow Creamery, a North Carolina State University-owned farm that produces some of the area's best ice cream right on site.
Dig up nostalgia through Variety Vacationland at the North Carolina Museum of History
Opening April 30, this free photography exhibit looks back at an era when tourism boomed in the Tar Heel State thanks largely to a state-run marketing effort called "Variety Vacationland." During the Great Depression of the 1930s, politicians and business leaders began efforts to boost the state's economy by lobbying for a unified campaign to showcase tourism attractions. This eventually led to a full-color tourist guide titled North Carolina, a Variety Vacationland, first printed in 1937. It was soon followed by billboards, postcards, movies, television programs and even a jingle! You'll find all of that—and more—in this nostalgic look back at the 1930s-70s in this exhibit.
Did you know that Raleigh's Pullen Park is among the world's oldest amusement parks? Established in 1887 as the first public park in N.C., at Pullen Park you can rent a pedal boat, ride a carousel, take a swim, sign up for an art class, see a play, play your favorite sport and more.
Typically open from spring to mid-Oct. (opening date for 2021 to be announced soon), the pedal boats that dot Lake Howell are one of the most family-friendly ways to get on the water in the Raleigh area (up to four people can fit in on boat).
After a short cruise (and maybe a picnic), kids love to ride the C.P. Huntington miniature train that circles the park, as well as the historic Gustave A. Dentzel Carousel (a historic landmark celebrating 100 years of operation in 2021!). 
The sport of disc golf has surged in popularity in recent years for a variety of reasons, namely the fact that it's a great way to enjoy the outdoors at low (or no) cost. More players mean a need for more courses, and the Town of Cary opened a spectacular new course in fall of last year. Diavolo at New Hope Disc Golf Course is a 48-acre, 22-hole course designed by locals Jay Pontier and Mike Sink to be challenging enough to host professional-level competition (but also appeal to the masses).
It's fair to say the early reviews are quite positive—UDisc.com rated the course a 96/100 and named it the world's seventh best course!
The Neuse River Greenway Trail—a 30-mile paved, uninterrupted greenway that stretches from Falls Lake in North Raleigh to the Wake County line in southeast Raleigh—is a year-round haven for outdoor recreation. With views of historic sites as well as winding boardwalk areas and suspension bridges crossing over wetlands, the trail is open to joggers, walkers, runners, cyclists, rollerbladers and others.
It's also been named as one of America's most scenic bike trails, and we've got all the details on how to plan a perfect ride!
Filled with shade during the warmer months and rich with color in the fall, Hemlock Bluffs Nature Preserve provides an easy, family-friendly way to escape to the outdoors in Cary. The 140-acre park—established 40 years ago and named for the atypical group of nearly 200 Eastern Hemlock trees that can be found here—is highlighted by approximately three miles of mulch-covered walking and hiking trails that lead to a series of small overlooks.
Also recommended: Wilkerson Nature Preserve; Durant Nature Preserve; William B. Umstead State Park
It's never a bad time to sneak in a 'treat yourself' retreat. In the Raleigh area, Southern charm meets your sweet escape (and relaxing days at the spa and outdoor adventures await!). Book your stay now at Cary's The Umstead Hotel and Spa, one of 12 properties in the world to earn triple Five-Star status from Forbes Travel Guide; The Mayton Inn, a 44-room independent boutique hotel in downtown Cary where no two rooms are alike; or The Longleaf Hotel, a revitalized downtown Raleigh hotel that opened this year and retains the character of the 1960s-era motor lodge it once was.
The eagerly awaited Heights House Hotel, a renovated Italianate-style historic mansion in the Boylan Heights neighborhood in downtown Raleigh, is also expected to open the doors to its 10,000-square-foot, nine-room boutique for the first time this spring (and we can't wait!). 
One of Raleigh, N.C.'s longest-standing and unique neighborhoods, Historic Oakwood—on the edge of downtown Raleigh—is a 19th-century gem, full of tree-lined streets, incredible architecture and homes with tons of character. A visit for a walking or driving tour—especially in the spring or fall—is on our annual must-do list (it helps that the perfect ice cream stop, Two Roosters Ice Cream, is just a block or so away).
Up for an adventure? The Mountains-to-Sea Trail (MST)—known as "N.C.'s hiking trail"—stretches more than 1,000 miles from the Great Smoky Mountains to the Outer Banks, cutting through North Raleigh near Falls Lake and the Neuse River Greenway Trail along the way. Two recommended ways to get a short taste of the trail—where the terrain is easy to tackle and provides plenty of unique plant and wildlife—are to start at either Blue Jay Point County Park or Wilkerson Nature Preserve, where you'll connect to the MST by spotting and following the white dots on tree trunks. Headed east from Wilkerson Nature Preserve to the Falls Lake Dam Visitor's Center is three miles, making the out-and-back route one of the area's best short hikes.
Comments