23 Restaurant Patios and Places to Eat Outdoors in Raleigh, N.C.
Wednesday, August 16, 2017, 2pm by visitRaleigh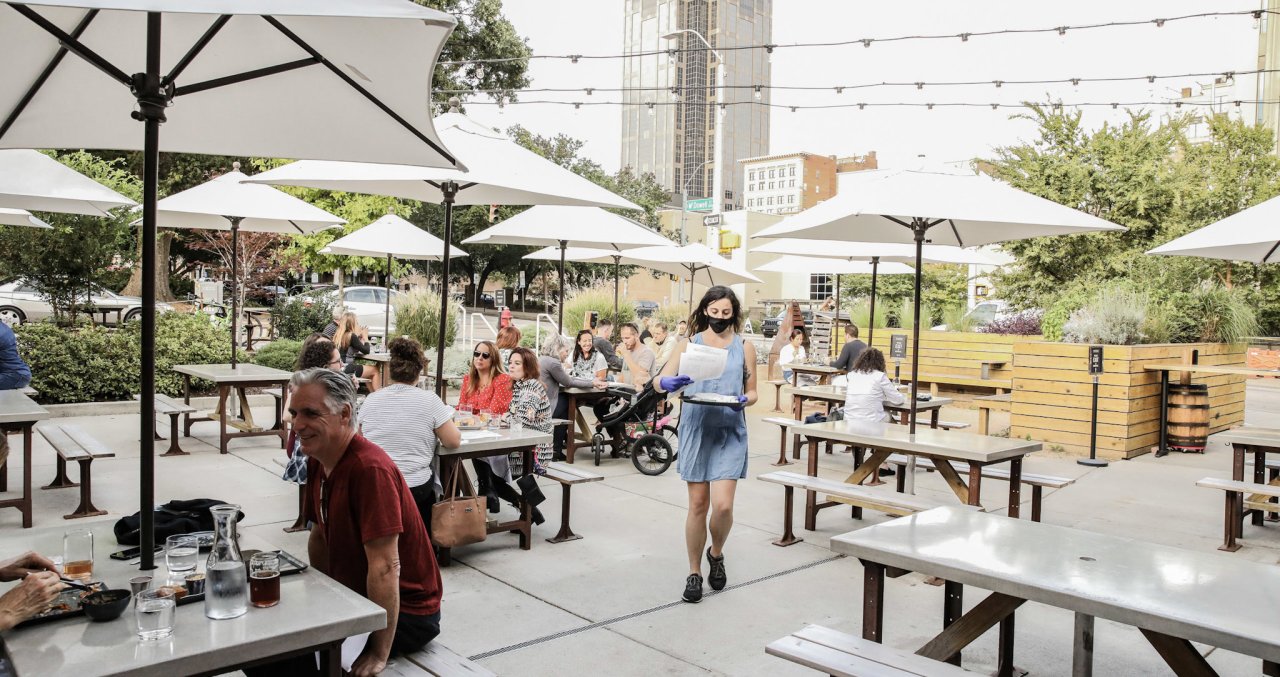 Breezy summer days are the absolute best, especially when enjoyed on a patio with a delightful meal and boozy drink. Check out our list of restaurant patios and places to eat outdoors in Raleigh, N.C.
 
Boylan Bridge Brewpub
A perfect spot to catch a view of the Raleigh skyline at sunset, Boylan Bridge Brewpub is an excellent restaurant to enjoy on a warm summer night. Grab a table on the patio, order a flight of house-made beer and enjoy pub grub like burgers and sandwiches.
Opened in 2010 by chef and proprietor Jason Smith in the heart of Raleigh's Cameron Village, Cantina 18 serves "Southwestern fare with a Southern drawl"—think short rib nachos, blackened fish tacos and all the burrito and quesadilla options you could possibly want (all served in big portions). Plenty of patio seating out front, plus big floor-to-ceiling windows on both the first and second floor, make this a go-to on sunny days.  
 
Honoring the artistry of traditional mezcal and craft cocktails, Gallo Pelon is a go-to spot for creative drinks and delicious bar snacks. Enjoy options like empanadas, tacos, chimi-guac queso and taquitos on the rooftop courtyard.
For some of the best views of Raleigh, N.C.'s bustling Glenwood South entertainment district, sit upstairs on the balcony at passionate mind Niall Hanley's Hibernian Restaurant & Pub. Sip on a pint of Guinness and select from traditional Irish fare like bangers and mash, corned beef and cabbage and shepherd's pie. 
 
With 380+ beers on tap, Raleigh Beer Garden has the world's largest beer selection—made official when representatives from Guinness World Records visited in 2015. Also located in Glenwood South and one of Niall's spots, the venue has plenty of outdoor space, including a rooftop "garden" with seating that makes it the perfect warm-weather hangout.
The Station offers a fun atmosphere with an outdoor bar and patio in the heart of the City of Oaks and is another one of Niall's local-favorite places. Sip on a pint of N.C. beer to wash down a juicy burger and potato wedges. As those summer nights get a little cooler, sit by one of the fireplaces on the patio to take off that chill.  
 
The state's first AC Hotel, AC Hotel Raleigh North Hills, includes a highly-anticipated rooftop bar. Perfect for groups big and small, Level7 is a 5,100-square-foot eclectic space that's open to the public seven days a week, serving tapas-style small bites, local craft beers, samplings from small-batch distillers, its own signature cocktail creations plus a selection of Spanish wines on tap as part of a European-inspired experience overlooking the district. 
Open since 1951, The Players' Retreat (or "The PR" as everyone locally calls it) is one of the longest-standing bars in Raleigh. Situated just across from the North Carolina State University campus, it's a spot to rub elbows with people from all walks of life while downing a house-ground, grilled-to-order burger. Just a half-block off Hillsborough St., The PR is easy to spot—the outdoor seating area is typically packed with happy hour crowds and sports fans cheering on the local teams.  
 
bu•ku
Situated on a corner in the middle of downtown Raleigh, bu•ku serves a casual fine-dining version of global street food—dishes that have been developed in their communities for hundreds of years. Items like Filipino duck adobo, South African short rib kebabs and Korean BBQ bibimbap highlight a menu that provides plenty of options to discover something new and tasty (a large selection of vegetarian and gluten-free options is great, too). The outdoor patio can accommodate groups big and small and is perfect for taking in the hustle and bustle of downtown.
Yes, it's that Jimmy V. With a menu featuring both Italian and American fare, a great selection of wood-fired pizzas steals the show at Jimmy V's. Local favorites include the Twenty-Five, a twist on the barbecue chicken pizza, and Rocco's Pie, a blend of spicy Italian sausage, pesto, mozzarella, roasted tomatoes and basil gremolata. The patio, which is enclosed and heated during the winter, is perfect for date nights or group gatherings year-round.  
 
Named for the city newspaper that formerly occupied this historic space (the Raleigh Times was published from 1912 to 1989), the Raleigh Times Bar has been an anchor in the downtown Raleigh nightlife scene since it opened in 2006. A great beer selection and a killer view of a busy part of downtown make the rooftop here one of the most coveted spots around on a nice weather day.
The Carolina Ale House on Glenwood Ave. in downtown Raleigh takes things to a new level. Radiant-heated floors and a retractable roofing system make the patio areas of this sports bar truly one of a kind. It's a big space, too, with capacity for more than 400 in total. An observation deck up top, televisions on every wall and nearly 100 beers on tap make this an awesome spot for big groups.  
 
Serving chef-inspired dinner fare meant to share, Humble Pie offers delectable plates like crispy brussels sprouts, cornmeal fried shrimp and ricotta gnocchi. Relax as you enjoy dinner outside on the beautiful, covered patio or hang out for a drink at the tiki bar.
The Sitti courtyard is a wonderful place to enjoy an authentic Lebanese meal. As you dine outside with beautiful, old brick buildings surrounding you, take in the summer breeze over extensive offerings of mezze, entrees and house-baked flatbreads.  
 
Kick back with an Old Fashioned in hand and a shrimp roll for dinner. Whiskey Kitchen's outdoor patio is adjacent to downtown Raleigh's Nash Square park and is the ideal restaurant to take any whiskey lover.
Driftwood Southern Kitchen in North Raleigh's Lafayette Village offers a refreshing spin on traditional Southern food. Try one of their seasonal moonshine cocktails on the outdoor patio along with a few items from their ever-changing menu that showcase local farmers and purveyors. You'll definitely appreciate the sun shades on the patio, too! 
 
Be transported to a Grecian city as you dine on the rooftop patio at Taverna Agora Greek. The signature sharing platter is great for a group, or select from a few mezze options like hummus, steamed mussels and stuffed grape leaves.
A Raleigh tradition since 1986, Winston's Grille features a beautiful outdoor patio. Lounge under the shade with tomato and goat cheese bruschetta to start, and end your meal on a sweet note with a slice of homemade key lime pie. 
 
Oak & Dagger Public House
More than your typical brewery, Oak & Dagger serves up homemade brews along with a full lunch and dinner menu of elevated pub favorites—many of the menu items including the house-made beer as an ingredients (even the asparagus is beer-battered!). The large patio out front is a perfect spot to gather with friends and family to enjoy a burger and beer (we're big fans of the Wisconsin cheese curds as a starter, which pair great with any of the brews).
Trophy Tap & Table
One part craft beer bar, one part Southern-inspired kitchen. This new spot, from the same team behind the super successful Trophy Brewing Company, serves the same great (and constantly-evolving) beer plus specializes in rotisserie chicken and taco creations—what more could you want? The rooftop patio, which is open in the evenings, also welcomes you up for brunch on weekends; it's one of the best dining and drinking spots in town.   
 
Enjoy a gastronomic journey across the Italian culinary landscape at downtown Raleigh's Mulino Italian Kitchen & Bar. Begin your meal with a variety of anitpasti options like a charcuterie and cheese board or bruschetta with oven-blistered cherry tomatoes, oregano oil and shaved Parmesan. Pasta dishes are rich and full of flavor.
Z Pizza Tap Room
Pizzas made with fresh ingredients, local beers and an outdoor beer garden (pictured in the header) make for a winning combination. Pizza available by the slice or by the pie is almost just a bonus once you discover the pour-your-own beer wall inside, which lets you try as little or as much as you want of the many local beers that fill the taps. The new outdoor seating area, almost hidden behind a wall of greenery, sits directly beside downtown's City Plaza where concerts and other major events are a regular occurrence. 
 
Atop the new Residence Inn Raleigh Downtown, 10th & Terrace promises bar-goers one of the most unique views in the city. Opening to the public in Sept., the 10th floor rooftop deck overlooks the Duke Energy Center for the Performing Arts—where theater, opera, ballet and other live entertainment takes place year-round—plus a sea of green space surrounding it. Lots of comfortable seating, a small plates menu that changes seasonally and a local beer and craft cocktail list should make this an immediate hit for hotel guests and other visitors to downtown Raleigh.
 
Check out all 300+ restaurants in the Raleigh area that offer outdoor dining, here!