Discover Black-Owned Restaurants and Retail in Raleigh, N.C.
Wednesday, June 21, 2023, 5pm by visitRaleigh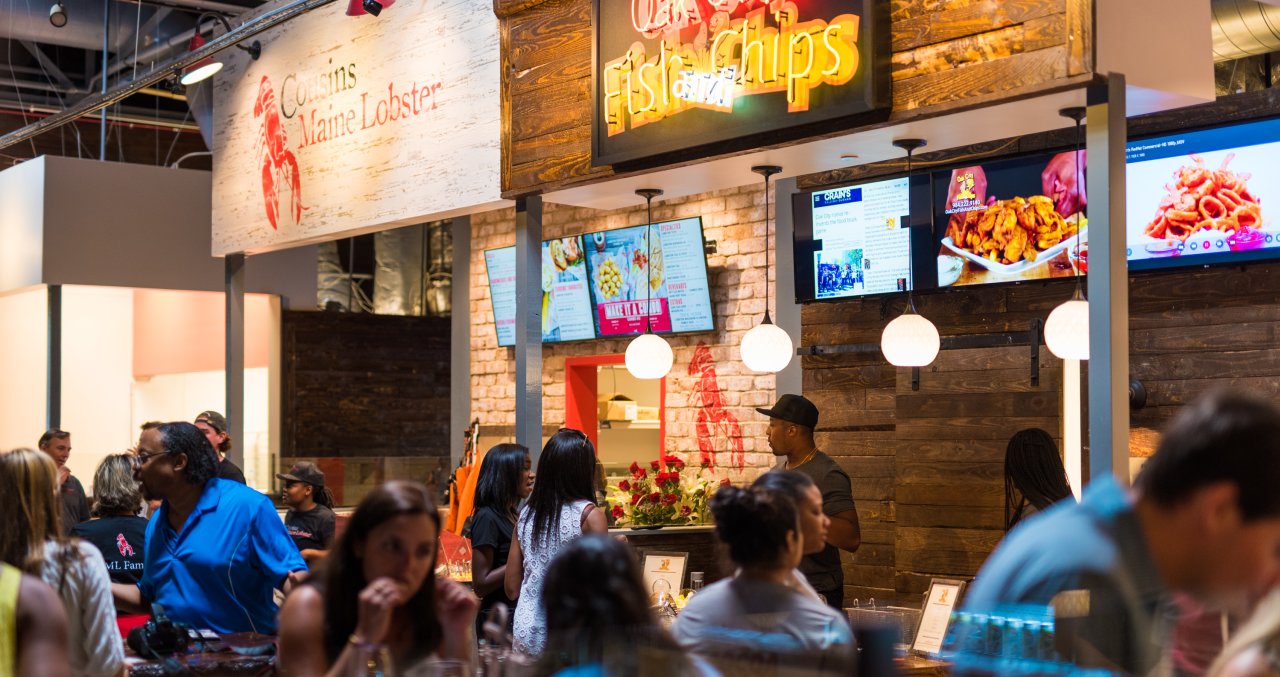 Consumer habits have changed over the last several of years. As a wave of support for diversity, equity and inclusion initiatives has swept through the U.S. following high-profile protests demanding fair, equal and better treatment of individuals of color, the desire of both locals and visitors to spend their money with minority-owned, under-appreciated or overlooked businesses has been on the rise. 
"What are some of the best Black-owned restaurants or retail shops in Raleigh?" is a question that has been asked—by people of all colors, ages and backgrounds—more in the last several years than ever before. And we're proud to provide that information right here! 
 
Anne Suinner-Lawoyin's transformation from nurse natural beauty philosopher—and side-hustler to full-time entrepreneur—brought us her line of clean skincare products, made using cold-pressed herb infused oils, clays and other natural ingredients. They can be found in stores all of the country (including in the flagship downtown Raleigh boutique), and the brand has received press mentions from the likes of Elle, BET, Brides.com, Pop Sugar and more. Pro tip: The black honey facial cleanser is far and away the number one seller (and recommended for all skin types).
A branding garment harvest that carries their own in-house designs. They specialize in screen printing, custom heat-applied vinyl and logo design.
A family-run restaurant serving authentic Ethiopian meals in Cary, Awaze (named for the dark red, spicy paste found accompanying many Ethiopian platters) provides communal-style plates in vegetarian and non-vegetarian options. Meat is optional, and so are utensils—meals are traditionally served with injera, a sourdough-risen, spongy flatbread that's perfect for scooping and devouring your tibs (a hybrid stir-fry and stew dish that can be served with a variety of ingredients).
A popular food truck founded by former Harlem Globetrotter Anthony "Airport" Greenup, Baton Rouge Cuisine is true to its name, serving Cajun food that he watched his grandmother and mother make as a kid in hometown Baton Rouge. Jumbalaya, po' boys, fried chicken wings and other dishes dot the menu, and a side of "who dat" sauce is always recommended.
Located in Holly Springs, Bestow makes desserts to mark special occasions, whether it's a wedding, a birthday, a delicious start to your day or a "just because" treat. They make the moments that matter just a little bit sweeter.
Your favorite Black-owned businesses in one awesome retail store in a great location in downtown Raleigh? Yes, yes and yes! CEO Johnny Hackett, Jr. turned his work with Black Dollar—an online directory of Black-owned businesses across the state—and turned in it into a brick and mortar store in Dec. 2020, carrying products from more than 50 entrepreneurs that include art, clothes and gift items like candles, mugs and the like, giving Black-owned businesses more exposure to more customers and bringing in more sales. 
Hackett didn't stopped there, though. He also started The Factory 1.5 at the Black Friday Market, offering Black entrepreneurs access to manufacturing tools and storage space—all in the name of helping business boom. 
Simply put, the most beloved coffee in the Raleigh area (with the credentials to back it up). Formed in 2017 when two U.S. Barista Champions—Kyle Ramage and Lem Butler—collaborated on a vision to bring specialty coffee to the masses in an approachable way, Black & White Coffee now has a thriving wholesale business plus three tasty café locations (Wake Forest, Rolesville and downtown Raleigh) ready to proudly serve you (and where classes, tastings and other events take place, too). 
The Classic roast (caramel, milk chocolate) gets our highest recommendation for year-round goodness, but it's also hard to beat any of the seasonally-offered, single-origin options. Don't just take our word for it on this one—Food & Wine named Black & White the best coffee roaster in Tar Heel State.
One of the state's first Haitian restaurants, chef Andre and Dafney's Bon Fritay food truck serves fritay, a rich and savory fried snacks—from pork to plantains—commonly served by street vendors in Andre's home country. Sak pase!
Stop by Chick-N-Que's brick-and-mortar restaurant in downtown Rolesville, which serves 100% N.C.-raised ostrich burgers and various types of chicken dishes. Also look out for their food truck around town!
Chocolate dipped cheesecakes? On a stick? Count us in! Operated by husband-and-wife team Freddie and Nicole McIntyre, Cocoa Forte's sweet treats and State Fair-inspired goodies are as tasty as they are pretty. An added bonus? Next day delivery in the Raleigh area for those times when you can plan (just a bit) ahead.
Owner-chef James D. Sampson's "we feed the people" motto—not to mention smoked brisket, ribs and seafood—has earned the Corner Boys BBQ truck a lot of fans (follow on Instagram to track the truck down!).
Known for its own delicious blend of coffees, lattes, cappuccinos, smoothies etc. In addition, the lunch menu has what's been voted the best chicken salad in all of downtown Raleigh, plus delicious classic BLTs, club sandwiches, Reubens and other signature breakfast and lunch sandwiches. 
A hot-spot in Cary for locals and visitors, the "almost world famous" chicken and waffles from chef Dame Moore (pictured below) pair world-class, comfort food combinations meant to fulfill your appetite's and heart's desire. Here's how it works: choose your waffle type (classic, sweet potato, vegan and more), a cut of chicken, a shmear (flavored butter that you will make you forget syrup) and final toppings (nuts, sauces and other goodies) to create the ultimate chicken and waffle dish that's screaming your name.
Fresh burgers, grilled to order and unapologetically rich with flavor. The FatBoys Kitchen Food Truck—known for a grind that allows you to find them all across town on a given day—has stayed true to their name thanks to featured menu items like the Stuffed Mac & Cheese, a 3/4-pound Angus burger filled with mac and cheese plus topped with bacon and onion rings. What else do you need to know? 
Specializing in delicious and reasonably-priced cuisine, including house specialties and other customer favorites. Cuisine entrees are served in a relaxed and welcoming setting you and your friends and family will enjoy!
Whether it's real jerk chicken or fish, authentic Jamaican patties or a variety of stews and Caribbean comfort foods, Jamaican Jerk Masters has it all. For those looking for a little heat, they even have the legendary red snapper (brown stew) to spice things up for you. 
Since 1997, Joyce and Family Restaurant (headed up by Joyce Statton—or "Miss Joyce" as locals call her—who's known to many as one of the friendliest faces in Fuquay-Varina) has offered up some of the best home-style country cooking and soul food around. Everything is made fresh in their kitchen with hard work and passion—from their fried chicken to their buttered baby lima beans, you'll feel right at home.
After much anticipation, in summer 2023 Liberation Station Bookstore opened its doors just steps from downtown Raleigh's historic Black Main Street—where history continues to be made. As North Carolina's first Black-owned children's book store, Liberation Station's goal is amplifying Black voices and making them accessible.
This fashion-forward women's clothing line from Tanzanian native Lillian K. Danieli—opened in downtown Raleigh in fall 2021—specializes in melding modern styles with vibrant African fabrics (Nashona translates to "I sew" in Swahili). The phrase "made with love Tanzania" can be found across the tag of each piece, a callout to a loyal team of local Tanzanians, retailers and brand ambassadors that have been critical to the brand's success, and a nod to Danieli's home where a portion of all sales benefits the Shalom Orphanage in Karatu, Tanzania.
Isaac B. Horton IV's entrepreneurial spirit led to the opening of the Oak City Fish and Chips food truck in 2015. Then he signed on as one of the first tenants at Raleigh's first food hall (Morgan Street Food Hall). Then he opened a free-standing restaurant in Southeast Raleigh. And according to Isaac, there's more to come.
A chic restaurant offering dishes designed for sharing, chef/owner Chris Hylton's ORO is best enjoyed with good friends and good vibes (and plenty of items ordered for the table). With an expansive dinner menu and attentive-but-laid-back style of service, ORO—celebrating a decade of success in downtown Raleigh in 2022—is considered one of the best special occasion restaurants in the City of Oaks. An upstairs mezzanine with a 9-foot fireplace steals the show in the dining space, and the Chilean sea bass and smoky ribs are our top picks from the excellent menu.
A full-scale bakery, specializing in made-from-scratch, 9-inch, three-layer cakes, pies and international desserts and pastries.
A juice and vegan foods bar in Cary focusing on using high-quality, healthy ingredients to make great tasting, ultra-premium juices, smoothies and food. If you're in the mood for healthy beverages, plant-based food, acai bowls or raw treats, check them out. The menu is 100% vegan.
Located in downtown Raleigh's City Market, Social Status offers up a brand mix design that represents the fashion-forward consumer: quality- driven- and fashion-focused. Their exclusive retail experience allows customers to be the among the first introduced to the latest trends, styles and brands. 
Swahili Grill aims to capture and spread the true essence of East African culture throughout America. Their mission is to invite people of all ethnic groups and communities to come together and try delicious African food, and experience the warm and inviting atmosphere.
The locally-owned and -operated Chocolate Boutique in Raleigh's Lafayette Village showcases an extravaganza of dark, milk and white chocolates made from the highest-quality ingredients and fair-trade Belgian and Swiss chocolate to enjoy on-site or for carry out. Whether you are a chocolate novice or self-proclaimed chocoholic, The Chocolate Boutique has something for you!
This two-story neighborhood bar sits in the heart of downtown Raleigh, just steps from hotels, historic City Market and the newly-redesigned Moore Square. Cocktails and cozy seating make for perfect late nights and date nights, and big TVs await for gamedays.
"Love, Peace and Fish Grease"—there's a lot to like about owner Chris Lanier's customer service-oriented seafood market, The Fish House, in Apex, N.C. Stocked daily with fresh fish—croakers, black bass, oysters, bluefish, snow crabs and a ton more—this is your spot if you're looking to step your seafood game up!
An independently-owned custom cupcake shop that can dazzle guests at birthday parties, weddings, citywide festivals and corporate events. 
Green and glamourous, the ZEN Succulent offers unique gifts for customers with a true green thumb and those who just like a little nature sprinkled throughout their home. Stop in for one of their workshops as well, including a DIY Terrarium Bar class. Located in downtown Raleigh.
Comments