Black-Owned Restaurants and Retail to Support in Raleigh, N.C.
Friday, June 05, 2020, 5pm by visitRaleigh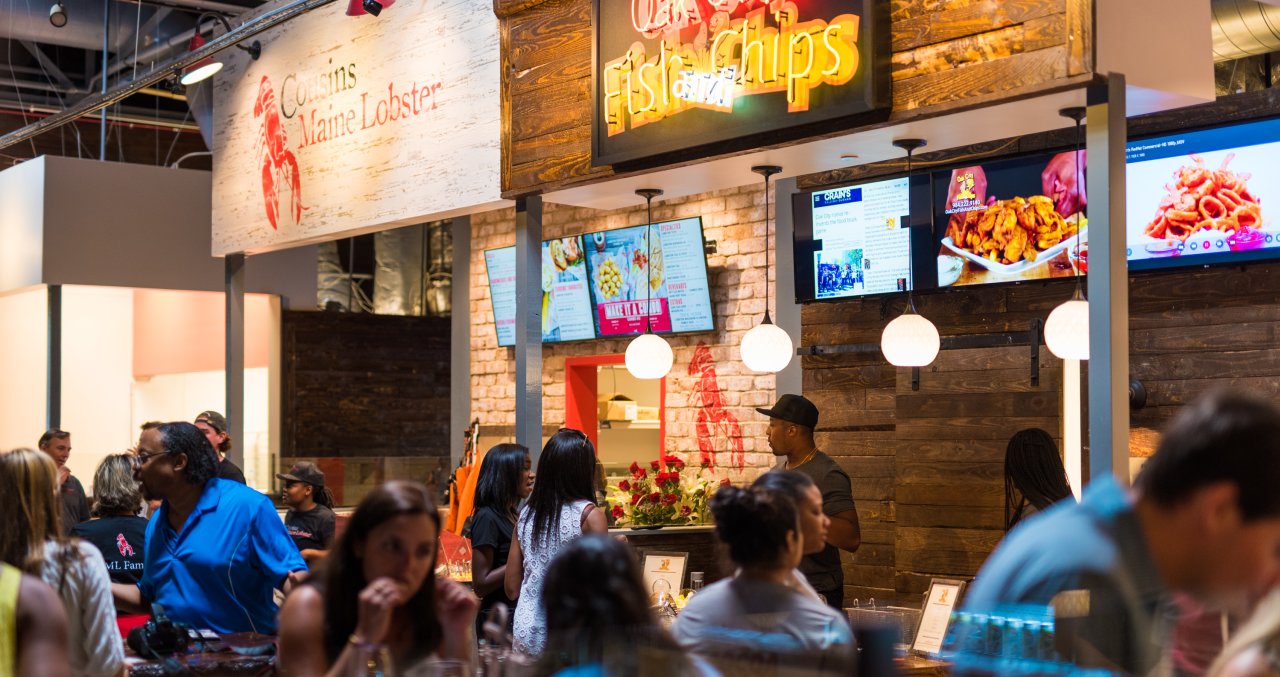 Support these delicious restaurants and great shops owned by members of the Black community here in the Raleigh area. And if we missed one of your favorite spots in Wake County, let us know at database@visitRaleigh.com!

Note: Some restaurants in Raleigh/Wake County might have decided to stay closed temporarily due to the COVID-19 crisis. We highly suggest to check official restaurant websites or social media accounts before making plans or traveling.
Serving New Jersey-style, all-beef hot dogs, Alpha Dawgs are served with tri-color peppers, onions and fried potatoes (on top and on the side, or however you want it), all stuffed inside the AD signature pizza bread. The dogs are deep fried (yep!), and a variety of regional toppings dot the menu—everything from jerk chicken to Carolina-style dogs can be built.
A branding garment harvest that carries their own in-house designs. They specialize in screen printing, custom heat-applied vinyl and logo design.
A family-run restaurant serving authentic Ethiopian meals in Cary, Awaze (named for the dark red, spicy paste found accompanying many Ethiopian platters) provides communal-style plates in vegetarian and non-vegetarian options. Meat is optional, and so are utensils—meals are traditionally served with injera, a sourdough-risen, spongy flatbread that's perfect for scooping and devouring your tibs (a hybrid stir-fry and stew dish that can be served with a variety of ingredients).
A popular food truck founded by former Harlem Globetrotter Anthony "Airport" Greenup, Baton Rouge Cuisine is true to it's name, serving Cajun food that he watched his grandmother and mother make as a kid in hometown Baton Rouge. Jumbalaya, po' boys, fried chicken wings and other dishes dot the menu, and a side of "who dat" sauce is always recommended.
Located in Holly Springs, Bestow makes desserts to mark special occasions, whether it's a wedding, a birthday, a delicious start to your day or a "just because" treat. They make the moments that matter just a little bit sweeter.
One of the state's first Haitian restaurants, chef Andre and Dafney's Bon Fritay food truck serves fritay, a rich and savory fried snacks—from pork to plantains—commonly served by street vendors in Andre's home country. Sak pase!
You won't believe it's vegan! They're all about fulfilling your fast food cravings with addictive taste and superior service.
Stop by Chick-N-Que's brick-and-mortar restaurant in downtown Rolesville, which serves 100% N.C.-raised ostrich burgers and various types of chicken dishes. Also look out for their food truck around town!
Chocolate dipped cheesecakes? On a stick? Count us in! Operated by husband-and-wife team Freddie and Nicole McIntyre, Cocoa Forte's sweet treats and State Fair-inspired goodies are as tasty as they are pretty. An added bonus? Next day delivery in the Raleigh area for those times when you can plan (just a bit) ahead.
Owner-chef James D. Sampson's "we feed the people" motto—not to mention smoked brisket, ribs and seafood—has earned the Corner Boys BBQ truck a lot of fans (follow on Instagram to track the truck down!).
Known for its own delicious blend of coffees, lattes, cappuccinos, smoothies etc. In addition, the lunch menu has what's been voted the best chicken salad in all of downtown Raleigh, plus delicious classic BLTs, club sandwiches, Reubens and other signature breakfast and lunch sandwiches. 
A hot-spot in Cary for locals and visitors, Dame's "almost world famous" chicken and waffles pair world-class, comfort food combinations meant to fulfill your appetite's and heart's desire. 
Fresh burgers, grilled to order and unapologetically rich with flavor. The FatBoys Kitchen Food Truck—known for a grind that allows you to find them all across town on a given day—has stayed true to their name thanks to featured menu items like the Stuffed Mac & Cheese, a 3/4-pound Angus burger filled with mac and cheese plus topped with bacon and onion rings. What else do you need to know? 
Specializing in delicious and reasonably-priced cuisine, including house specialties and other customer favorites. Cuisine entrees are served in a relaxed and welcoming setting you and your friends and family will enjoy!
Whether it's real jerk chicken or fish, authentic Jamaican patties or a variety of stews and Caribbean comfort foods, Jamaican Jerk Masters has it all. For those looking for a little heat, they even have the legendary red snapper (brown stew) to spice things up for you. 
Since 1997, Joyce and Family Restaurant (headed up by Joyce Statton—or "Miss Joyce" as locals call her—who's known to many as one of the friendliest faces in Fuquay-Varina) has offered up some of the best home-style country cooking and soul food around. Everything is made fresh in their kitchen with hard work and passion—from their fried chicken to their buttered baby lima beans, you'll feel right at home.
Isaac B. Horton IV's entrepreneurial spirit led to the opening of the Oak City Fish and Chips food truck in 2015. Then he signed on as one of the first tenants at Raleigh's first food hall (Morgan Street Food Hall). Then he opened a free-standing restaurant in Southeast Raleigh. And according to Isaac, there's more to come.
A chic restaurant offering dishes designed for sharing, ORO servers steadily bring dishes to the table throughout the meal, ensuring that there is always food on the table. The Chilean sea bass and smoky ribs are our top picks from the excellent menu. Located in downtown Raleigh.
A full-scale bakery, specializing in made-from-scratch, 9-inch, three-layer cakes, pies and international desserts and pastries.
A juice and vegan foods bar in Cary focusing on using high-quality, healthy ingredients to make great tasting, ultra-premium juices, smoothies and food. If you're in the mood for healthy beverages, plant-based food, acai bowls or raw treats, check them out. The menu is 100% vegan.
Located in downtown Raleigh's City Market, Social Status offers up a brand mix design that represents the fashion-forward consumer: quality- driven- and fashion-focused. Their exclusive retail experience allows customers to be the among the first introduced to the latest trends, styles and brands. 
Swahili Grill aims to capture and spread the true essence of East African culture throughout America. Their mission is to invite people of all ethnic groups and communities to come together and try delicious African food, and experience the warm and inviting atmosphere.
Sweet Tea & Cornbread Grill and Eatery
Located in the North Carolina Museum of History and run by Tonya Council, granddaughter of N.C. culinary icon Mama Dip, the restaurant features Southern comfort fare with signature dishes such as fried green tomatoes and chicken pot pie. Serving hours are Mon.-Sat. from 11am-3pm. Check for daily specials!
The locally-owned and -operated Chocolate Boutique in Raleigh's Lafayette Village showcases an extravaganza of dark, milk and white chocolates made from the highest-quality ingredients and fair-trade Belgian and Swiss chocolate to enjoy on-site or for carry out. Whether you are a chocolate novice or self-proclaimed chocoholic, The Chocolate Boutique has something for you!
This two-story neighborhood bar sits in the heart of downtown Raleigh, just steps from hotels, historic City Market and the newly-redesigned Moore Square. Cocktails and cozy seating make for perfect late nights and date nights, and big TVs await for gamedays.
"Love, Peace and Fish Grease"—there's a lot to like about owner Chris Lanier's customer service-oriented seafood market, The Fish House, in Apex, N.C. Stocked daily with fresh fish—croakers, black bass, oysters, bluefish, snow crabs and a ton more—this is your spot if you're looking to step your seafood game up!
An independently-owned custom cupcake shop that can dazzle guests at birthday parties, weddings, citywide festivals and corporate events. 
Green and glamourous, the ZEN Succulent offers unique gifts for customers with a true green thumb and those who just like a little nature sprinkled throughout their home. Stop in for one of their workshops as well, including a DIY Terrarium Bar class. Located in downtown Raleigh.
Simply put, finger lickin' good low country boil seafood that you won't be able to get enough. Crab legs, shrimp, potatoes, corn, gumbo bowls and more (preferably covered in as much garlic butter as possible).
Comments