Guide to PNC presents Wide Open Bluegrass 2019 in Raleigh, N.C.
Wednesday, September 11, 2019, 4pm by David Menconi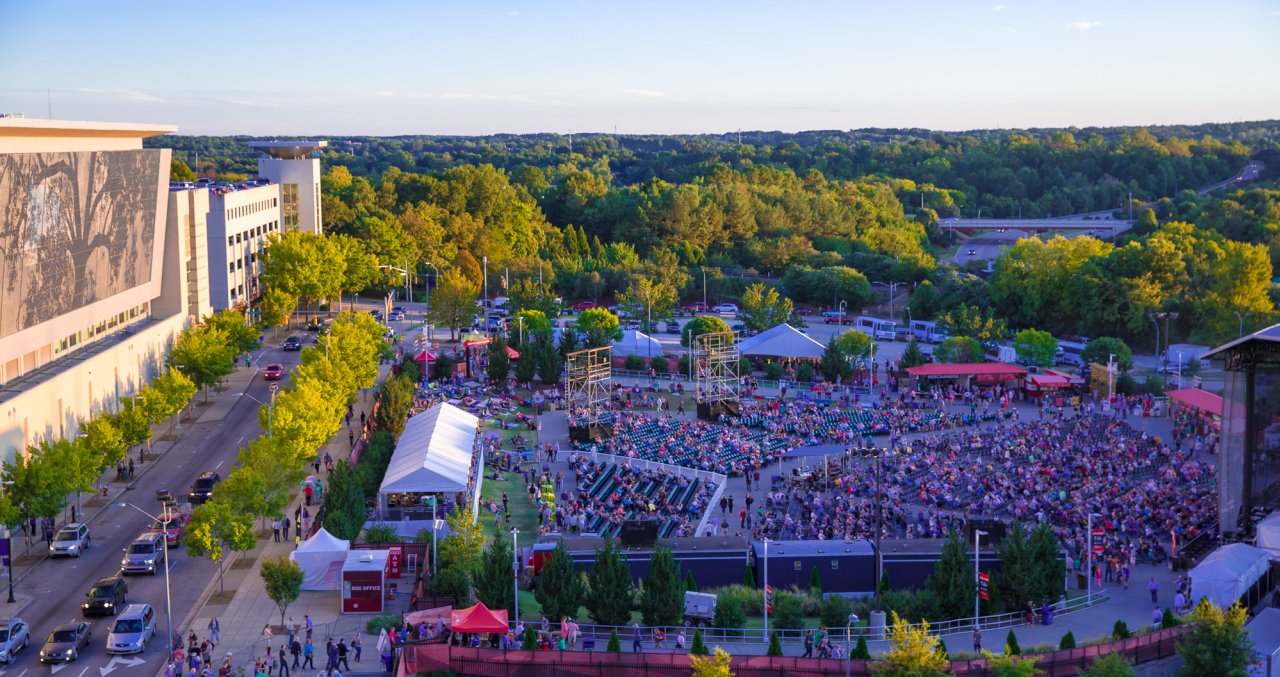 Updated Sept. 19, 2019, 9am
Downtown Raleigh's busy fall festival season has multiple events that draw big crowds, but there's no question which one is the biggest of all. It's the closing headliner, the PNC presents Wide Open Bluegrass festival, set for the final Sept. 27-28 weekend of the month.
As suggested by the name, PNC presents Wide Open Bluegrass is the outdoor portion of the International Bluegrass Music Association's (IBMA's) overall World of Bluegrass week. The IBMA's get-together commences on Tues., Sept. 24, with its annual Business Conference (which also includes a keynote speech by banjo player Alison Brown), the Bluegrass Ramble showcases at various live music venues across downtown Raleigh and the International Bluegrass Music Awards Show at the Duke Energy Center for the Performing Arts' Memorial Auditorium on Thurs., Sept. 26.
But Fri. of bluegrass week is when things kick into overdrive with the free street festival. Last year's total World of Bluegrass attendance for the week was a record 223,320 people, and the vast majority came on the weekend for the street shows.
 
---
Fast facts
PNC presents Wide Open Bluegrass 2019 is Fri.-Sat., Sept. 27-28

Two days, 150-plus acts on eight stages around downtown Raleigh

Main Stage shows at Red Hat Amphitheater are FREE this year (except for a ticketed reserved-seat section)

The lineup features Hall of Fame legends down to brand-new upstarts, and it's perfectly okay to bring your own instrument and join in on open jams
---

Countless acts both famous and obscure will be playing all over downtown, on stages arrayed around the Fayetteville St. main drag as well as in informal picking circles. As usual, the biggest names will be at 5,990-capacity Red Hat Amphitheater.
This year's Red Hat lineup highlights include:
New this year: Free shows at Red Hat Amphitheater!
There is one new feature about the shows this year at 5,990-capacity Red Hat. As the Main Stage showcase, it was the one PNC presents Wide Open Bluegrass venue to require an admission charge in previous years. This time around, however, it's mostly free. The front three sections will be reserved-seat tickets you can buy, while the rest of the amphitheater is free and open with general-admission seating (subject to venue capacity).

"We feel excited about this change, which creates a better-integrated Wide Open Bluegrass festival," said Paul Schiminger, the IBMA's executive director. "All the street stages have always been free, but Red Hat was ticketed and there was something about that always felt a little bit off. Now we've opened it up as another free venue in the footprint. Over half the seats in Red Hat will be free. Now if there are key acts you want to hear, get there early—or buy a reserve ticket in one of the front three sections."
 
Seven years and counting
This is year seven for World of Bluegrass in Raleigh, following its move from Nashville after nearly a decade there. Since 2013, the festival has drawn total attendance of well over 1 million people while setting new attendance records every year except one, 2015 (when stormy weather moved the street-fair shows inside the convention center, which limited the capacity).

Thanks to its success here, the bluegrass festival will be staying in Raleigh through at least 2021. It's hard to imagine it anywhere else.
"For IBMA, it's been a great thing to present the full spectrum of bluegrass to as many people as possible and have it publicized all around the world," said Schiminger. "Clearly our time in Raleigh has been our most successful in terms of getting music to the ears of the most people possible. It's 200 bands playing in front of 200,000 people."
 
Celebrating inclusion and diversity
Inclusion is again an emphasis point for the IBMA and the festival's local organizing committee in Raleigh, on a number of fronts. Sighted guides are available to accompany and assist visually-impaired fans who want to experience the festival, a program that has been quite successful the past few years. This year, the sighted guides are also available for the weeknight Bluegrass Ramble shows as well as the outdoor weekend shows.

As for the performers onstage, the IBMA and festival producers have put a lot of work into broadening bluegrass beyond its traditional demographics. As noted above, a fair quantity of women are in the Main Stage lineup. There's also the annual Shout & Shine: A Celebration of Diversity in Bluegrass showcase, Fri. in the street festival's Dance Tent (which is just north of the Duke Energy Center complex). The Shout & Shine lineup includes acts across a wide range of races, ages, genders and orientations, including former Carolina Chocolate Drop Hubby Jenkins and Lakota John, a guitarist from Robeson County of Lumbee Indian descent.

"Inclusion in our music is important," said Schiminger. "Everyone needs to feel welcome to play it or listen to it. We encourage everyone to check it out and want them all to feel welcome."
Also of note is an after-hours Bluegrass Pride showcase, happening late Fri. night in one of the ballrooms of the Raleigh Marriott City Center, presenting acts of different sexual orientations. Among the acts on the Bluegrass Pride bill is banjo player Justin Hiltner, who is one of the few openly gay musicians in the bluegrass world. Hiltner will be showcasing material from the 2018 album he made with bassist Jon Weisberger, "Watch It Burn," the rare bluegrass album with songs from an overtly gay point of view.

"Other queer people have been blazing a trail for longer than banjo has been an American instrument," said Hiltner. "Just became I'm one of the first openly gay bluegrass banjo players, that doesn't mean there weren't other equally important journeys and stories before. But what's groundbreaking about 'Watch It Burn' is that it's visibly queer. It's still subtle, we don't beat anybody over the head with rainbows. But we did not consciously edit out any part of queerness from the music's origins."
 
More highlights you can't miss
Whole Hog Barbecue Championship 
Bluegrass and BBQ go hand-and-hand, and you can try some of the best whole hog barbecue in the entire state with the N.C. Pork Council's annual Whole Hog Barbecue Championship. The very best pit masters from all over our state face off Sept. 27-28, competing for prizes and bragging rights. Festivalgoers can purchase a wristband, and on Sat., Sept. 28, after the judging, sample BBQ from the 28 best BBQ chefs in N.C. and help select a People's Choice Award. Wristbands are $10 in advance and $15 day of and include coleslaw and all-you-can-eat barbecue. Proceeds from wristband sales will go to the Inter-Faith Food Shuttle and the IBMA Bluegrass Trust Fund.
Purchase wristbands here.

Exhibit Hall
Another thing to note is the Exhibit Hall, downstairs in the Raleigh Convention Center, featuring a broad range of instruments, accessories, gear and more. The Exhibit Hall requires an IBMA badge to enter early in the week during the Business Conference. But come the weekend's festival program, it becomes free and open to the public, and it's worth a stroll through. See the full vendor list here.
Banjo Plume
On your way to the Exhibit Hall, look up as you're walking through the convention center to check out the "Banjo Plume." It's an art installation made of repurposed parts from the "Banjostand" stage that formerly adorned the Sir Walter Raleigh statue during bluegrass week. Last year was the Banjostand's fifth and final year as a temporary seasonal art installation, and now it's a permanent piece that hangs from the ceiling of the convention center directly behind Sir Walter.

Jam circles everywhere!
You'll encounter picking circles in pretty much every nook and cranny of the convention center and various downtown hotels, and it's not just enthusiastic amateurs. You're likely to encounter players as accomplished as Michael Cleveland, 10-time winner of IBMA's fiddle player of the year. And you can join in, if you're bold enough.
Bring your instrument.
 
Stay in the know⁠: Download the festival app!
Download the official app to stay in the know all weekend with the most up-to-date festival information. Look out for event update notifications and build your festival Plan in the app. Just select concerts, vendors and more you don't want to miss, and add them to your Plan!

Header photo: Willa Stein
Comments