10 Pizza Spots Offering Takeout, Delivery and Dine-In Service Right Now in Raleigh, N.C.
Wednesday, July 22, 2020, 11am by visitRaleigh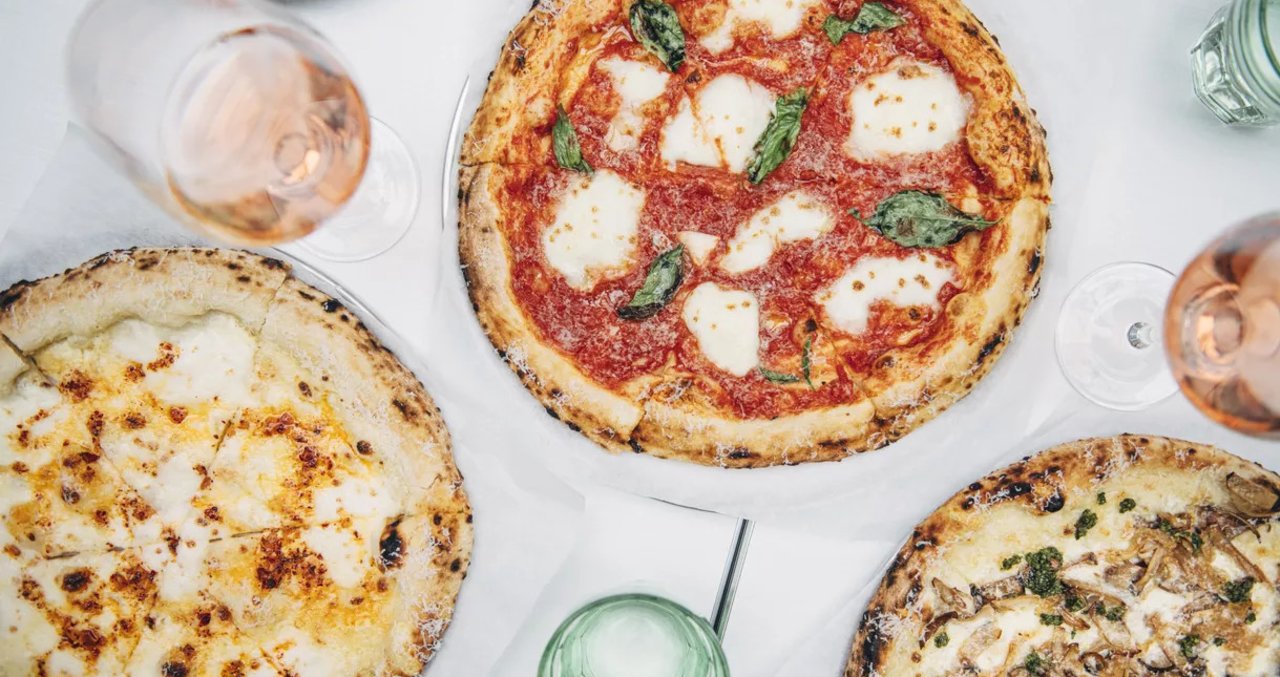 It's no secret that when it comes to takeout food, pizza reigns supreme for so many of us.
And while the hospitality industry is battling major challenges at the moment due to COVID-19 (restaurants in N.C. are limited to dine-in seating capacity of 50% until at least Aug. 7), many restaurants in the Raleigh area are open and finding new ways to serve loyal customers.
So pick a night, grab a pie and treat yourself while supporting local businesses!
 
Plan a trip to Trophy Brewing if you want artisan-style pizza that's as fresh and tasty as your beer. Opened in 2012 and now well-known as one of the best breweries in the state (and beyond), Trophy has somehow figured out how to do both with spectacular success (multiple expansions of the brewery and taproom, including an exciting new sour beer program, are signs of good times). The kitchen prepares a feature meat and veggie pie daily that showcases seasonal ingredients that aren't available long enough to include on their regular menu. Pair your pizza with a craft beer plus one of the (secretly) best rotating dessert menus around.
Current status: Trophy's Morgan St. location is open with pizza and beer available for curbside pickup (order online) as well as dine-in service on the patio (requires a reservation made here).
Opened in summer of 2019, James Beard award-winning chef Ashley Christensen's sixth downtown Raleigh eatery is dedicated to Neapolitan-style pies. In Poole'side terms, that means thin-crust pizza, cooked for 90 seconds at more than 800 degrees in a 6,000-pound, Marra Forni wood-fired oven. The dough is made from local flour, the sauce with organic Bianco DiNapoli tomatoes and the cheese a house-made mozzarella. In addition to the pies, you'll also find delicious treats, starters and salads as well as a carefully chosen beverage program and amazing desserts. If you can't decide what to order when you go, try the Margherita pie—the go-to for die-hard pizza fans and Ashley's personal favorite.
Current status: Open for takeout only; order online.
Simple, fun and incredibly delicious. That's owner and pie maker Anthony Guerra's vision for this highly popular restaurant on the edge of the Historic  neighborhood that opened in 2017. "We want to bring back the nostalgia of the pizza we grew up eating and the atmosphere with our families," he says. Choose a base of "cheese" with tomato sauce, mozzarella and basil; or "white," with mozzarella, ricotta, garlic and basil. Add your favorite toppings and get ready to relish an expertly executed round (or square) of deliciousness. Located just a few doors down from chef Scott Crawford's Jolie and Crawford and Son restaurants, Oakwood Pizza Box plays a major part in what may be the tastiest block in town. 
Current status: Open for takeout only; order online. Delivery may be available through third party services.
This small, family-owned and -operated restaurant serves wood fired, thin crust Neapolitan-style pizzas. Based in Cary, Zach and Amber Faulisi's finely tuned creations have a huge fan base—and for good reason. They take milled flour from Boulted Bread in Raleigh along with Caputo flour to make a tantalizing and tasty dough. Toppings include fresh, local ingredients and change daily depending on market availability. The kitchen's centerpiece is a gorgeous, wood-fired pizza oven with the family name, "Faulisi," set into its white tile exterior. Local tip: Fans of good beer and good people will also want to hop next door to Bond Brothers Beer Company.
Current status: Open for takeout only; order online.
Benchwarmers, the wildly popular breakfast spot inside of Transfer Co. Food Hall, was named one of Bon Appétit's 50 Best Restaurants in America in 2019. Though known for their seriously good wood-fired bagels made with dough from Boulted Bread, they've recently turned their attention to creating scrumptious Detroit-style pizza. Thick, cheesy and bursting with flavor, the rectangular pizza with its amazing crust is served up whole or by the slice. If their bagels are so outstanding that Bon Appétit recognized the shop as one of America's best new eateries, you can rest assured that the pizza does not disappoint. Local tip: Keep up-to-date on the special pizza features by checking Benchwarmers' Instagram (posts and/or story) on pie days.
Current status: Pizza is available for takeout Wed.-Sun., 5-7pm; Transfer Co. Food Hall is also open with limited dine-in and patio seating. Order online.
Ask any long-time Raleigh resident where to get the best pizza, and you'll most likely hear about Frank's Pizza, located in Southeast Raleigh near Alamo Drafthouse Cinema. This family-style restaurant is a hidden gem and cherished, well-kept secret among the locals. In business for more than 30 years, Frank's serves specialty pizzas using homemade crust and sauce that has customers raving. One of their most popular pizzas is the Rio Ranch, made with bacon, fresh tomatoes, ranch dressing and extra mozzarella. Pay a visit to find out for yourself why this not-so-fancy eatery has been a favorite for more than three decades (and say hello to Frank himself who you'll likely find behind the counter!).
Current status: Re-opening July 19 after a summer vacation for takeout only. Call 919.231.8990 to order.
Once a delivery and carryout pizza joint, Lilly's Pizza would attract a crowd from surrounding neighborhoods who, with their lawn chairs in tow, would gather at the restaurant to socialize. Over time, this popular eatery located in the historic Five Points area transformed into one of the most-awarded local pie havens in the area. Lilly's dough contains only 100% Certified Organic and Kosher flour from Graham, N.C., and is less than one week old from the time of milling to your table. For those with vegetarian or vegan diets, Lilly's has you covered with options galore. Known for its eclectic, funky décor and wildly inventive pizzas, this is one you don't want to miss out on.
Current status: Open for takeout only; delivery may be available through a third party service. Order online.
Anna's (locations in both downtown Apex and Fuquay-Varina) provides a great family-friendly, small-town pizzeria experience with family recipes that have been passed down for generations. Try their specialty "Famous Pizzas" or go with one of the best pepperoni and cheese slices around. A must-try is the Grandma's Pizza—pools of marinara sauce sit on top of a thick layer of cheese, and the crust is a treat on its own. Just a few slices are enough to fill you up, and you'll regret having to throw in the towel.
Current status: Dine-in seating and takeout are available at both locations. Call ahead for reservations or to place an order.
Milton's, with locations in both Raleigh and Wake Forest, is a locally owned and operated restaurant that's been dishing up delicious pizza since 1983. The super-friendly staff serves up classic Greek-style pan pizza made from scratch, hand stretched and baked in traditional deck ovens that results in a unique crust that's not too thick and not too thin. With its emphasis on providing superb food and taking great care of their guests, you'll be more than happy you made the trip.
Current status: Both locations are open for dine-in, patio and curbside takeout service.
For authentic New York-style pizza, Gino Romano knows his stuff—a fact residents around the City of Oaks have known for years. A popular spot for lunch (two one-topping slices and a drink for just over $5!), Gino's serves up generous pies with sauce that's vine-ripe fresh and a crust that's browned to a crackling finish. When you step into this small, unassuming eatery with its friendly staff for one of their pies, you'll understand why even New Yorkers rave about it. Buon Appetito!
Current status: Open for dine-in and takeout service.
Comments