The Best New Restaurants in Raleigh, N.C.
Friday, July 02, 2021, 11am by visitRaleigh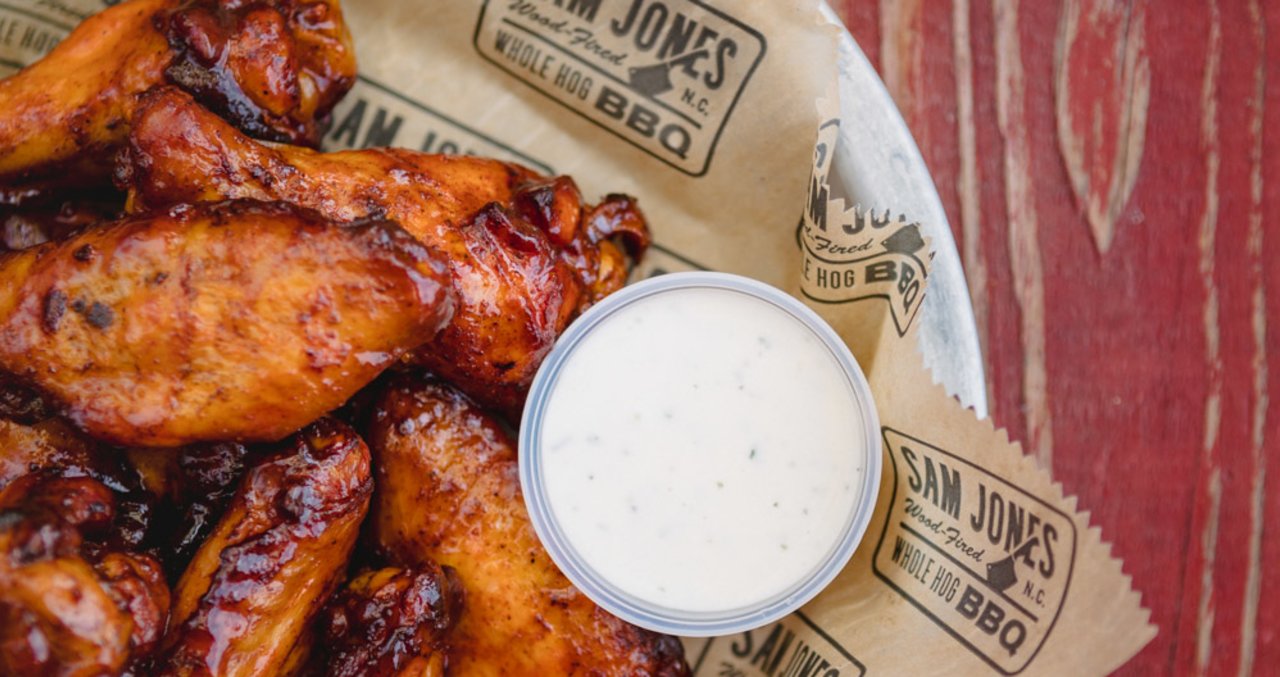 There's been a lot of buzz in the the Raleigh area's food scene around some exciting restaurants that have recently opened their doors. The list includes culinary concepts from some nationally recognized chefs and local passionate minds as well as a few under-the-radar spots that are making a big splash. To help you make your way through the ever-expanding options for fantastic dining in the City of Oaks, we've compiled this list of the best new spots we think you'll want to try!
 
Chef Lelia Kidd's new plant-based gastropub concept sits right in the heart of downtown Raleigh—a literal hop, skip and a jump from some of the state's biggest and best festivals on Fayetteville St. (IBMA Bluegrass Live! powered by PNC and Hopscotch Music Festival, to name two!). The fully vegan menu makes no compromises—you'll find fried chicken sandwiches, crispy wings, smashburgers and more (all with the appropriate substitutes) to go along with an extensive beer and cocktail menu. Early rave reviews point to the BBQ nachos as being a can't-miss shareable plate for your table!
A drink, a bite and a good time—sign us up! This new downtown Cary hangout—from the same owner as the popular cocktail spot Sidebar just down the block—is a modern take on a classic dive (plus a dash of vintage vibes, to be sure), with a food menu that turns up a little unexpected (grilled octopus, a gluten-free chicken sandwich, N.C.-raised ribeye and more) and a bar offering that equally suits the after-work and weekend dinner crowds. Stop in before or after seeing a show at the beautiful Cary Theater just across the street!
Perhaps one of the mostly highly anticipated restaurants ever to open in Cary, Di Fara Pizza is the sister restaurant of the famed pizzeria of the same name opened by Dominic DeMarco in Brooklyn in 1965—The New Yorker, The New York Times, Zagat and the late chef Anthony Bourdain have all called the original Di Fara the best pizza in New York. It may not be in Brooklyn, but this downtown Cary pizzeria opened in 2021 and serves the same family-style, mouth-watering pizza as the original (even using a water filtration system to replicate that N.Y. water). Count us in!
Simply put, Sam Jones' newest namesake restaurant is one of America's most exciting 'cue openings of 2021. The renowned third-generation pitmaster and James Beard Award semifinalist comes from a long line of family that lives and breathes Eastern-style barbecue. His grandfather opened the famed Skylight Inn in Ayden, N.C., in 1947, and Jones opened his first Sam Jones BBQ restaurant just seven miles up the road in Winterville in 2015. The menu, of course, is highlighted by whole-hog barbecue—180-pound hogs cooked in a wood-fired pit for 16 hours or so, skin blistered to a shatteringly-crisp texture and all chopped together with a couple of meat cleavers. Salt, pepper, cider vinegar and hot sauce finish things off in the absolute best way possible.
This new Italian eatery in Holly Springs is backed by a big name—Gianni Cinelli moved to the Raleigh area from New York more than two decades ago and has owned or partnered in more than 20 restaurants (including Vivo Ristorante Pizzeria in North Raleigh). So it's no surprise then that the food and wine packs a punch. Pasta and pizza—made with high-quality ingredients—pack the menu, and you'd be wise to start with an order (or two) of the Sicilian rice balls before diving into a "Cinelli's Famous" Grandma Margahrita pie!
To a lot of locals' delight, this Texas-based taco chain just opened the first Tar Heel State location in Raleigh's Midtown East shopping center. Pick a taco (or three!), add chips and queso plus a margarita and grab a seat on the patio outside for an A-plus summer evening in the City of Oaks. 
Housed inside the historic Brown-Holloway home (circa 1840) in downtown Holly Springs, owners Matt and Christy Griffith opened the doors to this modern tea house in late 2020 (a true family affair, the Griffith's three teenage children helped run the show in the opening days!). Snacks, soups, salads and more are offered up on a rotating basis for both lunch and dinner, and Sun. brunch adds additional options (to go along with an array of seasonal teas and tea-infused cocktails). What's not to love about buttermilk biscuits, pimiento cheese and saltines, sausage balls and more? 
This craft cocktail and neighborhood bistro from prominent local culinary figure chef Gregory Hamm opened its doors in June 2021, serving dips, tacos, gourmet jumbo hot dogs, sandwiches and more to be paired with refreshing drinks in a casual setting near Raleigh's Warehouse District. 
With the recent opening of Bongiorno & Son in Raleigh's Lafayette Village, Michael Bongiorno's lifelong dream has been fulfilled. This Italian eatery and specialty store carries on a longstanding family tradition—Bongiorno's great grandfather owned a patisserie in New York's Little Italy, and his grandfather owned an Italian grocery in New Jersey. This storefront and sandwich shop offers soups, sandwiches, imported cheeses, sausages, pasta, bread and more.
A second location for the wildly popular Scratch Kitchen in Apex, this new downtown Cary eatery brings more of the same Southern hospitality and Carolina cooking that makes for an obviously winning recipe. Smoked pork mac and cheese, waffle-battered crispy chicken sandwich, Carolina slaw po' boy, truffle mac and cheese burger—you can't go wrong!
Also, coming (very) soon
 
BB's Crispy Chicken
Chef Ashley Christensen—operator of five downtown Raleigh eating and drinking spots and named America's best chef by the James Beard Foundation in 2019—has an exciting new fast-casual project in the works. This time the focus is on that iconic Southern comfort food—fried chicken. Rumor is a Raleigh location is expected to open early this summer, and a Cary location could be on its way this year as well. The menu has already been unveiled!
(ish) Delicatessen
In the works for five years now, (ish) Delicatessen is Matt Fern's sandwich shop opening soon in downtown Raleigh (and some pop-up openings have already taken place in recent weeks). Here's the word from Fern himself, a longtime veteran of the food and beverage scene in the City of Oaks: "If you crave the tastes of Jewish, Russian, American, Italian or just about anything between two slices of bread, then your new favorite sandwich joint is coming very soon. We know you are going to love it, and can't wait to share our food with you." See you soon, Matt!
Header photo of Sam Jones BBQ by Baxter Miller
Comments