2019-2020 Official Media Kit
Friday, August 09, 2019, 4pm by visitRaleigh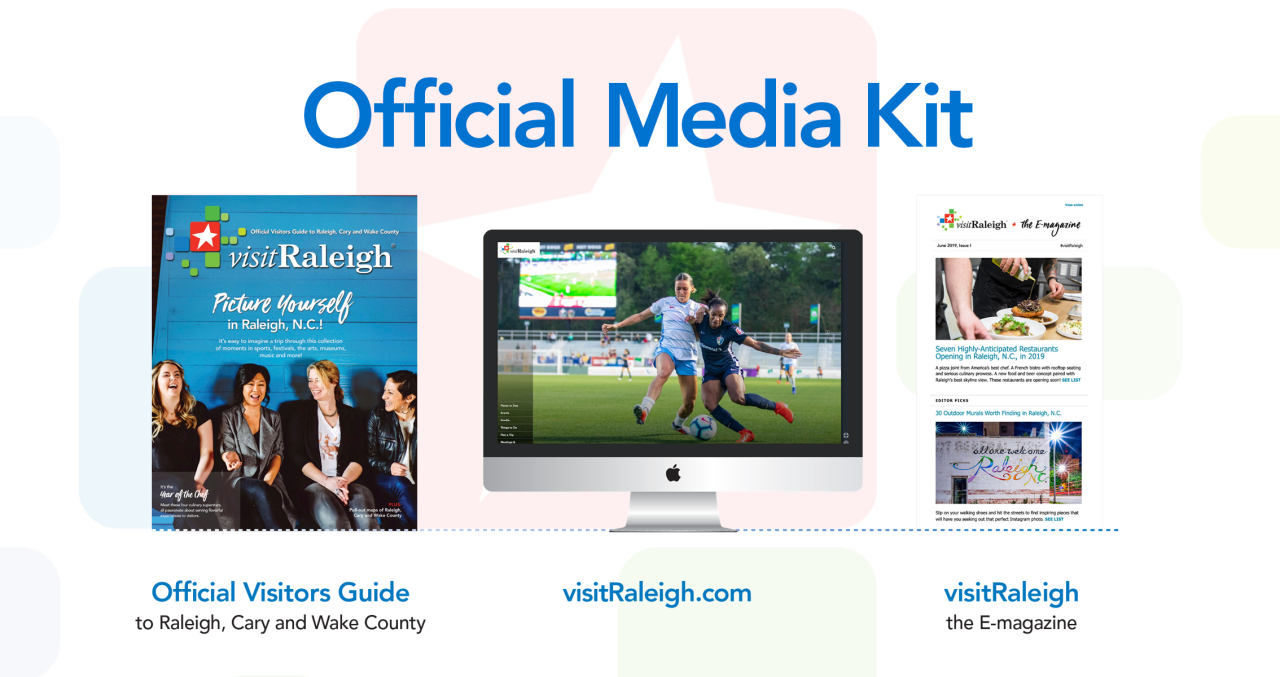 It's the time of year when we release the Official Media Kit for 2019‒2020, a collection of GRCVB-sanctioned avenues to promote your business or organization to potential visitors.
Just as a reminder, every hospitality partner in the county already gets free, year-round exposure from the CVB, including an always-present listing on visitRaleigh.com. Many partners are also highlighted each year in visitRaleigh.com articles, mentions or likes through our social media accounts, destination-themed advertisements and in PR pitches/earned media.
The supplemental channels outlined in the Media Kit provide you with additional ways that you can get your attraction, restaurant, hotel, festival/event or service in front of visitors who are soon arriving or still planning a trip to Raleigh, N.C. 
We wrap all of GRCVB's officially-approved advertising opportunities into one Official Media Kit so you will know which vendors have entered into working relationships with us and can easily compare the programs side-by-side. We realize you get offers from many different outlets to promote your business, but only the paid promotions included in the kit are approved by GRCVB.
Let's look at them:

Official Visitors Guide (OVG):
Ads in the OVG are managed by Compass Media, a company which specializes in visitors guide publications. The staff from Compass is also instrumental in the development of the editorial content and design of the annual guide. The printed version of the 2020‒2021 guide will reach 130,000 readers and the online version an additional 45,000+. The OVG is the most effective and targeted way to place your business in front of 175,000 people that we know are interested in visiting Raleigh or have already arrived and have picked up the OVG on-site. Print guide users want to know which restaurants and other businesses cater not only to locals but welcome them as visitors; the quickest way to tell is through the display ads.
Check pages two-four of the Media Kit for specifics related to OVG ads. The sales season for the 2020‒2021 edition opens in conjunction with our Annual Meeting on Aug. 21, so now's a great time to contact the reps from Compass (John Balhouse or Casey Hough) to get more information and reserve space. Both Casey and John will be on-hand at the Annual Meeting to answer questions or provide details.

Advertising opportunities on visitRaleigh.com:
Ads on visitRaleigh.com are managed by Destination Travel Network. DTN specializes in online ad sales for destination marketing organizations. If you look at pages five-nine of the Media Kit, you will see there are many options for ad placements on visitRaleigh.com, from homepage sponsor slots to run-of-site banners. 
Here's an important point for you to think about—in 2018‒2019, visitRaleigh.com had over three million visitor sessions. The organic bounce rate decreased by 51 percent last fiscal year over the previous fiscal year, session duration (average time spent by users) has increased by 35 seconds in the past year, and unique page views increased by more than 30 percent! That insight makes an investment in an online ad right now seems like a wise one indeed.
Read the details in the kit and/or contact DTN representative Lia Wik for more info.
Other options:
Those aren't the only options for ad placement through GRCVB.
Check page 10 for information about placing banner ads in visitRaleigh the E-magazine, with distribution to 45,000+ consumer subscribers bi-monthly;
Or if your business is interested in targeting the meetings market especially, check page 11 for banner ad pricing in the Meetings Watch newsletter, sent to over 4,000 meeting planners and event professionals every other month.
While area hotels know that nearly all of their guests arrive from out of town, we like to remind our restaurant partners that county tax data tells us, on any given day, some 23.2 percent of your clientele is visiting. 
All of these resources that we have noted here are great ways for you to intentionally target advertising to the visitor channel, beyond garnering sales from the residential channel alone.

Author: visitRaleigh
The Greater Raleigh Convention and Visitors Bureau (GRCVB) is the official and accredited destination marketing organization (DMO) for all of Wake County.
Comments