2019‒2020 Official Visitors Guide
Thursday, April 18, 2019, 11am by visitRaleigh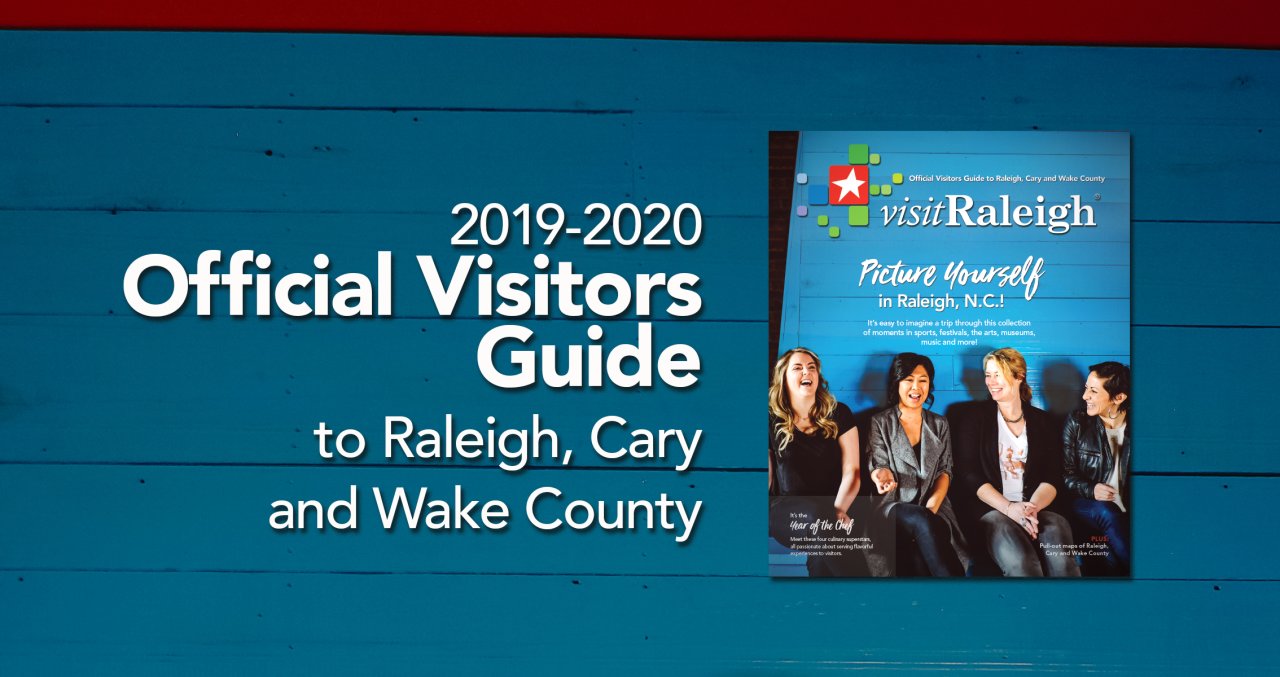 We're happy to announce that the 2019‒2020 edition of the Official Visitors Guide to Raleigh, Cary and Wake County has been provided to the printer. We expect the Visitors Guides to ship mid-May, and you should start seeing them by late May.
Here are a few notes about this year's edition:
It leans heavily on visuals
We borrowed from Raleigh, N.C.'s South by Southwest (SXSW) activation "Picture Yourself in Raleigh" (you can read more about SXSW here) for the unifying theme of the guide, and as soon as you flip through the pages, you will see why. 
Each of the major sections (foodies, the arts, live music etc.) is introduced with a visually striking, two-page pictorial spread. The intention was to suggest to potential visitors that they could have the same or a similar experience when they visit the area.
For example, the live music section is grounded with a two-page shot of artist Boulevards at Hopscotch Music Festival last September, surrounded by music fans who are thrilled to be so close. That photo was taken by Garrett Poulos.
Or look for the Sports and Outdoors section where you will find a recent Carolina Hurricanes photo caught in mid-puck drop. You can see the intensity in the eyes of the players and almost feel the chill from the ice. That photo was taken by Jamie Kellner of Canes Country.
The Festivals and Events section is highlighted by a family experiencing the joy of one of the midway rides at the North Carolina State Fair. That photo was taken by Brian Magee.​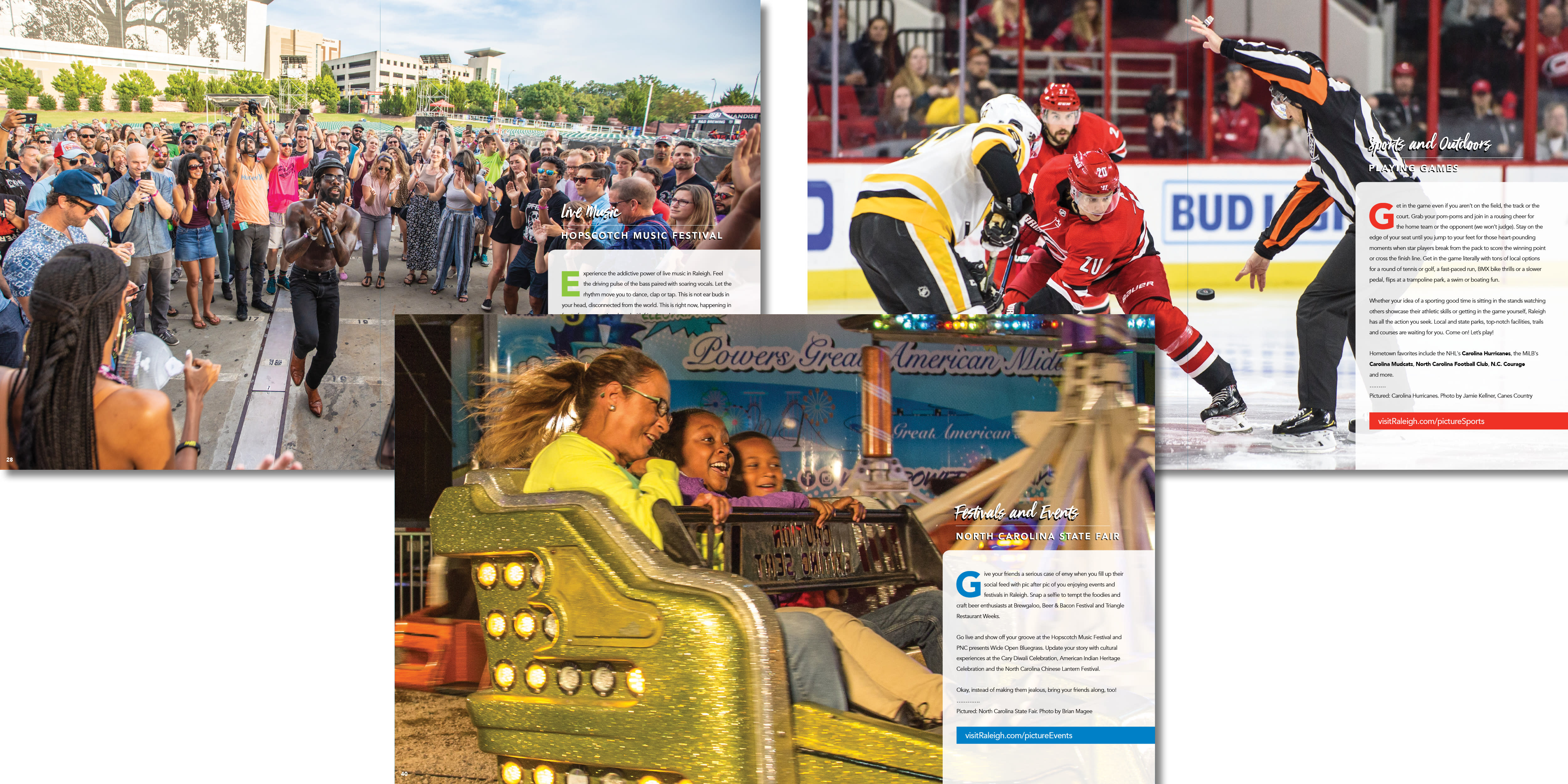 We took this editorial tack for two reasons:
Because we know that strong images can convey (better than text most of the time) a genuine sense of experience. Photos communicate emotion and can persuade potential visitors to move from dreaming about visiting to actually booking a trip.
The other is that, as Wake County grows, it becomes more and more difficult to try to fit all of the reasons that a visitor might want to come to Raleigh/Wake County into the guide. Wake County now has over 3,900 hospitality businesses, and as much as we wish we could, we can't mention all of them in the 60 printed pages.
We hope the photos and content that do appear will serve to drive customers to visitRaleigh.com, which is rich with updated content and provides details about all of the choices and opportunities for visitors.
The cover
This year's cover introduces four culinary superstars who all have made names for themselves—Brittany Grantham, pastry director at bu•ku and so•ca; Sophia Woo, chef and owner of MOFU Shoppe in City Market; Coleen Speaks, chef and owner of Hummingbird; and Angela Salamanca, chef and owner at Centro in downtown Raleigh's Fayetteville Street district. That photo was taken by Tim Lytvinenko.
Towns and neighborhoods
Each of the 11 towns in the county, plus the Hillsborough Street municipal service district, are covered with at least a full page to highlight their attractions and events. We are happy that all of them will be represented and grateful for the support they have shown by investing in this guide's display advertising.
Many of our hospitality partners purchased ad space to promote their businesses to the over 145,000 potential visitors who will receive the print guide, which we also appreciate. And again, the Official Visitors Guide will appear at raleighvisitorsguide.com for easy access online.
Wake County hoteliers will remember that our Services team delivers guides to your hotels on a regular basis. You will start seeing the new guides in your June deliveries.
Here's hoping the 2019‒2020 Official Visitors Guide will inspire many visitors to come enjoy everything that Wake County has to offer and/or extend their stays here in the coming year.

Author: visitRaleigh
The Greater Raleigh Convention and Visitors Bureau (GRCVB) is the official and accredited destination marketing organization (DMO) for all of Wake County.
Comments