2021-2022 Media Kit
Thursday, August 12, 2021, 8am by visitRaleigh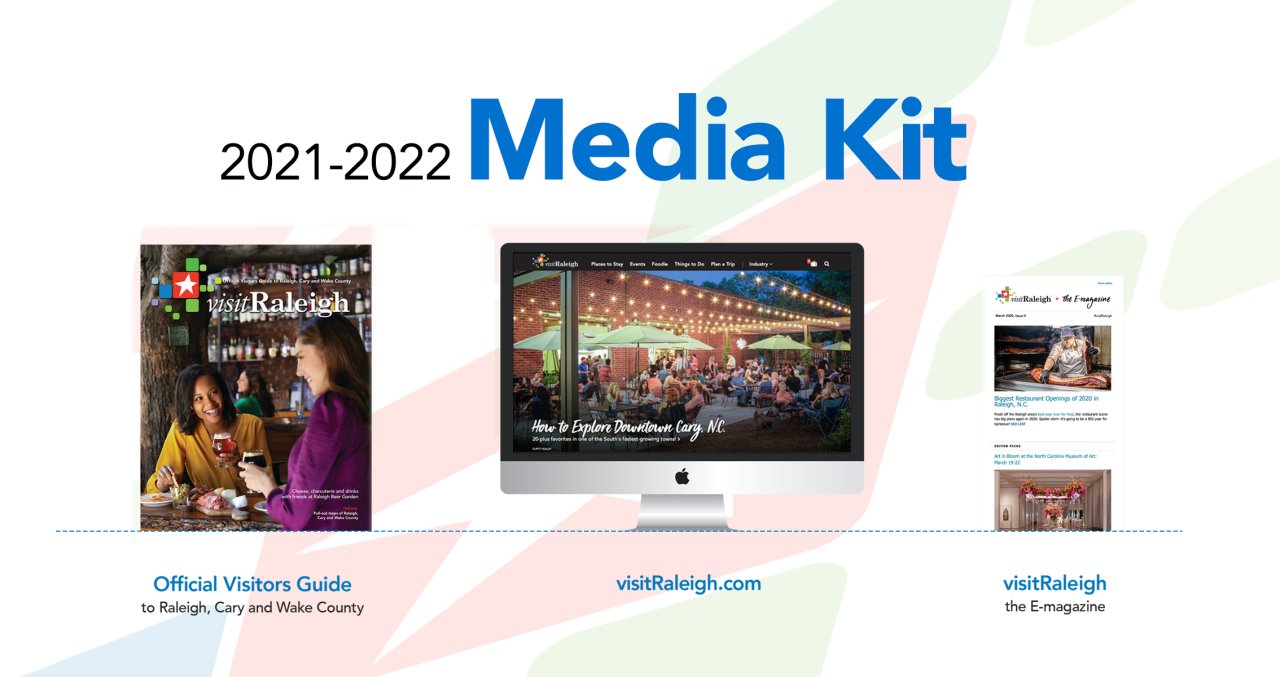 We're making available the Official Media Kit for 2021‒2022, a collection of GRCVB-sanctioned avenues to promote your business or organization to potential visitors.
Just as a reminder, every hospitality partner in Wake County already gets free, year-round exposure from the CVB, including an always-present listing on visitRaleigh.com. Many partners are also highlighted on a rotational basis each year in visitRaleigh.com/Visitors Guide articles, other publication mentions or posts through our social media accounts, destination-themed advertisements, Visitor Information Center materials and through PR pitches/earned media.
The supplemental channels outlined in the Media Kit provide you with additional ways that you can get your attraction, restaurant, hotel, festival/event or service in front of visitors (or CVB clients) who are soon arriving or still planning a trip to Raleigh/Wake County. 
We wrap all of GRCVB's officially-approved advertising opportunities into one Official Media Kit so you will know which vendors have entered into working relationships with us and can easily compare the programs side-by-side. We realize you get offers from many different outlets to promote your business, but only the paid promotions included in the kit are approved by GRCVB.
Here's more about them:
Official Visitors Guide (OVG):
Ads in the OVG are managed by Compass Media, a company that specializes in visitors guide publications. The staff from Compass is also instrumental in the development of the editorial content and design of the annual guide.
Of course, COVID-19 has impacted the production and scheduling of the OVG much like it has everything else. The 2020‒2021 edition of the Guide was released in May 2020 and currently is in distribution, which means there are copies in visitor centers around the state, at RDU International Airport and at hotels/other front desks in Wake County. Our Destination Services team has also been sending copies to prospective visitors who have requested guides.
As of today, our plan is to extend the shelf life of the 2020‒2021 Guide throughout 2021 and into 2022. Ad sales will begin in Early 2022, and that subsequent OVG will start to be distributed sometime around the 2022/2023 turn of the calendar year.
That seems like a long way off, but it isn't too early to start planning for the next ad sales cycle whether your organization runs on a fiscal- or calendar-year budget. The reps from Compass (John Balhouse or Casey Hough) will be on-hand at the 2021 Annual Meeting to answer questions or have pre-sales conversations about this upcoming opportunity.
Opportunities on visitRaleigh.com and raleighsports.org:
Ads on visitRaleigh.com are managed by Destination Travel Network (DTN). DTN specializes in online ad sales for many destination marketing organizations (thus can discuss paid placements outside of Raleigh, too, as desired). If you look at pages 4‒8 of the Media Kit, you will see a variety of placement options on visitRaleigh.com, from homepage sponsor slots to run-of-site banners.
Read the details in the kit and/or contact DTN representative Lia Wik for more info at any time.
Other options:
Those aren't the only options for ad placement through GRCVB.
Check page 9 for information about placing banner ads in visitRaleigh, the E-magazine, with distribution to 45,000+ consumer subscribers bimonthly;
Or if your business is interested in targeting the meeting-planning market especially, check page 10 for banner ad pricing in the Meetings Watch newsletter, sent to over 4,000 meeting professionals and event-planning clients every other month.
While area hotels know that nearly all of their guests arrive from out of town, we like to remind our restaurant business partners that county tourism tax data tell us, on any given day, some 23% of your clientele is visiting (as opposed to residing in) Wake County.
All of these resources that we have noted here are great ways for you to intentionally target advertising to the visitor channel, beyond garnering sales from the residential channel alone.

Author: visitRaleigh
The Greater Raleigh Convention and Visitors Bureau (GRCVB) is the official and accredited destination marketing organization (DMO) for all of Wake County.
Comments