Congratulating Theresa Tyler After 30 Years of Service to GRCVB
Thursday, December 10, 2020, 7am by visitRaleigh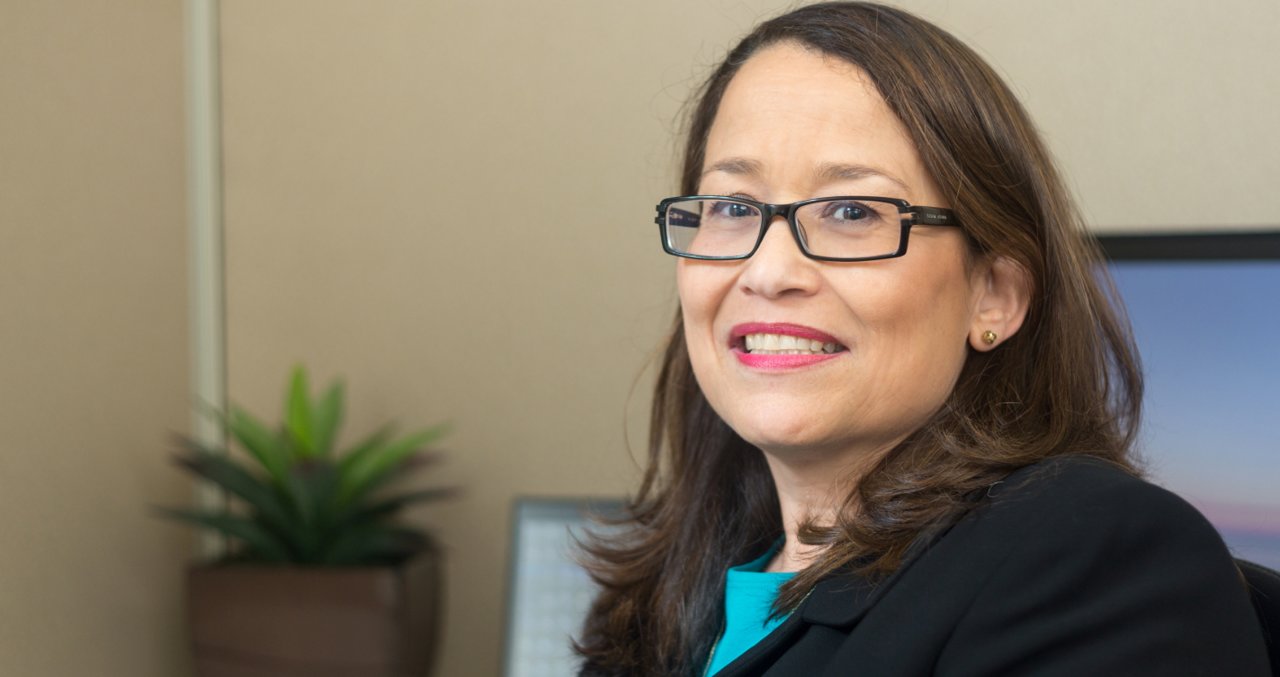 It's hard to find employees these days who stay with the same organization for decades. Long gone are the days when staffers spent their entire careers in the same job and retired in their sixties with the customary gold watch and a retirement party.
But we have a rarity in our mix in that regard at GRCVB, plus she's rare in so many other ways. After 30 years at the Bureau, Theresa Tyler, CGSP®, will be retiring at the end of 2020.
Currently assistant director for services with the Greater Raleigh Sports Alliance (GRSA), Theresa is a well-known figure in the tourism community in Wake County. Before we let others talk about her, we asked her to tell us about her experiences and memories of her time at the Bureau, plus what her plans are for the days ahead.

Tell us about your background.
I was born and raised in rural North Carolina in a small community that had one school (grades one-12), one church, one gasoline station and a small café. It was a close-knit community where everybody knew each other. I am Lumbee Indian and grew up at the end of the civil rights movement. We knew little about what was going on because we thought we'd always live in our little bubble and all the other stuff was for other people. After graduating from UNC-Pembroke, I moved to Charlotte for 12 years and landed in Raleigh in 1989.
When did you begin at GRCVB, and what was your job/role?
I began with GRCVB in Sept. 1990. I loved my job and the people I worked with from day one. I knew this was where I wanted to be. I had worked at a hotel for a while but knew very little about the importance of a CVB to its community. I began as a sales assistant and held several other positions during my time at GRCVB.
When did you transition to GRSA, and what is your role today?
GRCVB decided to rebrand the sports marketing department (to GRSA) so we could be identified when attending shows and meeting with sports organizers. Today I am assistant director for services, and I deal with the groups once our sales/marketing folks bring in the business. My job is to make sure they enjoy their stay, so hopefully, they'll come back later to further explore what we have to offer.
What do you remember about the Bureau when you started?
This was before the technology boom was in full swing. We had a computer, and it was the first time I had ever used one. I was accustomed to electric typewriters, using tons of paper and lots of Wite-Out. Preparing proposal books was the worst. That was when you had to type the name of the section on those teeny, tiny pieces of paper and insert them in the plastic tabs. That was a pain. There were about 15 employees. We were located on Hillsborough St. in the office building where Campbell Law School is now. This was when Fayetteville St. was a walking mall and Belk was located downtown.
What changes have you seen over the years at the Bureau?
The technology boom has been amazing because our leadership has realized the importance of knowing what consumers are looking for and who is visiting the Raleigh area. We can reach out to so many more people now than ever before. Our office is diverse and we mostly work well together. Our effort to have a seat at the table has been one of the biggest movements that I think has made us most successful.
What changes have you seen in Raleigh/Wake County?
All this is before COVID, of course. Growth in hotels, restaurants, retail, venues etc. has been the one thing I've seen. We are the most educated area, we are on the big-name circuit of touring artists and musicians, our airport has more destinations and is still growing and our municipalities are more educated on what tourism means to our county.
What has been your favorite part of your job?
Hearing someone say thank you. It doesn't hurt that I get to see a lot of good sporting events and being part of a real economic impact generator is pretty cool.
---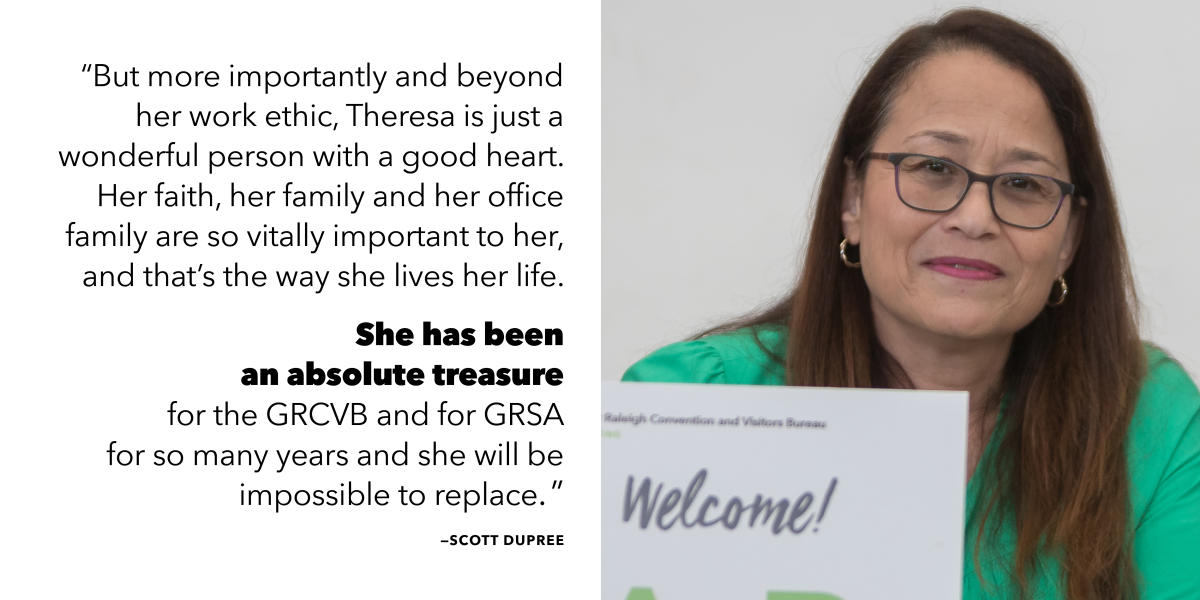 ---
What will you miss the most?
My work family. I spend more time with my work family than I do with anybody else. This is a great group of people. This past year has been tough on everybody. Then add my personal issues, it has been worse. My work family has been there to follow-up with me, offer a helping hand and to just listen. I will definitely miss my work family. I told Paula [McChristian, CGFM, director of finance and human resources,] that just because I was retiring that doesn't mean I can't be invited to Denny's [Edwards, president and CEO,] annual party. I really don't want to lose contact. Unfortunately, that usually happens.
What will be your favorite memory of your time at GRCVB?
I'm not sure I can remember that far back... I have to say that, when I started working at GRCVB and realized I had insurance, dental care, eye care etc., was my favorite memory. I was young and didn't realize companies provided those things, and when I knew I had it, I was amazed. I believe GRCVB cares about their employees and wants to make it a good place to work.
What are your plans for retirement?
I hope my husband and I will have time together to do small trips and would love to get him active again. (He has a few health issues.) I also want to help with my mother who is 90 years old. She now has two broken hips but she continues to fight. I want to help our children when I can. I know what it's like to work and have children who are sick or have doctor appointments. I hope I can help them out when I can. I would love to attend grandparents' days for my grandchildren. Most importantly, I want to take more time during the day to spend with the Lord, reading and meditating on his word and drawing closer to Him.

Now, let's hear a few of Theresa's work associates talk about her. 

"For many years I've referred to Theresa as 'the hardest working woman in Wake County,' and I truly believe it," said Scott Dupree, executive director of GRSA, who has worked with her for 26 years. "She is a tireless worker and the complete opposite of someone who procrastinates. When you give Theresa an assignment, you know it's going to be handled immediately.
"But more importantly, and beyond her work ethic, Theresa is just a wonderful person with a good heart. Her faith, her family and her office family are so vitally important to her, and that's the way she lives her life. She has been an absolute treasure for the GRCVB and for GRSA for so many years, and she will be impossible to replace. Heck, we would probably have to hire two or three people just to replace Theresa. She will be missed around here in a big, big way."

"I love Theresa," said George Williams, former track and field head coach and athletic director at Saint Augustine's University and member of the GRSA Advisory Board. "She works so hard and she's always there when you need her. Theresa is the best, and she will be missed. She's family. The entire GRSA is family, and once you're in the GRSA, it's family for life."

And Dave Olsen, executive vice president and general manager of PNC Arena, offers, "On behalf of all the staff at PNC Arena who had the pleasure to work with Theresa, we wish her nothing but the best as she moves into retirement. Theresa was an integral part of the success of Raleigh being awarded so many NCAA bids. Her smile, enthusiasm and work ethic are second to none. She will be missed as we move forward."
If you would like to send well-wishes to Theresa, she can be reached at ttyler@raleighsports.org.
Speaking from the entire GRCVB and GRSA families and the hospitality community in Wake County, we want to say to Theresa—the best of luck in your retirement and thanks for everything you have done. Your contribution to tourism in Raleigh, N.C., can never be measured. We will miss you.

Author: visitRaleigh
The Greater Raleigh Convention and Visitors Bureau (GRCVB) is the official and accredited destination marketing organization (DMO) for all of Wake County.
Comments