Coronavirus Briefing from April 2, 2020
Friday, April 03, 2020, 3pm by visitRaleigh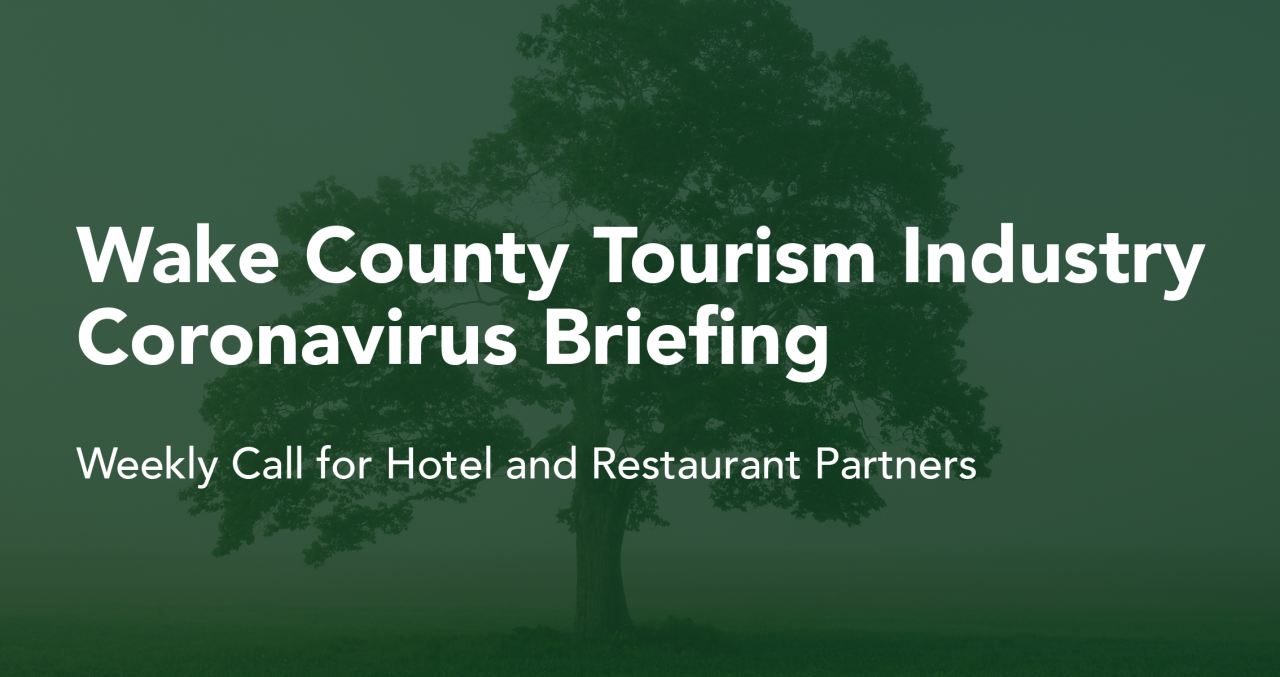 Leaders in the hospitality sector and local community are hosting weekly conference calls with updates related to the COVID-19 crisis. Here is a summary of the call from Thurs., April 2, 2020 (or if you prefer to listen to the full recording, please find it here)... 

First, Dennis Edwards, president and CEO of GRCVB, reported area hotel performance numbers for the week of March 22-28, 2020. Occupancy was 26.4%, a decrease of 66.5% from the same week last year; the average daily rate was $69.58, down 36.1% from the same week last year.

Updates from others on the call...

Lynn Minges, president and CEO, North Carolina Restaurant and Lodging Association (NCRLA)
The NCRLA team has been working to understand the details of the complex, $2.2-trillion relief package passed by Congress on March 27, 2020, and how they apply to N.C. hospitality workers.
NCRLA staff has been in conversation every day with members of N.C.'s legislature. Lynn testified electronically to a House committee last week about the scale and scope of the impacts of COVID-19 and advocated for relief.
The NCRLA team sent a list of recommended action items to the legislature including deferment of tax payments; to see the full list, click here.
In some cases, insurance carriers are not covering COVID-19 losses, and NCRLA is working with policy-makers to call for amended coverage.
In late March, NCRLA launched the N.C. Restaurant Workers Relief Fund, which garnered 15,000 applications; the fund has raised $500,000 through corporations and grants but still needs an additional $7.5 million to meet the demand.
For more updates from NCRLA, go to their COVID-19 website: https://ncrla-covid-19.org.

Chris Dillon, assistant county manager for Wake County
The Emergency Operations Center continues to be open and fully-staffed.
The team is preparing for an increase in cases in the next three to four weeks.
They have been working with two area hotels to house COVID-19 and other at-risk patients.
The three area hospitals are preparing for surge capacities. Chris reported that here, as well as around the country, there is an acute need for personal protective equipment. They are also taking steps to prepare for mass mortality planning.
He reiterated the county is planning for a quick and solid recovery.
The dedicated number for business owners to call with questions is 919.856.7420.

Rafael Baptista, MPA, senior manager, community economic development, City of Raleigh
The Raleigh City Council will conduct a virtual council meeting on Tues., April 7; members of the public may sign up to watch the session here.
The City will be hosting a webinar in the next few days for renters and landlords to help them come to mutually beneficial agreements about use of rental properties. Be watching this page for details.

Jennifer Martin, executive director, Greater Raleigh Merchants Association/Shop Local Raleigh 
Jennifer's organization has added a shopping cart option to its website to allow local business owners to sell merchandise and services online. For more information, go to https://shoplocalraleigh.org/promote/shop-local-raleigh-merchandise/.
Shop Local Raleigh has been publishing social media stories about local business owners, to try to connect the community to the people behind the businesses.
They are also trying to help businesses find ways to trim their expenses during this time (e.g., pause cable TV services, cut Internet bandwidth, lower workmen's comp coverage).
The team has been working with media outlets to encourage local businesses to make donations of needed supplies (e.g., gloves and masks from spas and salons) to area hospitals.
The organization has waived its membership fee for the time being, and all businesses may participate in these services as long as they are locally owned/independent.
The next weekly Wake County Tourism Industry Coronavirus Briefing is scheduled for Thurs., April 9, 2020, at 1:30pm.

Author: visitRaleigh
The Greater Raleigh Convention and Visitors Bureau (GRCVB) is the official and accredited destination marketing organization (DMO) for all of Wake County.
Comments