Farewell, Scott Peacock
Friday, October 01, 2021, 9am by visitRaleigh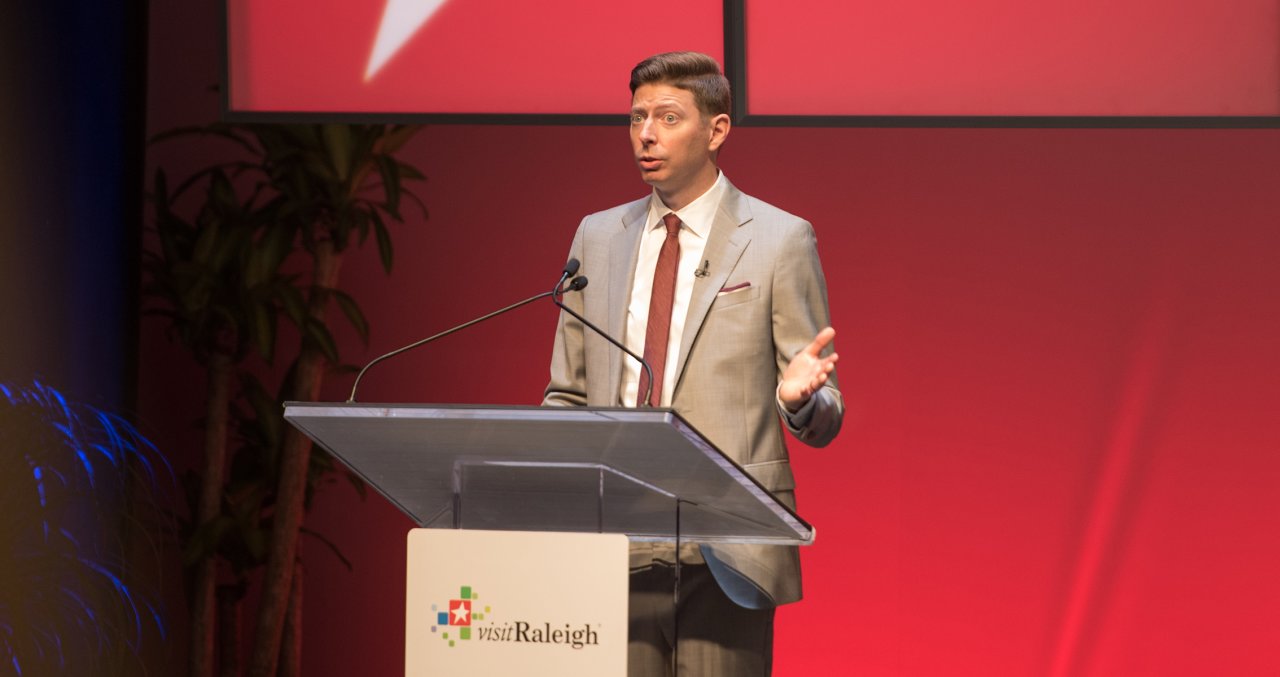 Many of you are acquainted with Scott Peacock, who has served as GRCVB's director of public relations and international tourism since 2016. Scott is a consummate professional and has helped the Bureau and all of its partners achieve greater levels of recognition through his work with the media as well as given definition to an international marketing strategy for Raleigh/Wake County. He's moving on to other pastures (his last day is this Wed., Oct. 6, 2021), so we asked him to reflect on his professional life and his years at the Bureau.

In a couple of paragraphs tell us about your professional background and how you got to GRCVB.
I knew I wanted to work in the tourism and hospitality sector ever since I was in high school. So in college at the University of Northern Iowa, I minored in tourism, took internships within the tourism and sports industries and attended the state tourism conference as a student.
I then spent the first few years of my career working as an account executive in several different marketing and PR agencies before landing my first job at a destination organization (Experience Columbus) working in public relations. I've had the pleasure of working at four destination organizations in my career, Experience Columbus, Destination Cleveland, Visit North Carolina and Visit Raleigh.
I was recruited by the GRCVB not only to oversee the development and implementation of the organization's public relations strategies but also to develop the organization's promotion of Raleigh, N.C., as a destination in key international markets including the U.K., France and Canada.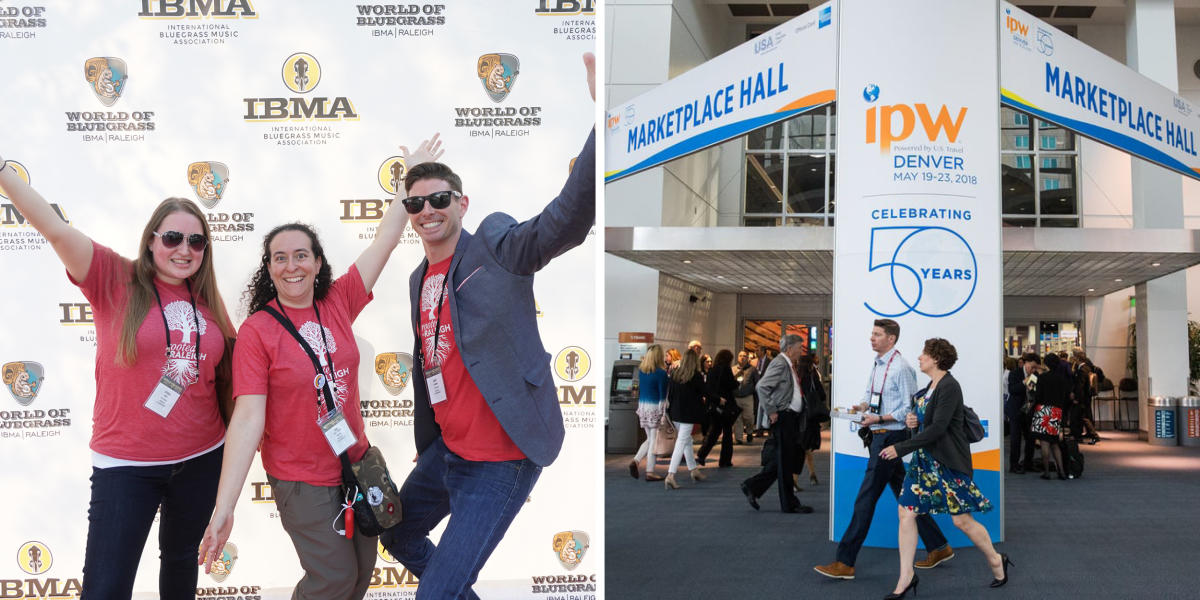 What were three or four highlights of your time at the GRCVB? 
Being able to attend the 2019 James Beard Awards in Chicago with so many others from our culinary community and be there to see Ashley Christensen win Outstanding Chef and celebrate her success and that of our culinary community as a whole.
Getting Raleigh on some very high-profile lists including: 
---
If you would like to see the latest media coverage Scott and his team have generated, click here.
---
Planning Raleigh-specific sales and marketing events with local partners in our emerging European markets, such as:
promoting IBMA Bluegrass Live! and our local music scene at the Cambridge Folk Festival in England;
entertaining clients and media at Wimbledon;
holding a reception with staff members from Wake County Economic Development and the Economic Development Partnership of North Carolina at the U.S. Embassy in London; and
bringing Ashley Christensen to Paris to hold a client and media event hosted by Renee and John Grisham (an evening I will truly never forget).
What are you most proud of regarding your work at GRCVB?
Elevating the area's profile as a national and international destination.
Expanding the Bureau's role in broader economic development initiatives and helping to bring companies into the area and existing companies to expand and grow here.
Helping to raise Raleigh's culinary scene to the level it is today, one of high regard and sought-out nationwide. We have some of the most talented, passionate and kind souls in this area working in our restaurants and bars. I've enjoyed nothing more than being able to get to know them, help tell their stories and help them garner the attention they rightfully deserve.
Getting our media and residents to understand the value that the travel and tourism industry brings to the community. The pandemic has gifted us with a spotlight we couldn't have bought otherwise. And I firmly believe we took full advantage of it to show the breadth of the employment within our community, the impact we have on other industries and businesses and the value we bring to quality of place and quality of life for all residents. If people in the area didn't understand or appreciate tourism before the pandemic hit, they certainly do now, and I'm very proud of how we seized that opportunity to help our partners within the industry get their due credit.
Describe this new opportunity for you and what was appealing about it?
I'm going to be leaving the tourism industry to join the tech world as senior manager of Integrated Marketing at Bandwidth.
As a leading global enterprise communications company headquartered here in Raleigh, Bandwidth provides cloud-ready voice, messaging and emergency service connectivity for companies. Their technology powers brands like Google, Microsoft, Cisco, Zoom, RingCentral, Uber, GoDaddy, Arlo, Netgear, Rover and many more. 
I've been wanting to oversee the marketing functions of an organization for quite some time now. In my new role at Bandwidth, I get to do just that. I'll be leading a team focused on developing and executing integrated marketing campaigns for the company's SaaS (software as a service) and Apps-based product offerings. The company is expanding rapidly, adding more than 1,000 jobs and is building a new headquarters campus near the fairgrounds. It's won numerous awards as a best place to work including from the Triangle Business Journal and N.C. Tech Awards in the past year. So I'm excited to be "joining the band," as they say, and looking forward to this next adventure in my career.

What advice would you leave with our hospitality partners about working with the media?
PR may be shorthand for "public relations," but the key to being successful when working with the media is "patience and relationships."
You must be patient in your outreach and follow-up. The media are increasingly busy these days, having to turn in more stories in less time, and thus their bandwidth to read emails and hear story ideas is limited. Don't be afraid to follow up, give yourself enough lead time that you can ping them a few times if need be, and don't reach out to them with last-minute notices.
You also must build relationships with them in order to truly be successful. If you don't know them, then read their stories and coverage and get a feel for how they write or produce pieces. If you see writers you like, consider reaching out to them first just to let them know you really liked their story on XYZ and most importantly tell them why you liked it. Don't pitch them at first, just be an appreciative consumer of their content. 
And once you get the chance to work with them, over-deliver. Be very quick to respond and proactive in anticipating their needs. Get to know them a bit and find ways to relate to them, and most importantly, let them know how grateful you are for the coverage once it runs. Be sure to amplify it through your social media channels, emails, etc. The more you can do to get eyeballs and clicks on a story they create, the more you make them look good and you form a symbiotic relationship. And that is the key to future success.
If you would like to send messages of congratulations or appreciation to Scott this week, send them to speacock@visitRaleigh.com.

Author: visitRaleigh
The Greater Raleigh Convention and Visitors Bureau (GRCVB) is the official and accredited destination marketing organization (DMO) for all of Wake County.
Comments