Promoting Raleigh, N.C., Overseas
Friday, November 01, 2019, 3pm by Scott Peacock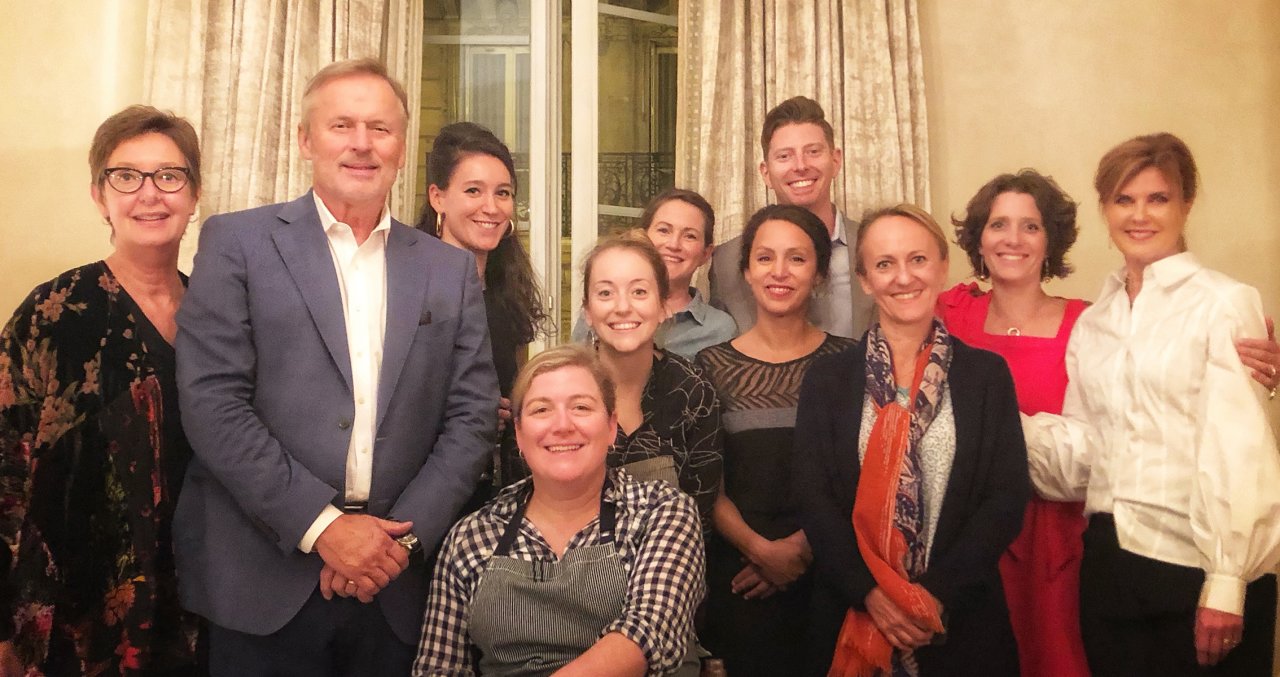 As we speak about the impact tourism has on broader economic development for our region, that notion is no more evident than in our international tourism efforts.
That said, in early October I spent a week overseas for a series of events in Paris and London in support of our nonstop flights to RDU from those respective cities/countries and to support broader economic development initiatives throughout Wake County and the state.
Beginning in Paris
The week started with an evening reception in Paris in partnership with the state tourism office, Visit North Carolina, to celebrate Raleigh's own Ashley Christensen winning the James Beard Foundation's 2019 Outstanding Chef Award.

Delta Air Lines has already upgraded the aircraft used for the Paris flight since launching the nonstop route in 2016, but we also wanted to highlight new culinary enhancements recently made, including welcome drinks to all passenger levels and more à-la-carte food choices for economy passengers. Did you know that France is our seventh-largest overseas market with more than 17,000 visitors arriving in N.C. annually?
We invited a select group of 25 attendees including some of the top culinary and travel journalists in Paris, tour operators and Delta representatives. The event was hosted by American author John Grisham and his wife, Renee, a Raleigh native, at their Paris apartment, making it even more special for those in attendance.
Ashley and her team prepared a delicious menu highlighting her take on some classic French dishes, and we ended the evening by bringing out the famous macaroni au gratin from Poole's Diner. We served the food alongside some of Aviator Brewing Company's beers, as they have distribution in France, and it gave us an opportunity to showcase the craft beer scene in Wake County as well.
In addition to the food, drinks and great conversation, each attendee also left with a Raleigh Denim-brand tote filled with a signed copy of Ashley's cookbook, Poole's: Recipes and Stories from a Modern Diner, and Videri chocolates to showcase our artisan chocolate scene. We also gave away an OG Remix Bag, which was a partnership between Raleigh Denim Workshop and like-minded French handbag manufacturer Bleu de Chauffe, showcasing the retail manufacturing and design connection between the two areas.
On to London
From there we headed to London along with Visit North Carolina to have a series of meetings with travel and culinary writers, some travel trade press and to host an event at the U.S. Embassy in conjunction with Wake County Economic Development (WCED), the Economic Development Partnership of North Carolina (EDPNC), the Town of Holly Springs and several area businesses.
While there we met with 11 London-based journalists and have secured interest from at least six of them in coming over to Raleigh/Wake County for a press trip/visit in 2020, which sets us up nicely to build off momentum we've gained in the U.K. market since launching our Bureau's international tourism efforts two years ago. Did you know the U.K. is our number-one overseas market for visitation, with more than 72,000 visitors arriving in N.C. annually?
The other half our trip to London focused on showcasing tourism's ability to turn "tourists into talent" and help drive broader economic development for our region.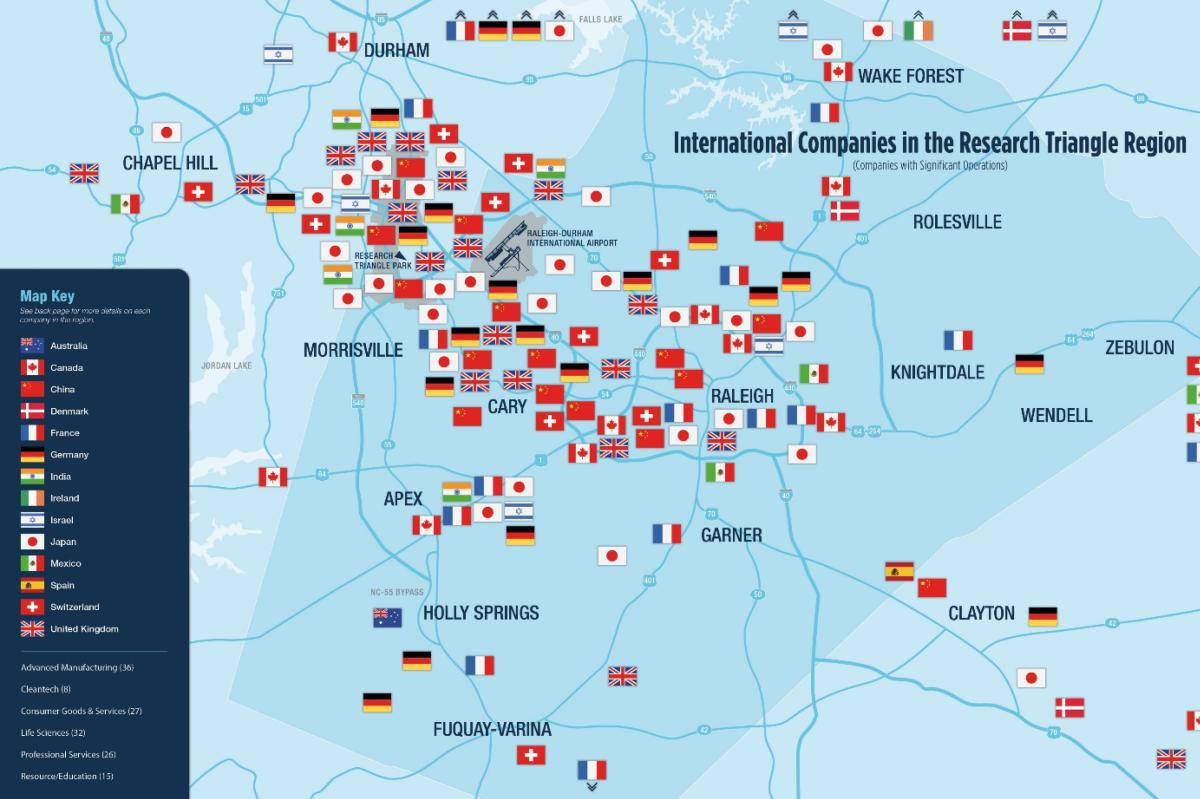 Were you aware the Research Triangle Region is home to more than 700 foreign-owned companies encompassing every industry from healthcare to banking, IT and manufacturing? The map above, provided by WCED, showcases how important foreign direct investment is to our economy. In addition, many locally-owned companies also do business and/or have offices overseas. Knowing there are around a dozen U.K.-owned companies in our region and that WCED's target industries for growth are life sciences, advanced manufacturing, IT and technology, cleantech and smart grid, the U.K. is a significant market of interest.
We were excited to join with other area partners including EDPNC, North Carolina Biotechnology Center, the Research Triangle Regional Partnership and the Town of Holly Springs, all of whom were also in France and the U.K. at the same time on a foreign direct investment mission. Together we met with the U.S. Embassy in London, including minister-counselor for commercial affairs Rosemary Gallant and her team, to discuss N.C., Wake County, our tourism and economic development assets and opportunities for partnership with the U.K.
Then we hosted a networking reception at the embassy in London for 40 business, government and industry representatives. We met with companies which already had ties to the Triangle, like Raleigh's own Pendo and newcomer to our market, U.K.-based Ten10 Engineering. We also talked with U.K. life science firms that are exploring the U.S. market, and they were excited to hear of our strategic advantages on the East Coast.
The goal of this reception was threefold: to allow these companies to network and find ways to work together and enhance relationships; to discuss Wake County's strategic advantages on the East Coast; and to share ways tourism can help drive talent attraction initiatives for these companies and others.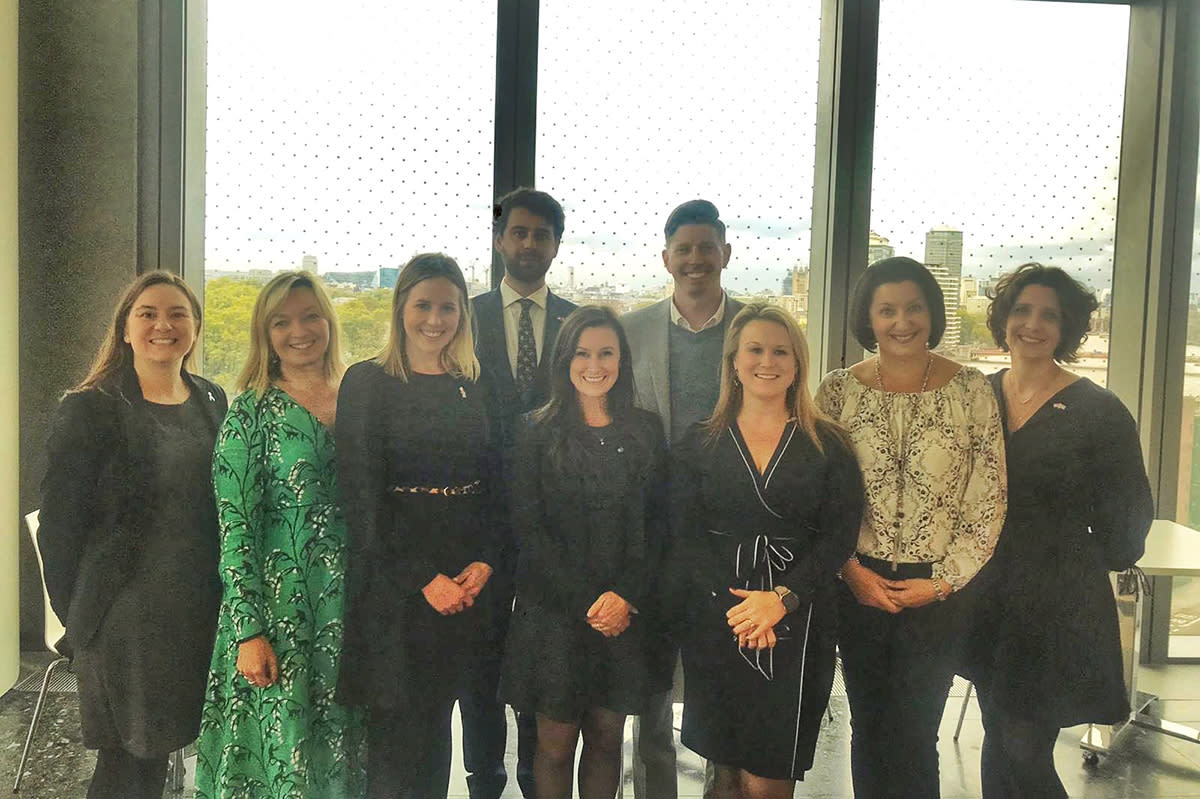 This might have been the first time we've partnered with WCED on an economic development initiative overseas, but it certainly won't be the last, as it's a huge part of our strategy to grow international tourism in Wake County.
If you'd like to read more about WCED and their recent mission to France and the U.K., click here.
Author: Scott Peacock
As the director of public relations & international tourism for GRCVB, Scott leads the Bureau's efforts to create awareness of Raleigh, N.C., as a premier leisure travel, group, meeting and sporting event destination in the southeast U.S., through targeted public relations as well as international tourism sales and marketing strategies.
Comments