Visitor Math: From + Where + What
Sunday, March 04, 2018, 9pm by Jonathan Freeze, CDME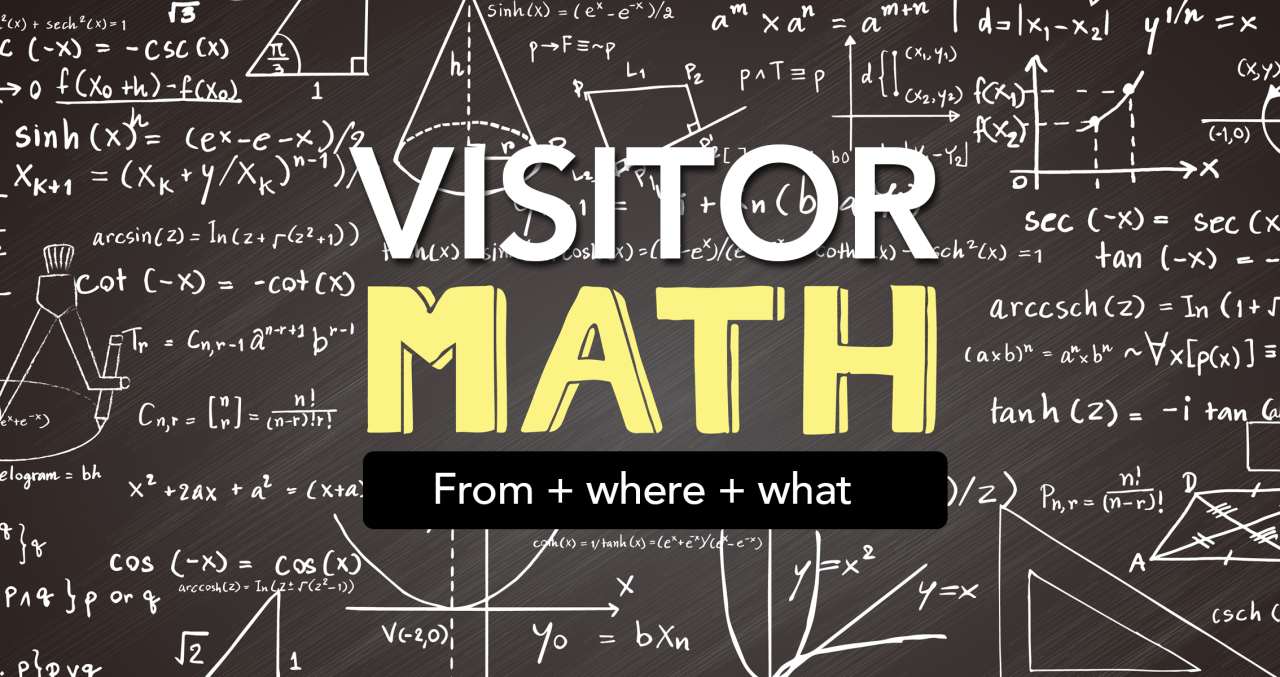 In follow-up to past posts featuring GRCVB's tourism research, let's delve even more into the makeup of the average visitor to Raleigh/Wake County. Today's stats give us insights into how we can optimize promotions to the area's overnight visitors, including cooperative marketing approaches that our area attractions, lodging partners and even resident stakeholders can take alongside GRCVB.
Where are they coming from?
Wake County's overnight visitors arrive from an average of 274 miles away (by car) or 684 miles away (by plane). While 15 percent of the area's overnight visitors travel by air, some 84 percent drive a personal or rental vehicle. For context, a drive of 274 miles is approximately from the outskirts of Washington, D.C., to Raleigh; a flight of similar proportions to the average is from St. Louis, Mo., to RDU (667 miles). The average overnight visitor stayed 2.47 nights in calendar year 2016.
In addition to our primary role in helping the overnight visitor book the most ideal lodging, the stats also allow us to readily put ourselves in the shoes of a traveler arriving here from these average distances. For instance, how much would you know about making your way to or around St. Louis without consulting Google and St. Louis area websites? When planning a trip, would you consult the St. Louis official tourism site (e.g., CVB website)? If you didn't know about the CVB industry at all, would you be able to find the CVB's site easily from other St. Louis-based websites, such as your prospective hotel's website?
As a result of thinking through the customer/visitor decision-making process, GRCVB invests significantly in advertising visitRaleigh.com, in search engine optimization and in search engine marketing tactics. Area partners also can help by augmenting their sites with information from a visitor's perspective and by linking back to the official tourism site to help their patrons find nearby restaurants, hotels and more.
Where are they staying?
Around 57 percent of Raleigh area overnight visitors stay in our hotels (and 34 percent stay for free in friends' or relatives' homes), but nine percent stay elsewhere… think of short-term rentals, like Airbnb lodging. This latter portion continues to grow year-over-year, and last fiscal year, this amounted to almost 72,500 Airbnb room-nights in Wake County. (By comparison, downtown Raleigh hotel bookings amount to approximately 300,000 room-nights per year.)
As short-term rentals become more popular (and are taxed similarly to area hotel rooms), how can Airbnb and other area hosts of overnight visitors provide increased levels of customer/visitor service? Are Raleigh/Wake County Airbnb hosts aware of GRCVB's official visitor info and services? Are they interested in receiving similar types of customer service trainings as those taken by our formal hospitality sector employees, such as through our Guest Service Gold® initiative? These are questions that the destination marketing industry and GRCVB are asking, as we seek to increase destination satisfaction, preference and repeat business from all visitor types.
What are they doing?
Finally, during the average 2.47-night stay, what do Raleigh area overnight visitors do? The most popular activities are: visiting friends and relatives (29 percent), culinary/dining experiences (20 percent) and shopping (19 percent). Raleigh area overnight visitors also have a much higher propensity to participate in the following activities than travelers to the average U.S. place: biking, playing tennis, attending a wedding and attending a boat/car/home show.
The latter activities may speak as much to the type of destination we are as to the types of travelers we usually draw here. (It certainly helps that the Raleigh Convention Center and other major meeting facilities in the area host excellent, annual consumer shows or expos.) Based on stats like these, though, GRCVB has adjusted the new visitRaleigh.com and is adjusting future business plans to reconsider destination marketing sales and services with regard to our area as a weddings market. Certainly the Raleigh area also has nationally well-known recreational amenities/parks, trails and sports facilities, and the CVB and these attractions can partner more together to grow the emerging interests of visitors to bike here etc.
Consultants working on the new Destination Strategic Plan (DSP) for Wake County (to be completed by Aug. 2018) have absorbed these tourism research findings and also have conducted their own research projects and surveys since the DSP project began last year. The DSP itself will add together all the area visitor math and outline a solution to optimize countywide visitation and solve many destination marketing dilemmas for years to come!

Author: Jonathan Freeze, CDME
Jonathan Freeze, CDME, has built a career in the marketing of places, leading the Greater Raleigh CVB's marketing efforts since 2008. Though a firm believer in the science of marketing, Jonathan also began his career as a writer and creative wordsmith. Recently he contributed an award-winning chapter recounting destination stewardship work in Raleigh to the book Tourism Microentrepreneurship (Emerald Publishing). Learn more
Comments