Meet Jessica Holt, GRCVB's New Director of Public Relations and International Tourism
Friday, December 10, 2021, 1pm by visitRaleigh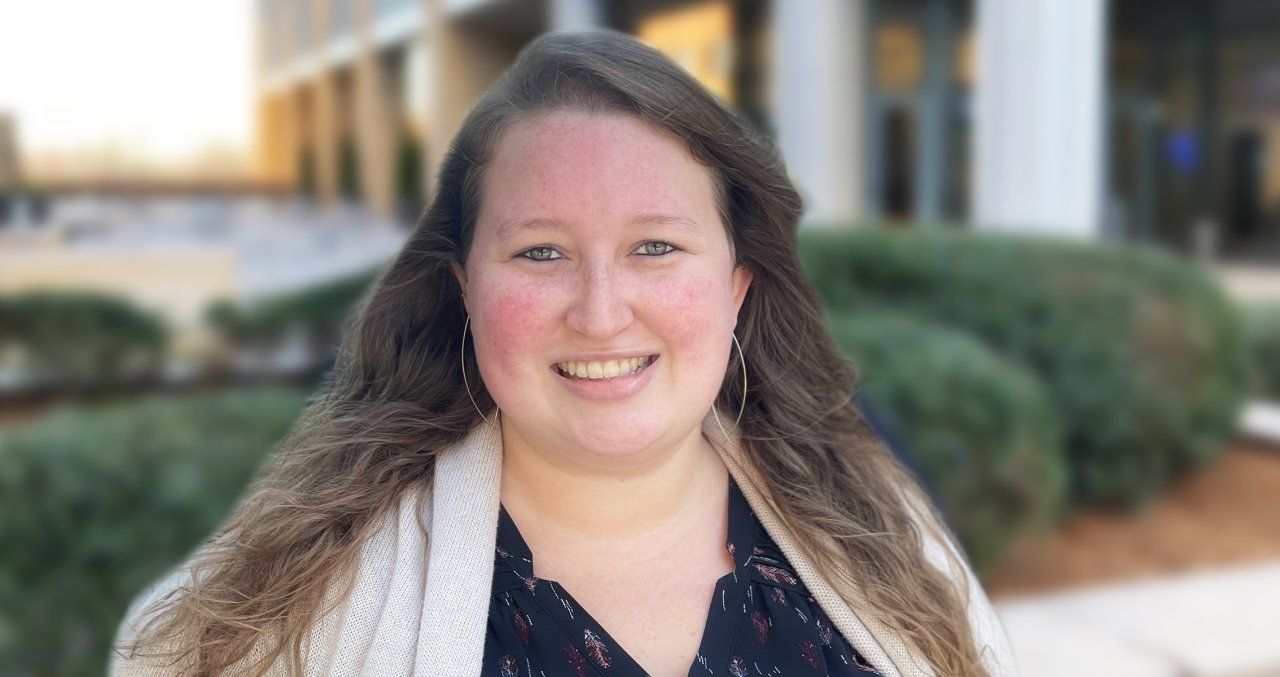 For many of you, this will be a reintroduction to Jessica because you already know her from her eight years at GRCVB.

Jessica Holt was recently promoted from a manager role to director of GRCVB's Public Relations and International Tourism Department. She's a shining example of a crop of bright, young professionals working at the Bureau (and one of the 10 graduates of N.C. State's Parks, Recreation and Tourism Management program we told you about recently). We asked her to tell you more about her background and her vision for this new role.

Tell us about your education and professional background (including your employment path at GRCVB).
I graduated from N.C. State University with a degree in public and interpersonal communication and a minor in parks, recreation and tourism management. During and after college I worked in retail sales but had a strong desire to work in tourism or athletics.
In 2013, I was hired as a marketing coordinator at GRCVB. Since then, I have been promoted to the assistant marketing manager role and then transitioned to the Public Relations and International Tourism Department in 2017. After four-plus years as the manager, I was promoted into my current position as director of public relations and international tourism.
What is it about the tourism industry in general that appeals to you?
My love of travel is what first attracted me to the tourism industry. As a child my family traveled all along the East Coast, and after my first trip abroad in high school, I knew I wanted to visit as many places as possible to see and experience various cultures and communities. The tourism industry has been exceedingly welcoming. It continues to open my eyes to new possibilities and allows me to travel more while still promoting the city I love and call home.
---
---
When you are working with the media, what aspect of Raleigh, N.C., as a destination is the easiest to talk about? What's the most challenging (i.e., do media ever ask questions that are hard to answer)?
The culinary and drinks scene is the easiest for me to talk about with media because of the abundance and diversity of dining options we have in the Raleigh area. As a foodie myself with a personal love of craft beer, I tend to nerd-out about the variety of cuisines and large selection of breweries the city has to offer. Our talented and passionate chefs and brewers make the city a food or beer aficionado's dream.
The most challenging aspect of pitching Raleigh to media is narrowing down what to highlight when someone asks, "So what is there to do in Raleigh?" The plethora of avenues to go down in response to that question can be overwhelming. That's where background knowledge of the publication, familiarity with recent articles by the journalist or simply asking questions to better get to know them comes into play.

What are your long-term goals for international tourism? What are your goals for the next year?
Long-term I hope Raleigh becomes known as an international hub for the East Coast. Our excellent location makes a great entry and exit point to the United States and a dynamic area for innovation, technology and culinary growth. In the short-term over the next year, we will hopefully resume our daily nonstop flights from London and Paris and add on international destinations to the already exceptional lineup at RDU International Airport.
How can our partners come up alongside you and make relationships with the media better?
Partners can assist our media relations efforts by working with our Public Relations Department to pitch journalists and assist us in bringing them to town. That may include hosting journalists at your hotels, restaurants, attractions, providing a tour or simply taking a few minutes to meet the journalist while they are in town. PR is just as much about public relations as it is partner relations, and our department works hard to build relationships with both media and our area partners to make everyone more successful.

In your judgment, what three Raleigh-related news hooks are the media most interested in right now?
Right now, media are most interested in our new boutique and independent hotels in downtown Raleigh, the upcoming "Dueling Dinosaurs" exhibit at the N.C. Museum of Natural Sciences and new additions to our award-winning culinary scene.
The opening of new properties like Heights House Hotel and Origin Raleigh, among others, has elevated the downtown lodging options and made media more excited to talk about our unique hotels downtown.
The "Dueling Dinosaurs" exhibit has fascinated both residents and media since its announcement. I look forward to pitching that exhibit more as it comes to fruition and the DinoLab nears completion.
Finally, media are always eager to hear more about our already top-notch culinary and dining scene in Raleigh. New properties popping up, like Young Hearts Distilling, BB's Crispy Chicken and Sam Jones BBQ Raleigh, along with many others, always provide new and exciting tidbits to share with media both domestically and internationally.
What are you most looking forward to in your new role?
I'm looking forward to the opportunity to continue to build awareness of Raleigh to media and journalists and growing our community engagement strategy with partners and residents. In this new role I will also have the chance to work more closely with international trade and media to change expectations of Raleigh as an unknown or smaller southern city to an international gateway city full of passionate people and impressive offerings.

Author: visitRaleigh
The Greater Raleigh Convention and Visitors Bureau (GRCVB) is the official and accredited destination marketing organization (DMO) for all of Wake County.
Comments