What Raleigh Convention Center Staff Learned from LEAD®
Friday, September 09, 2022, 12pm by visitRaleigh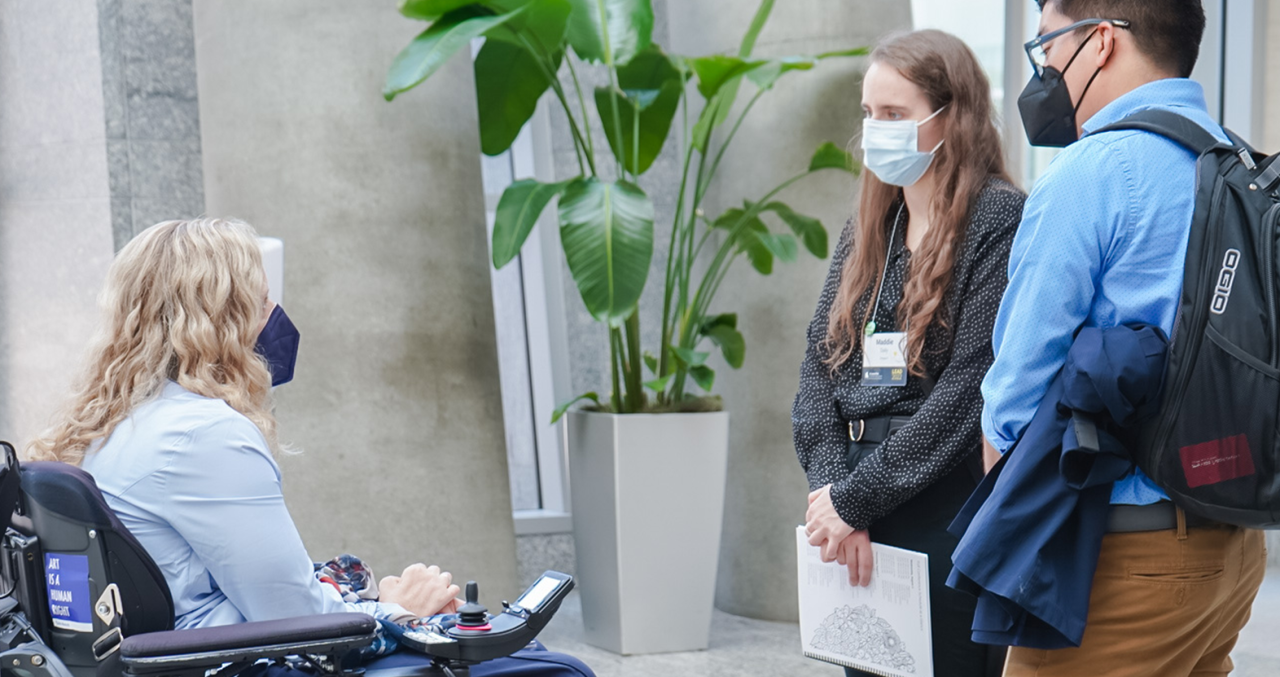 In early Aug. 2022, the Raleigh Convention Center and downtown Raleigh hosted The Kennedy Center's Leadership Exchange in Arts and Disability (LEAD®) conference. The event brought several hundred leaders from around the country and parts of the world to Raleigh to talk about and work on ways to make the arts and other attractions accessible to all.

We asked the Raleigh Convention Center staff, who was closely involved in planning and executing this unique event alongside GRCVB staff, for any lessons learned. Their responses are below.

What lessons did we learn from this event?
The biggest lesson has been that we don't know what we don't know. There's been a level of humility required by us throughout this process because we have had to unlearn and challenge what we thought we knew about what it means to be truly accessible. We quickly saw that accessibility was not something "in addition" to our daily operations or items on an amenity list; it should be baked into everything we do. And, as a part of that, we had to come to terms with the fact that, despite our well-intentioned efforts, we were not creating an environment that was fully inclusive.
Because inclusivity and accessibility do not exist in a vacuum, these efforts required a high level of buy-in from all leaders and staff in our organization because everything—from assistive listening devices to wheelchairs to signage to areas of refuge—required support from each and every one of our teams. Our staff has been incredibly responsive and willing to own their part of deploying more inclusive practices and policies. Instead of defensiveness, we've been met with an excitement and commitment to do better.
Growth and curiosity require vulnerability, as does putting yourself in someone else's shoes. We're fortunate that we were able to work with communities of accessibility experts (including those who identify as having a disability) in preparation for LEAD®. These experts held our hand and answered our questions, no matter how obvious the answers may have seemed to those already immersed in accessibility services.
We had never heard the phrase "Nothing About Us, Without Us!" until we started this work, and that sentiment now guides our work. We've worked with numerous individuals who have disabilities or employ staff with disabilities to ensure that we were getting it right, including accessibility services coordinators for one of our major annual events. Raleigh Arts created the conduit for us to learn from local and industry leaders like Sina Bahram of Prime Access Consulting, Arts Access Inc. and local digital accessibility company Ablr.
We also learned that we had a wealth of resources in our backyard. Raleigh Arts organized most nearly all of the preparation for LEAD®, and they continue to serve as vocal advocates for accessibility at the city-level. We would not have been successful without their resources, leadership (S.A. Corrin is amazing!), established relationships with relevant organizations and sharing knowledge. We are very fortunate to be in a community-minded city like Raleigh where so many of these resources exist. Despite your location, we encourage everyone to step out of their comfort zone and seek out their own local experts and forge relationships with the communities you aim to serve. 
What are we as a hospitality community already doing right?
We're so fortunate to be able to draw on the many established local organizations that advocate and support the widespread adoption of accessibility practices, including our partners at the GRCVB with events like All Access Wake County. The hospitality industry in general is so focused on providing welcoming environments, and that, coupled with Raleigh's caring community-minded and innovative thinkers, has enabled us to move forward both quickly and intentionally.
It's been an easy sell to a community that is always striving to improve—we have buy-in from leaders at every level of organizations because hospitality and inclusivity are so much a part of one another. But, beyond that, creating inclusive environments is not just our job: it's the right thing to do.
What do we need to do better?
We learned that there were already so many individuals and groups working in this space that could help us move the needle forward for our facility. Imagine how many more spaces could be made inclusive if these resources were more well-known.
We found that having both a workgroup dedicated to these improvements as well as weekly or regularly scheduled meetings with these experts and advocates helped us stay intentional and focused on the tasks at hand. It also helped ensure that we weren't making assumptions or decisions on the behalf of those who have different lived experiences than us.
As many disability experts and advocates exist, there is a massive amount of literature, articles and studies that anyone can access for free. A simple Google search can go a long way. As is always the case with anything equity-related, we can't expect impacted, marginalized communities to do the heavy lift of educating others, especially without appropriate compensation.
Is the convention center implementing any new policies or procedures because of what we learned from LEAD®?
Together with our events and IT teams, we have created a policy around assisted listening devices. We knew that our facility had these devices, but there was no concrete process to implement them. Now, we can be confident that if attendees requests them, we can handle the request smoothly and without inconveniencing the requestor.
We worked with our security team to update and refine our security and safety planning.
The convention center now has a service dog relief area and service-animal water bowls.
While we are one of only six convention centers in the U.S. that is KultureCity-certified, we decided to expand KultureCity's accessibility training to our third-party security staff to ensure a consistent and comfortable experience for all attendees.
After reviewing our mobility aid inventory, we ordered more wheelchairs to accommodate more users of all sizes.
For the first time, director Betty Siegel of the Office of Accessibility and VSA for The Kennedy Center conducted incredible staff trainings for us. We were lucky to get two trainings: one specific to managerial staff and another for frontline employees. These trainings occurred right before LEAD® so that we could provide the highest level of service to our attendees. We are excited to host similar trainings in the future.
What can other hospitality partners in the area do to improve our services to people with disabilities?
"Nothing About Us, Without Us!" inclusion starts at the ground level. Engage those from the communities you seek to serve; don't make assumptions on their behalf. They know what they need.
Talk to your organization's accessibility coordinator or, if you don't have one, locate one from an adjacent organization or city to get started or to expand your offerings.
The Kennedy Center's Office of Accessibility and VSA has been an incredible resource for us. If you are in the arts and culture space, their website is loaded with ways to start moving forward.
Are there any resources that you learned about that would be helpful to partners?

Author: visitRaleigh
The Greater Raleigh Convention and Visitors Bureau (GRCVB) is the official and accredited destination marketing organization (DMO) for all of Wake County.
Comments