12 Tasty Picks for Triangle Restaurant Week in Raleigh, N.C.: January 20-26
Friday, January 17, 2020, 11am by Tabletop Media Group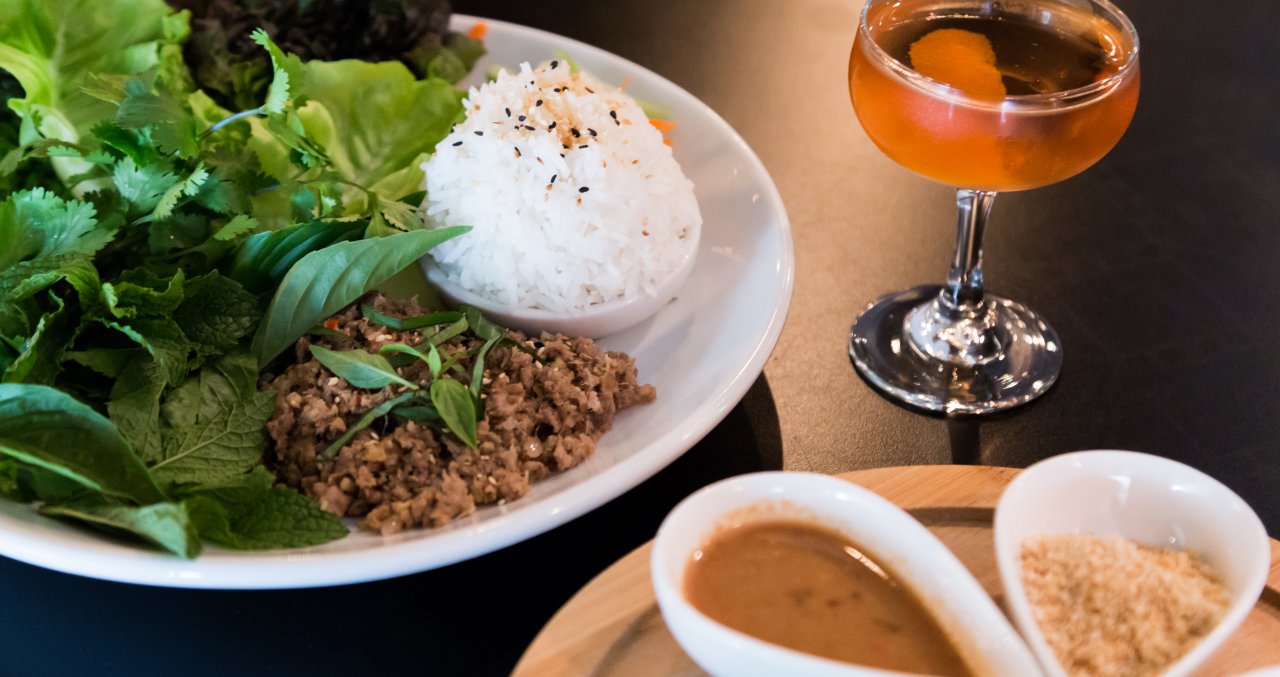 It's a great time to be a foodie in Raleigh, N.C.!
Chef Ashley Christensen was named America's best chef by the James Beard Foundation (and has a new fried chicken concept on the way); Herons at The Umstead Hotel and Spa was named one of the country's best restaurants; Brewery Bhavana—the brewery, bookstore, flower shop and dim sum restaurant—ranks among the world's most beautiful breweries (and previously was hailed as one of the best new restaurants in the U.S.).
With a constantly-evolving restaurant scene that's redefining and re-imagining both Southern cooking and global flavors, there is so much waiting to be discovered on your next visit! That's why Triangle Restaurant Week (TRW) is the perfect time to be in the Raleigh area.
TRW—slated for Jan. 20-26—is a celebration of culinary excellence highlighting the premier Raleigh, Cary, Apex, Morrisville and surrounding area restaurants.
During TRW, participating restaurants offer special, three-course menu options at fixed pricing—$15 for a three-course lunch, and $20, $25, $30 or $35 for a three-course dinner. Price is per person and does not include beverages, tax or gratuity. More than 60 Raleigh area eateries will be offering these specials—that's a lot of food to choose from!
Below we've rounded up 12 area restaurants participating in this year's week-long event that we think you'll love—see the full list here to help plan a fun date night out or lunch with friends!
Note: the photos below are indicative of the deliciousness you'll find at these restaurants on an everyday basis, but you won't necessarily find these items on their special TRW menus.
kō•än's inventive Southeast Asian-inspired menu features unique, uncommon dishes influenced by Chef Drew Smith's travels to the region that are as beautiful as they are delicious. Smith's TRW dinner menu will be no different, as it highlights items including seared monkfish, yaki udon and Lomi Lomi, a salmon and tomato salad with coconut marinated salmon, cilantro, lime and rice crackers.
Papa Shogun
After reinventing the space and menu this past winter, Papa Shogun's chef Tom Cuomo released a new seven-course dinner offering that allows guests to taste their way through all facets of Cuomo's excellent Italian-Japanese fusion style of cooking. During TRW, expect to dine on even more of Cuomo's one-of-a-kind dishes through a "choose-your-own-adventure" tasting menu paired with wine (for an additional fee). Menu options include the crowd-favorite fresh pulled mozzarella with kombu garlic bread, a fusion ramen and Italian wedding soup and black sesame cake with raisins and pine nuts for a sweet finish.
Garland
Chef Cheetie Kumar's Indian and Asian-influenced menu at Garland is the result of the techniques and preparations she learned from her family's culinary heritage and the various foods and flavors she was exposed to growing up in New York, complemented with local Southern ingredients. During TRW, you'll find innovative dishes like crispy rice papdi chaat, honey-date glazed pork belly and butter chicken croquettes on the menu. After dinner, head upstairs to KINGS—a locally-loved live music and entertainment venue—or downstairs to Neptunes Parlour, an underground cocktail spot (both of which Kumar co-owns as well).
During any big game day, Carolina Ale House's downtown Raleigh location is the place to be. The friendly neighborhood sports bar is best known for its number of TVs, drink specials and extensive food menu that caters to all taste buds. Come in during TRW at lunchtime to try the meatball grinder or Cuban sandwich, or at dinner for the Southwest chicken and warm doughnut holes with cinnamon sugar, and you'll score big time.
Step into Coquette, and you'll instantly be transported from North Hills to Paris with the French bistro's black and white tiled floors, red leather banquettes and delightful light-strewn patio. Add a glass of red wine paired with potato croquettes, chicken paillard or beef tartare from the TRW menu, and you'll never want to leave.
There's nothing quite as comforting as a big bowl of pasta, especially when it's prepared by a true Italian. At Vic's, owner Mario Longo Sr.—who hails from Southern Italy—and his sons Mario Jr. and Michael and daughter Mia, produce authentic old-world Italian cuisine. Enjoy menu items during TRW like eggplant rollatini, homemade gnocchi with shrimp and Mama Lucia's famous limoncello cake.
Taverna Agora's cozy, intimate atmosphere is much like the ones you'd find on the Greek islands, complete with white and blue checkerboard tablecloths, as well as greenery-filled trellises both inside and out. Find an exquisite menu of authentic Mediterranean dishes like chicken or souvlaki, moussaka, spanakopita and baklava cheesecake during TRW.
Born through a partnership between downtown Raleigh restaurateur and developer Greg Hatem and the Saleh family (owners of Neomonde and Sassool) Sitti is an elegant, Lebanese-focused restaurant. Dishes such as tabbouleh, baba ghanouj and fatteh are a tribute to grandmothers, or "sittis," who are in charge of teaching Lebanese culture, faith and food to their families. The TRW dinner menu boasts delicious options like curried lamb stew, beet hummus and pistachio cake.
Oak Steakhouse delivers a modern take on traditional American steakhouses, with a chef-driven menu by Chef Todd Woods that elegantly blends Carolina-grown ingredients with Certified Angus Beef selections and other offerings. Your only dilemma is choosing what cut of steak to order—a mouthwatering hanger steak, NY strip and ribeye are featured on the TRW menu—or opting for one of the Oak's delicious seafood or vegetarian options like lump crab oscar and farro piccoo risotto.
Irregardless has been a beloved institution since 1975 when it opened as Raleigh's first vegetarian restaurant, boasting a decadent menu of vegan, vegetarian and gluten-free meals made up of local produce. The popular brunch, lunch and dinner spot has since expanded its menu to include seafood, poultry, beef and lamb dishes in order to cater to all. Nightly live music performances round out the splendid experience, which can—and should—be enjoyed with a three-course all-vegan menu during TRW.
Jose and Sons provides a unique Mexican-American dining experience unlike no other in Raleigh. Enjoy chef Oscar Diaz's creative menu of tacos, chile rellenos, chicharrons and more within a vibrant, fun-loving space, and be sure to order a freshly made margarita along with your meal—you won't regret it! During TRW, enjoy three courses of bites from Chef Diaz and new pastry chef Marco Zapata.
The Renaissance Raleigh North Hills Hotel's upscale restaurant is a charming space to enjoy contemporary food and drink, whether you're staying for a weekend or for just a meal. On the TRW menu at 41Hundred you'll find delicious starters from executive chef Kevin Smith like seafood gumbo and brussels sprouts salad, accompanied by distinct offerings including sea bass with smoked fontina grits and al pastor pork belly tacos. For dessert, the blueberry cheesecake is a no-brainer!
More 2020 foodie events in Raleigh, N.C.
Krispy Kreme Challenge, Feb. 1, 2020
North Carolina 'Cuegrass Festival, tentatively April 18, 2020
French Market & Seafood Festival, tentatively April 18, 2020
Brewgaloo, April 24-25, 2020
Got to Be NC Festival, May 15-17, 2020
Raleigh's 5th Annual International Food Festival, June 6, 2020
Town of Cary's Pimento Cheese Festival, June 6, 2020
Downtown Raleigh Food Truck Rodeo, June 14, 2020
Peak City Pig Fest, June 19-20, 2020
Cary Downtown Chowdown, July 12, 2020
Beer, Bourbon & BBQ Festival, Aug. 7-8, 2020
Comments