14 Highly-Anticipated Restaurant Openings in Raleigh, N.C., in 2020
Tuesday, February 25, 2020, 1pm by visitRaleigh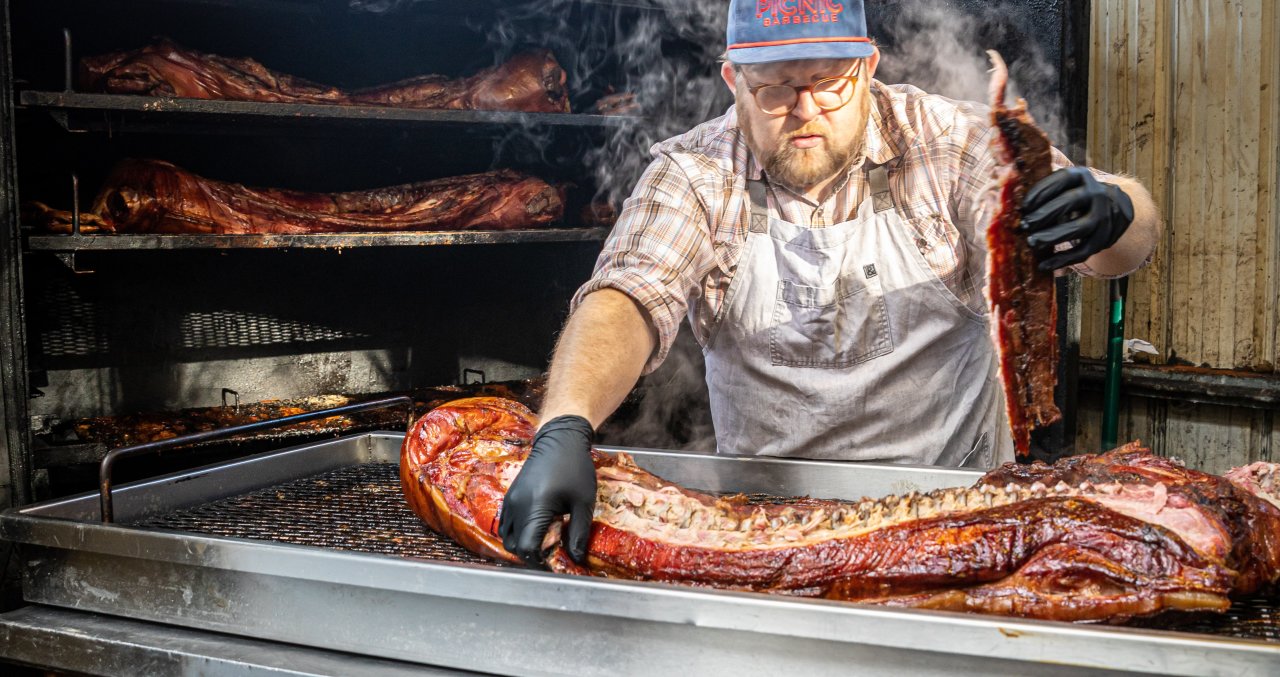 Fresh off the Raleigh area's best year ever for food, the restaurant scene has big plans again in 2020. Spoiler alert—it's going to be a BIG year for barbecue!
 
Wyatt's Whole Hog Barbecue
Folks went absolutely "ham" when it was announced that Wyatt Dickson, co-owner of popular local eatery PICNIC (and pictured in the header of this article), plans to open a barbecue spot in Raleigh. For Dickson, the chance to bring pastured, whole-hog barbecue to the City of Oaks has been the realization of a longtime goal of his.
What diners can expect from this new concept is a recreation of a classic pig pickin' indoors. Menu highlights include Eastern-style North Carolina barbecue sandwiches on bakery-fresh buns, South Carolina-style hash, house-made sausage, ribs, brisket and chicken. Coming soon to Raleigh's Gateway Plaza, the restaurant will feature visible wood-fired smokers, a spacious main dining room and a full-service bar with adult beverages and local beers on tap.
PRIME Barbecue
PRIME Barbecue brings together the flavors of Texas, North Carolina and Kansas City barbecue. Christopher Prieto, a champion pitmaster, self-proclaimed "barbecue nerd" and the mastermind behind PRIME Barbecue, broke ground on his first restaurant in Knightdale in May of 2018. Expect to find Prieto's award-winning brisket, ribs, pulled pork, sausages, banana pudding and more on the menu at this trip-worthy dining stop.
Anticipated opening: Early 2020
Follow on Instagram: @primebbq
Sam Jones BBQ
Sam Jones, renowned fourth-generation pitmaster and James Beard Award semifinalist, plans to open a second Sam Jones BBQ restaurant on Lenoir St. in downtown Raleigh. Jones, known for whole hog barbecue that's served with sweet coleslaw and a generous portion of cornbread, comes from a long line of family that knows Eastern-style barbecue. His family opened the famed Skylight Inn in Ayden, N.C., in 1947, and Jones opened his own restaurant just down the road in Winterville in 2015.
The Raleigh restaurant will sit just a few blocks from the Raleigh Convention Center, Dorothea Dix Park, Raleigh Union Station and other attractions near the heart of the city.
Anticipated opening: Spring 2020
Follow on Instagram: @samjonesbbq
BB's Crispy Chicken
Chef Ashley Christensen—operator of six downtown Raleigh eating and drinking spots and named America's best chef by the James Beard Foundation in 2019—has an exciting new fast-casual project in the works to once again raise the bar for the culinary scene in Raleigh, N.C. This time the focus is on that iconic Southern comfort food—fried chicken. Rumor has it that Christensen has perfected a new recipe that strikes a balance between a delightfully-crunchy exterior and a juicy, tender interior. She says that contrast plus the right seasoning and quality ingredients is what makes good fried chicken great.
Frankly, we can't wait to try it out. The Raleigh location will open its doors in the new Midtown East Shopping Center just off Wake Forest Rd., and a Cary location is expected to open late in the year.
Luang Prabang
Brother and sister Van and Vanvisa Nolintha have more than made their mark on the Raleigh culinary scene (Bida Manda and Brewery Bhavana are commonly thought of as two of the area's best restaurants), and their newest venture will certainly elevate them even further—literally and figuratively. With plans to sit atop the ninth floor of The Dillon in the heart of the Warehouse District, Luang Prabang will offer food inspired by the Laotian street vendors from the Nolinthas' childhoods as well as stunning views of downtown Raleigh.
Luang Prabang (pronounced LWAHNG prah-BAHNG) will feature a 5,000-square-foot dining room with a cocktail-driven bar and a kitchen fueled by a charcoal grill. Like all of the Nolintha's restaurants, this will be one you simply can't miss.
Di Fara Pizza
Di Fara Pizza will be a spin-off and the first East Coast location outside of New York City of the famous Di Farra Pizza in Brooklyn. Opened in 1965, The New Yorker, The New York Times, Zagat and the late chef Anthony Bourdain have all called the original Di Fara the best pizza in New York. It may not be Brooklyn, but this downtown Cary pizzeria will serve the same family-style, mouth-watering pizza as the original. Count us in!
Anticipated opening: Early 2020
Longleaf Swine at Transfer Co. Food Hall
At Transfer Co. Food Hall—the massive foodie attraction that opened in early 2019—Longleaf Swine is bringing all the smoked meat eats to their first brick-and-mortar location. From food trailer in 2016 to locally-loved 'cue truck—named for the state's signature pine—the partnership between Adam Cunningham and Marc Russell is taking it to the next level. The restaurant's menu plans to showcase smoked pork, ribs, brisket, sausages, homemade sides and more.
Kenny Gilbert's Cut & Gather
How about a new wood-fired, Southern-style cuisine concept from celebrity chef Kenny Gilbert? The Top Chef alum has a coming-soon shop in the Wakefield neighborhood in North Raleigh.
Gilbert envisions a venue that's homey and inviting like a warm hug. An emphasis on family-style dining and fellowship will add to that feeling as well. When it comes to food, the Southern-style cuisine menu will include barbecue, seafood, grilled meats and Southern sides among other delicious offerings. Cut & Gather plans to serve lunch, dinner and weekend brunch.
Anticipated opening: Early 2020
Follow on Instagram: @cutandgather
Standard Beer and Food
Taking over the handsome space of the former Standard Foods in the Person Street neighborhood, Standard Beer and Food will soon pair their own brewed beers with food. It's the latest project from Whit Baker and Andy Schnitzer, who have also played a hand in Cary's popular Bond Brothers Beer Company.
The beers will be brewed on site with brewing equipment set up in the former kitchen. Baker said the beers—upwards six to 10 beers—will be simple, but not necessarily basic: an IPA, a lager, a porter, all aimed to inspire the food menu.
(ish) Delicatessen
At the newly-opened Longleaf Hotel, (ish) Delicatessen is a new restaurant concept that combines the foodways of the Jewish American South and an Italian deli, while also twisting favorites with flavors and cooking styles of the South. (ish) is designed to appeal to both hotel guests and locals alike by serving up quality menu selections and the warmth of community.
The Preserve
Ed Mitchell, the acclaimed barbecue chef who's made his name in local restaurants and earned national media recognition, plans to open The Preserve on Creekside Dr. just north of downtown Raleigh. In partnership with LM Restaurants (the team behind the popular Carolina Ale House franchise), The Preserve will bring another delicious barbecue eatery to our area from the man known as "The Pitmaster." So much barbecue, so little time!
Anticipated opening: Spring 2020
Friendship Barbecue
With owner Jason Howard planning to forgo chopped pork, Friendship Barbecue plans to pivot away from a well-known restaurant formula. He's opting instead to open a 'cue joint specializing in smoked chicken and ribs, while stacking the rest of the menu with sides, beer and wine. It's certainly one way to set yourself apart in a barbecue-thriving city.
Howard also aims to make his place feel more like a gathering place than a restaurant, with food served on paper plates and drinks in Dixie cups. Think backyard barbecue ambiance meets bustling city vibes. Friendship will take up residence on N. West St. near Glenwood Ave. in downtown Raleigh.
Anticipated opening: Summer 2020
 
Flying Mayan
From the owners of the highly-popular Flying Burrito in North Raleigh, the Flying Mayan will be located on Fayetteville St. in the heart of downtown Raleigh, offering an expansive menu of about 30 tacos, with different specialty tacos rotated in and out every three weeks. The list will include everything from pulled pork to sweet potatoes, fried fish to jerk chicken and beyond, all on flour tortillas. If you're feeling adventurous, "exotic" tacos will be on the menu as well including camel with adobo sauce.
Anticipated opening: Early 2020
---
Food and beer events in 2020 in Raleigh, N.C.
North Carolina 'Cuegrass Festival, April 18
French Market & Seafood Festival, April 18
Brewgaloo, April 24-25
Thrive NC, May 7-8
Got to Be NC Festival, May 15-17
Raleigh's 5th Annual International Food Festival, June 6
Town of Cary's Pimento Cheese Festival, June 6
Downtown Raleigh Food Truck Rodeo, June 14
Peak City Pig Fest, June 19-20
Cary Downtown Chowdown, July 12
Beer, Bourbon & BBQ Festival, Aug. 7-8
Beericana Craft Beer and Music Festival, Oct. 10
2020 N.C. State Fair, Oct. 15-25
Header photo of Wyatt Dickson by Forrest Mason
Comments