Now Open! The Longleaf Hotel is Raleigh, N.C.'s Newest Independent Hotel
Monday, January 27, 2020, 1pm by visitRaleigh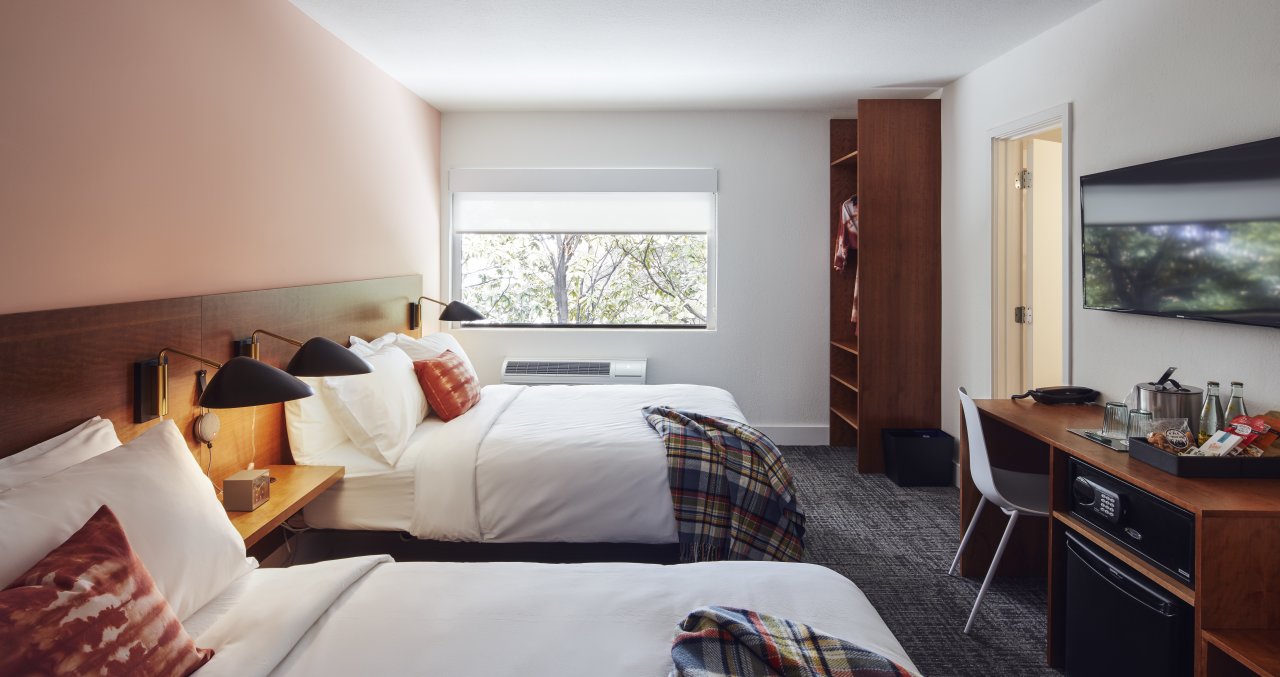 Looking for a beautiful new place to stay for an upcoming trip to the City of Oaks? You're in luck!
A modernized, mid-century gem that's close to everything in downtown Raleigh, The Longleaf Hotel is the latest boutique accommodation option attracting travelers and visitors to Raleigh, N.C. Modern with a vintage touch, swanky (but not too much!), the highly-anticipated property opened in Jan. 2020 just a couple blocks away from nightlife, museums and the North Carolina State Capitol.
 
---
Fast facts
The 56-room hotel is a modernized renovation of a 1960s vintage motor lodge
Located in the heart of downtown Raleigh, the independent property is the first of its kind in the Raleigh area
The Longleaf Lounge provides a full bar with snacks and an outdoor patio that's open year-round to guests and locals
The hotel takes its name from the state tree, and a neon sign out front reads "Long Live Longleaf"
Reservations can be made online now at thelongleafhotel.com
---

With today's travelers expecting a more local, more intimate experience when exploring new places, the owners of The Longleaf saw an opportunity to bring a unique hotel offering to downtown Raleigh. Located between Dawson and McDowell Sts., The Longleaf Hotel boast 56 rooms, a hotel lounge and a coming-soon adjoining restaurant named (ish) Delicatessen.
Renovated from the ground up, The Longleaf manages to hold on to the character of the 1960s-era motor lodge it once was. In fact, many of the mid-century details of the original hotel—like its iconic starshine decorative blocks—were uncovered and highlighted in the remodel. Even the hotel's neon sign hearkens back to a golden age of roadside accommodations. With a delightful mix of old and new, the hotel strikes a slightly nostalgic yet modern tone.
 
The rooms
Modern amenities define the Longleaf accommodation experience just as much as its vintage ambiance. Local artisans have crafted bespoke room details like retro light fixtures, custom room art and wallpaper inspired by the hotel's namesake, the longleaf pine. Pillowtop mattresses, quality bedding, shibori tie dye-inspired robes as well as boutique bath and skin care products come from local makers. Locals snacks from Videri Chocolate Factory, Slingshot Coffee Co., 1 in 6 Snacks and more are stocked in each room. And visitors even get to enjoy a selection of room views: nature, the city or the Longleaf Lounge patio. Choose from a variety of hotel configurations, from a standard double room to a king suite.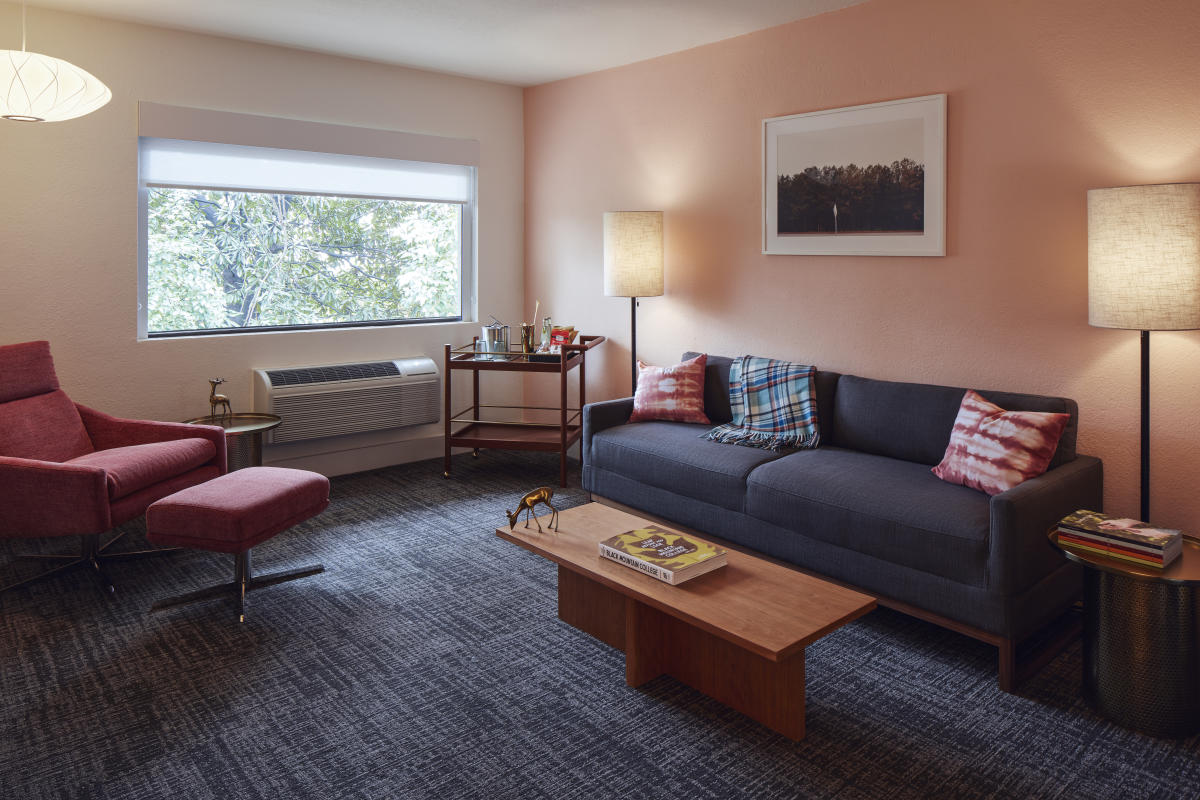 The lounge
The Longleaf Lounge inspires good times and great conversation. A hangout for visitors and locals alike, the lounge nurtures an unpretentious atmosphere elevated with a bit of swank. Make yourself comfortable, surrounded by the retro décor and enjoying Southern hospitality that would make anyone feel special. Indulge in evening drinks with the lounge's selection of wines, classic cocktails and local beers. Mid-century inspired bites—spiced pecan and cheddar cheese balls, French onion dip, deviled egg plates and more—are also served. On fair weather days, be sure to spend some time on the patio—complete with fire pits—just off the lounge.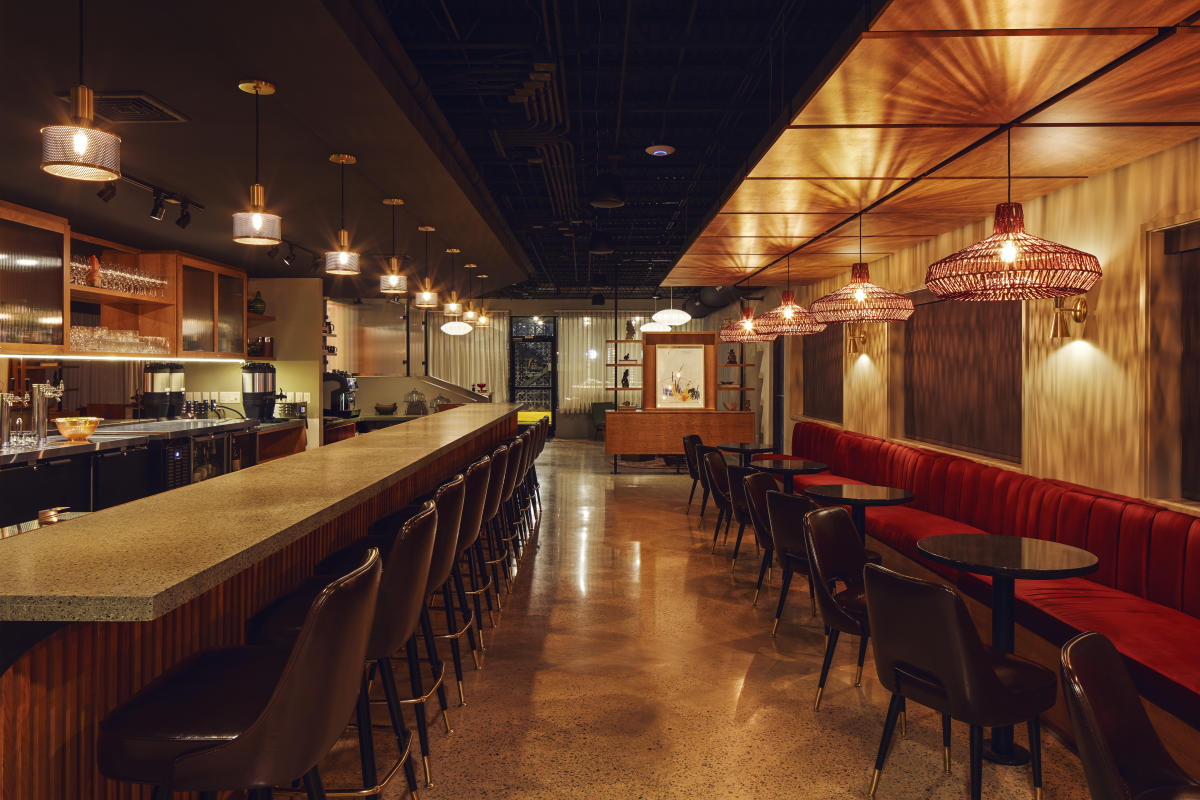 Close to everything
Situated in a prime location, The Longleaf Hotel sits one block from state museums including the North Carolina Museum of Natural Sciences and North Carolina Museum of History, plus the historic North Carolina State Capitol. Visit anyone of these curated gems free of charge.
A few blocks west, you'll come across Glenwood South, which boasts an array of restaurants, bars and nightclubs. Grab some grub at The Rockford or The Cortez, sip craft cocktails and enjoy jazz at C. Grace, or enjoy a brew or two at the Raleigh Beer Garden.
Head north from the hotel to find N. Person St., a friendly neighborhood that includes eateries like the acclaimed Crawford and Son and the newly-opened Jolie, both from passionate mind Scott Crawford. Shop the hippest fashion at Edge of Urge or visit the friendly crew at Oak City Cycling.
A 10-minute walk puts you in the Warehouse District, where you'll not only find fascinating galleries like CAM Raleigh, but also sprawling murals and Raleigh's main transportation depot Union Station (a work of art in itself). This is in addition to popular hangouts like Crank Arm Brewery and Heirloom Brewshop; local favorite grub hubs like Morgan Street Food Hall, The Pit and Humble Pie; and retail shops like Videri Chocolate Factory and Raleigh Denim.
The Longleaf Hotel is located at 300 N. Dawson St. in Raleigh, N.C. Book your reservations online now at thelongleafhotel.com.
Comments