The Best Restaurants That Opened in 2019 in Raleigh, N.C.
Tuesday, December 03, 2019, 3pm by visitRaleigh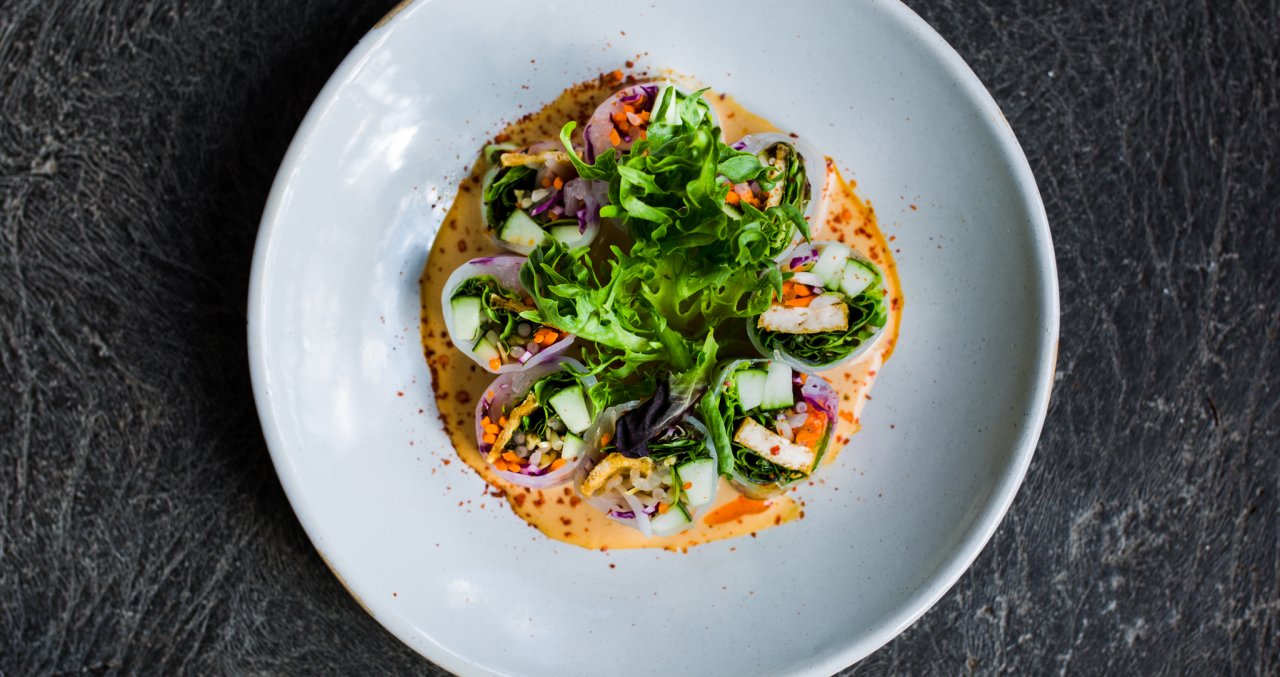 It's safe to say 2019 has been one of the best years ever for foodies in the Raleigh area.
In Jan., the much-hyped Transfer Co. Food Hall opened to the public, bringing bagels, beer, burritos and more goodies to downtown Raleigh. In the same month (and just a few blocks away), Morgan Street Food Hall was named one of the best new food halls in the country. In Feb., four Raleigh chefs earned their way onto the list of James Beard Foundation's semifinalist honorees. In March, the City of Oaks was named one of the world's top beer destinations for 2019. In April, Herons at the Umstead Hotel and Spa in Cary was named one of the 30 best restaurants in America. And in May, chef Ashley Christensen was named America's best chef (seriously!).
Of course that's not all. Local favorite Whiskey Kitchen landed a spot on the cover of the Official North Carolina Travel Guide; Two Roosters Ice Cream was named one of the best ice cream parlors in America; Brewery Bhavana was named one of the world's most beautiful breweries; and two Raleigh hot spots—Benchwarmers Bagels and Heirloom Brewshop—landed on Bon Appétit's list of the 50 best new restaurants in America.
Yes, the eating is good in North Carolina's capital city.
Read below to learn about the best new restaurants that opened in 2019 in Raleigh, N.C.!
 
Chef Scott Crawford—a five-time James Beard Foundation semifinalist for Best Chef: Southeast—has already more than made his mark in Raleigh. Now he's added a second restaurant to his Crawford Hospitality restaurant group's portfolio—Jolie, a French bistro named for his daughter. The praise from the press has come quickly—Raleigh's The News & Observer raved in a 4.5-star review that "The French bistro spirit at Jolie shows why Scott Crawford is a culinary star."
This latest eatery in downtown Raleigh's N. Person St. neighborhood sits directly next to Crawford's flagship restaurant, Crawford and Son. It includes a rooftop dining space and a menu featuring French classics and modern interpretations from Crawford and chef de cuisine Madison Tessener. Local tip: Similar to the dining experience at Crawford and Son, guests would be wise to taste as many of the small plate offerings as possible (and reservations are recommended as far in advance as you can make them!).
Chef Ashley Christensen—known to many as the face of Raleigh's booming food scene—has unveiled her newest dining concept in the City of Oaks. Located in the building directly next to Poole's Diner (Ashley's flagship restaurant), Poole'side Pies is impossible to miss with its iconic "All Are Welcome" mural Opens in New Window plastered across the outside south-facing wall. 
Christensen's sixth project is dedicated to Neapolitan-style pies. In Poole'side terms, that means thin-crust pizza, cooked for 90 seconds at more than 800 degrees in a 6,000-pound, Marra Forni wood-fired oven, using organic Bianco DiNapoli tomatoes, a dough made from local flour and house-made mozzarella. In addition to the pies, you'll also find delicious treats, starters and salads as well as a carefully-chosen beverage program and amazing desserts. Local tip: Try the Margherita pie—the go-to for die-hard pizza fans and Ashley's personal favorite.
High Horse
Katsuji Tanabe—a renowned chef and three-time alum of Bravo TV's hit competition series Top Chef—has opened restaurants stretching from Los Angeles and Las Vegas to Chicago and New York City. But Tanabe relocated to Raleigh in late 2019 to open his latest and most personal project, High Horse, featuring his signature playful style and a unique combination of Mexican, Japanese and American flavors. High Horse—a play on words—references the original stables which once occupied the City Market area and serves as an invitation for diners to leave their pretentions behind and enjoy the "fun dining" experience for which Tanabe is so well known. The menu features dishes big and small finished on two roaring wood-fired grills that are visible from the dining room, plus cocktail and dessert menus that are as vibrantly colored as they are delicious.
The recently-opened kō•än brings a renewed energy and feel to Cary's dining scene. With a menu focused on sharing food that celebrates the unsung heroes of Southeast Asian cuisine, kō•än will inspire guests with its humble and tranquil fare composed of small plates, hot pots and inventive bowls.
The kitchen is led by executive chef Drew Smith, formerly of Raleigh's bu•ku and so•ca, and winner of 2019's Cooking for a Classic dining competition. A centerpiece to the new restaurant is its Zen-like ambiance that incorporates living walls, fountains and wood-textured furniture throughout the restaurant. Local tip: For trusting, food-loving patrons, kō•än offers an omakase menu that features five- and seven-course tasting menus with wine pairings.
Benchwarmers, serving wood-fired bagels and craft coffee in downtown Raleigh's brand-new Transfer Co. Food Hall, is an exciting new collaboration from the masterminds behind Jubala Coffee—one of Raleigh's beloved, local coffee shops—and Boulted Bread, a bakery that earned acclaim with one of Food & Wine's Top Croissants in America and Bon Appétit's Best New Bakeries in 2016. Not your average bagel shop, the menu—the work of chef John Knox—includes unique sandwiches like a house-cured lox with deviled egg spread and duck rillette with sour cherries and pickled onions. Pro tip: On Thurs. and Fri. evenings, the shop serves up a seriously good wood-fired, Detroit-style pizza (because why not!).
Drawing on their own culinary background, the partners in Transfer Co. Food Hall—including Jeanne and Jason Queen—joined creative forces with executive chef David Mitchell to debut Mama Crow's. Named after a great-grandmother, Mama Crow's features a menu of fresh, locally-sourced salads, top-quality burgers, house-made cheeses and hand-cut fries ("charred and true, garden new," as the branding on the menu and restaurant walls reads). Chef Mitchell applies his rich experience from Raleigh hotspots—including Trophy Brewing Company, State of Beer and The Oak—to craft a locally-inspired and healthy-minded haven in downtown Raleigh's Olde East neighborhood.
Layered Croissanterie, opened this summer by husband-and-wife team Mark and Kawsar Chavez, is well on its way to becoming a Raleigh institution. Glenwood South's new kid on the block stands out with swanky-but-simple décor; a brightly-colored and infectious brand; and an inventive menu of sweet delicacies brimming with buttery goodness. Fans of the croissant-making process will especially enjoy an open view of the kitchen through a glass wall behind the counter. Swing by soon to indulge in croissant-doughnut hybrids and stuffed croissants, as well as the original French favorite in all its flaky glory. Local tip: Layered Croissanterie only accepts cards for payment.
Sushi Mon
Sushi Mon, the Chris Lee-owned Japanese restaurant on the edge of North Carolina State University's campus, has been raved about since its opening days in Jan. 2019. The decor, elegant and intimate with soft touches of locally-sourced art, compliments a menu of sushi and Japanese cuisine that's prepared and presented with impeccable attention to detail (plus an expertly-curated collection of rare Japanese sake). Creative small plates (a handful of orders of oysters with oriental salsa and the 24-hour pork belly would keep any table happy) and plenty of sushi rolls all bring fresh fish and complex flavors to the table. For date nights and diners seeking new palate pleasers, Sushi Mon should be at the top of your list!
For sweeping views of downtown Raleigh's skyline, you'll want to head over to Wye Hill Kitchen & Brewing. This recently-opened restaurant in the popular Boylan Heights neighborhood owes its name and its view to the 'wye' it's built over—a junction where trains change direction. Quickly, the place has become quite the social hub with folks flocking to its wood-covered patio overlooking the city.
Wye Hill characterizes itself as a brewpub specializing in chef-driven, vegan- and vegetarian-friendly bar food. However, you'll find plenty of meat dishes on the menu including steaks, shrimp and grits, burgers and more. But food aside, Wye Hill is first and foremost a brewery. Craft beers are always on tap alongside wine offerings and craft cocktails. Local tip: A good spot for big groups on a nice weather day, but arrive early for best seating options.
Locals Seafood has delivered high-quality N.C. seafood to area customers since 2010, and Locals Oyster Bar is their first restaurant concept, quick to become a local-favorite dining spot. Located in Transfer Co. Food Hall, Locals Oyster Bar boasts a taste of the coastline in the middle of Raleigh. Chef Eric Montagne's menu changes with the seasons and includes delicious offerings like peel-and-eat shrimp, oyster poutine, smoked fish dip and gourmet fish sticks. The highlight is the raw bar, which is focused on N.C.'s cultivated and wild oysters. The tides, season and weather determine which oysters Locals Oyster Bar will be shucking for hungry diners. Local tip: After dining, head over to the fish market, which sells prepared foods alongside fresh shellfish, smoked seafood, fish and more.
Conceived as a lush and romantic garden bistro, Rosewater Kitchen & Bar is a festive setting for gathering and feasting. According to owner and highly-regarded local restaurateur Giorgias Bakatsias, Rosewater is designed to be "a transporting oasis in the heart of North Hills, set among vine-trained trellis's and flowering plants."
In a light-filled solarium, Rosewater Kitchen & Bar brings a European-style neighborhood bistro to life with a menu of sharable dishes complemented by American wines, craft cocktails and local beer. If an indulgent brunch is your thing, the restaurant is open on Sat. and Sun., 10am-3pm.
Offering a global eating experience served tapas style in historic downtown Wake Forest, Bodega is the newest concept from chef-owner Nunzio Scordo of Driftwood Southern Kitchen in North Raleigh's Lafayette Village. The restaurant's rustic, wine country cooking style is inspired by Scordo's travels internationally and uses local and imported artisanal ingredients. Join Bodega for a night out with friends to sample a variety of tapas, from Parisienne gnocchi to grilled Spanish octopus. Pro tip: Order one of the rum cocktails—we're big fans of the Rum Old Fashioned with Ron Zacapa 23-year rum, sugar, angostura and orange bitters.
Papa Shogun
Perfect for adventurous foodies! Experience worldly and interesting flavor combinations at Papa Shogun, chef-owner Tom Cuomo's first solo restaurant project, located in Raleigh's Seaboard Station. The only restaurant in the South fusing Japanese and Italian cuisine, Papa Shogun represents Cuomo and the experienced team's vision of giving diners new perspectives on familiar foods in a refined-yet-fun environment. Start with the fresh-pulled mozzarella served with kombu garlic bread, and opt for the kombu gnocchi with mushroom dashi, charred oyster mushrooms and ricotta salata.
Upcoming events not to miss in Raleigh, N.C.
Raleigh Little Theatre presents Cinderella, Dec. 6-22
Theatre In The Park presents A Christmas Carol, Dec. 11-15
Rudolph the Red-Nosed Reindeer: The Musical, through Dec. 24
NCAA Men's College Cup, Dec. 13 and 15
Carolina Ballet presents The Nutcracker, Dec. 18-29
WRAL First Night Raleigh 2020, Dec. 31
Kate Rhudy at The Pour House Music Hall, Jan. 3
Mick Foley: The Nice Day Tour, Jan. 8
Raleigh Little Theatre presents The Curious Incident of the Dog in the Night-Time, Jan. 17-Feb. 2
The Music of Elton John by the North Carolina Symphony, Jan. 17-18
Triangle Restaurant Week, Jan. 20-26
North Carolina Opera presents Leoncavallo - Paggliacci, Jan. 24 and 26
UFC Fight Night, Jan. 25
19th Annual African American Cultural Celebration, Jan. 25
Astronomy Days at the North Carolina Museum of Natural Sciences, Jan. 25-26
Carolina Ballet presents Rhapsody in Blue, Jan. 30-Feb. 16
Header photo courtesy of kō•än, taken by Zach and Carolina Stamey
Comments