25+ Awesome Arts Events in Raleigh, N.C., This Winter
Monday, December 16, 2019, 4pm by Tabletop Media Group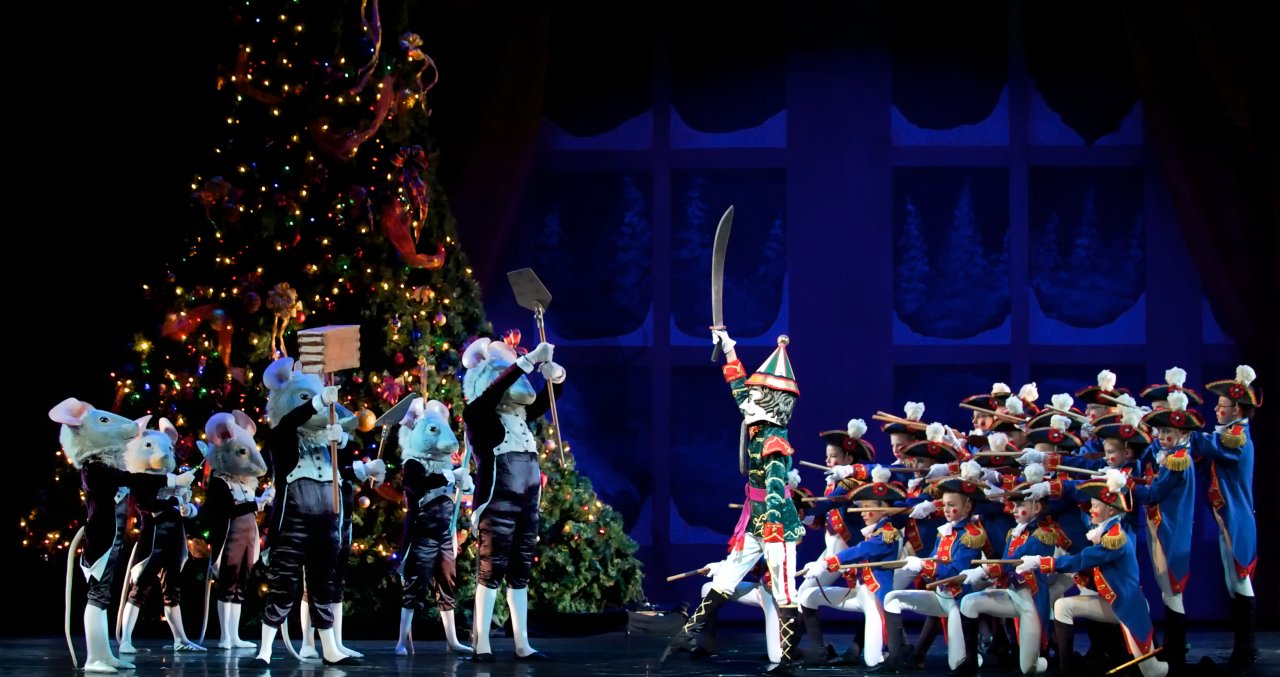 Winter is the perfect time to tuck into one of the Raleigh area's many fine theaters, concert halls, art galleries and museums for exquisite performances and art displays that are sure to fascinate. Whether you're looking for a family-friendly show like Seussical or an exciting art exhibition like ¡Viva Viclas! The Art of the Lowrider Motorcycle, there's a vast range of arts to enjoy this season.
 
One of the nation's longest-running community theatres, since 1936, Raleigh Little Theatre presents these great productions this winter. Accessibility notes: All performances are wheelchair accessible, and assistive listening devices are available for each show.
Cinderella
Through Dec. 22
Celebrating its 36th year at Raleigh Little Theatre in 2019, the musical comedy Cinderella is a holiday surgarplum for the whole family. Just the right mixture of comedy and romance, plus a visually-stunning set and costumes, make this fairy tale a favorite holiday tradition in Raleigh.

The Curious Incident of the Dog in the Night-Time
Jan. 17-Feb. 9
The Curious Incident of the Dog in the Night-Time follows the story of a young boy named Christopher, who is very knowledgeable but ill-equipped to interpret everyday life. After being suspected of killing his neighbor's dog, he sets out on an exciting adventure to find the true offender, in which he discovers parts of himself along the way. Accessibility notes: A sensory-friendly performance will be shown on Feb. 9, designed especially for individuals with autism spectrum disorders, sensory sensitivities or other disabilities.
Seussical (Theatre for Young Audiences Version)
Feb. 14-29
This beloved childhood story—adapted specifically for younger audiences—follows Horton the Elephant on his quest to protect the Whos and guard a sentimental abandoned egg. The Cat in the Hat narrates the heartwarming tale in which friendship, loyalty and family values reign supreme. Accessibility notes: A sensory-friendly performance will be shown on Feb. 29.
 
Rudolph the Red-Nosed Reindeer: The Musical
Through Dec. 24
Based on the animated television special "Rudolph The Red-Nosed Reindeer" and the stage production directed and conceived by Jeff Frank and First Stage, the characters you know and love—Rudolph, the Abominable Snowman, Yukon Cornelius, Hermey, Santa and Mrs. Claus and more—come to life in this Broadway Series South production at the Duke Energy Center for the Performing Arts.
The Carolina Ballet continues its 2019-2020 season with beautiful productions at the Duke Energy Center.
The Nutcracker
Dec. 18-29
Every year, Carolina Ballet puts on an excellent production of The Nutcracker, accompanied by a live symphony orchestra playing Tchaikovsky's famed score. Perhaps one of the most anticipated shows of the holiday season, it has both adults and children in awe, thanks to gorgeous costumes, fantastic song and dance, live magic and stunning sets. 

Rhapsody in Blue
Jan. 30-Feb. 16
Carolina Ballet's Feb. program is Rhapsody in Blue, a tribute to American composers set to George Gershwin's Rhapsody in Blue and Leonard Bernstein's Symposium. This year's show features a new work of choreography from Robert Weiss and Carolina Ballet's new artistic director Zalman Raffael.
 
25th Annual Kwanzaa Celebration
Dec. 27
A celebration for all people, focusing on family and friends, Town of Cary and the Ujima Group, Inc., will host the 25th annual Kwanzaa Celebration at the Cary Arts Center. During Kwanzaa, people are invited to ponder the Nguzo Saba, seven powerful principles derived from African heritage, as a means of taking stock, celebrating achievements and entering the future refreshed and renewed. The event will feature a vendor market, a children's village, dance performances and more. Accessibility notes: Accessible seating for patrons in wheelchairs—or guests with visual, hearing or mobility disabilities—is available; assisted listening devices are available; sign language interpreters and audio description services are available if requested in advance. Find more information on Cary Arts Center here.
Located on vibrant Hillsborough St. is the Gregg Museum of Art & Design, North Carolina State University's collecting and exhibiting museum with more than 35,000 objects ranging from 19th century Japanese woodblock prints to antique N.C. quilts. Plenty of thought-provoking and intriguing exhibits are on display right now and through the winter—you can't miss these:
Southbound: Photographs of and About the New South
Through Dec. 29
As the largest exhibition of photography capturing the American South in the twenty-first century, Southbound: Photographs of and About the New South is an eye-opening experience providing visitors multiple perspectives. A whopping 56 photographers share their visions of the South as a place steeped in tradition, transformed by Americanization and globalization and filled with surprising realities.
Fantastic Fauna: Chimeric Creatures by Beauvais Lyons
Through Jan. 26
This engrossing exhibition showcases factitious historical and scientific parodies by Dr. Beauvais Lyons, director of the Hokes Archives and an art professor at the University of Tennessee. Lyons curated a unique collection of illustrations depicting rare zoological creatures like the Giraffe Boa, Monkey Centaur and Nordic Hare Falcon.

Art's Work in the Age of Biotechnology: Shaping Our Genetic Futures
Through March 15
Aimed at raising awareness about genetic engineering, biotechnologies and their consequences through the lens of art and design. This is an art-science exhibition organized by the North Carolina State University Libraries and the Genetic Engineering and Society Center, shown at the Gregg Museum of Art & Design in the physical and digital display spaces of the libraries along with on the grounds of the North Carolina Museum of Art.
 
Hear the North Carolina Symphony create beautiful, feel-good and sometimes evocative music by seeing a show at Duke Energy Center. There's no shortage of music this winter! Here are several highlights:
Special Events Concerts
Classical Series
Pops Series
Downtown Raleigh First Friday
First Fri. of every month
On the first Fri. of every month, Raleighites trek downtown for a wonderful evening of special events, art installations and musical performances hosted by local art galleries and studios, museums and exhibitors. Don't miss a thing with a walking tour of Raleigh's Warehouse District guided by artist and educator Thea Howell and offered through People-First Tourism. She'll take you through impressive First Friday art receptions at CAM Raleigh, Visual Art Exchange, Imurj, The Art of Style and more, depending on the night.
Through Jan. 12
A super trip-worthy event for the whole family has returned for a fifth straight year! The North Carolina Chinese Lantern Festival brings more than 20 larger-than-life lanterns to Koka Booth Amphitheatre in Cary. Made up of thousands of LED lights, displays light up the skies and mesmerize visitors on this one-hour walking tour (have your cameras ready for the spectacular phoenix that sits on Symphony Lake!). Beyond beautiful lanterns, the ticketed festival also welcomes a showcase of Chinese culture—nightly performances featuring martial arts, traditional dance, acrobatics, drum performances and more. Accessibility notes: Booth Amphitheatre has paved walkways and is wheelchair accessible.
Frida Kahlo, Diego Rivera and Mexican Modernism from the Jacques and Natasha Gelman Collection and Scott Avett: INVISIBLE
Frida Kahlo and Diego Rivera, through Jan. 19; Scott Avett, through Feb 2
NCMA's remarkable Frida Kahlo and Diego Rivera exhibition presents the paintings of two icons of the 20th century—few artists have captured the public's imagination with the force of Mexican painter Frida Kahlo (1907–54) and her husband, the Mexican painter and muralist Diego Rivera (1886–1957). The exhibition is also ticketed with Scott Avett: INVISIBLE, which showcases his never-before-seen oil paintings, prints and paintings related to his musical career and family.

The Birds of America
Through Oct. 14, 2020
Within the NCMA's Audubon Gallery, you'll find John James Audubon's The Birds of America, hand-colored engravings of some of our country's most beautiful native birds. The NCMA acquired the set from the State of North Carolina in 1848, and it was kept at the State Library for more than a century before being transferred to the museum.
 
Jan. 24 and 26
Leoncavallo's Pagliacci is a spectacular opera about a group of cheerful travelling carnival players in late 19th-century Southern Italy lead by Canio and his wife Nedda. After Canio suspects Nedda has chosen a new lover, he snowballs into a fit of rage and becomes relentless to learn the truth.
Fine Contemporary Craft at Artspace
Through Feb. 1
Earlier this year, several talented local artists submitted their individual entries to Artspace's biennial, national juried exhibition, juried by Mia Hall, executive director of the Penland School of Craft. The winning pieces, which include mixed media, furniture, glass, jewelry, ceramics and more, will be on display through the beginning of Feb.
Feb. 6-8
Check out the new Fuquay-Varina Arts Center while enjoying the Stageworks Theatre community troupe presentation of Pride & Prejudice. This modern adaptation of Jane Austen's classic 1813 novel follows the independent-minded Elizabeth, who is determined not to let her feelings for the handsome Mr. Darcy show. Can she stay away?
¡Viva Viclas! The Art of the Lowrider Motorcycle at CAM Raleigh
Through Feb. 9
¡Viva Viclas! is a celebration and exploration of the art and culture of the lowrider motorcycle. Vicla is a slang term for a style of lowrider motorcycle customization popularized by Chicanos/Mexican-Americans and is derived from the Spanish word for bicycle—bicicleta. The exhibition features 10 custom lowrider Harley-Davidson motorcycles and 12 artworks inspired by themes in Vicla culture, including heart, pride, brotherhood and respect.
Feb. 11-16
Get out your dancing boots for this fabulous Broadway-famous performance at the Duke Energy Center featuring 16 original songs by pop icon Cyndi Lauper! The entertaining show is based on the true events of a struggling factory owner and an illustrious entertainer who think they have nothing in common, but end up becoming great friends. Don't be afraid to dance along to the music! Pro tip: Look out for special treats before and after show! Downtown Raleigh's Bittersweet and The Haymaker (both just a short walk from Duke Energy Center) plus more are planning to offer themed Kinky Boots cocktails, plus Goodberry's has a custom frozen custard flavor in the works!
North Carolina State University Theatre presents: Ragtime the Musical
Feb. 19-23
North Carolina State University Theatre has adapted E. L. Doctorow's novel into this incredibly-enjoyable musical featuring the intersection of three groups of New Yorkers—the upper crust of New Rochelle, the African Americans of Harlem and the Eastern European immigrants at the Lower East Side. Boundaries between them are crossed while new alliances are forged, but through it all is the unifying force of music.
Through March 8
Quilts speak. They reveal voices from the past—specifically women's voices. Some of these voices have long been silenced by illiteracy, exhaustion, racial oppression and gender inequity. But if we know how to listen, we can understand what the quilts are saying. They speak of skill and power. They speak of economy and ingenuity. They speak of memory and forgetting. They reveal the experiences of women whose lives skirted the periphery of written history. What can quilts tell us about their makers? What can they tell us about ourselves?

Header photo: Chris Walt Photography
Comments